OMG, when you learn how to cook without recipes (and you're eating a WFPB diet – vegan whole food plant-based) making meals becomes so easy and so enjoyable.
No joke, you can just rustle up something delicious to eat, from almost nothing.
And it's always luscious.
When you give up processed foods and all the sugar that goes with them, your taste buds start evolving. And as your taste buds begin to flourish, even basic food flavours explode in your mouth.
If you've never cooked in this way, be patient and let it grow slowly. For example, many people don't like tofu at first, and it won't happen overnight, but you may find your taste changing so much that you come to love it in time.
All the suggestions below are oil free and WFPB (WFPBNO) but can also be made with oil if you like.
Just sub a little olive oil instead of water for the frying base. And with any meal you make, you can serve with a delicious sauce on the side or a lashing of spicy kimchi.
Everything on this site is gluten free but obviously you can sub with the gluten equivalent if you want.
How Can I Learn to Cook Without Recipes?
Think in terms of food groups when you throw a concoction together, so that you always get a balanced meal (see more below).
Start by loosely following a recipe, then make the same recipe several more times but switching different vegetables/ingredients to experiment while using the same basic method. (Think pasta sauces, soups, lasagnes etc)
Learn some staple recipe-methods by heart, things like all the easy classic sauces.
Follow a system for making different types of soups, then apply the system to different vegetables and ingredients.
Don't weigh out the ingredients but add by dash, by spoon, by sprinkle etc.
Taste the food throughout the cooking process.
Adjust the flavour again and again as necessary. Never give up, just tweak and taste until you're happy with it.
Find a recipe you like the look of and then use the images as inspiration, inventing the quantities and adapting the ingredients so that it becomes yours.
Don't be scared of going wrong.
Getting Used to Free-Style Cooking
One major difference with this style of cooking is that you won't have a name for everything you make. And it won't fall under the heading of X served with Y like meat meals tend to.
It's a matter of forgetting about that old formula and embracing the new.
You might start off by following a recipe, like an oil free vegan lasagne for example, but once you've got your inspiration from the recipe you start to just create it with what you have in your kitchen at that moment.
And it's such a great feeling to eat WFPB this way. When you ask yourself the question, do you feel better physically since switching to a vegan diet, the answer will be a big fat YES.
Cooking this way will make your life easy, tasty and healthy.
Think in Terms of Food Groups
Instead of thinking 'What (specific meal) shall I make for dinner?' (although of course you can still cook specific dishes too), think in terms of food groups.
What ingredients do you feel like eating?
Start by looking in your fridge and choosing the vegetables you want to include in your meal.
Food Groups for Creating a Balanced Meal
Group A: all vegetables: i.e. broccoli, cabbage, peppers, eggplant, parsnips, carrots, green beens, spinach, mushrooms etc.
Group B: bulk source of protein: tofu, chickpeas, lentils, red beans, black beans, white beans, quinoa
Group C: base food: black rice, brown rice, quinoa, brown rice noodles, lentil pasta, buckwheat pasta
Group D: Toppings, sauces, seeds & nuts: nutritional yeast, tahini, hummus, cashew sauce, cilantro sauce, pesto, avocado/guacamole, ground flax seeds, chia seeds, pumpkin seeds, sesame seeds, walnuts
Say you've chosen the first thing from each box so: broccoli, tofu, chickpeas and black rice.
Now you have a starting point for your cooking.
Cook the rice in the rice cooker and the cook the other ingredients in a wok or in the air fryer.
Choose whether to make the other ingredients into a saucy type meal by adding liquid or tomato to the wok, or a more dry stir-fry style meal, in which case, go ahead and pick a sauce from Group D to serve on the side.
Et voila!
Of course there are limitless variations on this theme. Instead of making a stir fry you might fancy making a veggie casserole in the oven for example. Or a curry. Or a lasagne. And so the list goes on.
Tweaking Flavours By Adding Ingredients
Get used to tweaking the flavour of a recipe by adding certain things.
Here is a list of starter ingredients that's useful to stock in your kitchen as a basis for tweaking all cooking.
Fresh herbs: fresh cilantro (coriander), fresh parsley, fresh basil
Dried herbs: oregano, parsley, thyme
Spices: chilli powder, cumin, coriander, turmeric, garam masala
Gluten free soy sauce, gluten free ketcap manis (aka ketjap manis = Indonesian sweet soy sauce)
Gluten free miso paste
Unsweetened organic plant milk of your choice
Apple vinegar, white wine vinegar and balsamic vinegar
nutritional yeast
tahini
Salt and pepper
Learn How to Cook Without Recipes – Cooking Tools and Accessories
Use a Non Stick Wok
For stir frying without oil you'll need a non stick wok. This is the pan you will cook almost everything in.
Apart from that, you can use regular saucepan for soups etc.
A Rice Cooker
A rice cooker is invaluable in a vegan kitchen. Cook the rice in advance and the rice cooker will keep it hot for you.
Put on the rice and forget about it.
Nothing bad will happen. No burnt pans or dried out rice.
You can also cook quinoa in the rice cooker.
Cooking in an Air Fryer
An Air fryer is a slightly more expensive item but it makes cooking vegetables (and tofu) so simple. You just chop them up, throw them in and press a button.
I wouldn't be without mine now.
The Food Processor
While it would be lovely for all of us to start out with the most super powerful food processor, it isn't actually essential. If you wan to save costs, buy a regular food processor for blending up all your own homemade sauces.
If you can afford a top of the range, go for it. The important thing is to have one, regardless of which type.
A Hand Blender
A hand blender is useful to have as well as the food processor so that you can blend your creamy soups.
Start by Using a Few Recipes for Inspiration
Learn how to make a basic recipe so that you can use it and reuse it time and again without looking it up.
Just take the idea of a recipe and make it.
And tweak it each time.
And don't follow the measurements, just use your judgement.
Play with it.
Learn How to Cook Without Recipes with Some Basic Starter Foods
Although the goal is to cook without recipes, there are some useful ways you can use recipes. Here are some ways to use recipes . . .
To help inspire you with beautiful images and give you ideas of what to cook.
Read the recipe for the general gist, then go away and make it however you want.
Follow a recipe a few times until you feel confident making that one dish, then discard the recipe and incorporate that meal into your cooking repertoire.
Now lets get down to the basis of 'how to make . . . ' information.
Once you can make a thin soup, you can make it in any flavour. The same goes for a creamy soup.
And when you can make a basic tomato sauce, suddenly you have so many options open up to you: spaghetti with tomato sauce, rice with spicy tomato sauce, chilli sin carne etc.
So here are some of those general guidelines to begin with, so that you can learn to cook scrumptious meals without following a recipe.
But there's no shame in following a recipe either. Life just becomes easier when you can experiment and adapt to the moment.
Make a Basic Tomato Sauce
Take a non-stick pan and heat it over a medium heat. Add some chopped garlic and onion or leek to the pan and sprinkle with salt. Stir and watch as the veggies begin to sweat down and create a little moisture in the pan. You can add a tablespoon of water to the pan if it's burning.
When well cooked, add tinned tomatoes and bring to a simmer. Pour in a little water, then cook it off to thicken the sauce.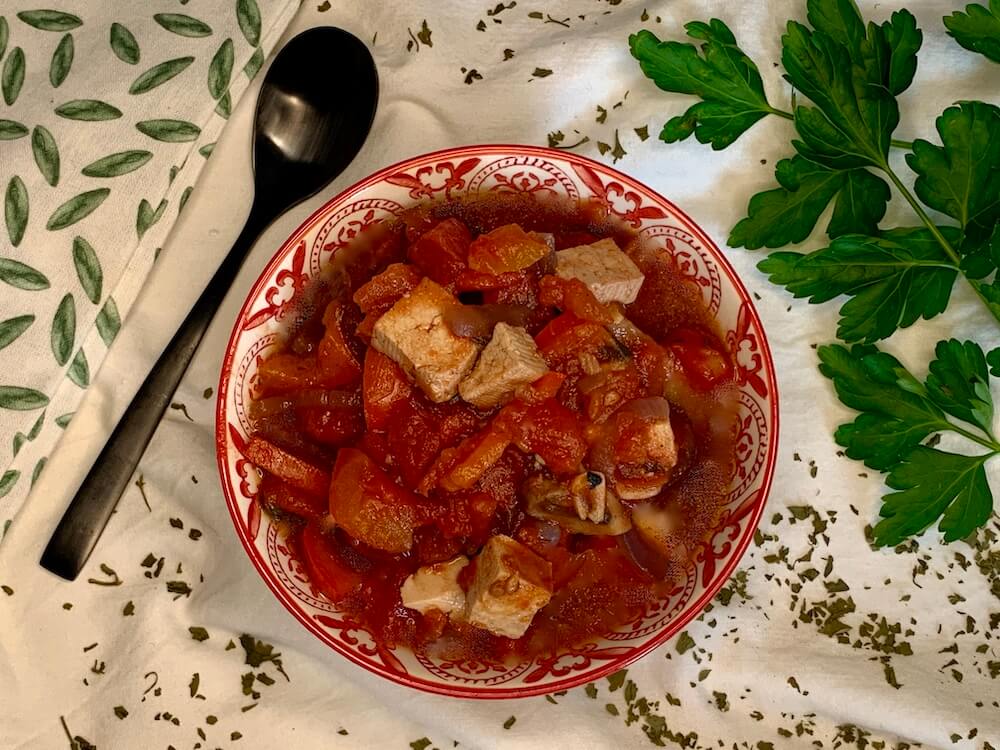 Taste the sauce and adjust the flavour with soy sauce, plant milk, nutritional yeast or vegan cream.
TIP: Next time, add sliced mushrooms to the onions. Or carrots or sweet potato, or broccoli or zucchini, or red pepper or something else. Add chickpeas or tofu. Play around.
Pinch ideas from this recipe for homemade tomato sauce here.
Create a Water-Based Soup
One of my favourite ways to make a soup is to prepare a pan of stock. To do this you just have to fill a pan with water and add all your vegetable scraps to the pan. If you're making a soup, prepare the vegetables you want in the soup and discard all the peelings, tops and tails into your stock pan.
You can add anything you want to the stock pan. A carrot, a potato, scraps, tomato, whatever. A stick of celery always helps to give it some depth.
Let your stock simmer for as long as possible, then switch it off and leave it alone until you're ready to mix the soup.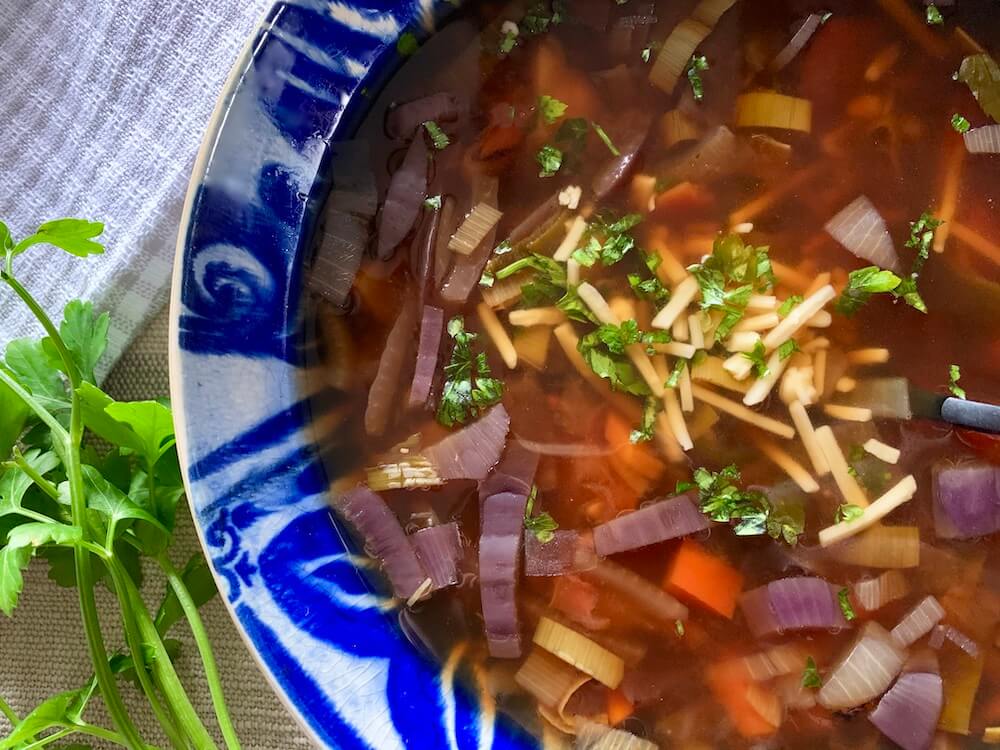 In another pan, stir fry your veggies for the soup with a little salt. When cooked, mix the stock and the veggies together (first strain the stock and discard the peelings etc).
Choose between tofu, cooked lentils, cooked chickpeas or cooked beans to add to your soup.
Add the tofu to cook along with the vegetables, the cooked lentils direct to the soup, and the beans or chickpeas can be done either way added direct or added toward the end of the veggie cooking.
You can also add 2-3 handfuls of raw rice and it will cook with the soup.
To this soup liquid you can add some miso, gluten free soy sauce and ketcap manis.
Choose between a clear water base miso type soup or a more tomato base, by adding tomatoes to the veggies and a tin of tomatoes to the final soup.
Using this method you can come up with unlimited amount of delicious soups.
For a more detailed explanation of one example soup in this category, click here.
Prepare a Creamy Soup
For this type of soup it's better to choose a particular colour and flavour e.g. pumpkin and carrot, carrot and sweet potato, broccoli and potato.
After that, simply cook your chosen ingredients with a little salt in a small amount of water, just enough to create a puree when blended all together. Add potato or sweet potato to give more thickness.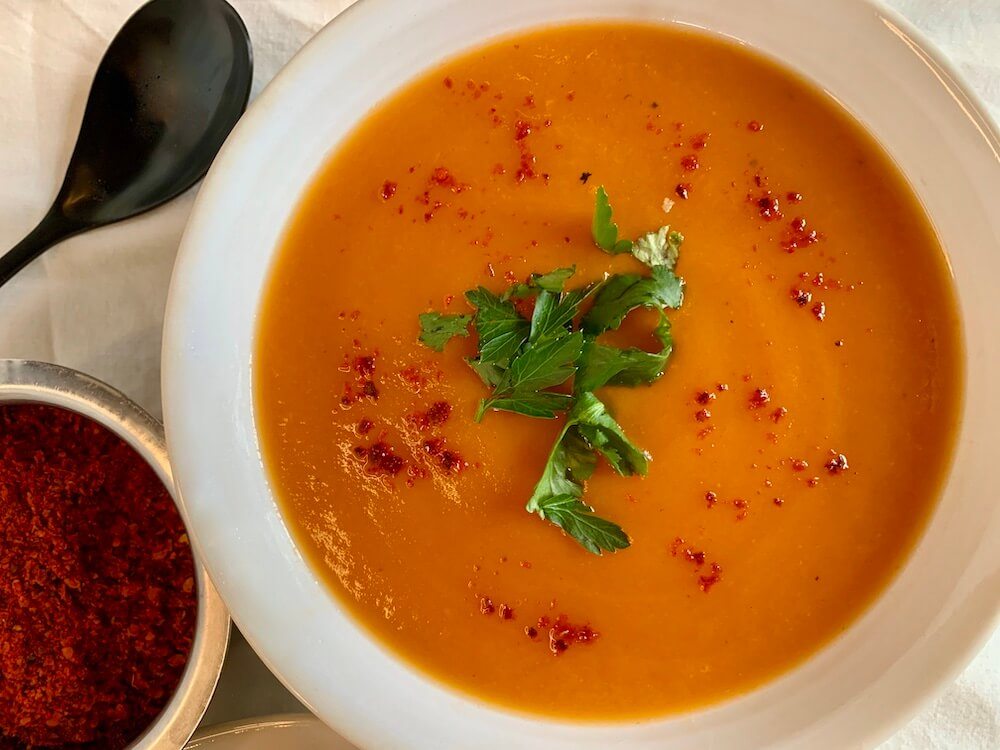 When the veggies are soft, blend the water and veggies together to make a puree.
Taste and add some plant milk and nutritional yeast if you like.
Top with some fresh chopped cilantro or parsley and a swirl of vegan cream.
Here's an example of a creamy roasted sweet potato and carrot soup
Gazpacho
Gazpacho is chilled soup for summer months and it's just a matter of blending together some tomatoes, a piece of green pepper, a piece of cucumber, a clove of garlic, a generous pinch of salt, a large slosh of olive oil and a dash of white wine vinegar.
Blend together with some ice cubes to give you a perfect summer soup.
This is one recipe which doesn't work well as a no-oil version, so it's fine for a wfpb diet as long as you aren't wfpbno. Even if you are, the oil isn't cooked so it's the healthiest way to eat oil.
Vegetable Rice
Use a non stick wok to stir fry an assortment of vegetables with garlic and soy sauce. Use fresh ginger if you like it and some dried cumin powder. Cook some rice in the rice cooker. Mix the rice with the vegetables and serve with a spicy peanut sauce.
See the recipe for vegetable rice here if you need more inspiration.
Rice Noodles with Vegetables
The same as the vegetable rice but serve the veggies alongside or mixed with, brown rice noodles. Serve with spicy peanut sauce.
If it's necessary to see more guidance, you can take a peek at the recipe for bami noodles with vegetables here.
Buddha Bowl
A buddha bowl is such a great invention. I could eat this every day (and I quite often do!)
You can be a master chef by throwing together a buddha bowl.
Choose a base of rice or quinoa. Add some beans or chickpeas. Add some veggies of choice, some cherry tomatoes, sliced avocado, a blog of coriander sauce or hummus and you've got yourself a delicious, nutritious, attractive meal.
Making a buddha bowl is just about choosing ingredients from different food groups and putting them all together in a bowl.
If you're interested in getting more ideas before you leap into making your own invention, here's another post on how to make a buddha bowl.
Sauces to Make When Learning How to Cook Without Recipes
Cashew Sauce
This sauce is soooo useful. You can use is as a spread, a dip, a sauce on the side or a sauce in a recipe. Blend together cashew nuts, water, lemon juice, apple cider vinegar and salt.
Cashew sauce recipe for inspiration.
Cilantro Sauce & Pesto
Make a cashew sauce and add fresh cilantro to it for a cilantro sauce that goes a dream with everything.
Recipe for cilantro sauce which you can use as your inspiration starting point and vary from there. Or memorise it and never look back.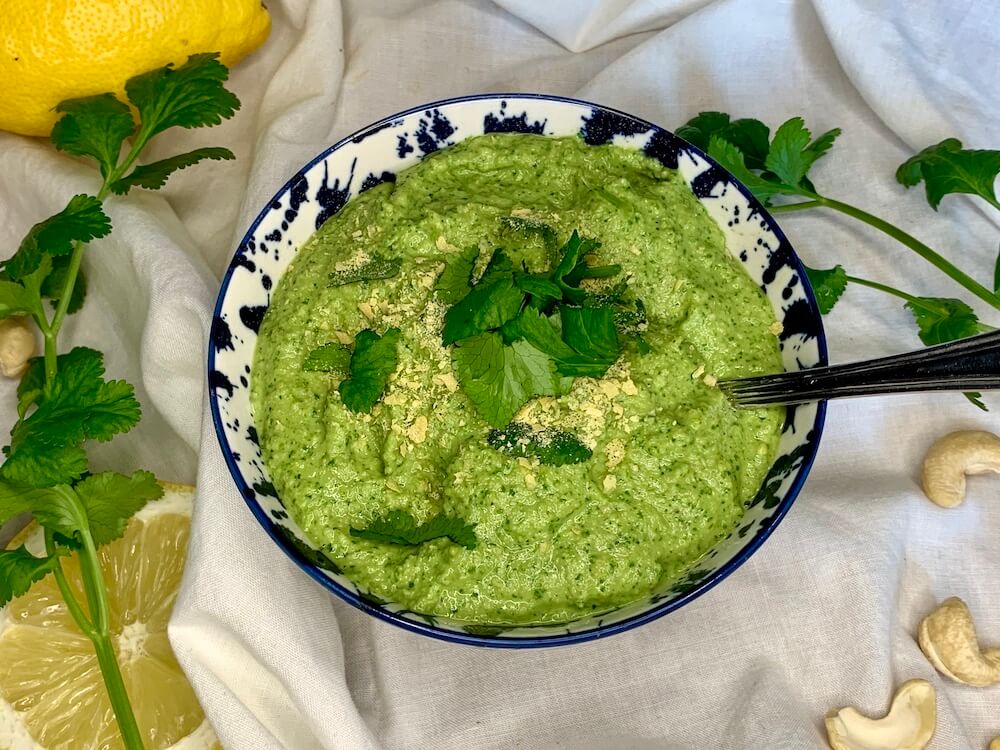 For a pesto, repeat the process with fresh basil instead of cilantro.
Peanut Sauce
Basically you need to blend together some peanut butter, garlic, chilli, water, lemon juice and salt. From there it's just a matter of tweaking the flavour by adding more of one of the ingredients.
Serve hot.
Spicy peanut sauce recipe incase you feel it's necessary to take a peek.
Hummus
Blend chickpeas with water, salt garlic, lemon juice (and olive oil if using).
Add other ingredients for variations, like avocado or red pepper for example.
In the article on how to make homemade hummus we look at the process in more detail. You can read it, then leave it.
Learn Some Cooking Methods for the Vegan Kitchen
Cooking with the Air Fryer
When you're making something to eat just for yourself, or for you and a partner, it's so easy to chop up some vegetables into cubes along with some tofu cubes and pop them into the air fryer for 15 minutes. Shake them half way through.
Serve with nutritional yeast and cilantro sauce for a veritable feast.
TIP: My favourite is cubed sweet potato with tofu.
Frying in Water
To fry in water, it's important to have a non-stick pan of some kind and to make sure it's hot before you add the veggies. Add about 2 tablespoons of water to the pan followed by the veggies you want to fry.
You just need to be attentive to the veggies and make sure you don't burn the bottom of your pan. Apart from that, it's just a matter of letting them semi fry cook in the pan and stirring so that the bottom ones don't burn.
If they begin to stick, you can add another dash of water. The secret is not to add too much water but just enough to stop them sticking too much.
I find it important to add a sprinkle of salt.
Roasting in Lemon Juice
My all time favourite way to roast vegetables is in lemon juice and lemon rind. It gives a subtle but delicious tang to the end result.
Chop zucchini larger or it will disintegrate.
Roast eggplant in small cubes or just cut in half with the flesh scored and salted.
Roast pepper and cabbage in large chunks.
Post on how to roast vegetables without oil
Casseroles
Layer your vegetables so you have vegetable, tomato sauce, cashew sauce. Repeat the layers, finishing with cashew sauce.
Cook in the oven at 200ºc for 30 minutes or until bubbling and cooked through.
Alternatively, top your casseroles with steamed sliced or mashed sweet potato or normal potato.
Tofu Snacks
You can use tofu along with things like chickpeas to whip up awesome snacks in almost no time at all. Tofu is so convenient because it's cheap, it's nutritious, it's delicious (when you've adapted to it) and it's so versatile.
Try things like air-fried tofu with cilantro pesto sauce, lemon roasted tofu with veggies and chickpeas or the all time classic of scrambled tofu.
You can see these 5 tofu snack recipes here and then make them up as you go along.
Challenge for Cooking Without Recipes
It's so cool to just go away and whip together a meal from seemingly nothing. And in this video, David from the Happy Pear speaks about how to cook without recipes as well as setting a challenge for you.
The Happy Pear do some cool vegan food!
Final Thoughts on Learning How to Cook Without Recipes
Recipes are wonderful. They just aren't intended to keep you a slave to them (or at least mine aren't). For me, the point of a recipe is to sow the seed of an idea and give guidelines so that you can go away and make it in your own way.
That means you can adapt it for your taste buds, your budget, your ingredients at that moment etc.
I hope you enjoyed this post on learning how to cook without recipes!
For me, being vegan means everything, but it's being vegan whole foods plant-based and creating simple delicious dishes that has become part of who I am and I wouldn't change that for the world.