This oil-free vegan tomato sauce is quick and easy to make and super tasty.
Since following a WFPB (whole foods plant based) way of life and giving up olive oil in my cooking, I've been learning how to cook without olive oil but also with no loss in flavour.
The taste is slightly different to an oil-based version, but not less tasty, just different.
And that difference is what I've come to love. It's funny to think how much I adored my olive oil and yet how quickly I've become hooked on a WFPB way of cooking.
This oil free tomato sauce can also be used for making a delicious vegan lasagne.
My Transition to Cooking Oil-free
The first time I experimented with WFPB, I did it for about about a month. But I didn't really 'click' with the trick of frying without olive oil.
I mean after all, I'd spent 30 years basing my cooking on the wonderful flavours of fried onion and garlic in extra virgin olive oil and that didn't just vanish on the first trial.
Then, at the end of 2021, I decided to give it a go again.
And this time something really clicked. I found myself cooking just as before, using the 'fried' base but with no oil. I'd already fallen in love with oil free cooking in the air fryer, so this was just the next step.
And somehow it looked, smelt, felt so right. Almost as though I'd always cooked that way since first starting a vegan lifestyle.
Now my perspective on oil has changed. I still think a young and spicy extra virgin olive oil is a delicious thing to drizzle on toast (maybe) – but I don't want it to form part of my daily intake.
I felt so at ease with this new way of cooking that I decided to write an easy guide to a whole foods plant based diet to share my experience. And prior to going oil free, a lot of my favourite sauces were already, naturally oil free.
If you're just starting out, here are a few tips and lifestyle hacks for first going vegan. And if an oil-free kitchen appeals to you, the first step is to master the trick of frying with water.
Steps for How to Make this Oil-Free Vegan Tomato Sauce
This recipe is a simple one without too many ingredients. As always, which ingredients you include is really a matter of choice according to what you have available on the day.
Here I give you one possible group of ingredients.
Ingredients for Making this Oil-Free Vegan Tomato Sauce
You'll need a red onion cut into half moons (or half a leek), a few cloves of garlic, finely sliced, some tinned tomatoes, half a red pepper and a few sliced mushrooms.
Fresh parsley or fresh basil go well with this sauce.
You can also add a few sliced sun-dried tomatoes for an extra punchy tomato kick. If you like chilli, feel free to add that too for a bit of spice.
Oh, and I like to add some cubed tofu for added protein.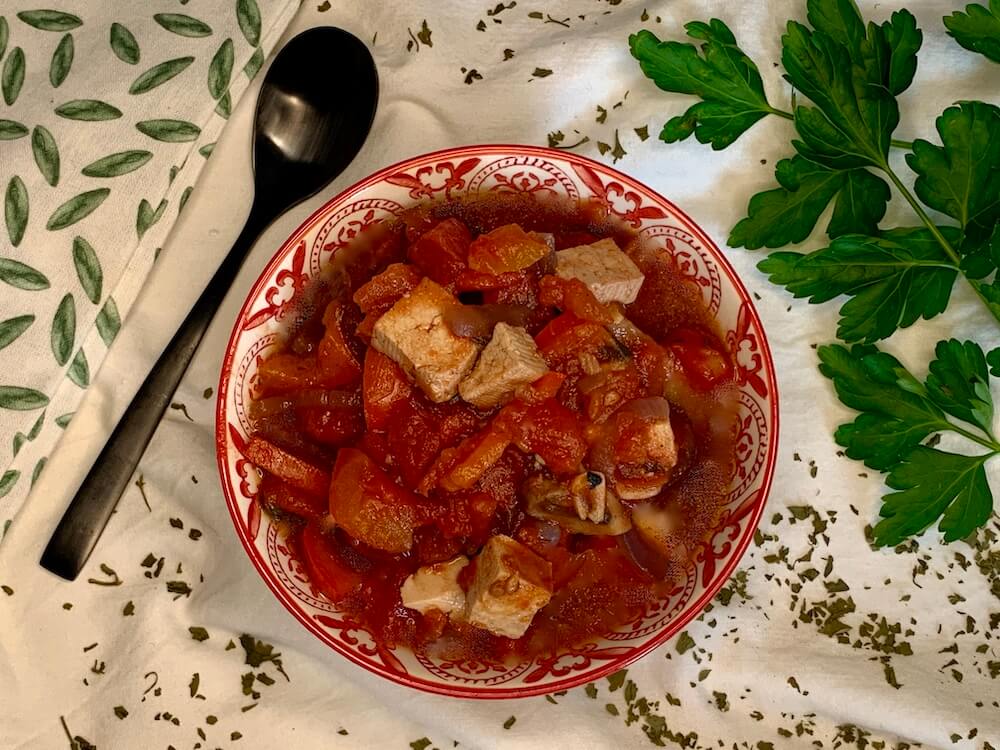 Method for Cooking this Oil-Free Vegan Tomato Sauce.
Heat a dry non-stick wok over a medium heat until the pan is hot. Add the garlic and stir for a moment before adding the chopped onion or sliced leek and fresh parsley if using. Sprinkle with salt and stir fry.
You'll see the onion becoming translucent and then brown. Allow to cook for a further 5 minutes, stirring regularly to stop it burning onto the bottom of the pan.
If it begins to stick too much, add the sliced mushrooms and sprinkle with salt as this will cause the mushrooms to release a bit of juice into the pan and help with the frying.
After about 5 minutes, when the onions are beginning to look 'fried' and have become translucent, add the sliced red pepper (and mushrooms if not already added). These juicy veggies help with the frying process.
Should I Add Water to the Pan?
If the pan is really sticking too much, add a tablespoon of water, but keep this as an 'only when necessary' option in the beginning of the cooking/frying.
When all the veggies have been dry-frying for about 10 minutes, then you can add a little water (1/2 a measuring cup) to the pan and let it steam-off.
Next, pour in a little gluten free ketjap manis or Tamari and fry for a couple of minutes more.
At this point, taste one of the pieces of onion to check the seasoning and also how well cooked it is. If it's still too crunchy, cover the pan with a lid and turn the heat down to low for about 5 minutes.
Pour in 2 tins of chopped tomatoes and the sliced sun-dried tomato, and stir. Rinse out the tins with a little water and add to the pan.
Heat through until fully cooked, then turn off the heat and cover the sauce with a lid.
When you're ready to re-heat the sauce, remove the lid and re-heat. It will have collected a bit too much liquid but you can reduce that while re-heating, to get back the proper sauce consistency.
What to Use this Oil-Free Vegan Tomato Sauce for
Serve with gluten free pasta
Use as the tomato sauce in a vegan gluten free lasagne
Add extra spice, reduce the liquid, and serve on the side instead of a chilli tomato sauce
Tomato Sauce
Course: All Vegan Posts
Cuisine: WFPB, Italian, Mediterranean
Difficulty: Easy
I love making a simple tomato sauce like this and using it with everything, even on my toast in the morning.
Ingredients
3 cloves garlic

1 red onion or 1/2 a leek

1 red pepper or 1/2 a large one

4 medium sized mushrooms

2 x 390g tins chopped tomatoes

Sun dried tomatoes

Salt and pepper

Gluten free ketjap manis or Tamari

Optional: tofu
Directions
Heat a non-stick wok to a medium heat and add the finely chopped garlic. Stir for a couple of minutes.
Add the chopped onion and sprinkle with salt. Cook for another 4-5 minutes, stirring occasionally.
Add the chopped mushrooms and sprinkle again with a little salt.
When the onions are translucent, add the sliced red pepper to the pan and continue 'frying'.
The whole frying process will take about 10 minutes. If things really stick too much to the pan, first try reducing the heat a little and then, if it's still a problem, add a tablespoon of water to the pan. Don't worry about a build up of sticky stuff on the bottom of the pan, just scrape it off with a wooden spoon to be included in the sauce.
If you're using the tofu, add the cubes of tofu at this stage, just before adding the gluten free soya sauce (see step 7).
Pour in a tablespoon of gluten free ketjap manis of Tamari and stir once to mix. Allow to cook in the juice for a few more minutes.
Pour in the two tins of chopped tomato and the sliced sun dried tomato if using.
Heat the sauce thoroughly before switching off the heat and covering the pan with a lid. Leaving the sauce to stand like this will improve the flavour.
When you're ready to serve the sauce, simply remove the lid and reheat to reduce the liquid that has gathered because of the lid. Serve on pasta or as a side dish or with anything that takes your fancy.
Notes
Cooking without oil can produce absolutely delicious results, like this tomato sauce.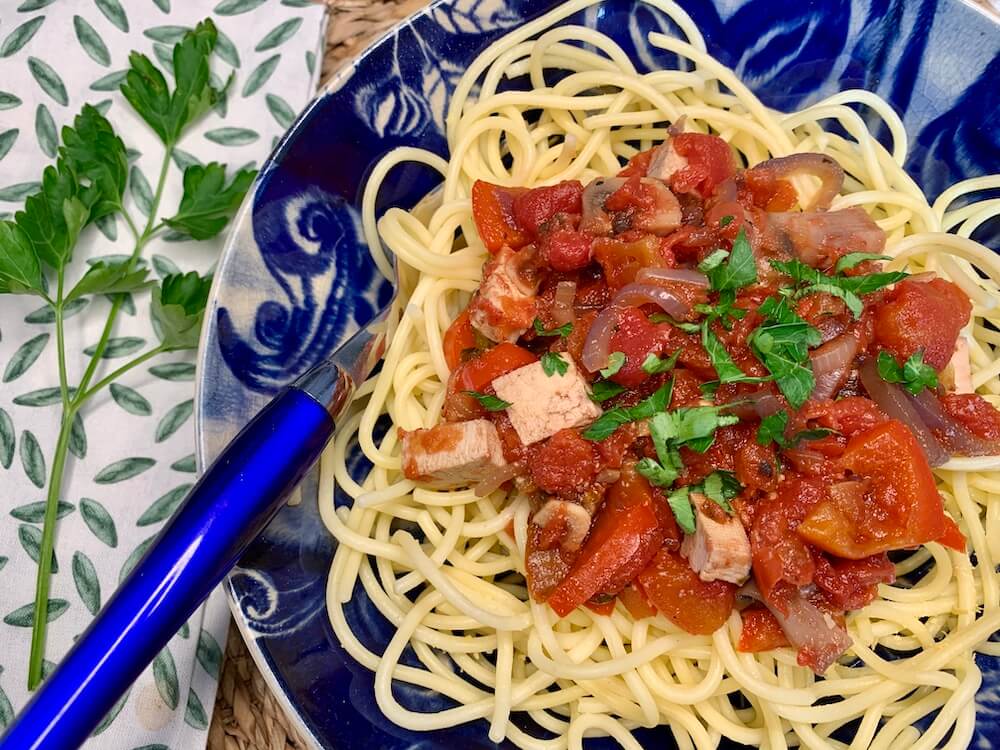 Oil-free vegan tomato sauce on gluten free spaghetti.