You only need 2 ingredients for this lentil flatbread recipe. Red lentils and water, plus salt and spices if you want to make the flatbreads spiced.
I like to make small pancake sized lentil flatbreads and top them with avocado. They go sooo perfectly. Of course, you can also make a larger size to use as a wrap.
They're perfect for any occasion, breakfast, lunch or dinner, and can be eaten as part of a whole foods plant based diet as they're not only gluten free but also oil free.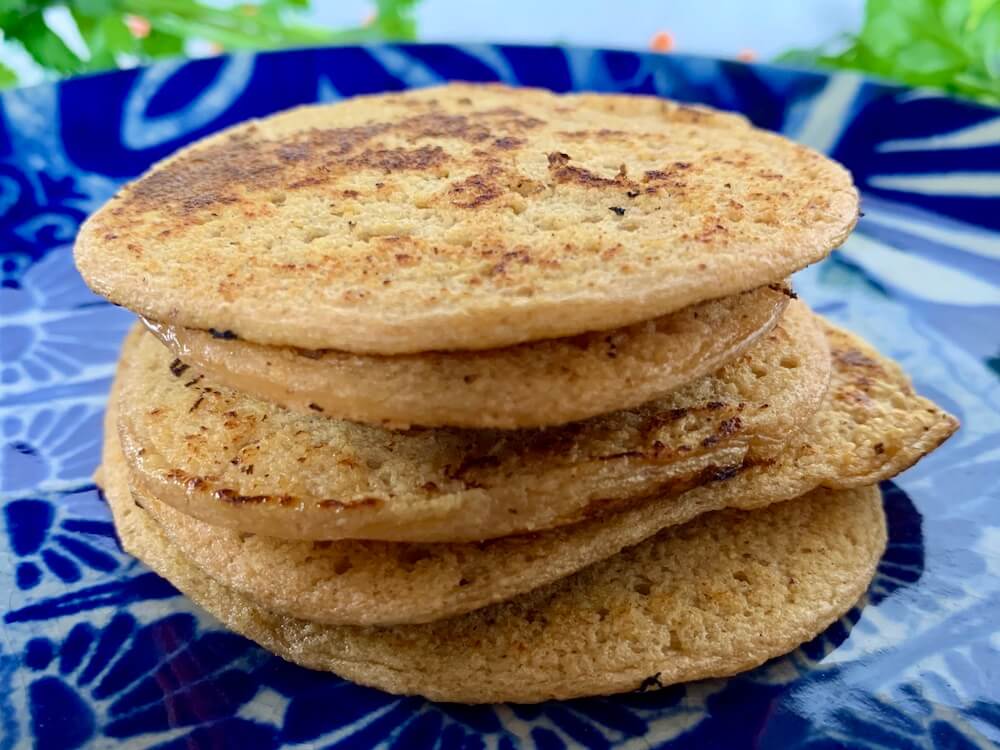 How to Make this Amazing Vegan Lentil Flatbread Recipe
The system you use will depend a little bit on what kind of food processor you have.
If you have a high powered food processor that will turn lentils into flour, then the first step is to place a cup of red lentils into your food processor and blend them into flour.
If your food processor isn't up to the job, place the red lentils into your food processor just the same and blend them. This will just break up the lentils a bit, not create a flour completely.
At that point, pour on 2 cups of water, stir, and leave to soak for an hour (or less if you're in a hurry).
The third and final option is just to soak the lentils whole first. This method will take a bit longer, which is why I prefer to put them into the food processor first, but if you're planning ahead, you can soak the lentils for a few hours or overnight.
Once they've soaked for long enough they can be blended until the liquid is the consistency of a batter.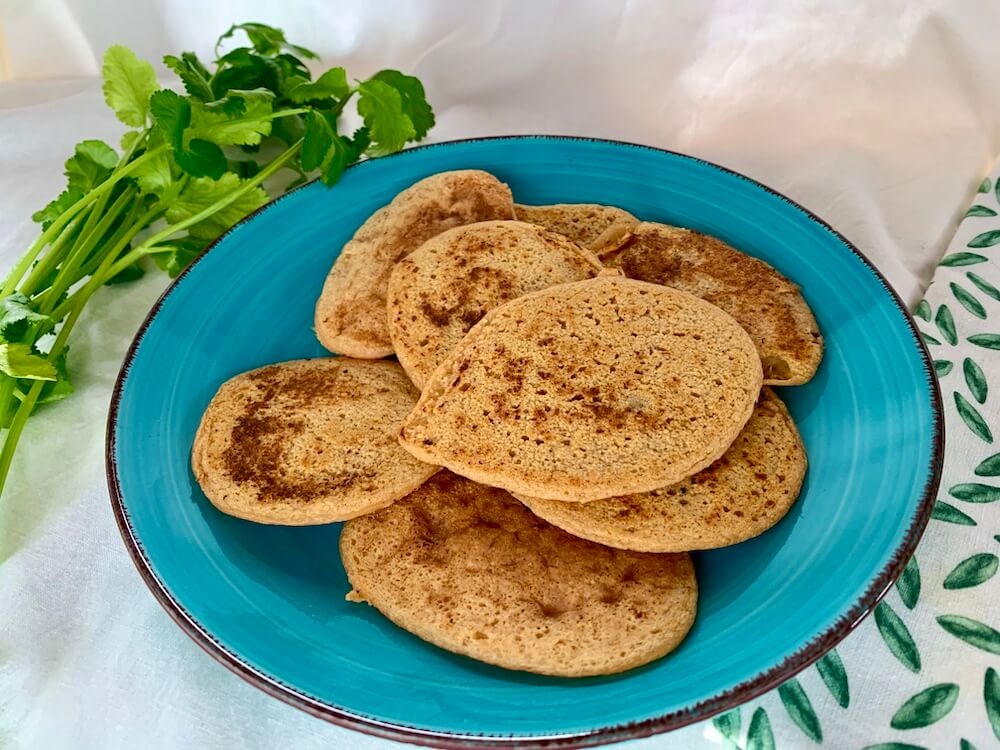 Lentil Flatbread Vs Gram Flour (Chickpea) flatbread
If you saw my recent post on how to make easy gram flour flatbreads, you may be wondering what the difference is between these two handy flatbread options.
Practically speaking, the gram flour flatbreads are easier to make because of one reason: there's no soaking or grinding.
And let's face it, sometimes, you just fancy reaching into the cupboard, taking out some chickpea flour and making some instant flatbreads.
And that's the one advantage of the gram flour flatbreads.
The rest of the advantages go to these lentil flatbreads. Lentils are:
Lentil flatbreads are richer tasting than the gram flour flatbreads so they are the winners, except for the convenience category!
Read more detailed information about the nutritional comparison of red lentils and chickpeas over on Calories Info web page.
How to Serve Lentil Flatbreads
If you're planning to eat these little beauties on their own, I recommend adding some herbs or spices to the batter before cooking.
Cumin, coriander and chilli go perfectly together and add a touch of extra flavour to the finished flatbread.
But if you're planning to top them with cilantro sauce, avocado or hummus (or anything else), they're perfect just as they are.
And by keeping them plain, you can also serve them with sweet things like peanut butter or maple syrup and fruit.
I like to have them with my buddha bowl or on the side of salad.
They're good for breakfast, lunch or dinner. Hot or cold. Stuffed or alone. Spiced or plain. They're just too damn good!
Amazing Lentil Flatbread Recipe – No Oil, Gluten Free & Easy
Course: Sides
Cuisine: Gluten free, WFPB, Vegan
Difficulty: Easy
Cooking time (per flatbread)
3
minutes
The servings are for small pancake sized flatbreads. If making full flatbreads, 1 cup of lentils will make 4-6 flatbreads.
Ingredients
1 cup red lentils

2 cups water

Salt to taste

Optional: cumin, coriander and chilli powder
Directions
Wash the lentils
Option a. Grind the lentils into flour or b. partially grind and then soak them in 2 cups water and then finish the grinding until you get a smooth batter. Or c. Soak the lentils in 2 cups of water for a few hours or overnight, then blend in the food processor until you get a smooth liquid the consistency of a pancake batter.
Add a touch more water if necessary to get a batter consistency.
Heat a non-stick frying pan until hot. Add the batter, 1 tablespoon full for each pancake sized flatbread.
For larger flatbreads, use a ladle and ladle one ladleful of batter into the hot pan, swirl the pan slightly as you pour so that the batter disperses.
Cook the flatbread for 2-3 minutes on the first side. If it won't flip easily, it isn't ready yet. Be patient!
Flip the flatbread and cook for 1 minute on the second side, until golden brown.
Remove from the pan and serve with your favourite topping.
Notes
So easy & versatile. Delicious served with avocado on top.