If you've been wondering what vegetables you can add to a curry, you'll be happy to know that most veggies go well in curry-making.
First choose between what type of curry you're going to make: a dry curry, saucy curry, chunky curry or smoother curry. In fact there are so many variations available under the term curry, you can do almost anything.
You might choose to make one dry curry and one saucy chunky vegetable curry for example.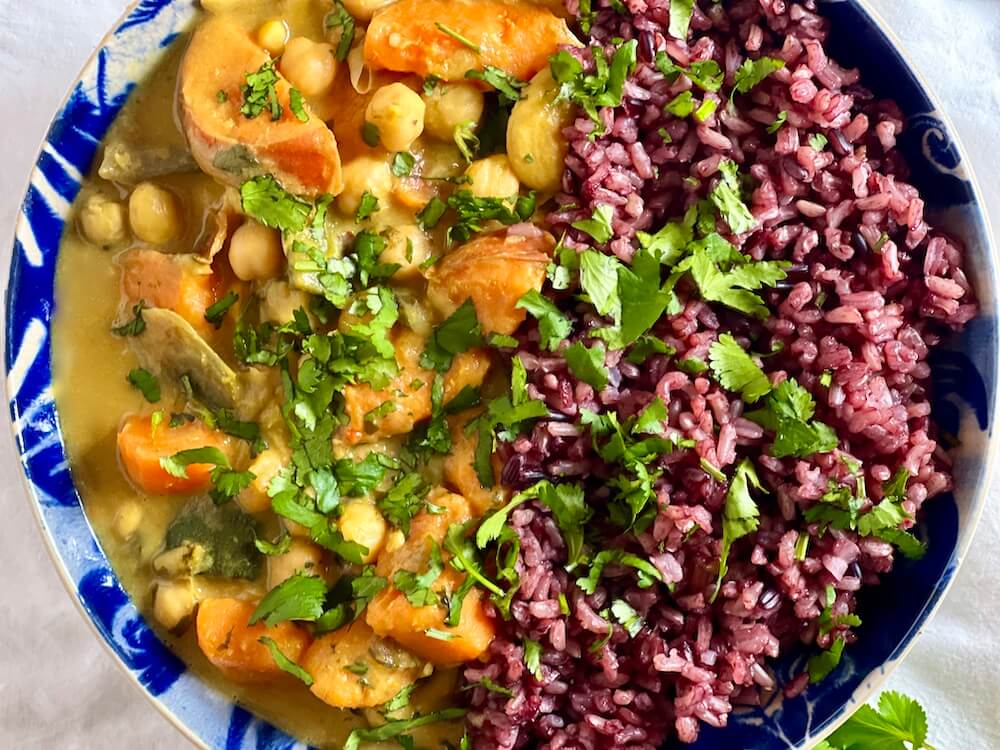 Overview of Which Veggies to Add to a Curry
There aren't any fixed rules when making a curry unless you want it to be authentic to a particular country or recipe. Otherwise, it just needs to be healthy and tasty. And you can create that however you wish.
So without further ado, here are the top vegetables for adding to a curry.
potatoes
sweet potatoes
parsnips
carrots
red or green peppers
cauliflower
broccoli
green beans
spinach
mushrooms
eggplant
peas
pumpkin
zucchini
onion
tomatoes (yes I know, they're a fruit.)
Peas go well in a saucy curry, onions go well in any curry and the rest is a matter of preference.
Other Ingredients to Add to a Vegan Curry
red lentils
chickpeas
tofu – (if you want to like tofu but don't, have a look at the article on how to start eating tofu)
beans
3 Types of Curry Base
Tomato base
Creamy coconut base
Dry curry (water or dry tomato base)
Some Specific Combinations of Vegetable Curry Ingredients
You can literally make a curry with whatever vegetables you have in the kitchen. But if you're looking for some ideas, here are a few suggestions.
Sweet potato & cauliflower
Potato and cauliflower
Potato & Eggplant
Eggplant and chickpea coconut curry
Chickpea & onion & tomato
Pumpkin/squash & tomato
Mushroom and spinach
Mixed veggies – any from the list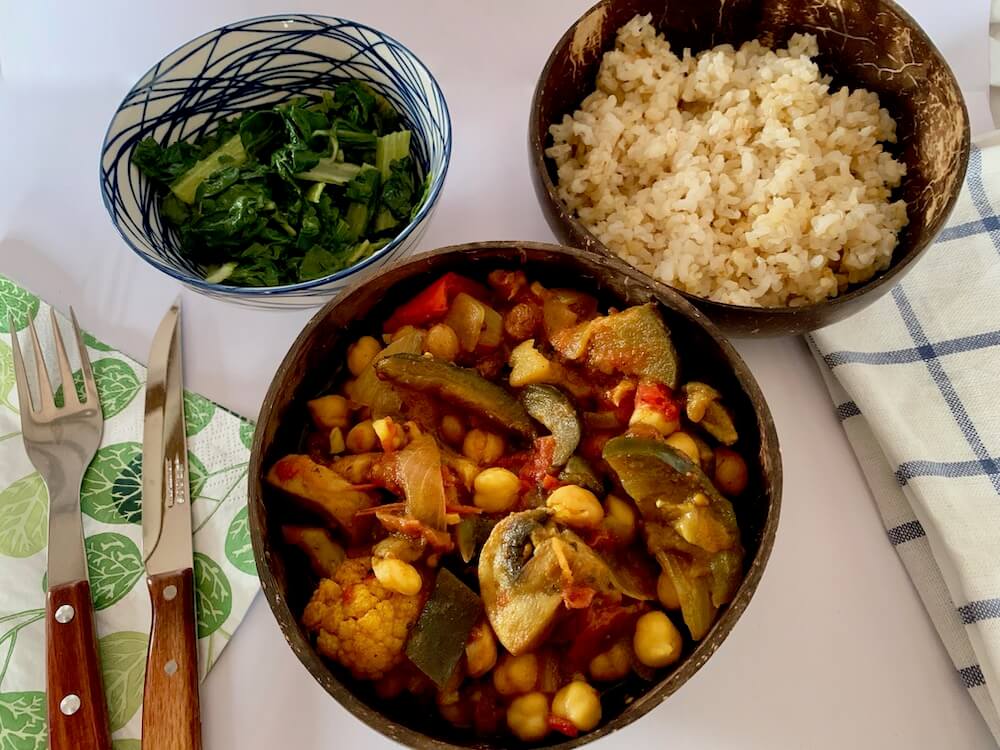 To any of the curries you can add any other vegetables.
3 Ways to Make Vegan Vegetable Curry
Here are 3 ways of how you can go about making a random curry-style meal when you haven't got a recipe and want to throw something delicious together.
1. Tasty Tomato Curry
Fry the onion and vegetables in the garlic & spices first, (using either olive oil or water to fry in). When cooked, add the chopped tomatoes and cook some more until the tomatoes have reduced slightly and are looking cooked through.
Add water to cover and simmer to reduce and absorb the flavour. Add fresh herbs at the end of cooking.
An example of a tomato based curry is this eggplant curry with chickpeas
2. Creamy Coconut Curry
As with the tomato version above, fry the vegetables in the garlic & spices first, then add enough water to the pan to cover them and also add the sliced potatoes or lentils at this stage.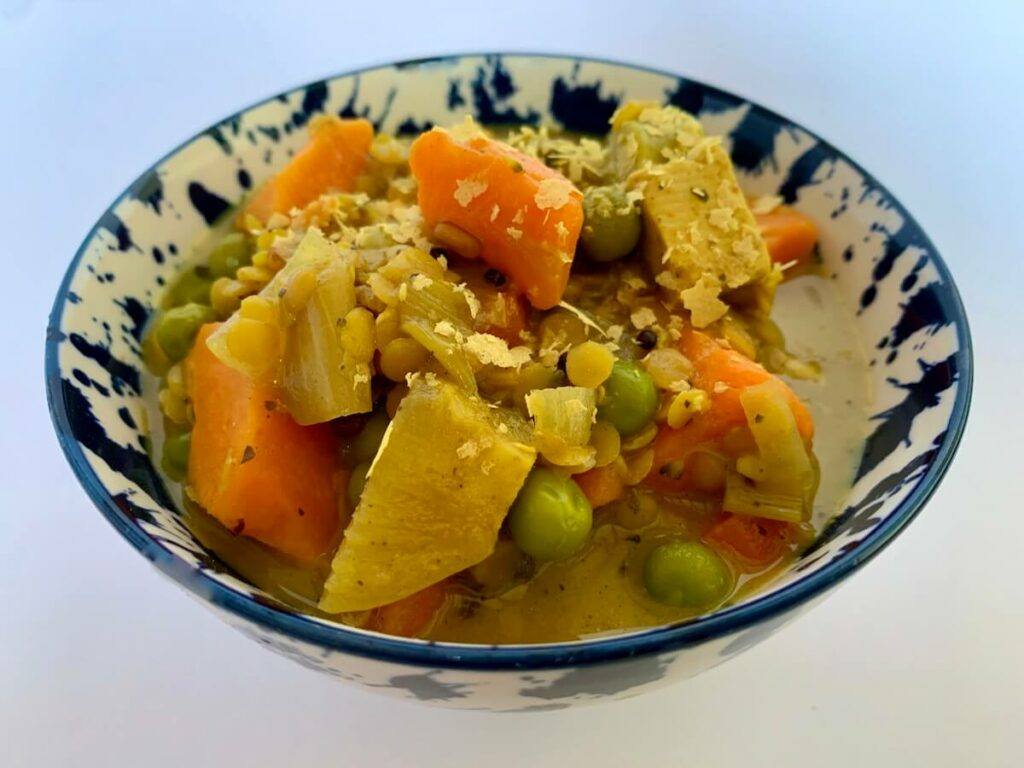 When those have cooked through, stir in some coconut milk and heat gently, being careful not to bring it to the boil.
Add fresh cilantro to the individual bowls. An example of a creamy coconut curry is this yummy sweet potato and red lentil curry wtih coconut
3. Delicious Dry Curry
Fry the onions and garlic for a few minutes, add the chopped potato or sweet potato to the pan and stir fry in the spices.
Sprinkle with salt, cover with a tightly fitting lid and reduce the heat to medium low. If the food is sticking, add a tablespoon of water and stir before covering with the lid. After about 7 minutes, lift the lid and carefully turn the potato chunks over.
Add another vegetable if using, at this point. Return the lid and leave to steam for another 7 minutes. Check the flavour of the dry curry.
You can add more salt, chilli, a dash of soy sauce or some chopped tomato to the pan for the final cook-off. An example of a delicious dry curry is this turmeric potatoes with black mustard seeds recipe.
Which Spices to Use for a Vegetable Curry
Choosing spices can become an exquisite culinary skill accumulated from a lifetime of expertise or study and practise.
Or you can take a more basic approach to it and enjoy the simple mixtures of flavours that we can achieve without getting complicated.
Since adopting a whole foods plant based lifestyle, I've found that I'm less interested in complicated spice flavours, sticking more to a few basics than ever before.
The main spices which are useful to have in your cupboard if you're also happy to keep things simple are as follows:
Turmeric
Cumin
Coriander
Garam Masala
Chilli powder
Ginger powder
Paprika powder (not so essential for curry)
Black mustard seeds (not so essential, but nice)
Fresh ginger
Fresh garlic
Fresh chilli
Fresh coriander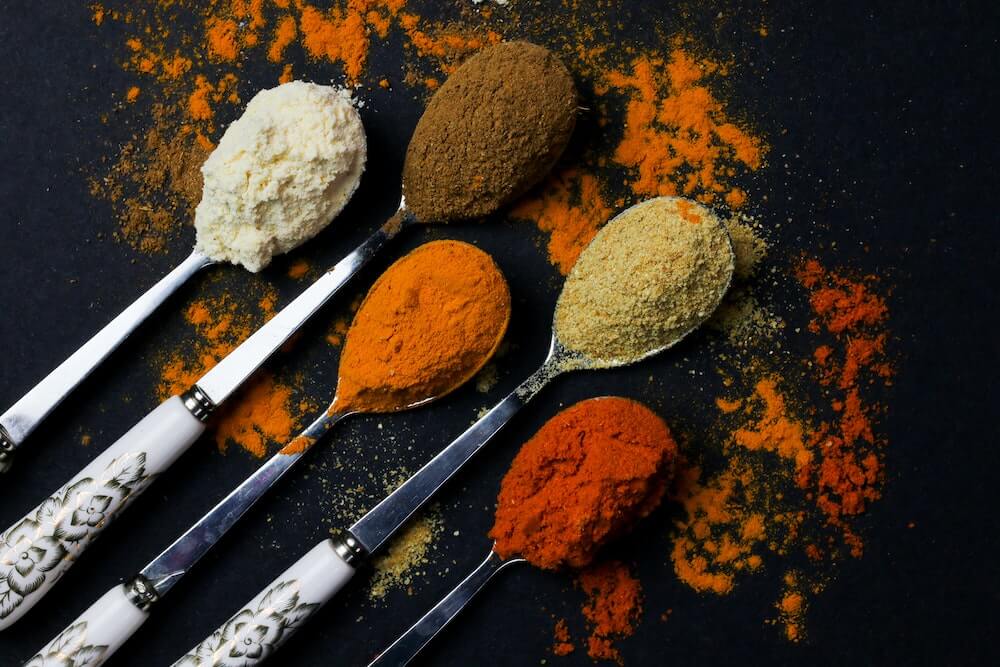 Traditionally, spices need frying to release their flavours. But you can still use them when you adopt a WFPB diet, and instead of frying them in olive oil (or ghee for non-vegans), they get fried in a little water at the beginning of cooking.
The spices are less pungent than when fried in olive oil. You can then add a little garam masala towards the end of the cooking time and some freshly chopped cilantro to the final curry or on each plate.
Tweaking the Flavour of a Curry
You can always adapt and alter the flavour of your curry when you taste it towards the end of cooking. Here are a few things you can use to adjust the final flavour.
extra chilli for more spicy heat
lemon juice
ground black pepper
salt
coconut milk
plant milk
What to Serve with a Curry
When you've made your delicious curry, don't be limited to thinking you absolutely have to serve it with rice, but of course, rice is the number one accompaniment to curry.
You can choose between white rice, basmati rice, wholegrain rice, red rice or black rice.
As an alternative to rice, you might like to make some cauliflower rice, which can be rustled up in just a few minutes. Or you could choose quinoa for a change.
To go alongside the whole dish, whip together some lentil flatbreads or chickpea flour flatbreads to serve on the side.
I hope you enjoyed this post about which veg to add to a curry. If you're new to veganism you may want to check out our other posts on transitioning, such as the top vegan FAQ or this guide to a whole foods plant based lifestyle.