This tarka dhal recipe is so simple, quick & delicious! We eat it by the bowl as a complete meal, but you can of course accompany it with rice or serve as part of an Indian-inspired spread.
For example, for a great dinner spread, try presenting it with eggplant curry or coconut curry, potatoes cooked in turmeric, rice & vegan raita. All presented as a beautiful thali platter.
But hey! Don't forget that it's yummy and nutritious enough to be served as a bowl all on its own or with a flatbread on the side.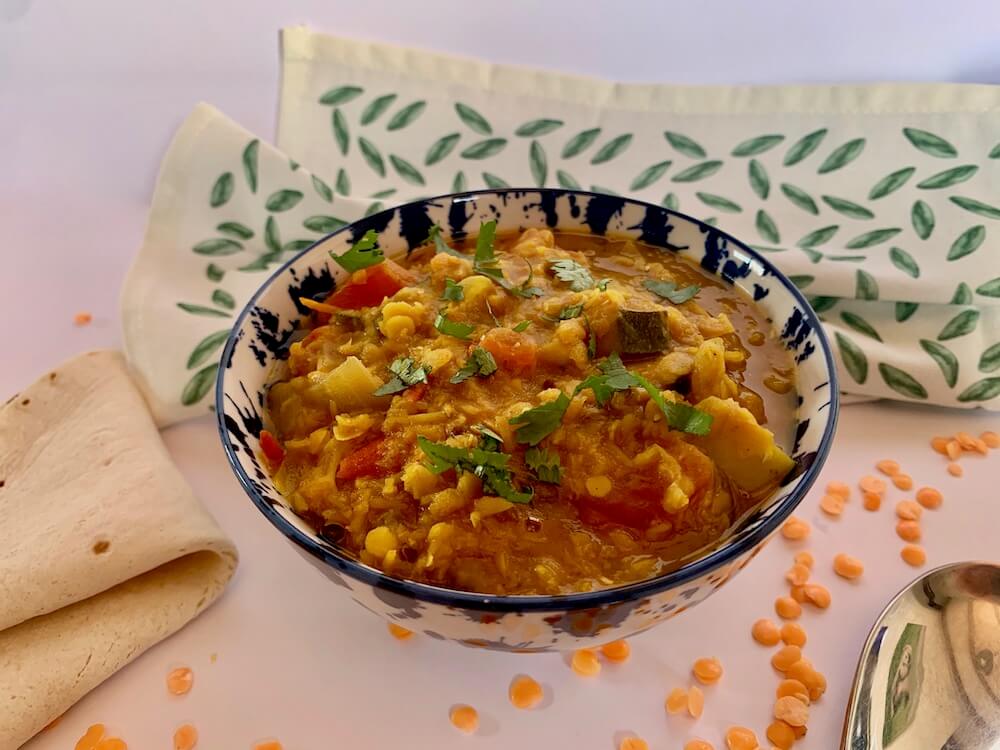 Where Does Tarka Dahl Get its Name?
The word 'tarka' refers to the method of flavouring a dish with spices cooked in oil or ghee, in this case the spices and onions, and whatever other veggies you add to the dhal. Tarka is fried and then added at the end to flavour the dish, in this case the dhal.
The word 'dhal' refers to the split pea, or lentil, which we use in this recipe.
What Ingredients Are Essential for this Tarka Dahl?
Split peas or lentils, onion, garlic & spices. Plus 2-3 large tomatoes and salt and olive oil for cooking. The rest is optional. But there are differences between the ingredients you can choose of course.
The first thing to note is that various lentils behave differently. I used the red (well actually they're more like orange but they're called 'red') lentils for this dish and they were perfect.
They break down so that you're left with a kind of soup without the actual lentil being left whole to the tooth.
The cooking time will depend not only on the colour but also on the brand of the lentil. So please use your own judgement in how long to cook the lentils for. They should lose their shape and become part of the soup-like liquid.
The other point to consider is what veggies you want in your Tarka Dahl. You don't have to have any at all, beyond the onion, tomato and spices, but you could also choose to add more.
I added 1 zucchini and 1 large mushroom and I really liked the result . . .
So, How Simple is Tarka Dhal?
Simple. Simple. Simple!
Preparing the Lentils
Put the red lentils in a pan and cover with water. Swish them around and you'll see the water turn white almost immediately. Drain away the water and repeat until it runs clear, then leave to soak for at least 30 minutes.
After 30 minutes (or more), drain away the soaking water and pour on fresh to cover the lentils. Add some salt and bring to the boil, then reduce the heat and simmer until cooked, about 20 minutes (but could be longer – use your own judgement).
Make sure the lentils don't dry out completely and also that they don't have lots of liquid left. If there's too much liquid in the pan, drain some off, so that there's just a little over and above the lentils.
Bring to the boil, reduce the heat and simmer until cooked.
Preparing the 'Tarka'
Meanwhile, chop 1 large, or 2 small onions, and fry in a little olive oil with 3 finely chopped garlic cloves and 1 red chilli (or to taste).
Let the onions cook for a couple of minutes and then add 1 tsp cumin, 1 tsp coriander, 1 tsp turmeric and 3/4 tsp ginger powder. Stir well and after a minute, add the chopped zucchini and stir.
If you have a favourite curry blend, you can also add 1 tsp of that to the mix, but it isn't essential. I used a tsp of Balti Masala and it worked a treat.
Finally, if using, add the finely chopped mushroom. Fry until the veggies are beginning to stick and the base of the pan is covered in the spices. Use a wooden spoon to free the spices and add a slosh of gluten-free ketjap manis (not essential).
Let the veggie/spice mix cook in the ketjap manis a while and then add 5-6 chopped tomatoes (or more) and fry to reduce. I only used 3 tomatoes but they were big, Spanish ones.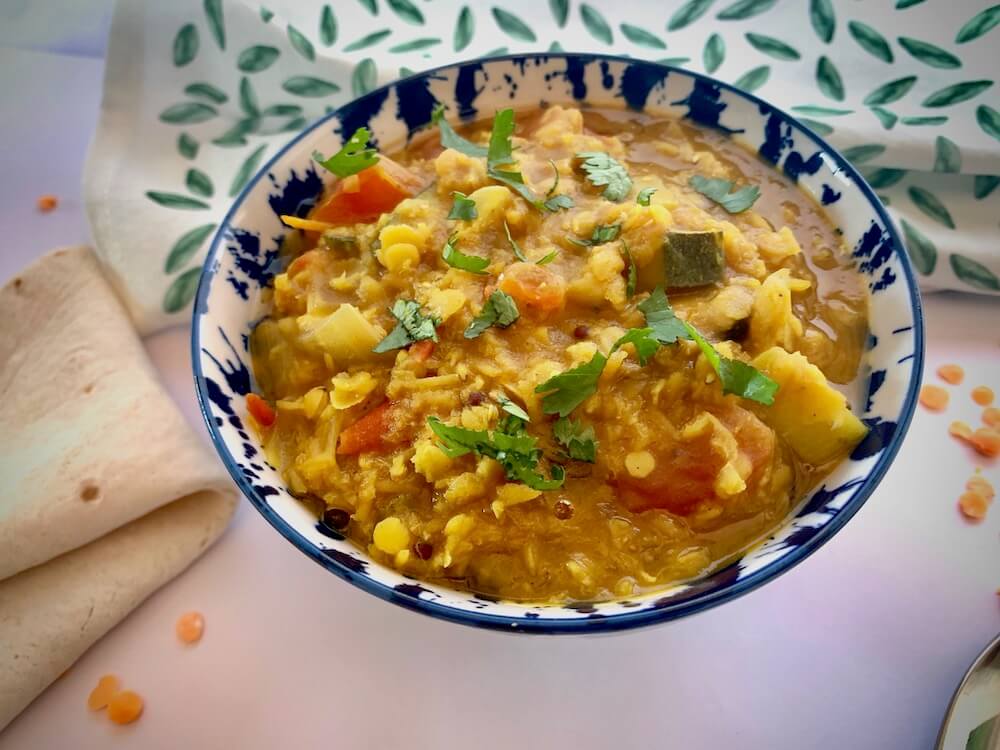 Finally, mix the tomato, veggie & spice mix with the lentils and stir. If you have time to spare, turn off the heat, cover with a lid and leave to stand and improve in flavour.
Or just eat immediately.
Whichever you prefer!
Tarka Dahl Recipe
Course: Main course, Side dish
Cuisine: Vegan, Indian, Gluten free
Difficulty: Simple
Meal in a bowl or as part of an Indian meal, this delicious Tarka Dhal is easy and quick to make.
Ingredients
1 packet (or half a packet) of red lentils

1 large onion

3 large tomatoes or 5-6 normal

1 zucchini (optional)

1 large mushroom (optional)

Olive oil for cooking

Spices

1 red chilli or chilli powder to taste

1 tsp coriander

1 tsp cumin

1 tsp turmeric

3/4 tsp ginger powder

Salt
Directions
For the Lentil Dhal
Rinse the red lentils and soak for 30 minutes.
Drain away the soaking water and replace with enough water to cover the lentils. Bring to the boil, reduce heat and simmer until cooked, about 20 minutes.
For the Tarka
Chop 1 large Spanish onion and 3 cloves of garlic and fry in a little olive oil and salt.
Add the spices and stir to mix well. Leave to cook for a moment.
Add the vegetables you're using, in order of hardness. E.g. chopped zucchini followed by mushroom, followed by the chopped tomatoes.
Cook through and mix into the dhal mix.
Allow to sit and infuse with flavour before serving.
Notes
You can switch the red lentils for split peas or for a different coloured lentil.