This easy lentil dahl recipe is a hassle-free way to make dahl in about 30 minutes. It's one of the easiest recipes yet it's packed full of protein and nutrition.
I buy yellow lentils which are peeled because those are the ones which are available where I live.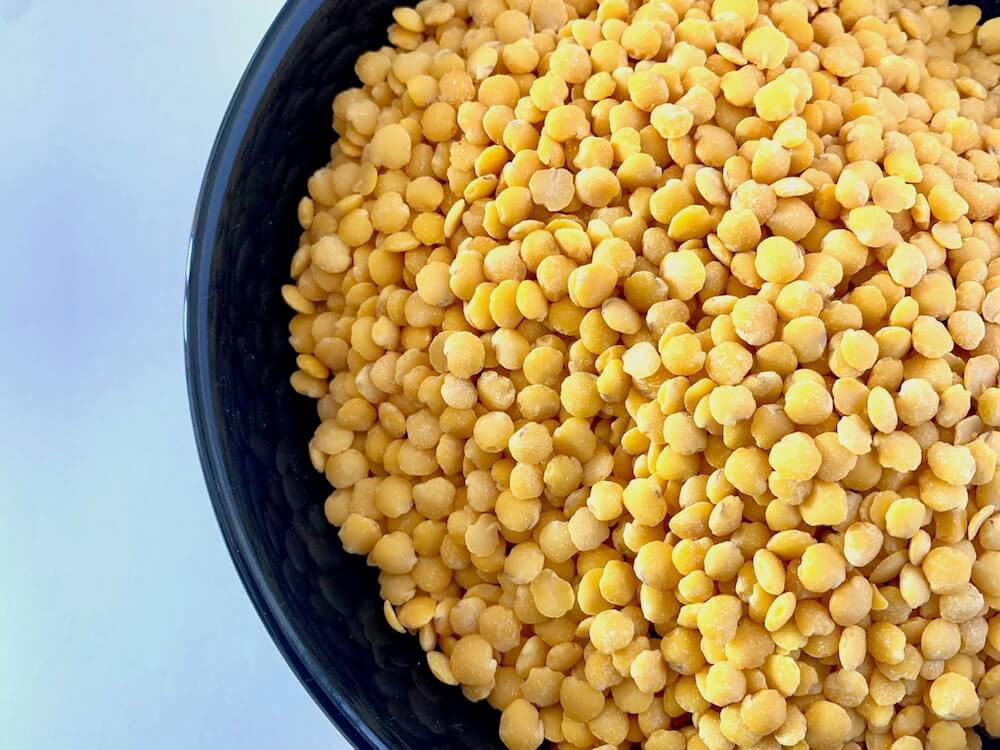 How to Make this Easy Lentil Dahl Recipe
First, wash the lentils (500g), drain and set them aside.
Next, chop a large Spanish onion or 2 regular onions, 3-4 cloves of garlic and 1 hot red chilli. Heat a little olive oil in a saucepan and add the garlic to the pan. After a moment add the onion and chilli and a sprinkle of salt.
After a couple of minutes, add 1 tsp of turmeric. I also like to add some chopped fresh parsley at this point, but it isn't essential. Stir the onions to coat in the turmeric.
Cook until the onion's fragrant and transparent, then add the drained lentils and stir well. Sprinkle on extra salt, cover with a centimetre of water and bring to the boil. Once boiling, reduce the heat to simmer and cover with a lid.
The work is all done now. The only thing you have to do keep a check the lentils to see when the water needs topping up, (it will) and to see how they're progressing with cooking.
Pour on enough water to keep them covered and stir well, until they're looking cooked. Then you want them to absorb the extra water and become like a juicy mashed potato consistency.
When they look cooked, taste to check that they're not hard in the middle and either add more water if necessary or remove the lid and allow any excess water to evaporate.
I like my dahl on the salty side, so I add extra salt at this point, but it's a dish that works just as well with salt added to the individual plate, so it's fine to cook it with low salt if you prefer.
In other words, it doesn't make a difference if you add it in the cooking stage or in the eating phase!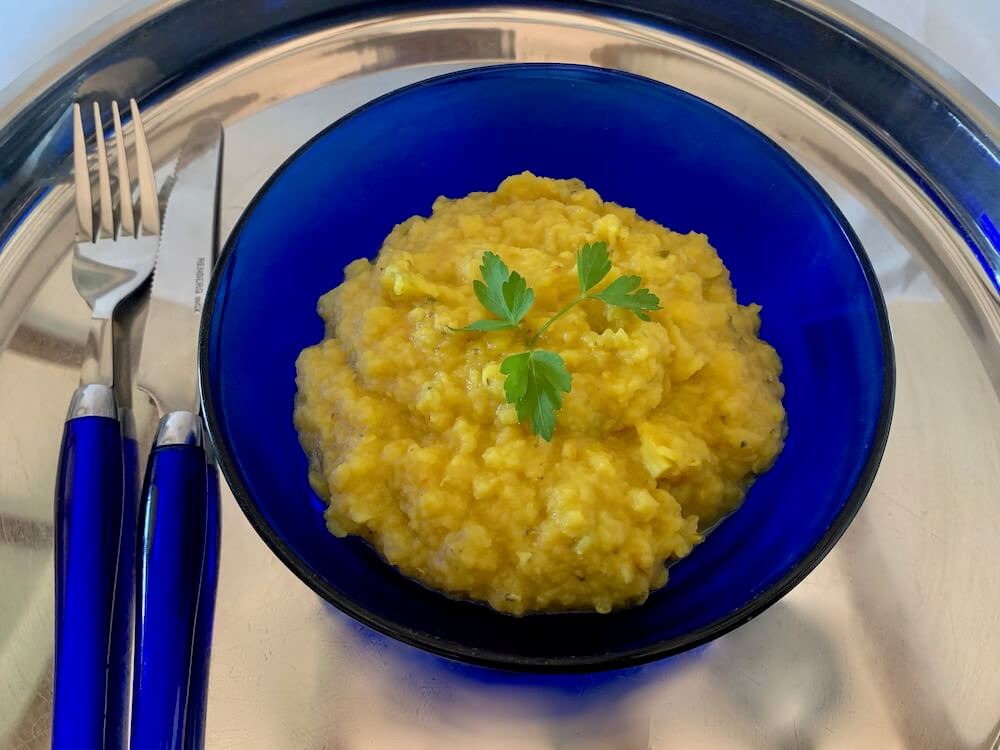 How to Serve Lentil Dahl
You can have some lentil dahl as a snack available in the fridge, or to add it to your Buddha bowl, or as a side dish to your salad plate. I like it hot or cold.
It's a great source of vegan protein so it's really handy to add to low protein meals and also goes well in wraps alongside some crunchy salad things.
But the real and most traditional way to serve a lentil dahl would be as part of a thali platter or an Indian meal spread.
I really like dahl – but I prefer it to be part of a variety of dishes rather than the main centre piece, even though I do know people who like it as the main star of the meal. It's all a matter of personal preference.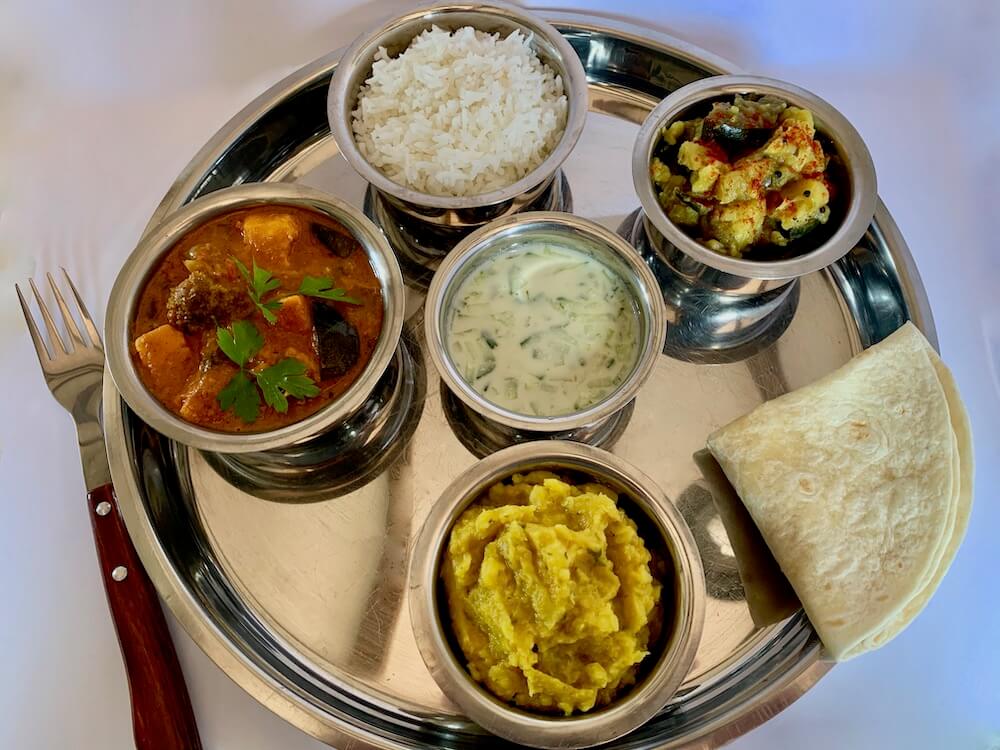 This vegan thali platter is shown with sweet potato & veggie peanut curry, basmati rice, potatoes & eggplant in turmeric, gluten free wraps, vegan raita sauce and yellow lentil dahl.
Easy Lentil Dahl Recipe
Course: Sides, Snack
Cuisine: Vegan, Gluten free
Difficulty: Easy
Easy to make, quick lentil dahl, delicious as an accompaniment to curries and rice or as a snack.
Ingredients
1 500g packet peeled yellow lentils

1 large chopped Spanish onion or 2 regular onions

4 cloves garlic

Sprig of fresh parsley (optional)

1 red chilli

1 tsp turmeric

salt & pepper

Olive oil for cooking
Directions
Fry the onion, garlic & chilli in a little olive oil.
Add the chopped onions, some salt, and cook for a couple of minutes.
Add 1 tsp turmeric powder and stir.
Fry the onions for 4-5 minutes or until fragrant and translucent.
Wash the lentils under running water, drain thoroughly and add to the pan, stirring well.
Cover with about a centimetre of water and some more salt, and bring to the boil.
Cover with a lid and leave to cook for about 10 minutes.
Check the lentils and stir. You will need to add a bit more water. The amount you add is a matter of preference. I like them to absorb all the liquid and be left with a mashed potato consistency.
Replace the lid and leave for another 5 minutes.
Taste the lentils to check whether they're cooked through and serve when they're soft through.
Notes
You can make this dish in advance and keep in the fridge until ready to serve.