This creation is the best vegan lentil soup recipe I've ever had. It's vegan, gluten free, and of course, easy to make.
There are so many variations on lentil soup and to be honest I like most of them on a so-so level. And to like something isn't the same as to love it! Normally, I have a take-it-or-leave-it kind of relationship with most lentil dishes, but there are a couple of recipes which have broken through the barrier.
The first lentil dish I got excited about was a lentil lasagne cooked by the family I was staying with in Italy, (back in the 90's!) using the small dark Beluga lentils.
The next one to get me hooked was the Spanish lentil stew or lentejas recipe, which can be absolutely delicious if you get it spot on. It's made (in my version at least) with the also fairly small, brown Pardina lentils.
But this vegan lentil soup recipe is probably even better than the previous two, because it just packs such a lovely, hearty, nutritious flavour, and that, along with its simplicity to make, makes it a keeper.
Serve it with a delicious red lentil flatbread for dipping!
So here goes . . .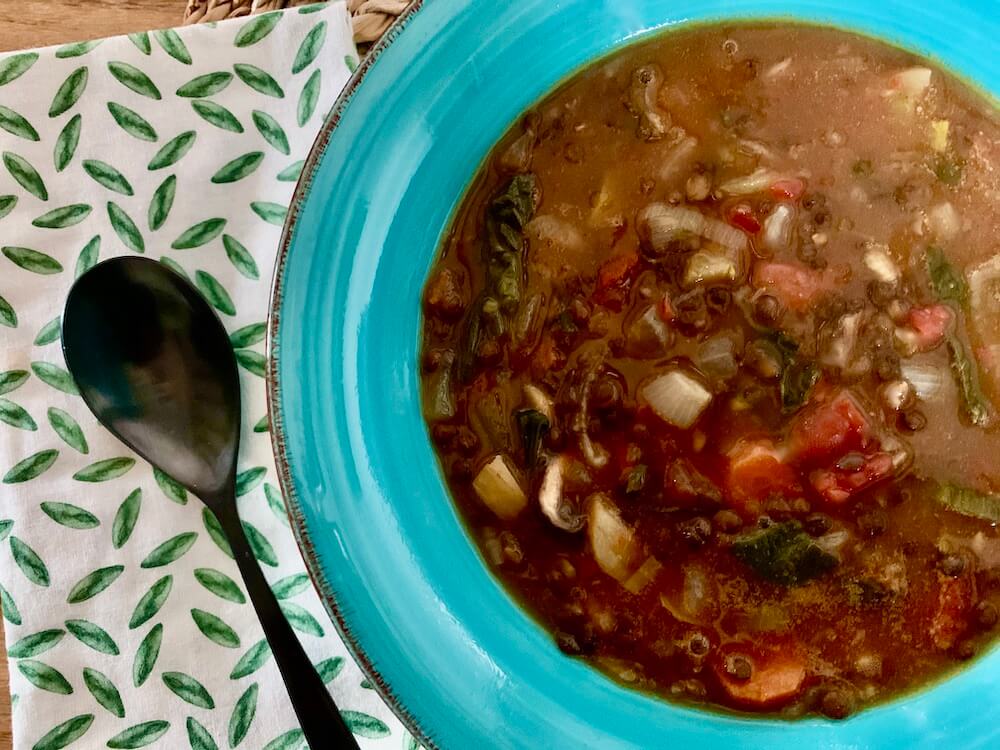 Which Lentils to Make this the Best Vegan Lentil Soup Ever?
The black Beluga lentils of course! They are king of all lentils!
Although you can use any lentils, using these small black Beluga lentils is the game changer which takes this lentil soup from being just ok to really popping and tasting sensational. I guess you could also use Puy lentils as they are supposed to be similar, though I haven't tried them myself.
Beluga lentils retain their shape and have a different, more subtle flavour to regular lentils. If you previously thought you're not a big fan of lentils, I recommend you try these babies.
Of course, if you love all lentils, you can also use the standard Pardina lentil (or any other type of your choice).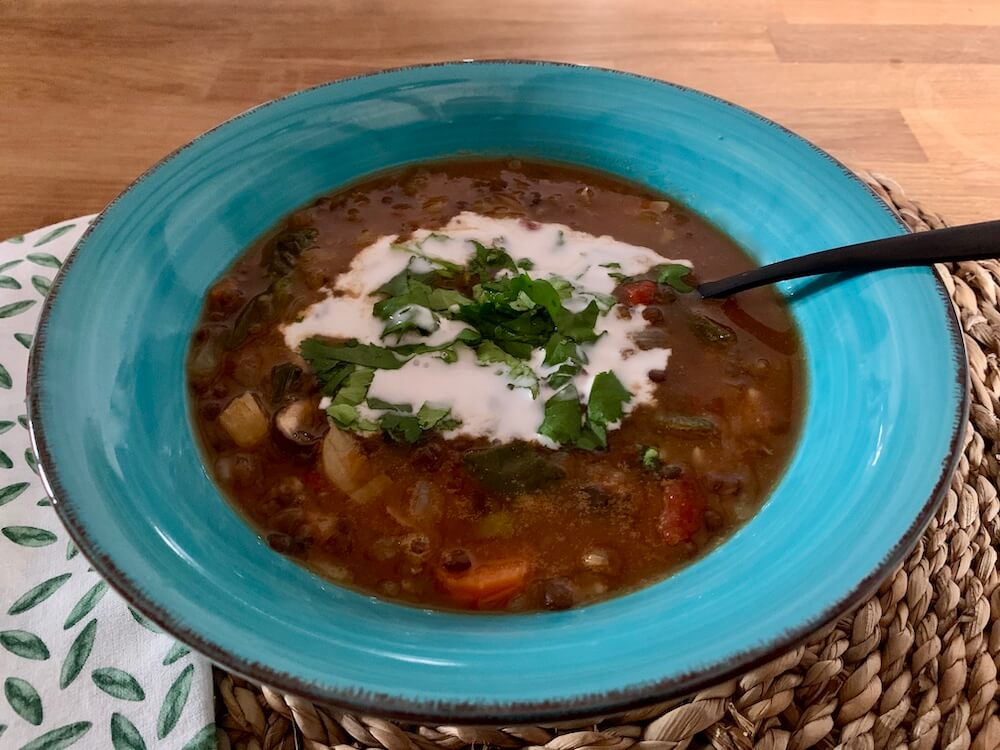 Cooking the Lentils for Vegan Lentil Soup
Place 250g or half a packet of lentils in a pan, cover with cold water and leave to soak overnight. This step isn't essential but it seems to improve the flavour of the lentils in the finished result.
Discard the water and rinse the lentils well, checking them over for small unwanted ingredients like stones or other such intruders. I actually found a wheat grain in my last packet, so beware to check them over, especially if you're gluten intolerant.
Refill the pan with lightly salted water to just cover the lentils by about 1 cm and bring to the boil. Finely chop half an onion and add it to the pan.
Simmer until cooked, for about 30 minutes or however long until the lentils are soft. If necessary, add more water to the pan. You want the cooked lentils to have absorbed most of the liquid when they are done.
Set aside for using later.
Making a Vegetable Stock for Your Vegan Lentil Soup Recipe
The easiest way to make a great stock for your soup is to take advantage of the cooking water from the previous meal, if there is any. Obviously it won't always be possible, if you're eating a jacket potato for example you won't get the opportunity!
But maybe you're cooking some potatoes for the meal before. Instead of throwing away the water which you cook them in, use that as a base for your soup. Even potato water goes a long way to giving extra flavour to the soup. Or you might have extra vegetable cuttings to cook up in the potato stock too. Remember to keep it simple!
If you want to read the recipe on how I make my homemade stock if I'm not cooking with water the day before I make the soup, you can see a post I wrote about it here.
Best Ever Vegan Lentil Soup . . .
Once you have the vegetable stock and the lentils ready, you're almost there. Read the recipe below for the final steps in putting together this delicious soup.
Best Vegan Lentil Soup Recipe
Course: lunch, soup, main course
Cuisine: vegan, gluten free
Difficulty: easy
Ingredients
1 finely chopped onion

3-4 cloves chopped garlic

2 large parsnips

2 carrots

1 sliced leek

3-4 mushrooms

3-4 chopped tomatoes

250g pre-cooked lentils


Handful of cooked/tinned Borlotti beans, pinto beans or red beans (optional)

1 tin chopped tomatoes

75g baby spinach leaves

1 litre vegetable stock

1 tsp cumin & coriander

Gluten free soy sauce

Gluten free ketjap manis

1 cm fresh ginger

Olive oil for cooking

Vegan cream for serving (optional)

Fresh coriander for garnishing
Directions
Heat some olive oil in a pan, add the very finely chopped ginger and allow to cook on a medium high heat for a couple of moments before adding the chopped garlic and onion to the pan. Sprinkle on a tsp of cumin and a tsp of coriander.
Scrub the 2 parsnips and remove the hard bit at the end. Grate the fat end and finely slice the thinner end of the parsnip. Add to the pan and sprinkle with salt.
While the parsnips start cooking, carefully wash and finely slice the leek. Check that the parsnips are semi cooked/fried before adding the leek to the pan and checking the salt level. I like to have it on the salty side at this stage to bring out the flavour. As long as the vegetable stock isn't too salty, the level will be just right when you add the tomatoes and the stock.
Add the sliced/quartered mushrooms and sliced carrots and allow the mix to sizzle until the parsnips are cooked (about 10 minutes), stirring occasionally to avoid it sticking.

Next, pour in a dash of gluten free soy sauce and a dash of gluten free ketjap manis (sweet soy sauce) and stir fry for a moment.
Mix in 3-4 large chopped tomatoes and cook for a few minutes until they begin to lose their shape.
Pour in the pre-cooked lentils, a tin of chopped tomatoes and the vegetable stock.
Taste to check the seasoning and cook to heat through.
Serve with a swirl of vegan cashew cream and some freshly chopped coriander on top.
Video about lentils: the miracle of nutrition
Notes
Any of the ingredients can be substituted for alternatives but I simply love the added flavour from the parsnips
Tips for Cooking this Vegan Lentil Soup
What makes this recipe really worth making and the flavour ping for me are the fried parsnips which give such an incredibly moorish flavour and undertones to the finished soup.
As well as that, the type of lentils is a game changer (the small black Beluga lentils) and topping it off with fresh coriander and a swirl of vegan cream.
Use some potato water for the stock if you don't have any veggie stock ready made and you're good to go. The rest of the ingredients can be adapted as necessary.
Oh, and one other thing…I left the carrots until toward the end of the frying stage, adding them in slightly larger chunks, which resulted in them having a nice bite in the finished soup.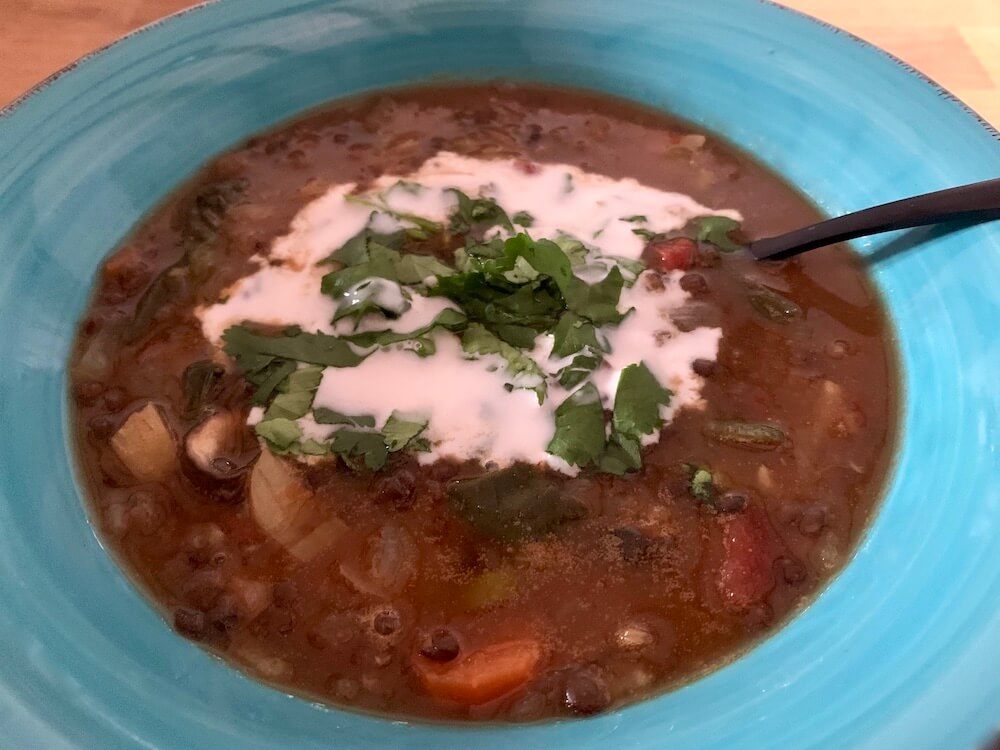 If you're a soup fan on a cold winter's day, why not try out some of the other easy soups like beetroot soup, roasted pumpkin soup or a broad bean stew also called cazuela de habas, a favourite recipe from Spain.