This broad bean recipe from Spain is and an adaptation of the traditional cazuela de habas, which has a place in the Spanish kitchen throughout springtime, when we have an abundance of broad beans.
I love broad beans in all their forms. Raw, added to a king salad, fried with the skins to make a delicious broad bean tapas or cooked in a stew like in this broad bean recipe, Cazuela de habas.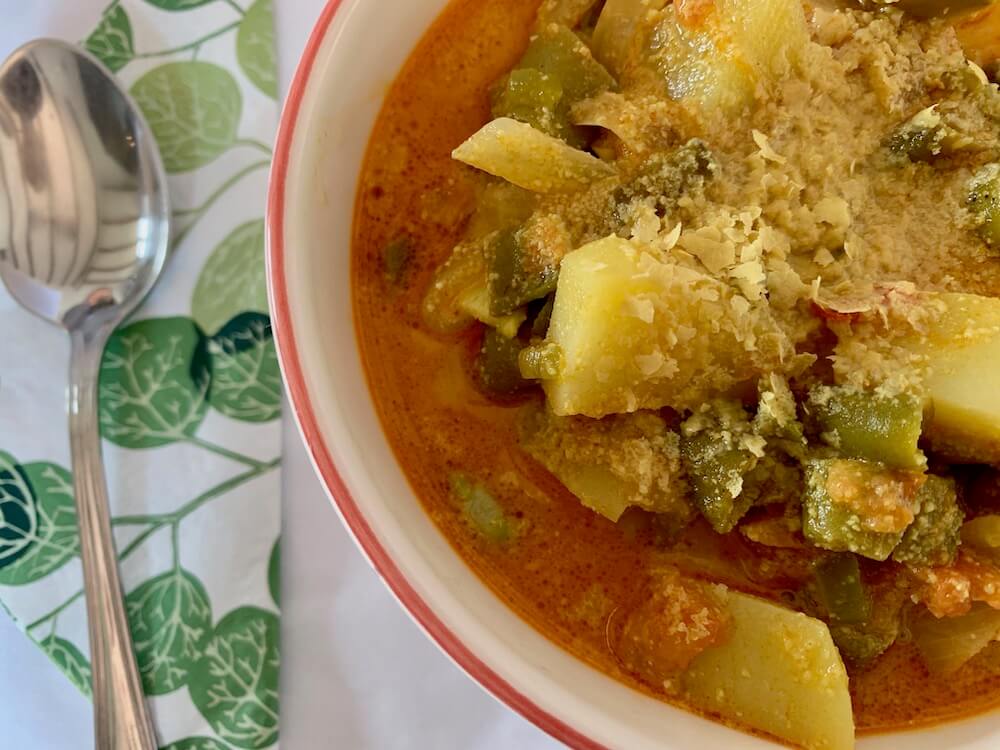 If you're a fan of Spanish food, you may also like this vegan Spanish omelette recipe, or this classic Spanish Pisto made with zucchini, tomato and eggplant, or this vegan lentil stew recipe from Spain.
And one of my all time favourite foods so far is this lentil soup which can convert even the most non-lentil lover into being a fan.
About the Spanish Broad Bean
The glorious broad bean is also known as the Fava bean.
Don't go confusing frozen broad beans with the real thing. They really don't have that much in common (except that I happen to love them both).
I know lots of people who hate frozen broad beans, but that doesn't mean they wouldn't love this cazuela de habas.
The broad bean, as it's used in this recipe, is the one that comes from the garden (or field or neighbour..!)
When it's young, the whole pod is cut into 1-2 cm pieces and used as is.
As the bean matures, the pod becomes tougher and the beans inside swell into larger beans. At this stage, the pods are discarded and the bean taken out to use.
The most common way to make this recipe is using some entire pods and some beans popped out from tougher pods.
Are Broad Beans Healthy?
Broad beans are full of protein, folate, manganese, copper, phosphorous, magnesium, iron, potassium, thiamine, and zinc. As well as being high in soluble fibre.
Broads Beans and Your Health
Soluble fibre can regulate and improve the digestive system, as well as help to lower cholesterol levels.
Manganese and copper support stronger healthier bones.
The iron content protects against anemia.
Broad beans can also help heart health and lower blood pressure due to their magnesium and potassium content.
They boost antioxidant activity within the body thus improving the immune system, though more testing is needed on this.
They can be helpful in treating Parkinson's disease but consult your doctor if you're taking medication before turning to daily broad beans as they could interfere with the medicine.
As with many plant based foods, the high protein, high fibre, low calorie and low fat broad bean can be great for helping in weight loss.
About this Broad Bean Recipe from Spain – Spanish Cazuela Recipe
In this part of Andalucia this broad bean dish includes the use of fried almonds. (I live in an almond growing region, everybody has almonds in their kitchen!) They're not essential, but they definitely give the cazuela de habas its signature flavour.
For years I had a mental block about using almonds in my cooking. I thought they made it complicated. You know, maybe having to shell them, peel them, blanch them or fry them, well it all sounded like too much hassle.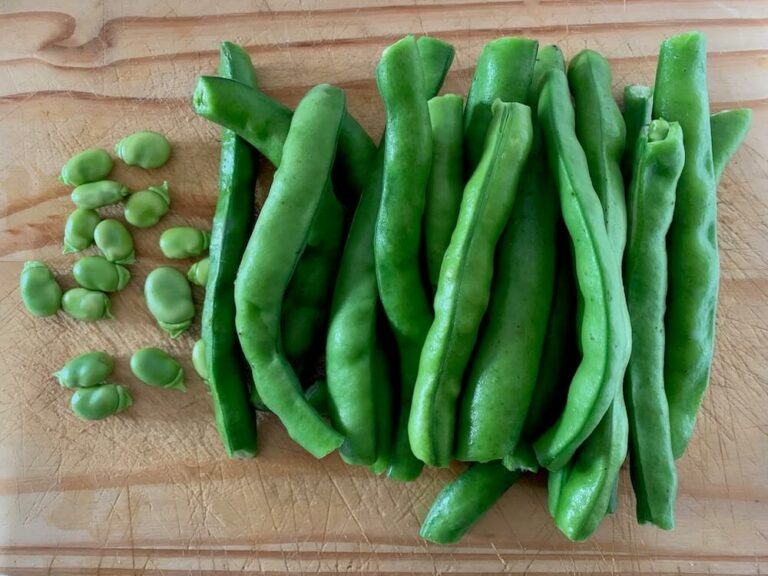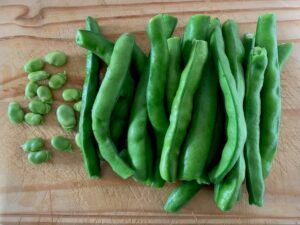 I like to share how you can invent and create without being tied to exact rules or quantities.
And using almonds, actually once you've got over the resistance, is also pretty simple.
I used the ones that are already shelled so that's half the battle already.
Do you have to add almonds to this broad bean recipe? No, actually you don't.
It's a quirk from this part of Andalucia and I like the twist of flavour they give to this Spanish broad bean recipe.
So, let's get started.
Preparing the Almonds (if using) for this Broad Bean Recipe from Spain
Use raw unsalted almonds. Mine were a bit stale and tough, in which case it's best to soak them for an hour or so. You can use hot or cold water – I used hot to speed things up. Normally, it isn't necessary to soak or to peel them.
After soaking, drain away the water and rinse the almonds well.
Next, heat a little olive oil in a frying pan and gently fry the almonds with a little salt, until golden in colour. If you have healthy looking almonds, just jump to this as the first step: frying them in their skins.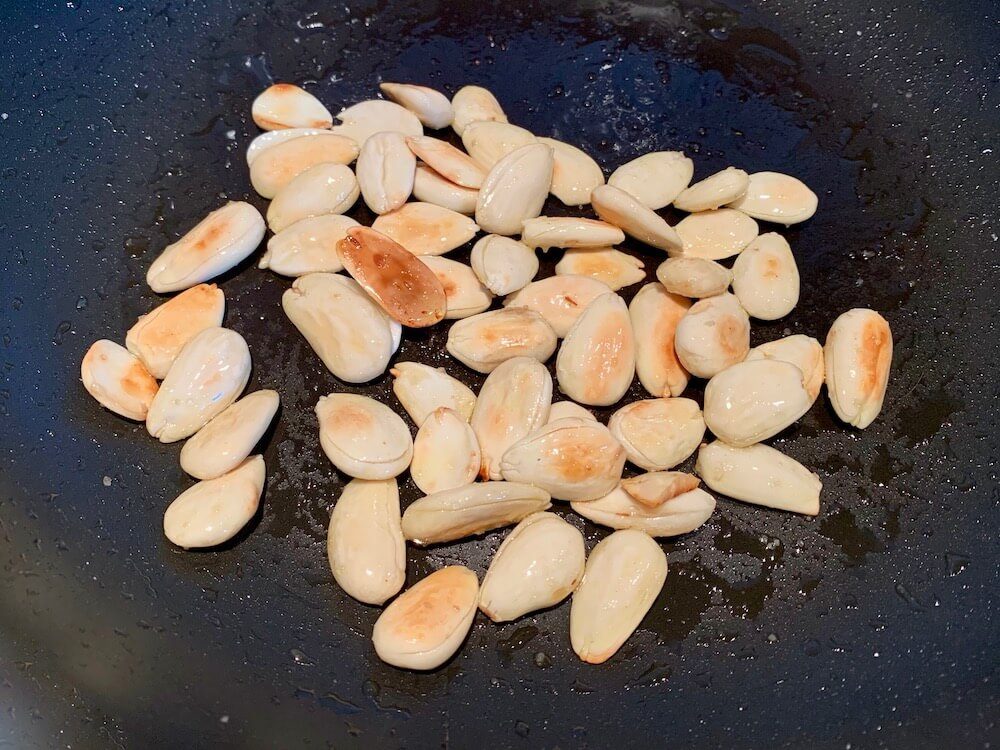 Transfer to your hand blender and add a little water to blend.
You'll need to scrape down the sides, add a little more water and blend again.
Rinse and repeat until you have a smooth, white milky liquid. Set it aside for adding to the cazuela de habas later.
Making the Fried Broad Beans
Heat about 3 tablespoons olive oil in a pan and fry 1 onion with 3 cloves of garlic. Add some salt, paprika and a touch of cumin. You can also add 1/2 tsp turmeric if you like. (It's not traditional, but I love turmeric!)
Chop up 1 green pepper and add to the pan.
Meanwhile, top and tail the broad beans. I have not indicated a specific quantity of beans here, as it's flexible and you can add more or less, however you like. For this recipe I used about 20 beans.
For any that look older and tougher, remove the bean from inside the pod and discard the pod.
The best is when you have most of the broad beans whole in their shells but some of them with large beans so that some whole beans are left in the final cazuela.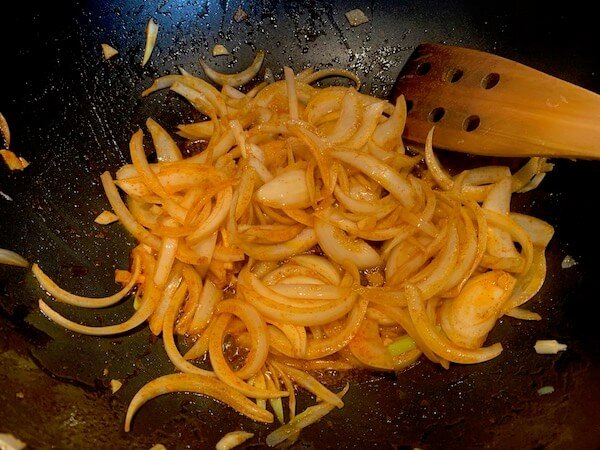 Add the broad beans and to the onion mix and stir well.
Sprinkle with plenty of salt (to taste). This is one dish that I don't recommend cooking low-sodium as the broad beans in their shells really do need the salt.
Cook the beans until they are well on their way. After at least 10 minutes, or maybe even more, add 4-5 chopped tomatoes.
Leave to cook for about another 20 minutes, checking occasionally.
Next, add 2 chopped potatoes to the pan and pour in enough water to cover.
Once again, leave to cook, checking sporadically.
When the potatoes are soft, add the almond milk to the pan and mix.
Taste to check the flavours and make any adjustments you want.
Finally, add a dash of soy sauce and a dash of dry white wine to taste.
Enjoy!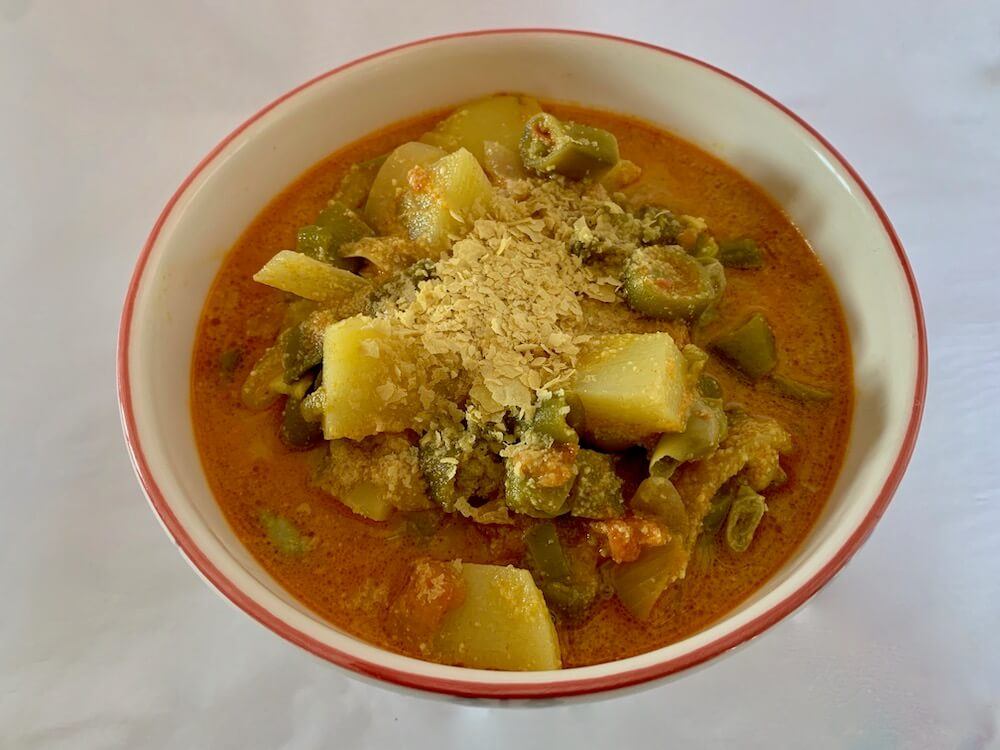 Cazuela de Habas – Broad Bean Recipe from Spain
Ingredients
Fresh broad beans chopped into 1-2 cm pieces and de-podded as necessary
2 medium potatoes chopped into bite-sized pieces
4-5 tomatoes, chopped
1 chopped onion
3 cloves of chopped garlic
1 green pepper, finely chopped
1 tsp sweet paprika
1/2 tsp of cumin
1/2 tsp turmeric (optional)
Olive oil for cooking
Salt & pepper
1 small cup of almonds (about 30-40 almonds)
Dash of soy sauce (optional)
Dash of white wine
Directions
Fry 1 chopped onion with 3 cloves of finely chopped garlic, 1/2 tsp cumin, 1 tsp sweet paprika and a little salt, on a medium heat. Add 1/2 tsp turmeric if using.
Add 1 chopped green pepper to the pan and fry for a few minutes before adding the beans. The pepper should be almost cooked before the beans go in the pan.
Top and tail the broad beans and chop into 1-2 cm slices. For any that are more mature, de-pod the beans and save them to mix with the beans in their pods.
Add the chopped broad beans to the pan and sprinkle with salt. Broad beans need more salt than you would expect, and it's an important part of this recipe.
Cook the broad beans for a good 10 minutes and then add the chopped tomato.
Taste the beans to check the salt level and add more if necessary. Cook for about another 20 minutes.
When the tomatoes are starting to lose their shape, add the chopped potatoes to the pan and fill with enough water to cover the beans and potato mix.
After a couple of minutes, taste the liquid and adjust the seasoning.
Cook until the potatoes are soft through.
Add the almond milk to the pan and stir well. (See below for how to make the almond milk)
Taste the cazuela de habas and add a dash of soy sauce and a dash of dry white wine (optional, and added to taste).
Print
pREPARING THE ALMONDS (IF USING)
While the cazuela is cooking, take a small cupful of almonds and gently fry them until they are golden brown.
Put the fried almonds into your hand blender along with a little water. Blend until you get a smooth paste consistency then add a little more water and keep blending until you have a white milky liquid.
Add to the cazuela de habas as in step 10 above.
It's important that the broad beans get fried in the first cooking stage. It will ruin the cazuela de habas if they get boiled in the water without already being cooked in the frying stage. It's better to take a bit longer over the frying stage than to risk ruining the ultimate flavour of the dish.
You can use any additional vegetables you like to replace the green pepper. Traditionally, and because they are in season at the same time, this is often made with addition of artichokes. If using, fry the sliced artichoke in the first stage, along with the onion.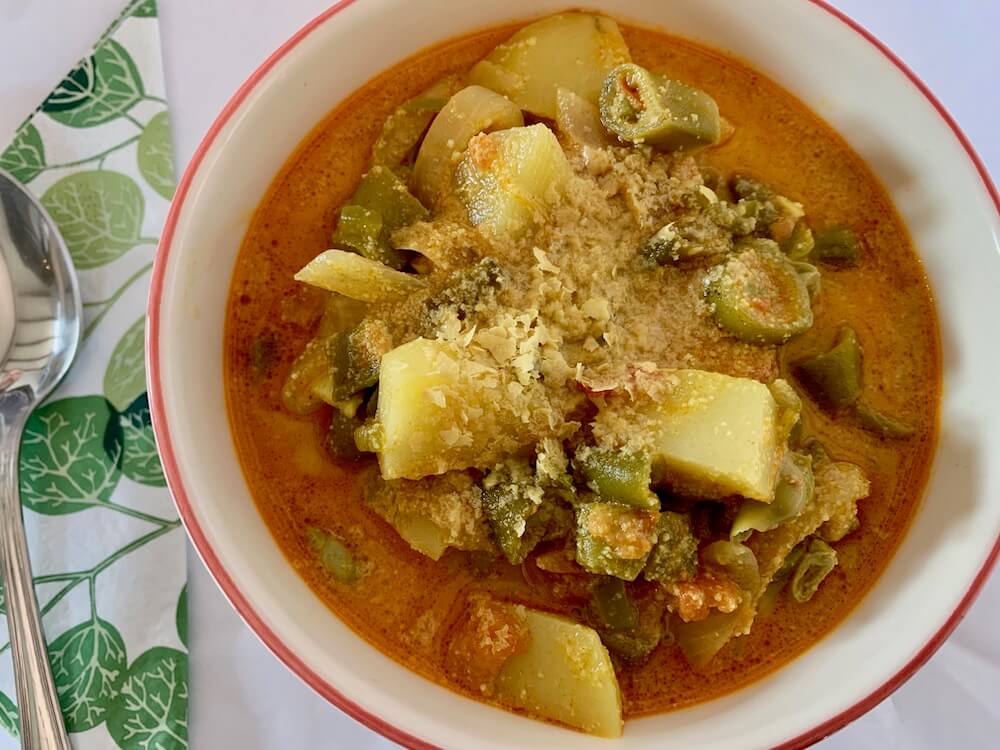 Conclusion on this Broad Bean Recipe from Spain
Eating a whole foods plant based diet is by far the healthiest way to go about becoming a healthy vegan, in my opinion. And this Cazuela de Habas fits in nicely with a wholesome healthy diet.
In fact, how to cook balanced meals like this one, which can form part of an awesome vegan lifestyle, is one of the most common vegan FAQ which gets asked time and time again.
Yes, it may take time to adjust and yes, you may need to learn new ways of cooking vegan whole foods without recipes.
But at the end of the day, not only will you gain incredible health benefits, but also you won't have to worry about all those hidden non-vegan ingredients, the food is cheaper than processed foods, and ultimately it's simpler and cheaper.
I hope you enjoyed cooking this Cazuela de habas!