Welcome my friends to another veganised Spanish recipe from here in the Malaga province of Andalusia. When I was new in Spain, on first inspection it seemed as though there weren't many dishes which were even vegetarian let alone vegan.
But after living here for more than 25 years I've discovered that there are many home cooked recipes that you just don't come across very often in the bars. And pisto lies in the middle of the spectrum – some bars regularly serve it alonside their main dishes and others never include this gem on their menu.
But Pisto is a traditional part of every household and a staple side dish in the Andalusian cuisine.
So, What is Pisto?
Pisto is the name of this Spanish dish that is a common household name right across Spain.
Pisto's is also known as Pisto Manchego, referring to the region of La Mancha, even though its origins are believed to stem from Andalusia, from as far back as the time known as Al-Andalus, (years 711 – 1492). Wow, that's an old dish!
Pisto's basically a mix of the seasonal vegetables , zucchini, onion, peppers & eggplant (like a Spanish version of ratatouille but with a different flavour), cooked olive oil and a sauce of garlic and tomato. Much of the flavour comes from the olive oil, so if you're making an oil free version (see below) the flavour will be slightly different to the traditional flavour.
The traditional way to serve this dish is with a fried egg on top, which complements the flavour and also adds to the nutritional profile by bringing in some additional protein. To make vegan Pisto as a complete meal, you can add a tofu egg or serve along with some quinoa or beans.
What is Malagueño Pisto?
Malagueño Pisto is just the way they make Pisto in the province and city of Malaga. My inspiration comes from the Malagueño version of Pisto just because that's where I live.
If you travel up north, you'll get a different variation of pisto; in fact, almost every region of Spain apparently has its own variety of this traditional dish.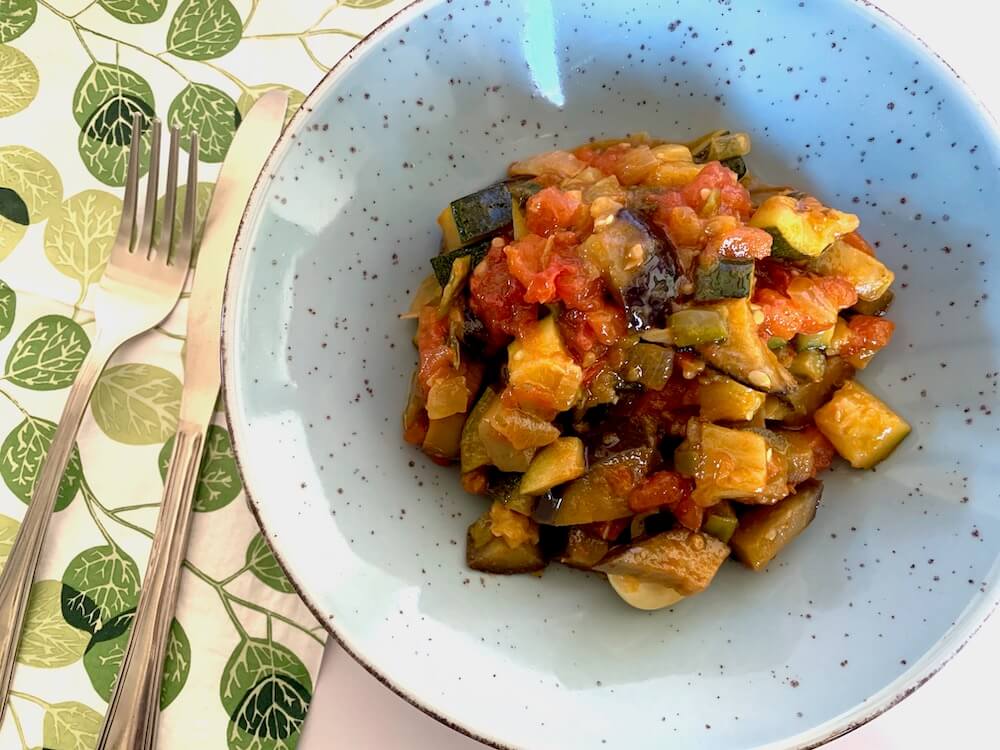 So, this recipe's based on a traditional Malagueño Pisto with a few personal tweaks to this simple but tasty dish to make it vegan. Even in its traditional form, the only thing that's non-vegan is the addition of the fried egg on top.
If you're like me and you love all vegetables, you can't really go wrong with this. Personally, I couldn't get fed up with veggies – ever!
Spanish Pisto's great when you've got a glut of zucchinis, but if you do, then you'll need more than one recipe up your sleeve! And for that time of year when we have zucchinis coming out of our ears, I wrote about 9 easy vegan zucchini recipes.
Ingredients of a Traditional Spanish Pisto
You can add whatever you like to a Pisto but if you want it to be traditional then here are the normal ingredients to use.
Essential Ingredients in Pisto
Zucchini
Onion,
Garlic
Green or red pepper (or both)
Optional Extra Ingredients in Pisto
I prefer to make my Pisto with eggplant but without potato because I love to use up the veggies from the vegetable garden. I don't really eat that much potato to be honest yet I love eggplant (and have lots in the garden!) so that's a must. But I see no need to add potato.
Sometimes though, when the mood takes me, I might make it with some potato in it. The name of the game is flexibility. The traditional way to add potato is to fry the potatoes in olive oil.
Variations on a Malagueño Pisto
Ingredient Variations:
You can use red &/or green pepper, zucchini &/or eggplant, &/or potatoes
Choose between fresh tomatoes or tinned tomatoes: fresh are the tastier and more authentic way to go, but of course, you can make pisto with tinned tomatoes for convenience.
Sweet paprika can be added or omitted according to your preference.
While there isn't any particular herb that's cooked with pisto, you can always opt to add some fresh parsley to the frying stage, or some fresh basil to the sauce, or any other herb of your choice.
A dash of wine or vinegar can be added at the end, or omitted entirely.
Pisto is served with a fried egg on top, which should still be runny. (Other variations exist like ham or fish etc.) For a vegan version, I like to serve a tofu egg on top, or some scrambled tofu.
Pisto takes quite a lot of its flavour from the olive oil which the veggies are fried in but like (almost) any recipe, you can adapt this to make an oil-free pisto. It will change the flavour, but is still delicious.
Method Variations for Making a Pisto
Apart from the options in ingredients, there are also variations on how to make a pisto:
You can cook the pisto all in one pan by adding the tomatoes to the fried veggies, or prepare the tomatoes separately by frying onion, garlic and tomatoes in one pan and the veggies in another.
Salt the eggplant or add them straight to the pan. (I prefer them salted and sweated first.)
Peel the tomatoes or leave the skin on.
Chop the veggies small, medium or large: the size of the pieces of vegetables also varies from chef to chef – choose whatever you like best.
How to Make a Delicious Vegan Pisto
This is how I make this simple but tasty dish when I feel like a meal of pisto or for a tapa – and it isn't set in stone, there are so many ways to adapt it to suit the moment. Add more or less of one vegetable, use herbs or not . . . whatever takes your fancy in the moment.
Start off with the Eggplant for Pisto
If you're an eggplant fan like I am, you might like to see my other favourite eggplant recipes such as this tatsy vegan eggplant curry or vegan stuffed eggplant or vegan eggplant parmesan recipe inspired from Italy.
Slice the eggplant into rounds, roughly 1 cm thick, then each round into halves or quarters. Place into a bowl and sprinkle liberally with salt, rubbing it into the flesh and turning the slices round so that every part is salted.
Set aside and leave for at least 20 minutes, until the slices are sitting in their own, dark brown liquid which has oozed from the eggplant.
At that point, rinse each piece of eggplant well, using your hands to really make sure they're properly rinsed as otherwise they will be too salty. The eggplant absorbs some of the salt, so this will ensure that they have the perfect amount of salt in them.
Even if you have lovely young eggplants which aren't bitter, I still like to do this salting stage because after rinsing, you'll find that the eggplant is softer, quicker to cook and perfectly salted (as long as you rinse it well enough).
Next, the Tomatoes for Pisto
Peel 5 large tomatoes and chop them into small pieces. Heat 3 tbs olive oil in a frying pan or wok. Peel 2 cloves of garlic and add them whole to the hot oil and allow to fry for a moment.
Next, add the chopped tomatoes, sprinkle with a little salt and cook on a medium high heat, stirring occasionally.
Let the tomatoes cook while you prepare the rest of the pisto.
Making the Veggie Part of the Pisto
Chop 1 large onion, 1 Italian green pepper, 1 zucchini & 1 eggplant into little squares of roughly the same size. Finely chop 3 cloves of garlic.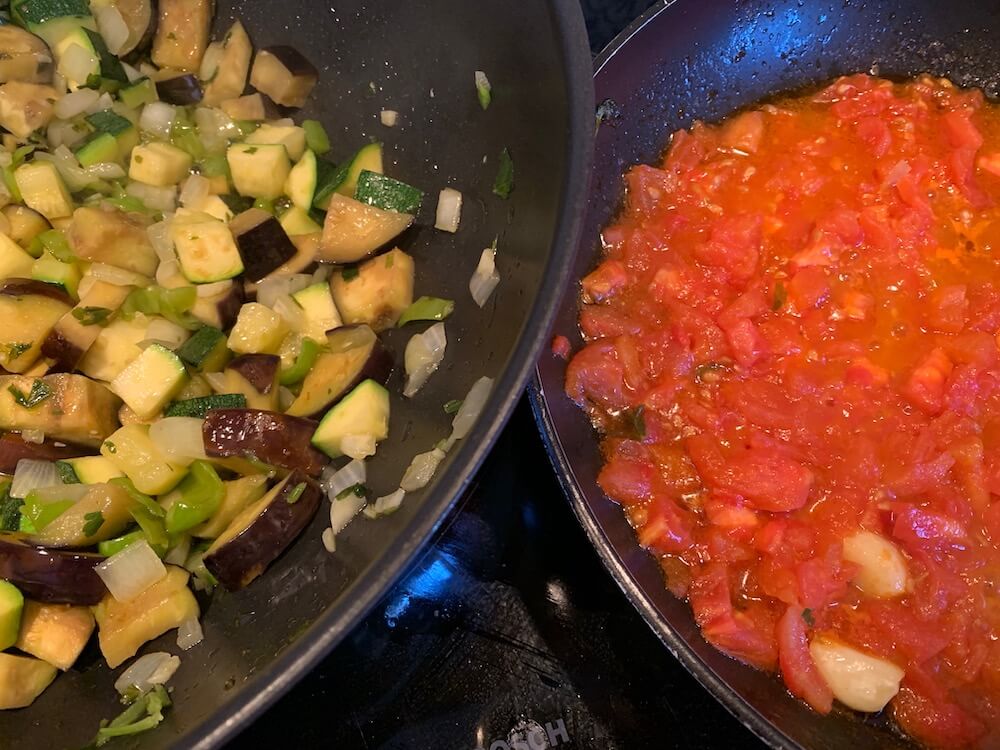 Heat some olive oil in a frying pan or wok and fry the onion and garlic with a sprinkle of salt, for about 3-4 minutes. Add the chopped pepper and fry for another minute.
Add the zucchini & eggplant and fry until soft and almost completely cooked.
At this stage, mix the fried tomatoes into the veggie pan and cook through.
How to Serve Vegan Spanish Pisto
Traditionally, Pisto is served with something on top and the most frequently encountered topping is a fried egg. The egg complements the pisto both in flavour and in nutritional value.
I thought it would be fun to make an egg out of tofu.
Making Tofu Egg
Slice the tofu in half lengthwise and then use a small dish or jam jar to cut a circle out of that shape, keeping the knife straight. Keep the outer part of the tofu for scrambling later.
Fry the round slab of tofu in small amount of olive oil for a few minutes on each side, until it begins to brown. When it's firm enough to handle, remove it from the oil and carefully cut it in half again, being careful not to get burned.
You now have two thinner circular shapes out of the one thick one. Fry these two thin ones on the 'raw' side and sprinkle with salt. If you prefer it with the flavour of soy sauce, you can add a little soy sauce to the pan last thing. It tastes nice but makes the tofu turn dark.
Meanwhile, put a large cup of plant milk into a small pan and add a good pinch of salt, a tbs nutritional yeast and a tsp of tapioca flour along with a 1/2 tsp of turmeric. Stir as the tapioca thickens (if you look away and stop stirring, you will get lumps like I did – but I actually like the lumps so it isn't really a big problem!).
Make a little hole in the middle of your 'egg' and put a teaspoon of this yellow mix into it, then place the whole thing on top of the pisto. It's might seem like it's only for fun to make it look like an egg, but actually the taste goes beautifully with the pisto, adding a bite to the tooth, a creamy flavour from the 'yolk' and a protein boost to the dish.
If you're not in the mood for playing games with making pretend eggs, you can just scramble some tofu and serve that on the side to make this pisto into a more complete meal.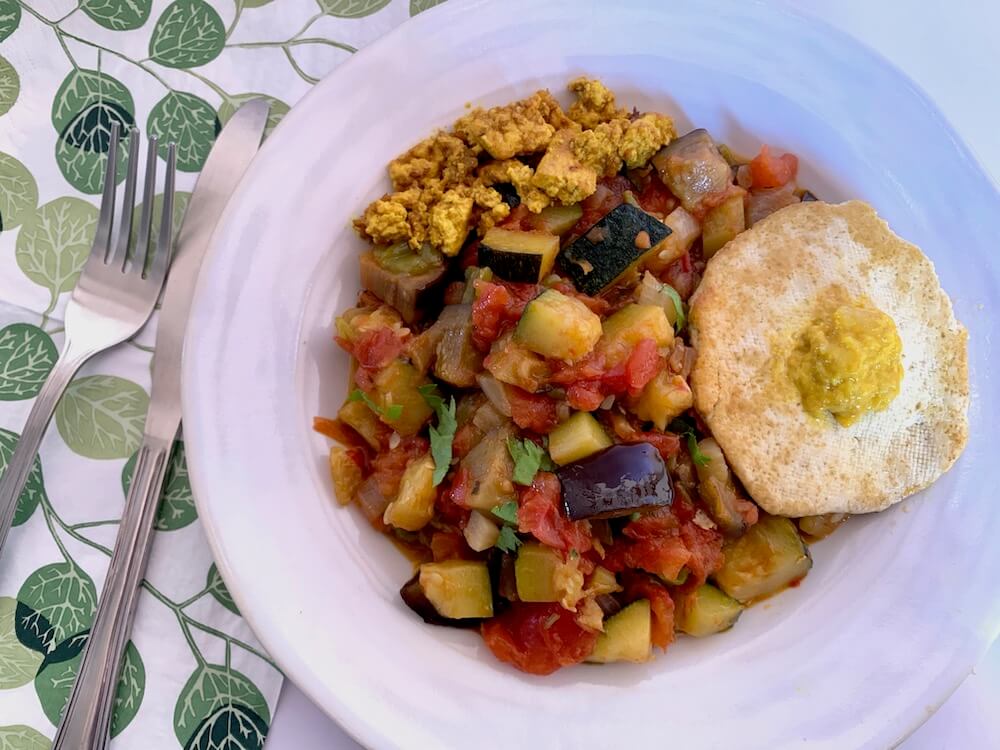 Spanish Pisto Recipe – Vegan Style
Course: Main, Lunch, Tapas
Cuisine: Vegan, Gluten Free, Spanish
Difficulty: Simple
Simple Spanish recipe ready in less than 30 minutes
Ingredients
1 large onion

1 green or red pepper

1 eggplant

1 zucchini

3 cloves garlic chopped

2 whole cloves garlic

5 large tomatoes

Olive oil for cooking

Salt
Directions
Slice the eggplant into rings of about 1 cm thick and cover in a generous sprinkling of salt. Rub the salt into the eggplant, making sure to get both sides. Set aside for 20 minutes.
Peel and chop the tomatoes. Heat a little olive oil in a frying pan and add 2 whole cloves of garlic and the chopped tomatoes and a sprinkle of salt. Leave cooking while you make the rest of the dish.
Rinse the eggplant well, making sure to rub the salt out of each piece. Just running it under the tap may not be enough as it will have absorbed some salt and could be too salty. So just to be safe, rub each slice carefully. Lay on kitchen paper and pat dry.
Stack the eggplant rings flat and cut them into cubes by cutting a grid across them.
Heat some olive oil in a frying pan or wok and add the chopped garlic and onion. Cook for about 3 minutes then add the chopped pepper, followed by the zucchini and eggplant.
Sprinkle with salt and leave until the vegetables are soft and almost completely cooked through.
Add the fried tomato (which should now have a lot of juice in it) to the pan and mix well.
Leave to blend the flavours for a few minutes more and then serve with your meal or with vegan-egg-tofu.
Notes
Pisto can be ready in 30 minutes but can also be made in advance and it's a really easy recipe which goes well as a side dish or main course.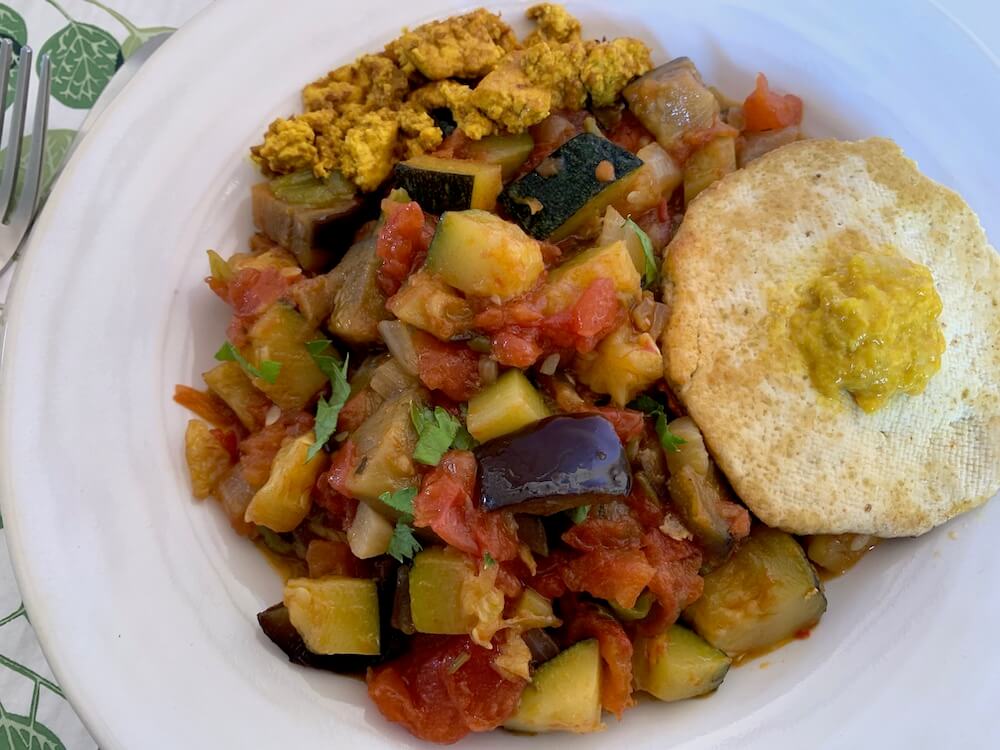 How to Make Oil Free Spanish Pisto Recipe
Recently I decided to cut oil out of my diet as part of my 5 steps to beat menopause naturally and to be honest, I'm loving the journey. It's fun to challenge habits which we've had all our lives, and one thing I've always done was to start a recipe by frying an onion in olive oil.
Giving up oil is a healthy option as oil contains so many calories yet has low nutritional value, and even though olive oil is a healthy oil, it still contains about 14% saturated fat.
Whether you want to eliminate oil completely from your diet or whether you want to cut down on the amount you eat, it's great to learn how to cook tasty meals without the use of oil.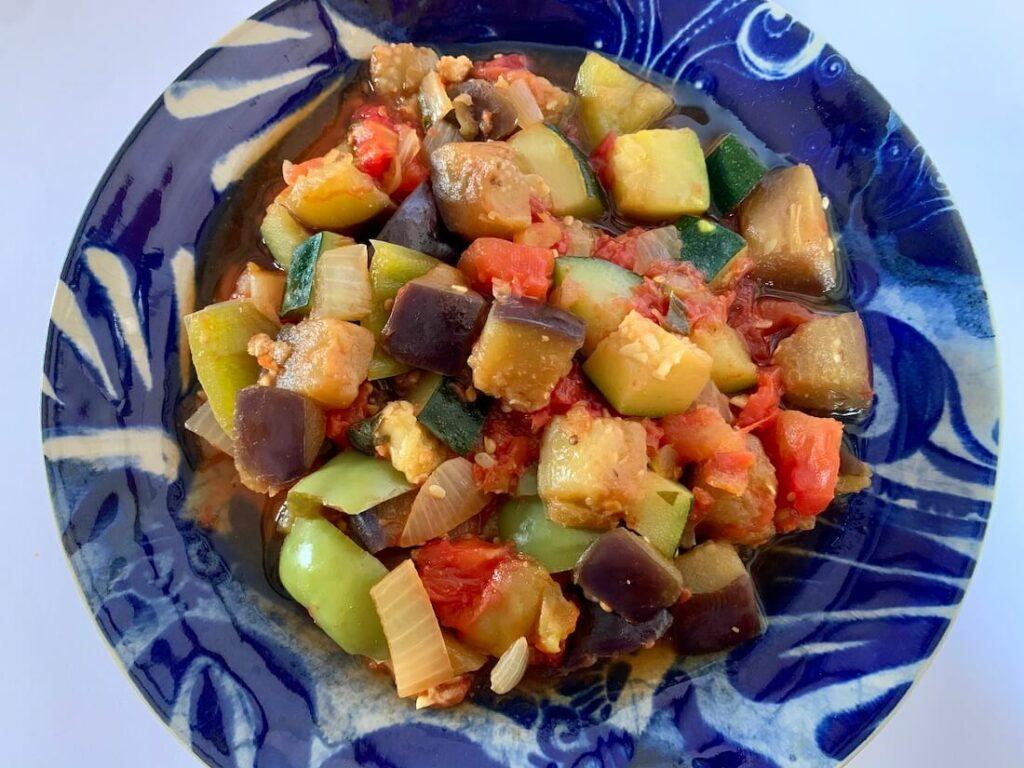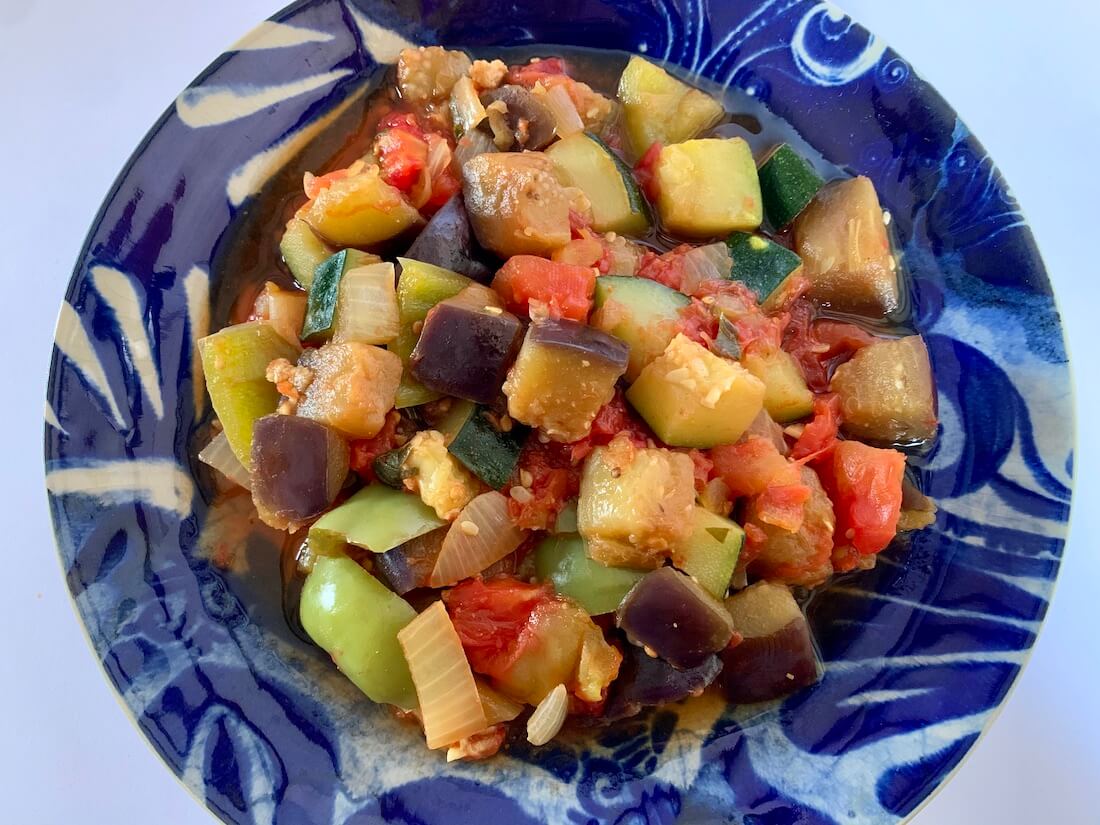 Eggplant in Oil Free Pisto
First of all, cut the eggplant into small cubes (1/2 cm) or into rounds and then into quarters. Place in a bowl and cover with at least 2 tsp salt. Rub the salt into the eggplant flesh and leave for 20 minutes.
After 20 minutes, rinse the eggplant really well and squeeze out the flesh in your hands to release more of the dark liquid that comes from the plant.
Rinse the eggplant many times, swirling it in a bowl of water and squeezing. Taste a little piece to check the salt level and if it's still too salty, rinse some more.
Other Veggies for An Oil Free Pisto
Cut up a selection of other veggies, into similar sized pieces, for your oil free pisto. Some zucchini, some red pepper and green pepper, 1 onion and several cloves of garlic.
Heat a large non-stick wok type pan and add the vegetables. Allow them to 'fry' on the hot pan for a few minutes before stirring. Continue in this way until the veggies are turning brown (they won't be cooked yet, but just browning on the edges.)
Add enough water or vegetable stock to cover the bottom of the pan, cover with a lid and steam the veggies in this way for about 10 minutes or until soft.
Remove the lid and reduce the liquid until the veggies are once more cooking directly in contact with the pan.
Add the tomato sauce and mix the whole lot together.
Easy/Lazy Way to Cook the Veggies for an Oil Free Pisto
If you don't feel like spending the time dry-frying the veggies, you can also make an oil free pisto with steamed veggies. Each method tastes different, so it's a matter of trying them out and seeing which on you like best.
For the Tomato Sauce in an Oil Free Pisto
For this you'll need plenty of fresh tomatoes, preferably very red and ripe.
Heat a pan and put in some garlic and onion and salt in to dry-fry for several minutes, stirring occasionally. Keep frying in this way until the onion is turning brown. Next, add a couple of tablespoons of water and stir, cooking until the onion is done.
Peel and chop all the tomatoes and add them to the pan. Leave to cook over a medium heat until the tomato has lost its shape. If the sauce looks too thin, remove the lid from the pan and turn up the heat to reduce the sauce.
Add to the veggies and mix well.
How to Make an Oil Free Vegan Egg
Cut the tofu into slabs and grill on a dry grill with a sprinkle of salt, until just beginning to go slightly brown. Turn and repeat on the other side. Take a little soy sauce, Tamari or ketjap manis and pour a drop onto one side of the tofu slab, spreading the soy sauce so that it gets absorbed into the tofu.
Turn the slab over to cook the soy sauce side facing down for a moment.
Remove the slabs from the heat and cut off the corners, to approximate the shape of an egg as best you can. Next, cut out a circle in the middle of the slab.
You can add the cut off tofu bits to the pisto, or set is aside for another dish.
For the Vegan Egg Yolk
Heat 2 cups of plant milk in a pan with 1/2 tsp salt, 1 tbs nutritional yeast, 1/2 tsp turmeric and 1 tsp tapioca flour.
Stir continually as the sauce thickens up. Keep cooking for a little while after it thickens, just to be sure that it's finished thickening before you stop cooking.
Dollop the vegan egg yolk into the tofu egg and place the tofu egg on top of the pisto!
I actually like the egg yolk sauce with the pisto, so I'd add extra to complement the dish.
Enjoy!
So I hope that's answered the question of what is pisto! And if you make this recipe, please let me know how you get on!
And come and follow me on Instagram @loveveganliving!