It's a common concern that as a vegan you might not get enough protein in your diet, but in actual fact there are plenty of plant proteins available to you, it's just a matter of knowing how to construct a balanced diet.
We cover this in more detail in this guide to starting a vegan lifestyle which covers some of the most FAQs about going vegan.
King Salad – High Protein & Vegan
A high protein vegan salad, which I like to call a King Salad, is basically a meal in a bowl, but with mixed ingredients, not like the buddha bowl, which is served in an individual bowl and has the ingredients in separate slots.
This high protein vegan salad is mixed all together and served in a big bowl, either as a complete meal, or with another dish such as gazpacho.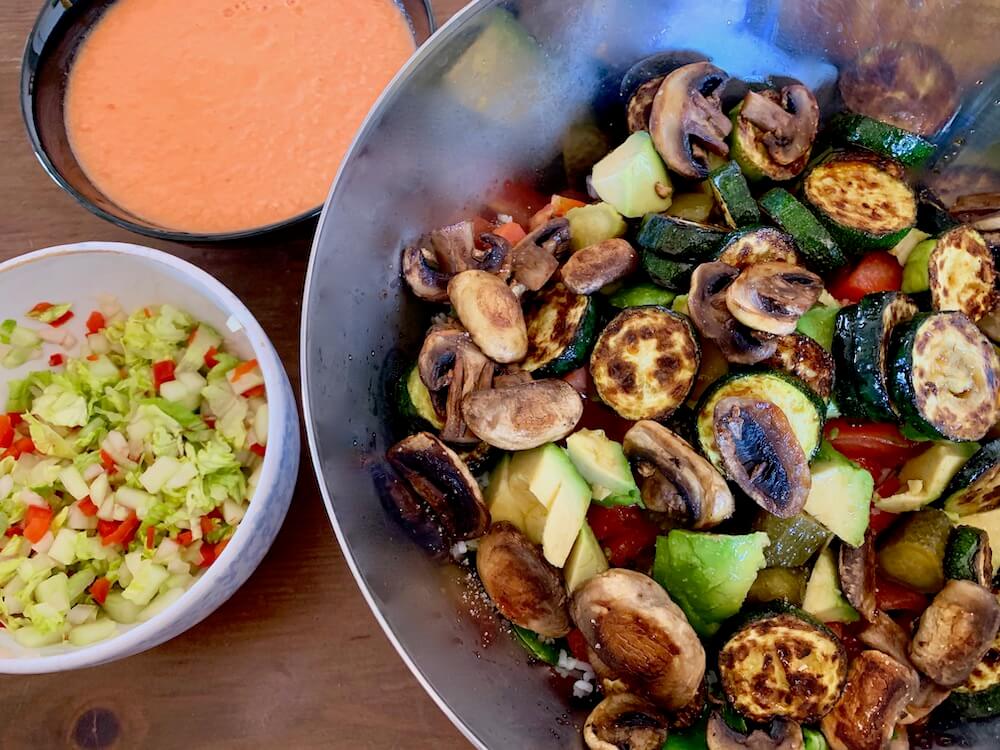 This high protein vegan salad can be served as a main meal or as an additional salad to go with any other meal you're having. And if you fancy making a variety of salads, you could add a tasty pasta salad to the table alongside this.
The secret of this insanely tasty and nutritious salad is to break all the rules of what you think should be in a salad, and add all those surprises to the bowl. This is the king of all salads; a salad that's a complete meal-in-one – and definitely doesn't resemble a plate of lettuce at all!
The base line rule of making this King Salad is to add a huge variety of ingredients to it, choosing something from each of the categories below.
This is an insanely flavoursome dish when you get the blend just right!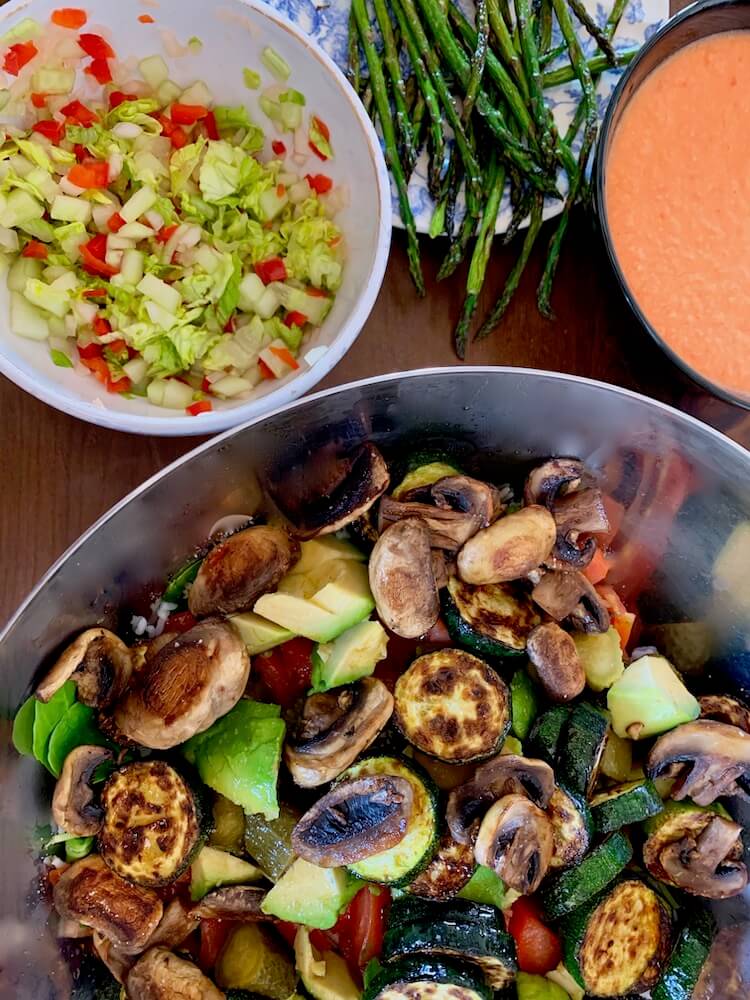 How to Make a High Protein Vegan Salad
Raw Ingredients for a High Protein Vegan Salad
Start with some standard salad ingredients: lettuce, lambs leaves, rocket, cherry tomatoes, cucumber, or any other normal salad ingredients you like. just as you would with a normal mixed salad. I love to include avocado.
Gherkins
Chop up some sweet gherkins for some tangy crunch that gives real contrast to the flavours.
Olives
Add some yummy green olives to add a little mediterranean flavour, or some black tinned ones, depending which ones you prefer. I like the black ones best in a salad.
Grilled Vegetables in a High Protein Vegan Salad
Choose one or two vegetables to grill (or fry). We added some thick zucchini slices and mushrooms to the salad in the main image.
I absolutely love zucchini, and as it's just coming into season, I think I'll be eating a lot of it, raw in salads, in zucchini soup and in zucchini carpaccio salad as well as other meals.
In fact, I use zucchini in just about everything when it's around – from veggie noodles to vegan rice from salads to soups.
Other vegetables that go well are thin slices of cauliflower, eggplant or broccoli, or chunky cut mushrooms.
Grill or fry your vegetables with a little salt sprinkled over them, and grill until well-cooked and going brown.
You can use any veggies you have to hand. Grilled veggies give an element of surprise to the salad.
Cooked Food to Add to a High Protein Vegan Salad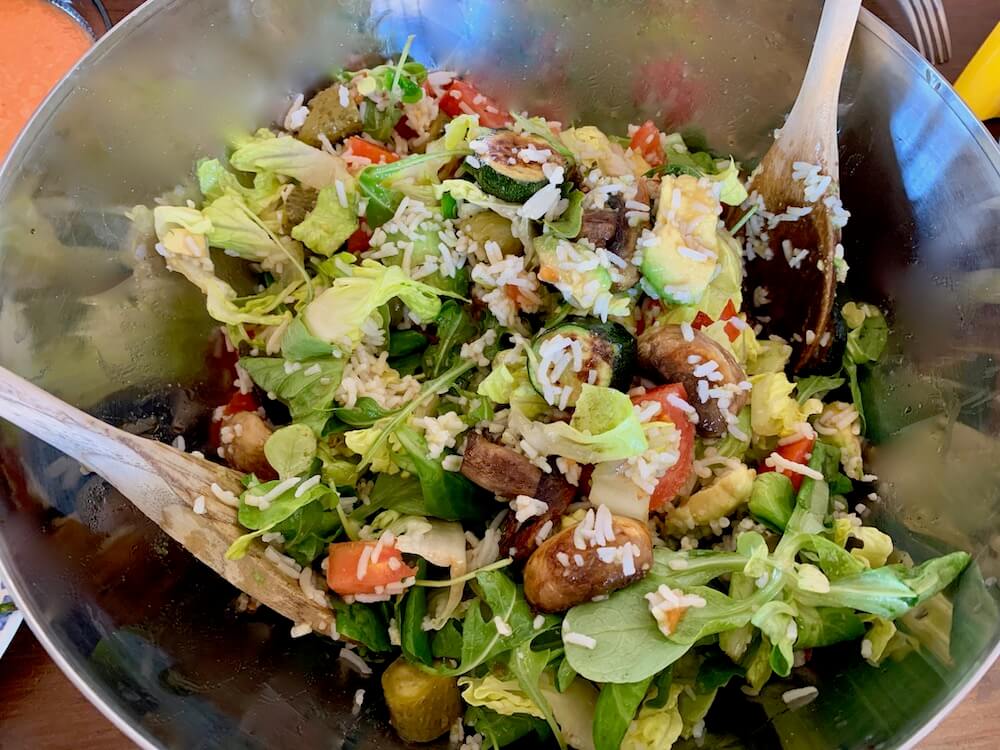 Add a generous amount of cooked rice or quinoa to the salad. It gives a great added texture and flavour and makes the salad into a filling meal.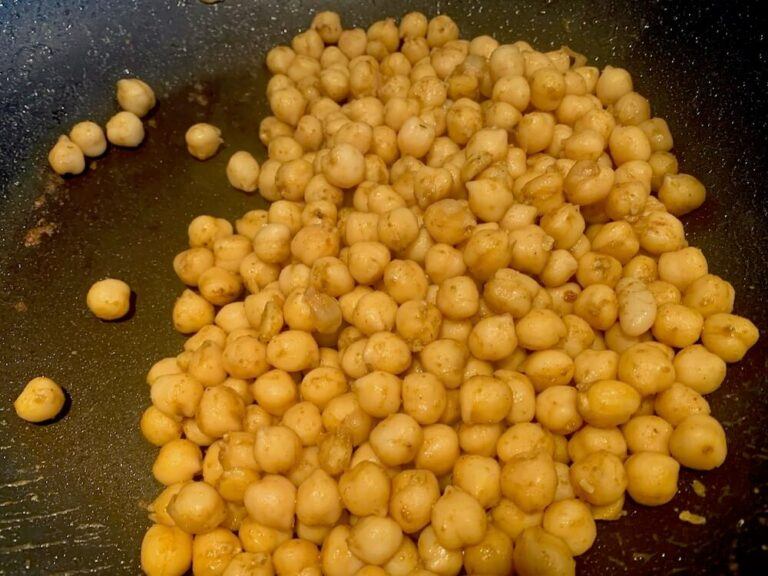 Pulses and Tofu
In a frying pan lightly fry some cooked chickpeas or beans in a little olive oil with cumin, salt and a little chill (optional of course).
Or choose tofu, which can be grilled, fried or marinated and baked.
Fruit in a High Protein Vegan Salad
Choose some dried berries and one fresh fruit.
You can add dried cranberries or blueberries or any dried fruit of your choice. Some chopped up date goes deliciously. And for fresh fruit, think about banana, pear, apple or nectarine slices.
Seeds, Nuts and Toppings
Pour on some Chia seeds, flax seeds, pumpkin seeds and/or sesame seeds. Break up some walnuts and add them. If you have some pine kernels you can gently toast them and add to the mix.
The Dressing
This high protein vegan salad is so complete, it doesn't need a fancy dressing.
Drizzle it with some olive oil, a sprinkle of salt and a dosing of Balsamic vinegar or soy sauce and you're good to go.
A squeeze of fresh lemon juice is also an option. Taste the salad first and add a squeeze of lemon to taste.
Alternatively take a look at my favourite vegan sauces and choose one to serve on the side of this king salad.
If you're short on lettuce and other salad ingredients you may like this grilled summer vegetable salad. Serve on its own or with an easy homemade vegan burger.
I love summer vegetables and zucchini is one of my all time favourites, which is why I put together my favourite zucchini recipes in one post.
I hope you like this high protein vegan salad recipe! What do you like to put into it?