This zucchini carpaccio salad is one of those meals you won't forget once you've discovered it. It's sooo simple to make and delicious, and of course it makes for a stunning dish.
And in case you didn't know this bit of trivia, zucchini and courgette are the same vegetable. Different names from different parts of the world.
How to Serve Zucchini Carpaccio Salad
Even if you aren't normally a fan of zucchini, I really recommend you try this! My husband doesn't normally like zucchini, but serve up a plate of this carpaccio and he loves it!
The zucchini gets tenderised and takes on a different character to when it's just raw, so I guarantee you, this is worth investigating.
This recipe's great for inviting friends over because it looks so beautiful. It's for anyone who wants to make delicious, healthy food without lots of hassle. And of course, if you do love zucchini you might like to check out this 9 easy zucchini recipes post.
You can serve this as a colourful starter or as a main meal for a light lunch. Or if you're making a salad buffet, serve alongside a pasta salad, king salad and grilled summer vegetable salad.
So without further ado, let's get started.
How to Make Zucchini Carpaccio Salad
#1 Slicing the Zucchini for Carpaccio Salad
The really important part is that the zucchini is sliced thinly. If it isn't thin enough, it just won't work out the same.
Use a cheese slicer or a peeler to get really thin slices.
You can slice the zucchini in thin rounds or long ribbons, whichever you prefer. I like the long ribbons best.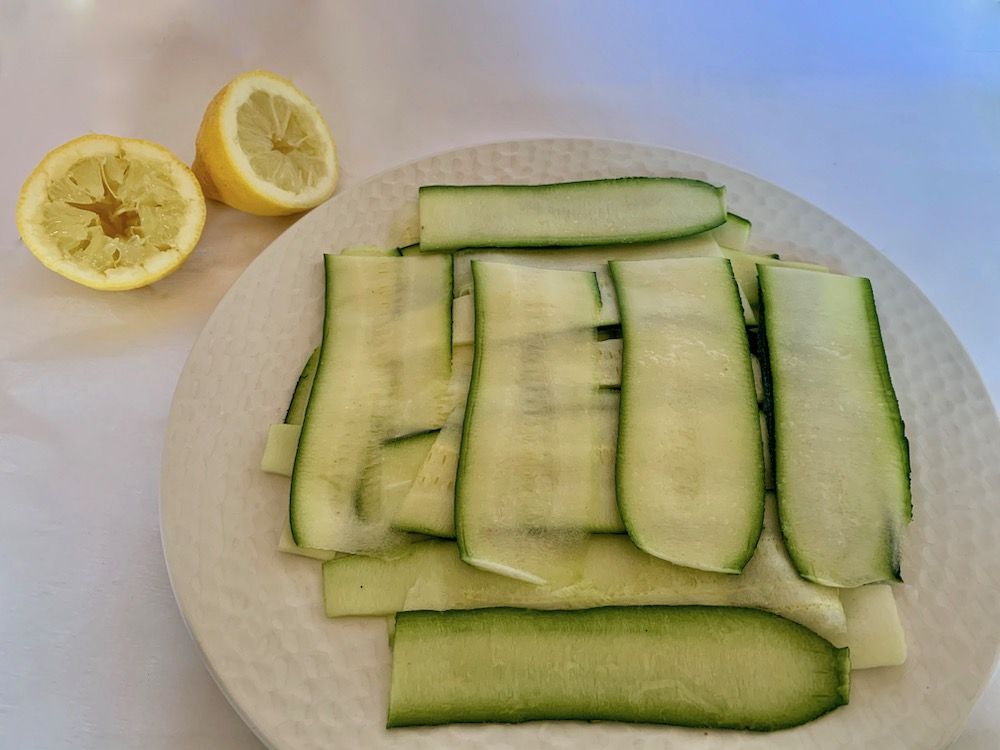 # 2 Marinating the Zucchini for Carpaccio Salad
The next most important, actually crucial, point is the marinating. If you're in a hurry, you can skimp on the marinating time, but if possible, prepare the zucchini in advance and let it sit in the fridge for half an hour (or more) before you create the salad.
If making this in 15 minutes, slice the zucchini first, cover in the marinade and place in the fridge while you chop and prepare the rest of the ingredients.
You can vary what you use to marinate the zucchini but I like to use lemon juice and olive oil and a little salt. First, sprinkle the zucchini slices with a little salt, then squeeze on a generous amount of lemon juice and finally pour on the olive oil.
# 3 Assembling the Zucchini Carpaccio Salad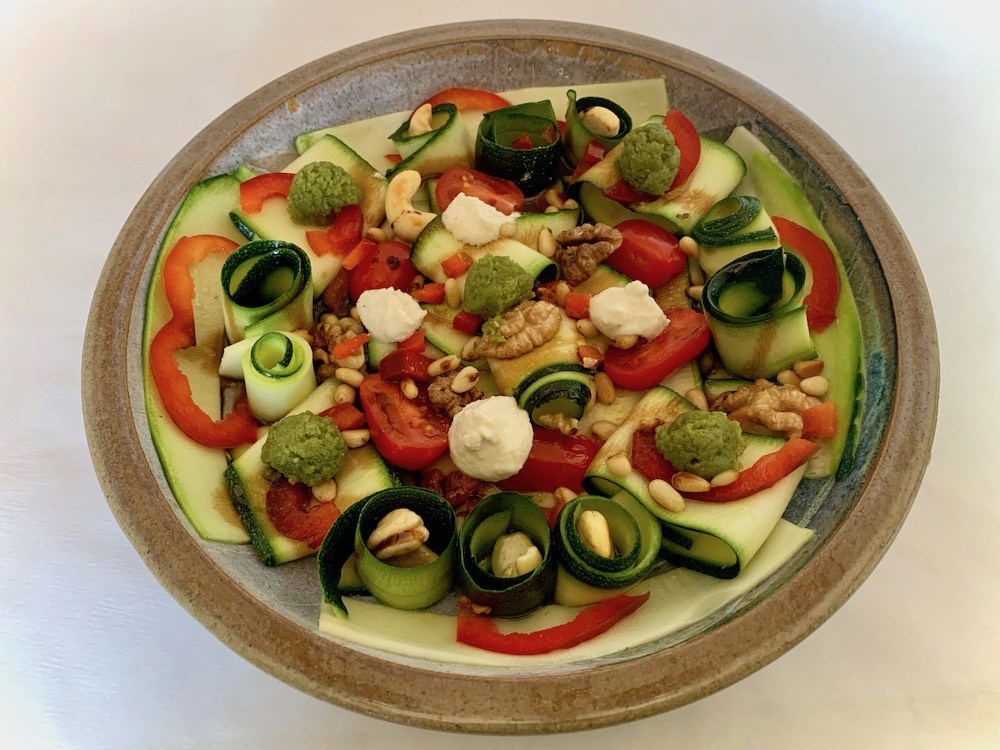 What you put on top of your marinated zucchini is largely a matter of personal preference. Some people finely chop some red pepper and onion and sprinkle that over the top.
Some carpaccio dishes are served with zucchini as the only real ingredient while others come laden with toppings.
I like to serve with homemade pesto sauce and cashew nut sauce or homemade hummus, cherry tomatoes, red pepper, toasted pine kernels, toasted cashews and walnuts.
Over the top of the zucchini carpaccio salad, I drizzle some balsamic vinegar and grind on some black pepper. The combination of flavours, textures and colours is just wonderful.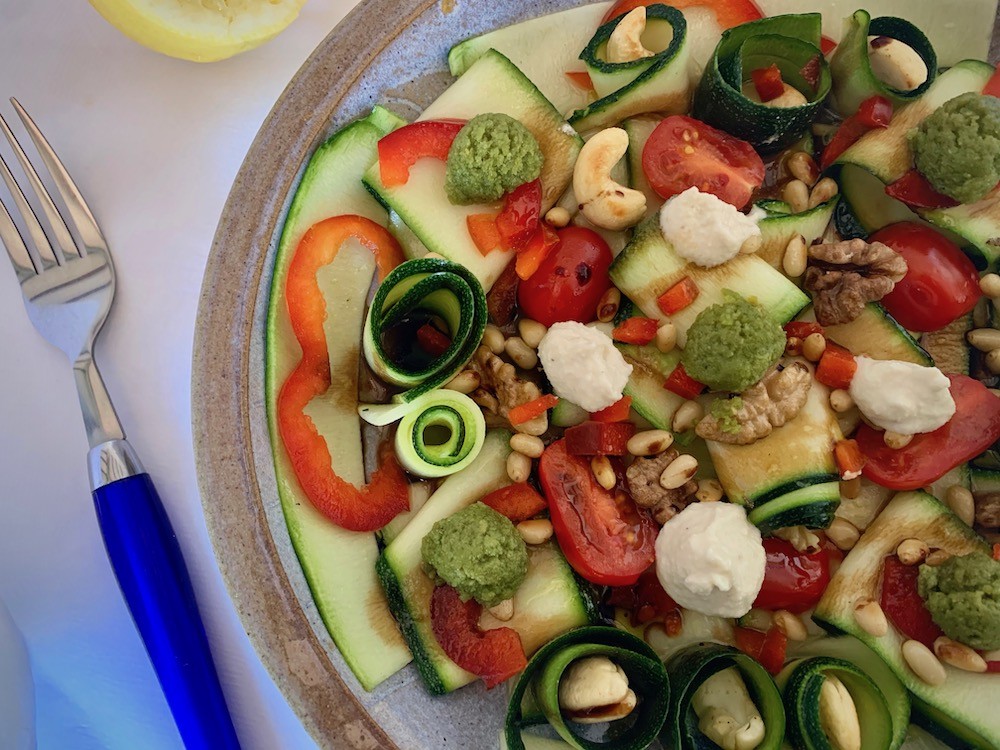 Zucchini Carpaccio Salad Recipe
Course: Veganism, Salad
Cuisine: Vegan, Gluten free
Difficulty: Easy
It's easy to make this delicious and beautiful salad as a lunch or a starter!
Ingredients
1 large zucchini thinly sliced

Juice from 1 lemon

Extra virgin olive oil

Balsamic vinegar


Salt & pepper

For the toppings

Toasted pine kernels

Toasted nuts: cashews & walnuts

Cherry tomatoes, halved

Sliced red pepper
Directions
Thinly slice the zucchini using a cheese slice or a peeler, sprinkle with salt and cover in a generous amount of lemon juice followed by some extra virgin olive oil.
Set aside in the fridge for 30 minutes if possible. Otherwise, place in the fridge while you prepare the rest of the ingredients. The zucchini will become more tenderised with more time marinating.
Arrange on a plate and add the other toppings of choice and a grinding of black pepper.
Finish off with a swirl of balsamic vinegar.