This mediterranean-influenced, grilled summer vegetable salad recipe is easy to make in advance and serve cold, or can be served warm, straight from the grill.
I got the inspiration for this recipe from a dish I had once in Bordeaux, which I thought was absolutely delicious, so I had to come home and try to recreate the memory.
And I've been making this ever since.
It just oozes flavour and goodness.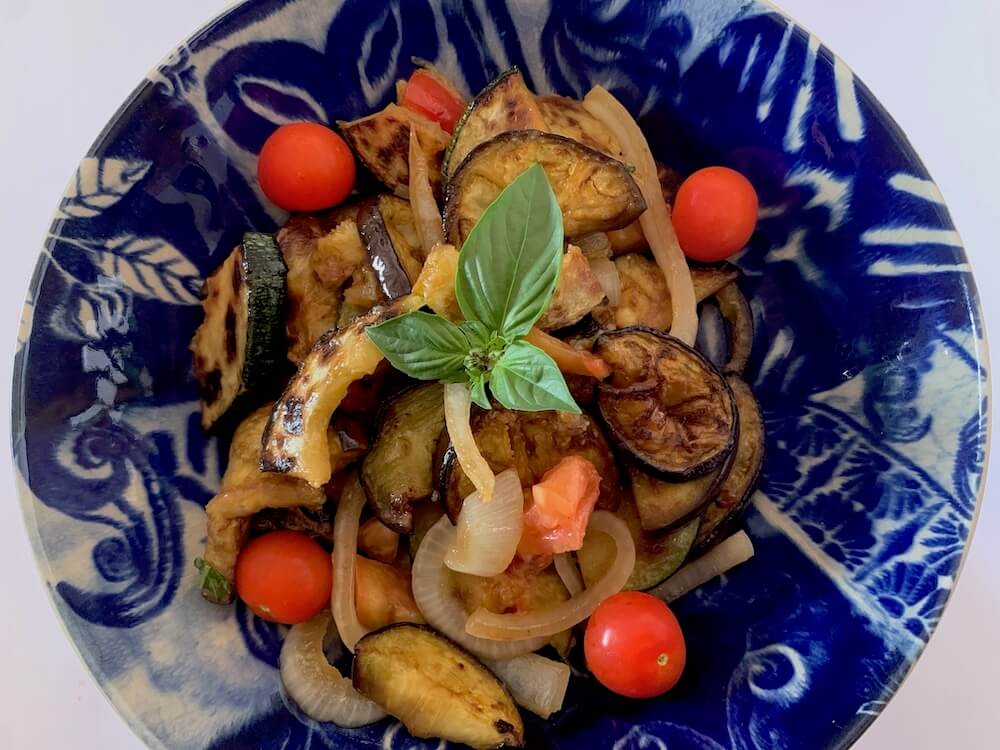 To make this mediterranean grilled salad, the best way to cook the veggies is on a griddle. Alternatively, you could use a frying pan but of course it produces a slightly different end result.
It can be eaten immediately or left to stew in its juices and eaten cold.
The basic salad consists of grilled eggplant, zucchini and onion mixed with raw tomato, cherry tomatoes and an olive oil & Balsamic vinegar dressing.
Additional, optional ingredients are marinated tofu, sliced green pepper, chia seeds, ground flax seeds and pumpkin seeds.
Preparing the Ingredients for this Grilled Summer Vegetable Salad Recipe
Marinating Tofu for the Grilled Summer Vegetable Salad
If you use frozen and subsequently thawed tofu, the texture changes. Much more liquid will come out from the tofu and you will be left with a drier, chewier version which can be really nice in this recipe.
Whether using fresh or frozen and thawed, squeeze out all the excess liquid from the tofu and pat dry with kitchen paper. Chop into small, bite-sized cubes and place in a bowl.
Pour over some Tamari or soy sauce and some Ketjap manis and flip the cubes around in the sauce to cover completely. Set aside to absorb the marinade while you prepare the rest of the salad.
Preparing the Eggplant
First of all, slice the eggplant into rounds or half rounds of about 1 cm thick. Sprinkle to cover it in salt and make sure that each piece is salted on each side by rubbing the salt into all the slices.
Set it aside to 'sweat' for about 20 minutes and it will ooze out a brown liquid.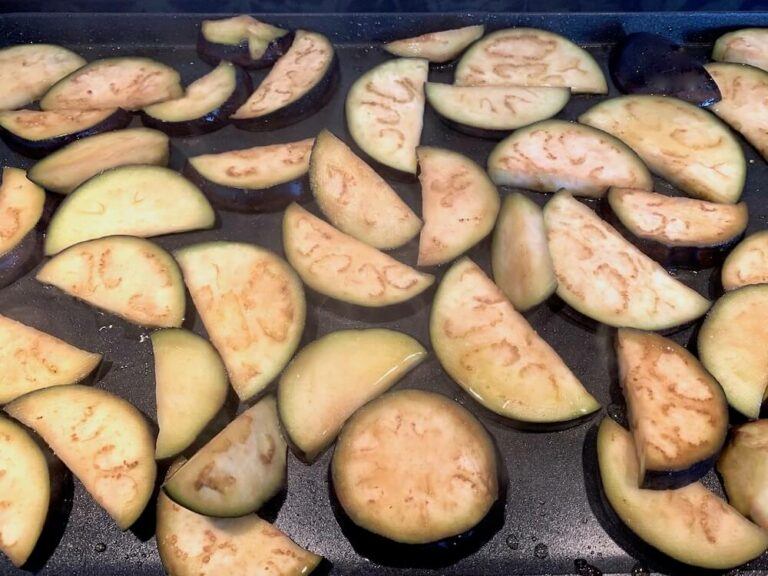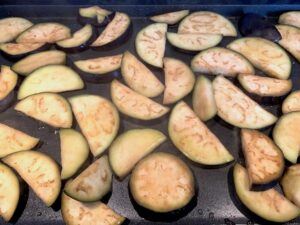 In the past, I used to skip this salting step, but I've discovered that it has several great advantages.
Apart from the well known purpose of reducing any bitterness in the eggplant, the salt also improves the cooking process, as the eggplant won't absorb so much oil and you automatically get rid of greasy eggplant syndrome.
And my favourite benefit of sweating off the eggplant is that after rinsing off the salt as well as you possibly can, the eggplant is still left with a little bit of saltiness which it absorbed from its salt-soaking bath.
And I love that flavour. It's the perfect amount of salt for the eggplant so although you will still salt the other ingredients, the eggplant is ready as is.
Next, rinse the eggplant slices well, pat dry and put them onto the griddle until browning slightly and cooked through.
When they are cooked, add a dash of Ketjap manis to the grill and flip the eggplant in the soy sauce for the last few moments.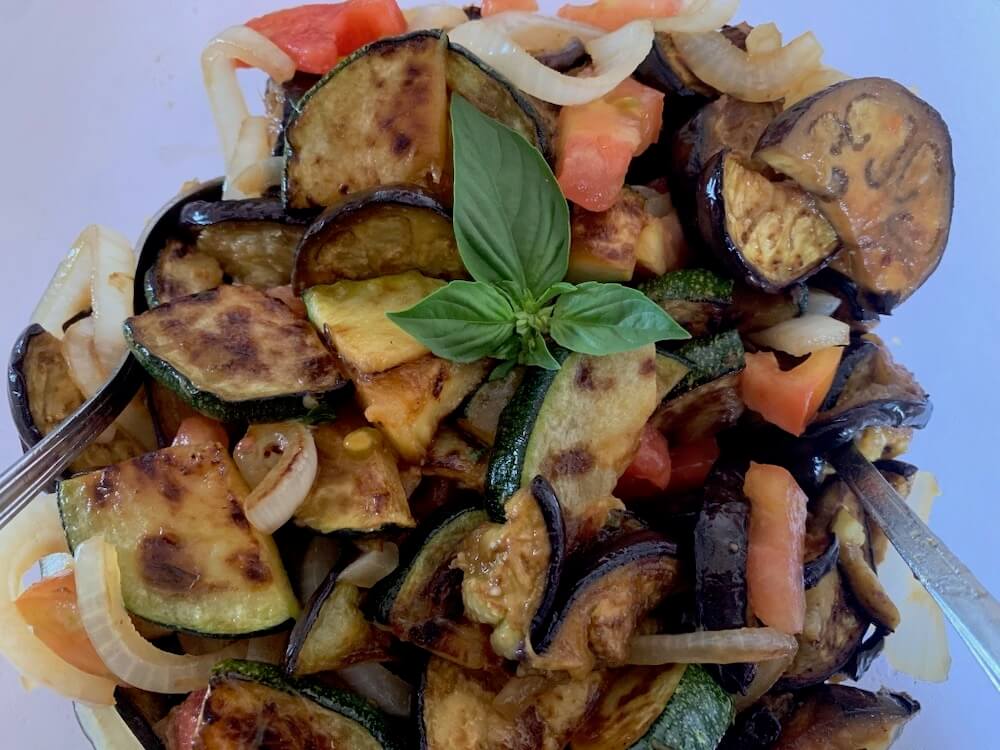 Zucchini & Onion in Your Grilled Summer Vegetable Salad
Cut the zucchini into rounds and cook on the grill for a few minutes each side, sprinkled with a little salt. If you like garlic in your salad, brush the zucchini slices with olive oil that has a clove of finely chopped garlic added to it.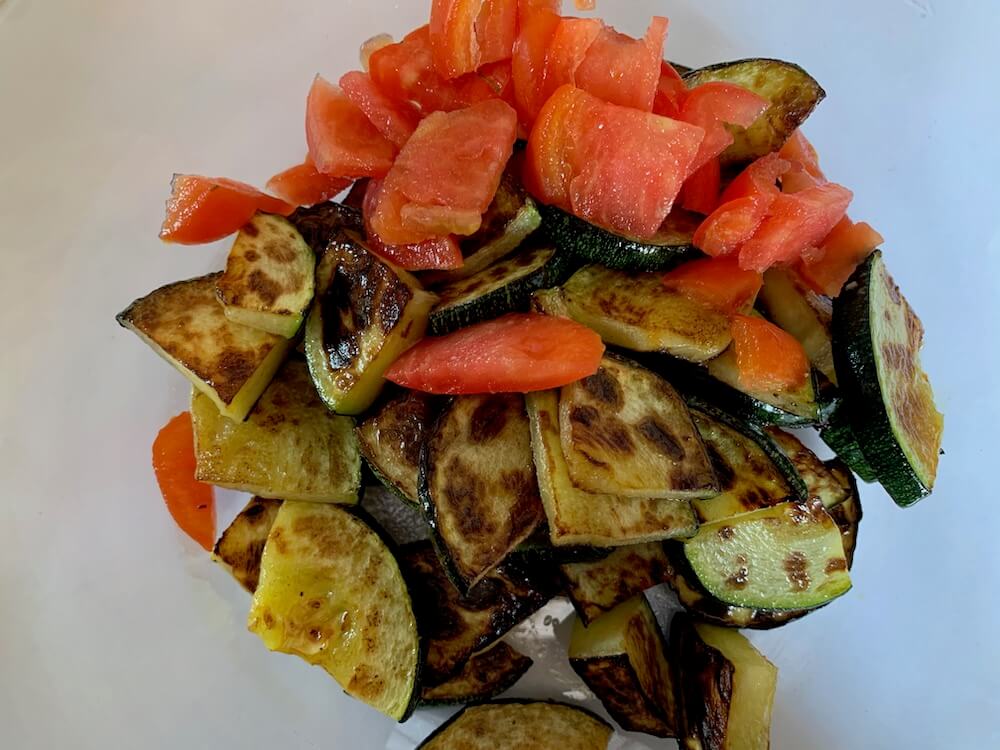 Chop an onion into chunky half-rings and cook on the grill with a little salt.
Putting the Grilled Summer Vegetable Salad Together
In a large bowl, combine the eggplant, zucchini & onion with thinly sliced green pepper and the marinated chopped tofu (if you prefer it cooked, you can add it to the grill for a few minutes).
Chop up two large tomatoes and add them to the bowl. Add some chia seeds, pumpkin seeds, ground flax and fresh basil.
Next, squeeze on a dash of lemon juice, balsamic vinegar and a dash of Ketjap manis and/or Tamari soy sauce and optionally, add an extra dash of olive oil.
Taste to adjust the seasoning.
Serve immediately as a warm salad or place into the fridge to cool down and absorb the marinade. Remove from the fridge 20 minutes before eating and serve at room temperature.
Other Salads to Create a Salad Buffet to Accompany the Grilled Summer Vegetable Salad
One great way to feed a group of people, especially in summer, is to make lots of different salads and have them all prepared in advance, so all you have to do is put the salad bowls out on the table 15-20 minutes before eating, to take the chill off them.
Then you can hand your guests a plate for them to help themselves to the salad buffet. For the buffet, you can include a basic green mixed salad, made from green leaves and cucumber with a fresh basil dressing as well as the more exotic salads.
The trick to a great salad buffet is to make sure you use different dressings on the various salads.
As well as the mixed salad, make a delicious gluten free pasta salad and a zucchini carpaccio salad.
A large bowl of quinoa salad goes well with this too and if you're a fan of potatoes, make a potato salad with fresh homemade pesto as a dressing.
As a special treat, why not try pairing this with a delicious asparagus salad.
To accompany all these delicious salads, you could prepare a yummy homemade hummus and cut up a few raw veggies to eat as crudités, and cook a roasted chickpea snack and serve it cold alongside the salads.
All the work done in advance! And any leftovers can be used to make a wonderful buddha bowl the next day.
If you're more of an all-in-one bowl kind of salad eater, then go for a king salad which contains everything in one bowl.
Grilled Summer Vegetable Salad Recipe
Course: All Vegan Posts
Cuisine: Mediterranean
Difficulty: Easy
This grilled vegetable salad can be served plain with just the grilled veggies or with the addition of the tofu & green pepper.
Ingredients
2 zucchinis

2 eggplants

2 large tomatoes

1 Spanish onion or purple onion

2 cloves garlic (optional)

Fresh basil

Lemon juice

Olive oil

Ketjap manis, Tamari or soy sauce

1 packet firm tofu

1 tbs ground flax seeds

2 tsp chia seeds

Natural, unsalted pumpkin seeds
Directions
Slice the eggplant and liberally sprinkle with salt, rubbing it into each piece. Set aside for 20 minutes or until they are sitting in their own brown liquid. Then rinse well, again rubbing the eggplant flesh to remove the excess salt. Lay out on some kitchen paper and pat dry to remove the excess liquid.
Cut the tofu into small cubes and squeeze out the liquid as much as possible, using some kitchen paper to absorb the moisture. If you like the tofu more dry and chewy, you can freeze it in advance, then thaw before preparing the salad. In this case, the liquid will leave the tofu like a dry sponge!
Place the cubed tofu into a bowl and pour on some Tamari and/or ketjap manis. Set aside to absorb the flavour, turning every so often.
Meanwhile, slice the zucchini and cook it on the griddle with a little olive oil and salt and finely chopped garlic if using, flipping each piece when it's going brown on the underside.
Repeat the above grilling process with the eggplant and onion.
Combine the ingredients in a bowl and add the remaining ingredients.
Place in the fridge to cool and absorb the flavours.
Notes
This salad can be eaten warm or cold.
I hope you like this easy and delicious grilled summer vegetable salad recipe!