I love this roasted chickpea snack recipe. Absolutely love it. It's easy to make but takes a bit of time and is even better if you make it the day before you're going to eat it.
Allow yourself 1 hour cooking time and you're good to go. As well as the hour, allow time for the dish to cool down. That's when it reaaaally gets scrumptious!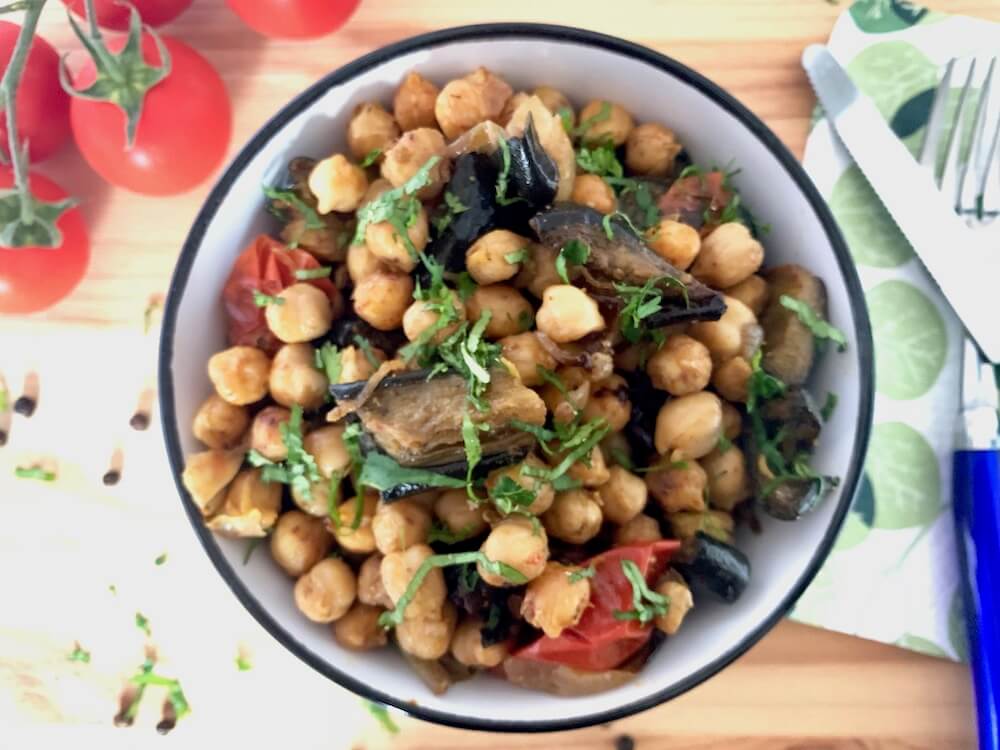 I like to eat this cold just as much (if not more!) as I do hot, so I make it, let it cool, then eat it the next day, served at room temperature with a gluten free wrap.
If you don't have an hour to spare, you can add chickpeas to this delicious tofu scramble and have a similar snack in just minutes, which will also taste good hot or cold.
You can make this in one baking tray so it's really one of the easier dishes. It goes really well in a buddha bowl, or as one of a variety of salads, or in a gluten free pitta pocket or wrap or just as a bowl of yumminess!
I like to serve this with a hot 'n spicy tomato sauce and a sour tahini sauce (made with plant milk, a dash of apple cider vinegar and tahini). You can also just serve it with a normal tahini sauce, but I like the thickened and sour version for variation.
For other sauces to go with it, take a look at these essential plant based sauces.
This would also go well with homemade hummus on the side! It's just one of those delicious things that you can eat in so many ways, you'll end up just loving it.
How to Make this Roasted Chickpea Snack Recipe
Ok, so drain and rinse your jar of chickpeas and put them onto some kitchen paper so that they dry out and pat them dry.
Next, put a little bit of olive oil into a baking tray and heat it in the oven at 190ºc. Chop 1-2 eggplants/aubergine into chunks of about 2 cm and place into the baking tray and into the oven.
Leave to cook for 10 minutes, then take out the tray, sprinkle the aubergine with some cumin, salt, and a curry blend of your choice. I used a Balti Masala and that was great. I recently bought a Garam Masala that I don't like the flavour of at all, so it really depends on finding a brand that you like.
If you prefer not to use a spice blend, cumin & coriander will do the job just fine.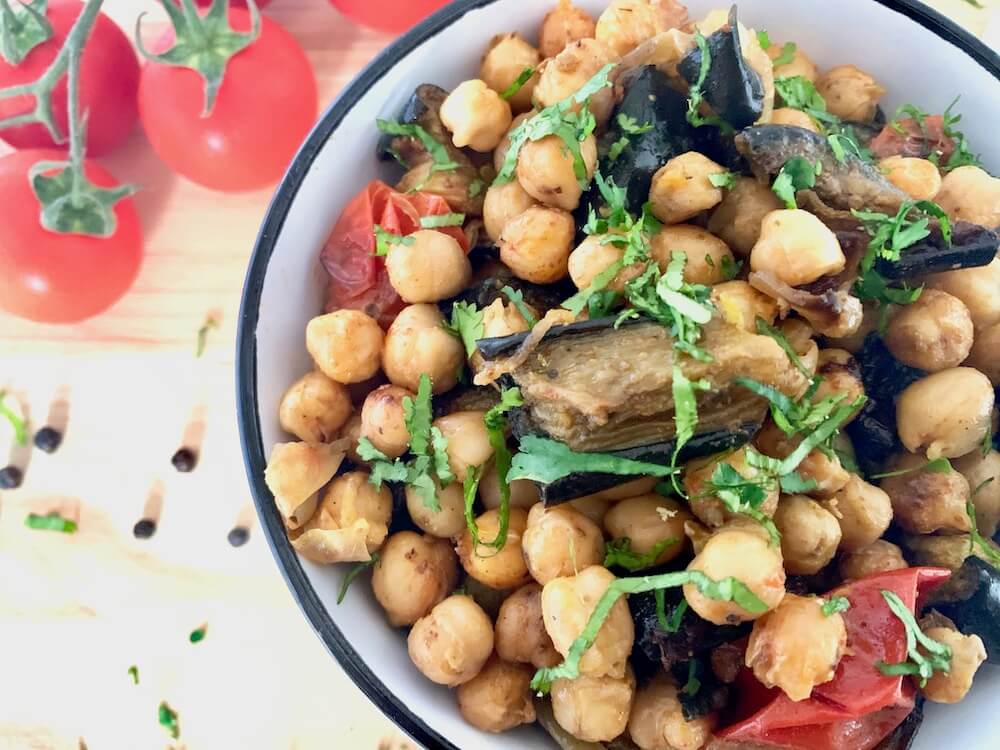 Flip the aubergine around in the salt/spice mix and return to the oven for 15 minutes. Take out the tray, add a handful of cherry tomatoes and return to the oven. After another 10 minutes, add the chickpeas and flip everything around so that they're all coated in the spices.
Sprinkle on a dessert spoon of lemon zest (the yellow peel of the lemon, grated very finely and without the inner white pith, which is bitter).
Put back into the oven and leave to cook for another 25 minutes or until the whole cooking time is about an hour, checking occasionally and stirring half way through the time.
Turn off the oven and leave the roasted chickpea snack to cool down in the oven. Serve at room temperature alongside a spicy tomato sauce and a cool tahini sauce or with hummus and pita pockets or gluten free wraps.
You could also make a variety of salads and have this as one of them.
Roasted Chickpea Snack Recipe
Course: Lunch, Snack, Main course
Cuisine: Vegan
Difficulty: Simple
Yummy as a snack, for lunch, with gluten free wraps, in a buddha bowl, with rice or quinoa. . .
Ingredients
1-2 eggplants

1 jar chickpeas

1 small onion

10 cherry tomatoes

cumin powder

curry blend of choice or coriander

zest from 1 lemon

salt

olive oil for cooking
Directions
Heat the oven to 190ºc
Chop the eggplant and put into a baking tray with a little pre-heated olive oil.
Cook for 10 minutes.
Sprinkle with cumin, curry blend and salt. Flip the eggplant around in the spices and return to the oven for 15 minutes.
Add the cherry tomatoes and return to the oven for another 15 minutes.
Add the drained and dried chickpeas to the pan and stir well. Sprinkle on some lemon zest and return to the oven.
Leave for about 25 minutes, checking and flipping once in the middle.
Turn off the heat and leave the chickpeas to cool down in the oven. Serve at room temperature with spicy tomato sauce and cool tahini sauce.
Notes
You can eat this hot or cold, but I love it served cold.