This vegan French onion soup recipe is the result of making this soup many times, and tweaking it each time to get the flavour which I remember falling in love with when I was a teenager and first tasted French onion soup.
To be honest, I have no idea whether this soup tastes like that soup all those years ago! All I know is that this one hits the mark!
When I used to make onion soup it was a bit hit and miss how the flavour would come out, but nowadays and with this vegan French onion soup recipe, I'm confident that it will have that moorish yumminess that's unique to a tasty French onion soup.
Unlike most of my favourite recipes, this isn't a quick-fix. It takes time (forever) to brown the onions, but as long as you've got your head round that part, it is a simple soup to make. You can also make a vegan onion soup in shorter time, using normal, fried onions but it will have a different flavour.
For this vegan French onion soup recipe, you do need to caramelise the onions, so if you're thinking of making this, you should make sure you have an hour spare for the cooking.
Bonus! This is a great soup when you've run out of vegetables as all you need is lots of onions and a stock!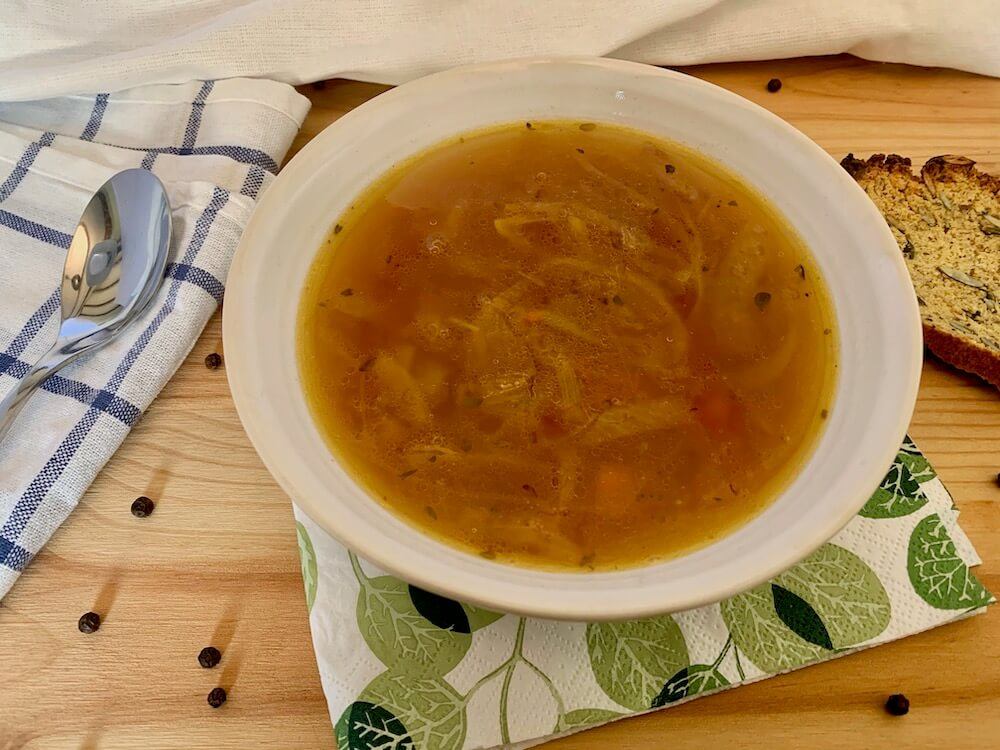 How to Make Vegan French Onion Soup
The taste of this soup depends almost entirely on two things: 1. getting the onions just right, and 2. having a delicious stock to use with it.
Oh, and of course as with any meal, it will also depend on you tasting it and tweaking as necessary!
Making a Stock for Vegan French Onion Soup
The best way to make a tasty stock is to save your vegetable cuttings whenever you prepare vegetables (wash them first). If you're going to make a stock soon, you can keep the veggie cuttings in the fridge, otherwise store them in the freezer until your ready to make the stock.
Put all the cuttings, peelings, tops and tails into a large pan of water. Add 1 chopped potato, 1-2 halved tomatoes, 1 whole carrot, some red pepper, a stick of celery, a couple of whole garlic cloves in their skin, some fresh herbs (parsley goes well), some dried herbs, a touch of chilli, a dash of soy sauce, some olive oil, salt and pepper. You can add a bay leaf but to be honest, I always forget to add the bayleaf.
Leave the stock to cook for at least 30 minutes, then turn the heat down to low and cover with a lid. Taste it and adjust the seasoning as necessary. Leave it to stand with a lid on for as long as possible before straining.
When you're ready to use the stock, sieve the liquid and discard the vegetable cuttings. Chop up the inside part of the tomato, discarding the skin. You can save the potato chunks to add back to to soup and I normally have a vegetable in there that I will salvage and cut into tiny pieces and leave in the soup, but it isn't essential.
You should now have a tasty stock with just a few bits of potato, tomato and and maybe some carrot or so in it, ready to use in your vegan French onion soup. You can see the complete recipe for making your own stock here.
Cooking the Onions
I used 5 large Spanish onions for this vegan French onion soup recipe, but you can use more or less according to your preference. You need a minimum of 3 onions so that there's enough onion flesh in the final soup.
Peel them and cut them lengthwise in half and then into strips. Heat a little olive oil in a frying pan and add 2 cloves of finely chopped garlic and the sliced onions.
Here's the thing. Caramelising onions takes forever. Well to be precise, these onions took 60 minutes to caramelise.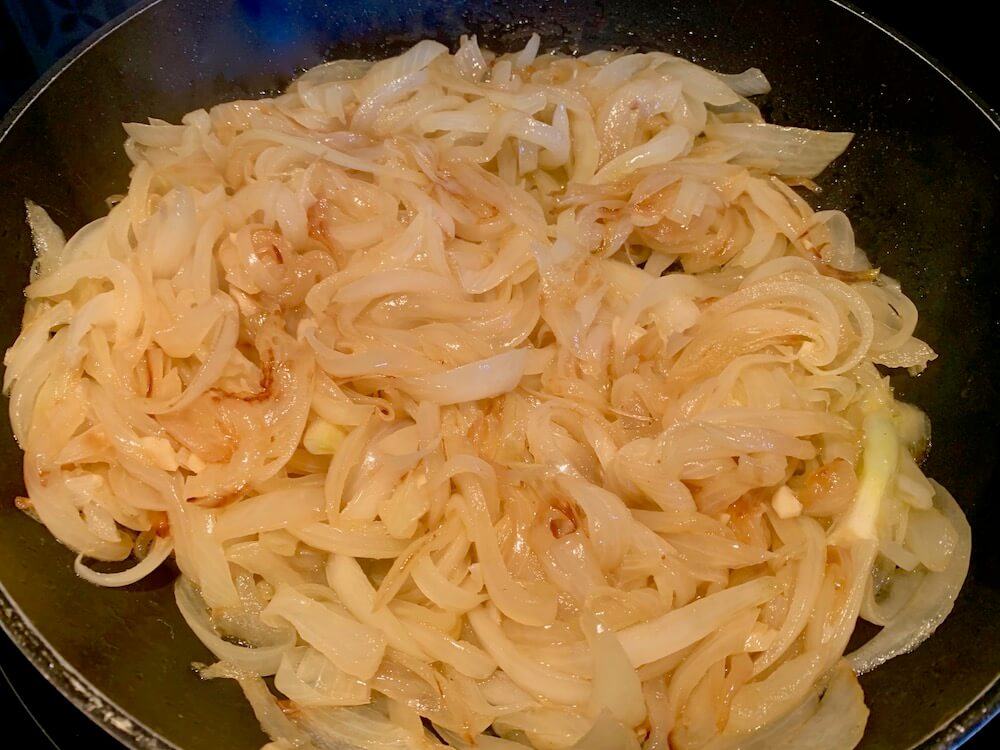 How to Caramelise the Onions
First heat the oil on a high heat, then add the onions with chopped garlic. In the beginning you can leave them alone for small amounts of time, but you will need to turn the onions regularly so that they cook evenly and don't burn.
When they start turning brown, you'll need to watch them more closely and flip them more often. This is the part when you can get a bit fed up with caramelising onions for your vegan French onion soup but be patient and it will pay off in the flavour!
Start with the heat high, on an 8 or so, and then, when the onions begin to go brown but aren't cooked through, turn the heat down to around a 7. Watch them and alter the heat depending on how they're doing.
When the onions are browning well all over and all of them are transparent and definitely cooked through, turn the heat up again, back to 8 for the final stage.
At this point, don't leave the onions for a moment or they might burn. It takes about 10 minutes in this final stage to get them even browner and browner (without them burning). I also like to add some salt in the last stage of frying.
Finally, after 50-60 minutes the onions will be dark brown and ready to go!
After the Onions are Caramelised
If you think there's too much olive oil in the pan, take some kitchen paper and absorb some of the oil away from the onions before proceeding.
Next, pour a small cup of dry white wine over the onions and allow to cook, reducing the alcohol for a few minutes.
Finally, pour the ready-made, tasty stock onto the onions with white wine.
Allow to cook through and check the seasoning. Add freshly ground black pepper, a pinch of chilli powder (according to taste but if you don't like spicy, I still recommend a tiny pinch as it balances the flavour and you won't taste the spice).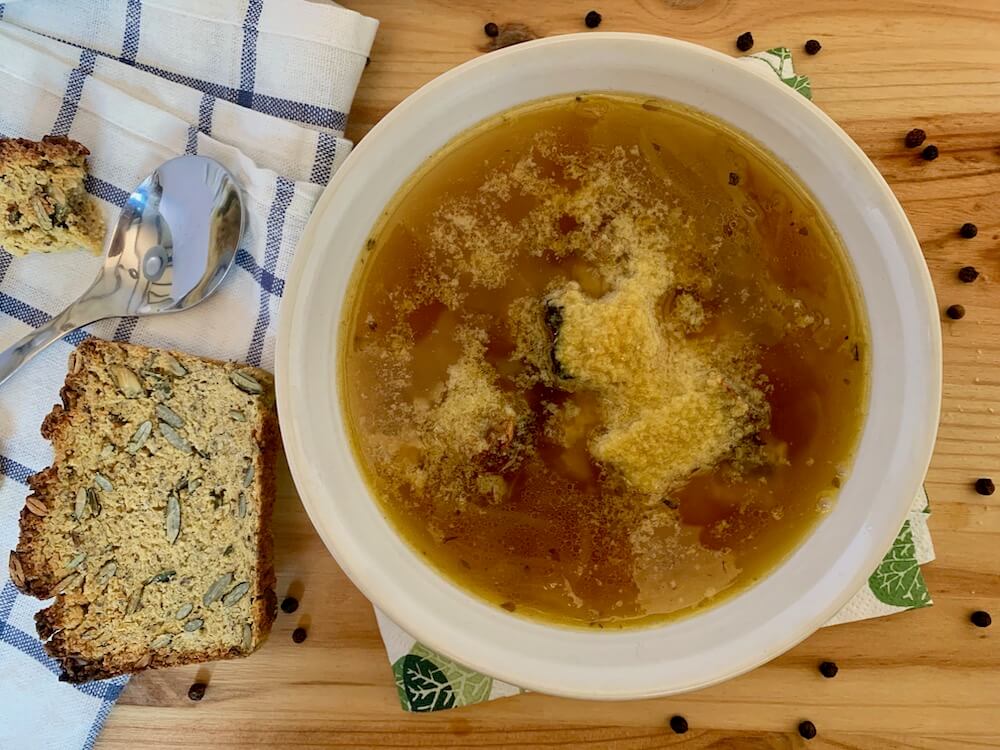 Leave the soup to stand and infuse for another 30 minutes if possible. Finally, add a couple of tablespoons nutritional yeast to the pan.
Serve with additional nutritional yeast on the side for sprinkling on top. Toast some gluten free bread, cut into croutons and serve with the onion soup.
Other Soups You Might Like
Vegan French Onion Soup Recipe
Course: Soup
Cuisine: French inspired
Difficulty: Simple but time consuming
Occasionally, there's nothing quite like a bowl of vegan French onion soup!
Ingredients
4-5 large Spanish onions (or 6 smaller onions)

2 cloves garlic

olive oil for cooking

Pinch chilli powder

1 litre vegan stock

Small glass dry white wine

2-3 tablespoons nutritional yeast.

Gluten free soy sauce

Salt and freshly ground black pepper

Gluten free bread slices for serving and for making croutons
Directions
Caramelise the onions with the garlic (takes about an hour)
Pour on the white wine, cook to reduce the alcohol, then add the onions and wine to the vegan stock
Add a generous grinding of black pepper and a pinch of chilli powder

Add 2-3 tablespoons of nutritional yeast
Taste for seasoning and add more soya sauce, salt, pepper, chilli or nutritional yeast to taste
Serve with additional nutritional yeast to sprinkle on top and gluten free croutons
For the croutons
Toast some full seed gluten free bread until really crunchy and if necessary, then toss in a frying pan with a tiny touch of olive oil or just serve as toast, chopped up and ready to add as croutons to the soup.
Serve in a bowl alongside the onion soup.
Recipe Video
Notes
There are two essential parts to the onion soup: the caramelised onions and the taste of your stock. This is one soup that needs a killer stock flavour.
If you can eat gluten, you could add a bit of Marmite to the soup.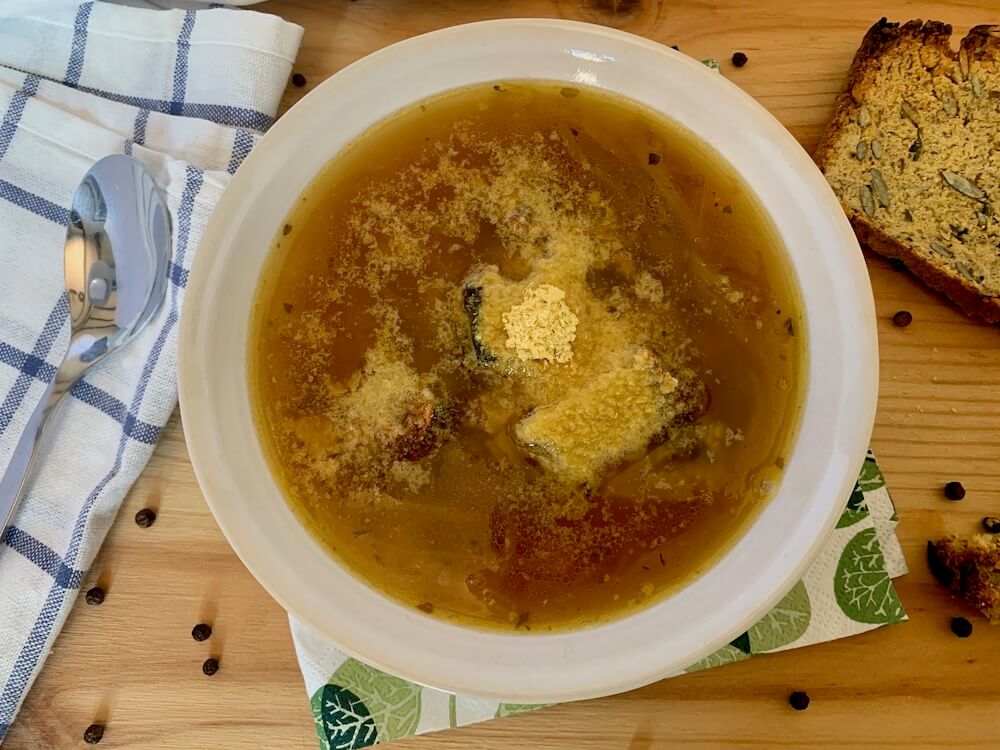 I hope you enjoyed this recipe.