This easy roasted pumpkin soup recipe is for anybody who wants to make a delicious and easy pumpkin soup over and again, regardless of the extra ingredients they have to hand. This is a breakdown of all the endless possibilities, and a foolproof way to make delicious soup.
There are countless ways to make a yummy pumpkin soup, with a range of varying ingredients and cooking methods and this is one of the easiest, tastiest options.
You don't have to stand over it, or fry anything (in fact it's oil free, though you can add oil if you want). All you have to do is roast the pumpkin and carrot and fill a pan of water and add all the ingredients for the future-soup liquid. Mix the two and you have your soup!
Along with this simple recipe, I will list some of the alternatives below.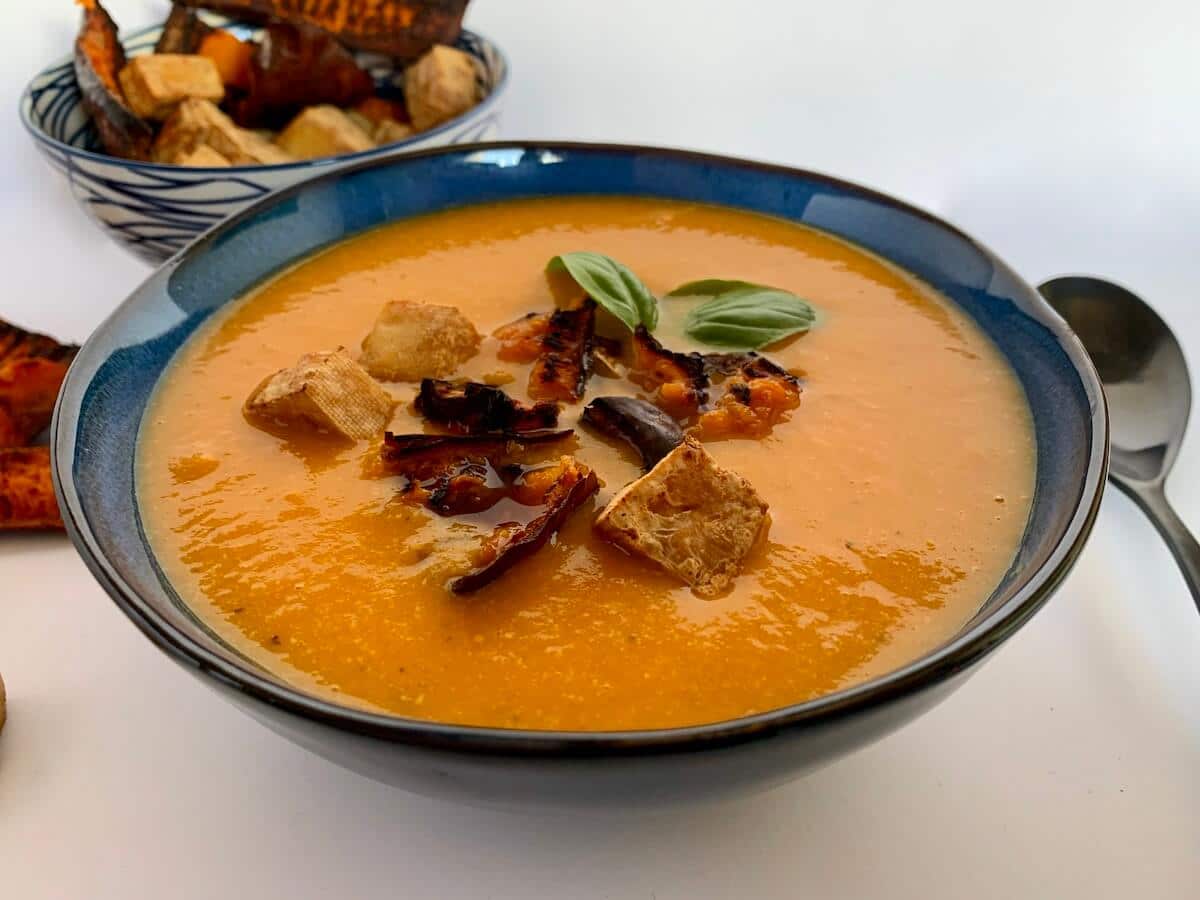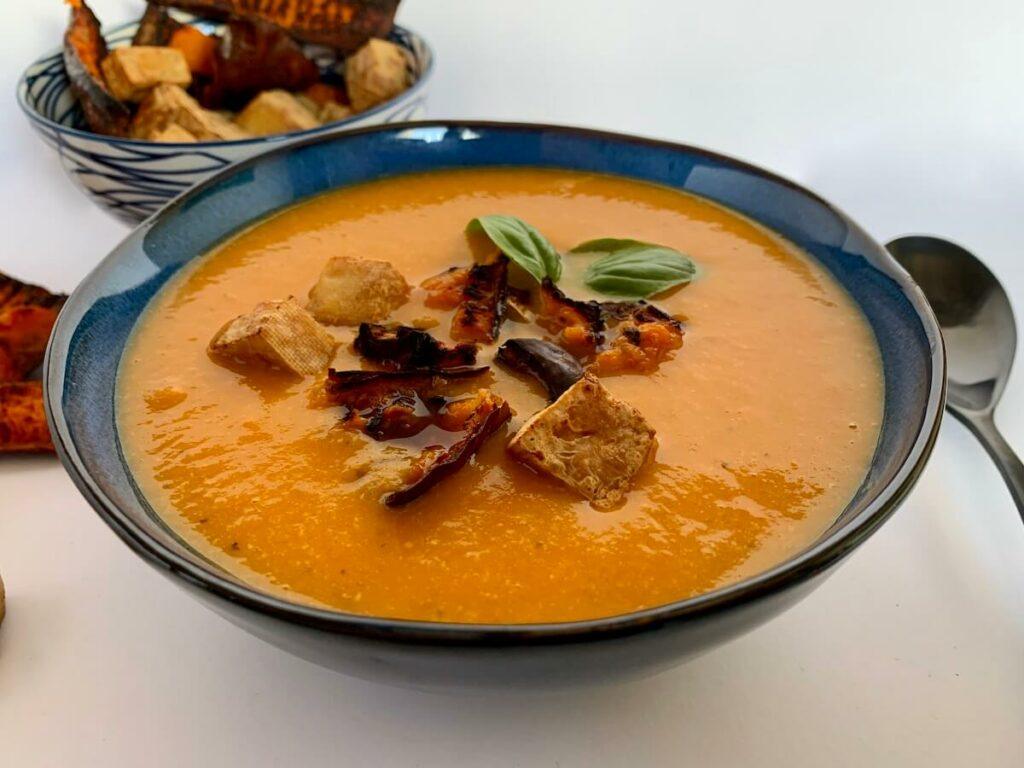 Which Type of Pumpkin to Use for Pumpkin Soup
You can use other types of pumpkin for making pumpkin soup, but the type I have available and the one used in the image above is a butternut squash.
Butternut is actually the only kind we see in the shops where I live, though in the past, when I grew pumpkins and also before I came to live in this area, I made pumpkin soup with other varieties and they've always been delicious.
How to Make a Delicious Roasted Pumpkin Soup No Matter What Other Ingredients You Use
The easiest thing about this recipe is that it depends predominantly on roasted pumpkin. You just heat the oven, cut the pumpkin in half and remove the seeds & stringy bits. Place the halves or quarters of the pumpkin face down on a baking tray lined with oven paper.
You can also wash the seeds and roast them alongside the pumpkin for adding back as a garnish for the soup later. I was going to do that for the soup in the image and I washed the seeds, but then I forgot to add them to the baking tray to roast them!
Back to the pumpkin, lay it face down on some baking paper in an oven tray and bake in the oven at 200ºc until soft. The amount of time it takes will depend on the pumpkin but as a rough guide around 30-40 minutes should do for a small sized butternut squash pumpkin.
When cooked through, if you have time, turn off the heat and leave the pumpkin to cool down in the closed oven. I love doing that with roasted veggies as they seem to become more flavoursome that way.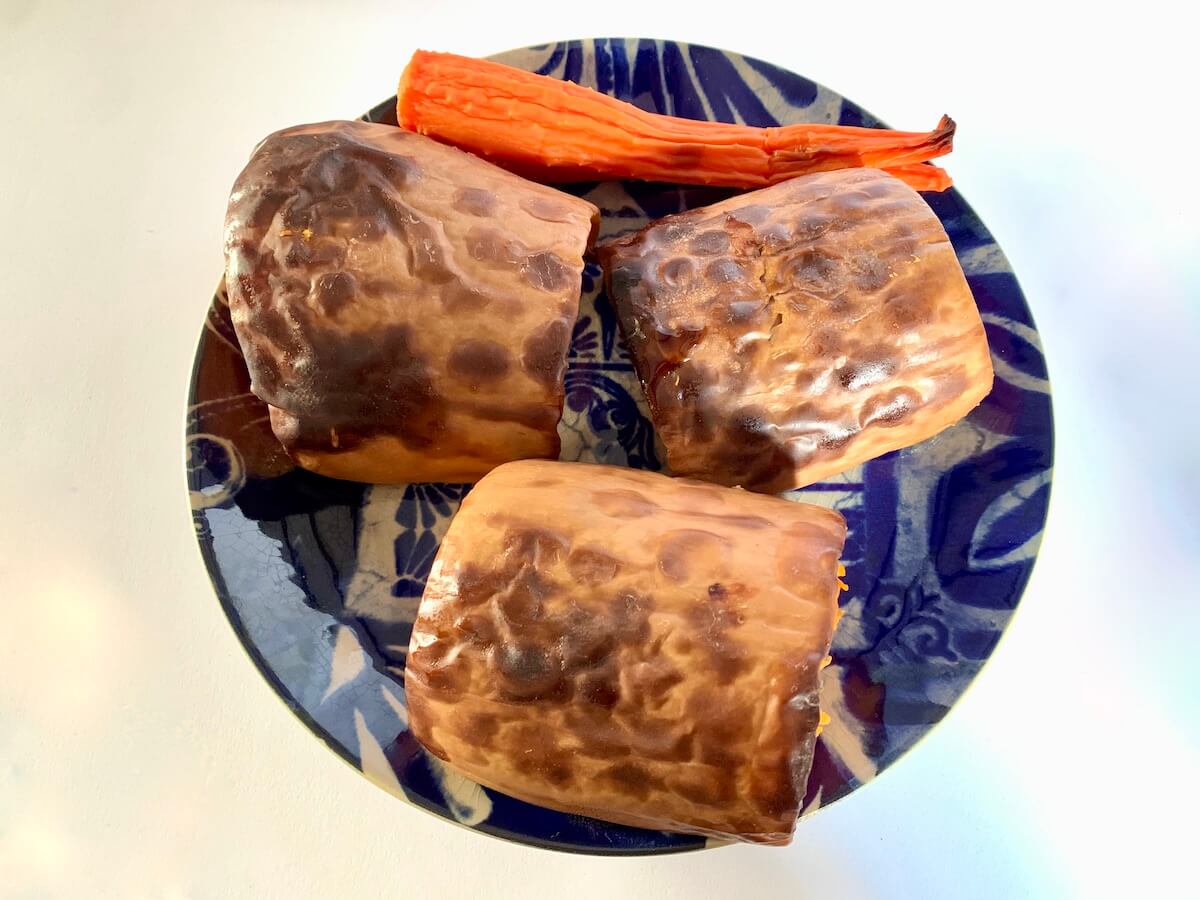 It isn't necessary to add oil to the pumpkin unless you particularly want to, in which case lightly brush the pumpkin flesh with olive oil. I prefer to do it oil free but both systems work well.
I also like to sprinkle the pumpkin with a tiny bit of salt before cooking.
I include other ingredients here, but you can make this as simple as you like.
Roast Carrots for Pumpkin Soup
Roast a couple of carrots with the pumpkin for adding to the soup. 2-3 carrots is enough and they can be roasted plain or brushed in olive oil. They complement the flavour of the pumpkin perfectly.
The same as for the pumpkin, I roast them without oil but if you like them better roasted in olive oil, brush the carrots lightly with olive oil before baking.
You can also sprinkle them with a touch of salt. Once cooked, turn off the heat and leave them in the oven with the pumpkin
Roast Onion & Garlic for Pumpkin Soup
Optionally, you can include an onion & garlic in the roasting pan to blend in with the soup for additional flavour. If so, roast the onion whole in its skin and also the garlic cloves whole in their skins.
Remove the onion skin and chop the onion once cooled. Pop the garlic cloves out of their skins before adding into to the soup stock.
Making the Pumpkin Soup Stock
First off, if you don't have much in the way of veggies to make a soup stock, you can actually make this roasted pumpkin soup with water, herbs and soy sauce.
Half fill a pan with water and add any (washed) vegetable cuttings which you have in the fridge that will go to waste otherwise (like for example, cut the base off the cauliflower and add it to the pan, trim your leeks and add the tough green leaves to the pan, tops and tails of courgette etc.)
Make sure that the veggies which you will later be discarding are in large chunks so that they can be easily identified and removed from the pan.
Meanwhile, finely chop the vegetables which will remain in the final soup. For this, I recommend using sweet potato, carrot, leek and 2 tomatoes.
There's room for plenty of flexibility as to which veggies you put into the soup but remember not to blend green veggies into the soup or you'll lose the lovely orange colour. You can use green vegetable cuttings chopped up large, to flavour the water, but remove them before blending.
Veggies I use in making the stock: finely chopped leek, 1 sweet potato, 2 tomatoes with the peel & removed, piece of red pepper, 1 carrot.
Once you've added your vegetables to the stock pan, it's time to put in some herbs of your choice. You can use dried oregano, parsley, basil, rosemary or any herbs of your preference. Traditionally a bay leaf is added to make a stock but I can't find much flavour in the bay leaf. Sometimes I add them and sometimes I don't!
Add a good dash of soy sauce or ketjap manis to the pan. To give the final soup an extra creaminess, add a handful of cashews to the stock pan and blend later with the veggies.
This soup works fine without oil or you can add a tablespoon of olive oil to the stock. You can also base the entire soup on fried onions if you want (see below). The variations for pumpkin soup are almost unlimited.
And of course, if you want to make soups in the future, you'll want to look into an easy way to make homemade veggie stock.
Putting the Pumpkin Soup Together
Remove the pumpkin and carrots from the oven and decide whether you're going to make some pumpkin chips for garnish (see below). If so, scoop out the flesh, leaving a little bit attached to the skin.
If you're not going to make the chips, scoop out as much flesh as you can and remove only the skin of the pumpkin.
Next, remove the vegetables which are not for eating, from the stock pan and discard (or eat).
Taste the stock and check that it's flavoursome before adding the pumpkin. Next, add the roasted pumpkin and roasted carrot to the pot and blend the whole lot together.
At this point, you need to check the flavour and add the final touches according to your preference.
Final Touches for Roasted Pumpkin Soup
You now have a lovely looking pan of bright orange soup, but the question is, does it taste perfect? Is it yummy and moorish? If the answer's yes, you're finished.
But if it's missing a certain panache, then carry on to the next stage: adding the finishing touches.
At this point you can choose to add 1 tbs of tomato frito/passata or half a tin of coconut milk. Both will take the flavour in different directions and both taste scrumptious. Currently I don't tend to use much coconut milk, so I opt for the tomato, but I have used both many times.
Finally, add a dash of white wine vinegar, just enough to tweak the flavour and not enough to taste the vinegar. (You can also use other types of vinegar.)
After that, check the salt levels and add a grinding of black pepper to the soup. If you still aren't satisfied with the flavour, see the tweaking options below.
I like to add a generous sprinkling of chilli but it's entirely optional of course.
Variations for Making Pumpkin Soup
Here are some of the many variations for making pumpkin soup. I hope you choose what you like best and make the most delicious soup you've ever made!
#1 Cooking the Pumpkin for Pumpkin Soup
Apart from roasting the pumpkin, the other way to cook it is to fry it in a little olive oil with the onion. It makes a delicious tasting soup but is a bit more work than roasting as you have to chop up the pumpkin first and fry it slowly until cooked.
Fry the pumpkin and onion over a medium heat with a little added salt. After a few minutes, turn the heat down a little and leave the pumpkin to continue cooking, stirring every so often. Only proceed to mix the pumpkin with the soup liquid after the fried pumpkin is completely cooked through and really flavoursome.
Skimping on this stage will result in less flavoursome soup, so be warned!
#2 Frying Onion for Making Pumpkin Soup
If you like basing your soup on fried onion, simply finely chop an onion and fry in a little olive oil over a medium heat with a little salt.
Cook the onion until it's really well done and fully flavoursome before adding the water and vegetables to make a stock as in above.
#3 Using Water Instead of Stock for Pumpkin Soup
If you don't have a ready made vegan homemade stock or any vegetable cuttings to add to the water, don't fret, it doesn't matter! You can still make this soup without the extra (discardable) veggies and it will still taste wonderful.
You will still need to add a carrot and a sweet potato to the water, and if you have some red pepper a little bit of that too, as well as the cashews for creaminess.
That is enough, along with the herbs and roasted pumpkin, to make this pumpkin soup flavoursome.
#4 Varying the Ingredients for Pumpkin Soup
The essential ingredients are pumpkin, 2 carrots and 1 sweet potato. Apart from these you can add onion, garlic, red pepper, cauliflower, mushrooms etc.
As already mentioned, as well as the actual soup ingredients, you can use vegetable cuttings to flavour the water and then discard them before blending.
For the herbs you can mix and match your favourite flavours and for the creaminess you can rely just on the veggies (as in the image) or you can add coconut milk or vegan cream to the pan.
#5 Various Cooking Methods for Pumpkin Soup
For the simplest method, roast the veggies in the oven and boil everything else up directly in the soup liquid as I do here. Then mix the two and blend. Tweak the final soup et voila!
Alternatively, fry an onion and add the pumpkin to the frying pan. Cook thoroughly until soft through, then add to the vegetable stock and cook some more before blending.
Once you start making pumpkin soup, you'll realise that you can't really go wrong. All it needs if it isn't particularly tasty, is tweaking to get it back on form.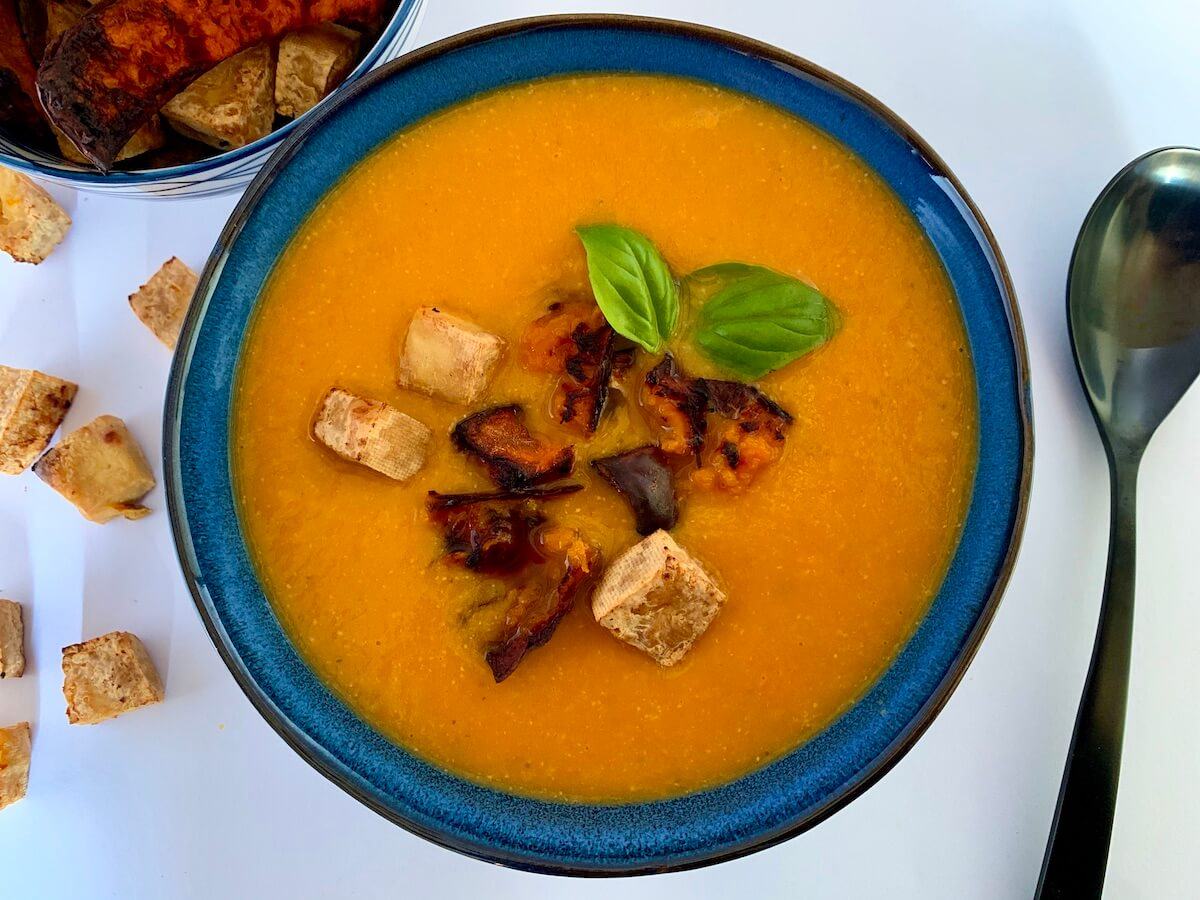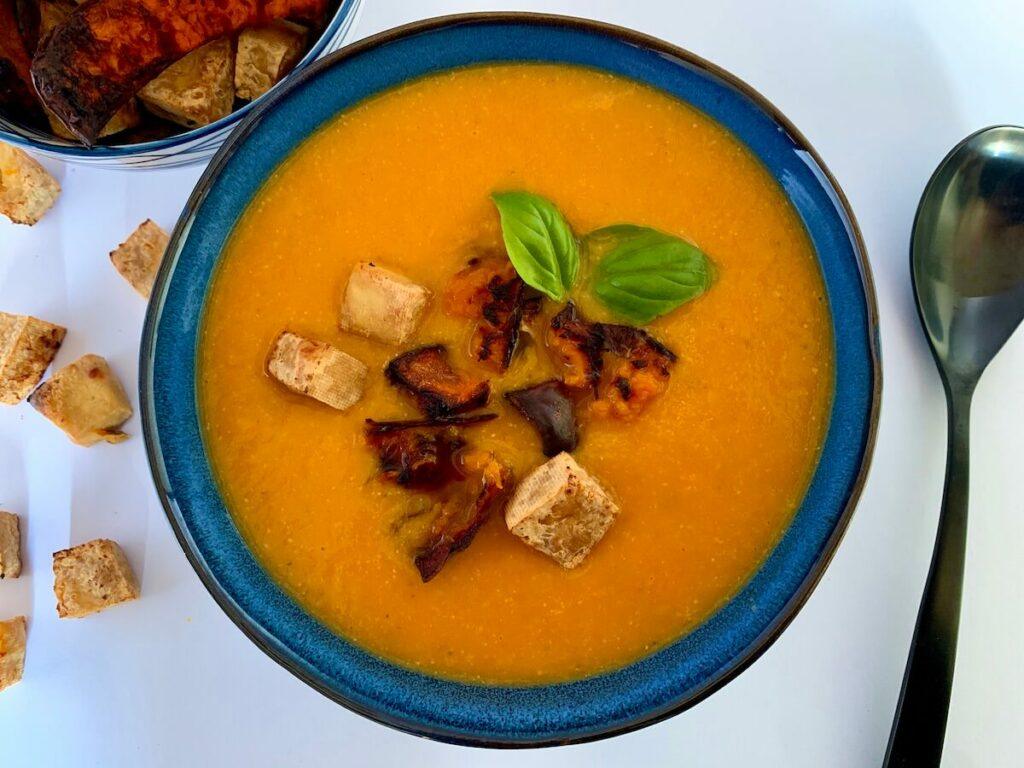 Tweaking the Flavour of Pumpkin Soup
When you've finished the pumpkin soup, taste it and tweak the flavour until it's perfect! Here are some of the options for tweaking the flavour:
tomato frito or passata
soy sauce or ketjap manis
coconut milk
plant milk
salt & pepper
white wine vinegar
chilli
Toppings & Garnish for Pumpkin Soup
Crunchy air fried pumpkin chips: Slice the pumpkin skins with a little flesh left on them, into chips and fry in the air fryer along with the tofu. Sprinkle with salt before cooking. Chop into little pieces and sprinkle on top of the soup.
Baked Pumpkin Seeds: wash the seeds and bake them along with a little salt until crunchy.
Air-fried tofu croutons: squeeze out the excess liquid from a block of firm, organic tofu and chop into cubes before placing into the air fryer and cooking on 190 for about 15 mins (or more if you like them chewy).
Vegan cream: a swirl of vegan cream looks lovely and tastes great on top of pumpkin soup.
Fresh herbs: finely chopped fresh basil, fresh parsley or coriander go great on top of the soup and give it an appealing colour contrast.
Cashew nut sauce diluted to make a cream: if you don't have any vegan cream, you can make some thin cashew nut sauce and swirl that on top.
Serve with a delicious lentil flatbread on the side and enjoy!
Other Soups You Might Like
Easy Roasted Pumpkin Soup Recipe
Course: Soup
Cuisine: Vegan, Gluten Free
Difficulty: Easy
Easy roasted pumpkin soup can be made with very basic ingredients.
Ingredients
1 butternut squash or other pumpkin

1 medium sized sweet potato

1 onion (optional)

3 carrots

Parsley and rosemary or dried herbs of choice

1 glass of plant milk

For the Toppings

1 block firm tofu cubed and fried in the air fryer

Pumpkin chips toasted in the air fryer

Roasted pumpkin seeds

Fresh basil or fresh coriander
Directions
Cut the pumpkin in half and then into quarters, remove the seeds and the stringy middle part and sprinkle the flesh with a little salt.
Place the pieces face down in a baking tray, lined with oven paper.
Peel 2 carrots and add them to the tray.
If using an onion, place it into the baking tray alongside the pumpkin and carrots.
Cook in a pre-heated oven for 30-40 minutes or until cooked through.
Meanwhile, fill a pan with water and add a variety of vegetables for creating additional flavour. If you have any off-cuts or vegetable stems you can add these and remove them before you blend the soup. Otherwise, just add 1 chopped carrot, 1 chopped sweet potato, and 2 peeled and chopped tomatoes.
Add 1 handful of cashews to the pan.
Season the water with salt and pepper and some dried parsley and a little dried rosemary, or use any herbs of choice.
Simmer the soup stock for 30 minutes or more.
Remove any green vegetables or vegetable cuttings from the pan.
Scoop out the flesh from the pumpkin and add it to the stock. Cut up the onion and add that too.
Blend the pumpkin, carrots, onion and stock together.
Taste the soup and add 1 tbs tomato frito/passata, 1 glass of plant milk, 1 tbs ketjap manis & a dash of white wine vinegar. The quantities are only orientative; add everything according to taste, using more or less quantity, or none at all.
Serve the soup with a swirl of vegan cream, some cashew nut sauce, pumpkin chips, roasted pumpkin seeds or tofu croutons.
Notes
Roasted pumpkin soup is one of the easiest soups to cook.
Serve this soup as a starter followed by vegan quinoa stuffed peppers, stuffed cabbage leaves, no pasta vegan zucchini lasagne, or loaded sweet potatoes.