I think you're going to absolutely love this easy and healthy loaded sweet potato recipe. It's simple to make, and the only time needed is for the preparation.
I first came across sweet potato fries many years ago when I visited the Food Hallen in Amsterdam, a place with a variety of different nationality food stands, which in those days used to be less mainstream and with more vegan options (or so it seemed to me).
It was such a cool place to hang out, eat scrumptious sweet potato chips and sip from an exotic version of gin & tonic while absorbing the buzzing vibe.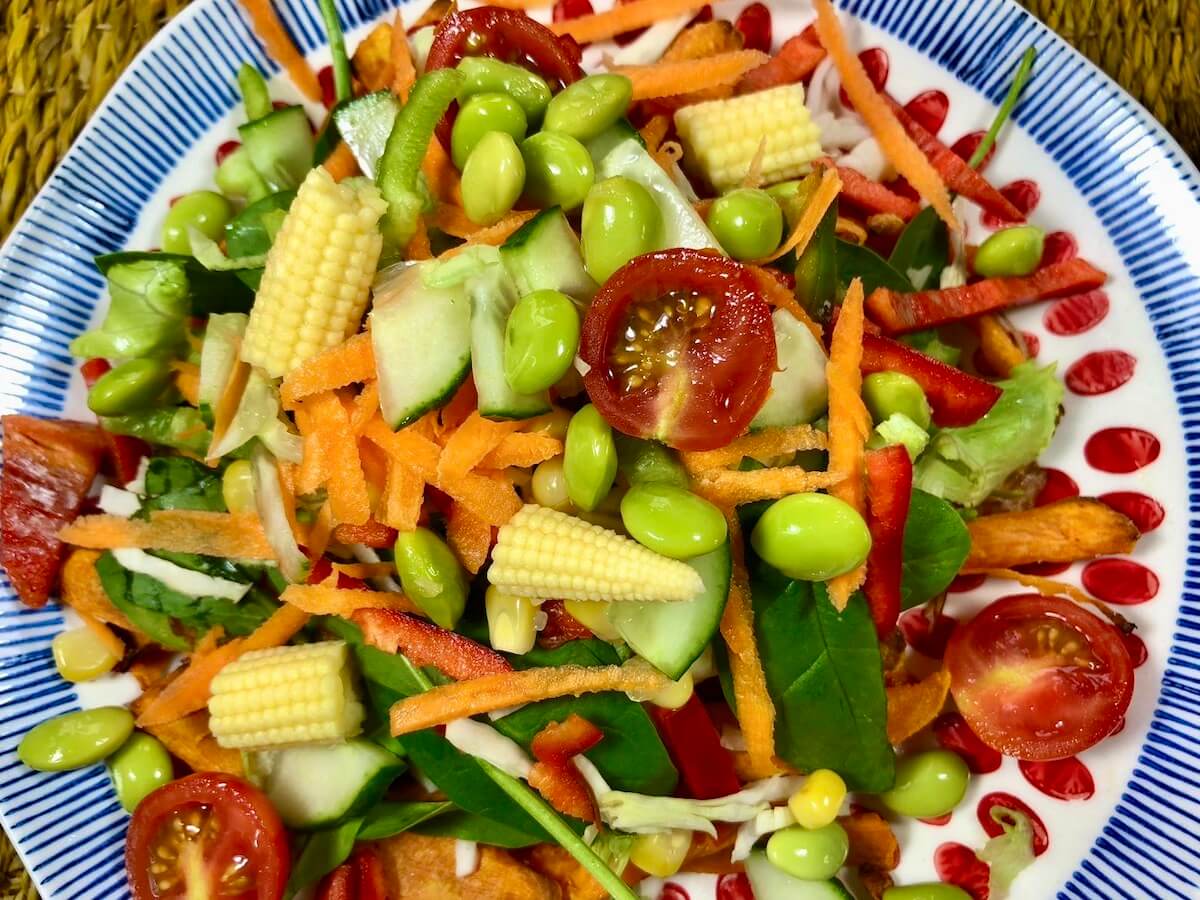 But the sweet potato stand in the food hallen closed down and I never found a place that makes them quite so delicious again, until I visited the Vegan Junk Food Bar in the Pijp in Amsterdam.
There, we had loaded sweet potato fries which were absolutely delicious and were the inspiration for this recipe – although it isn't exactly the same, and these fries aren't fried.
Preparing the Sweet Potatoes
When you buy your sweet potatoes, choose ones which look generally clean and fresh and feel firm to the touch. They aren't so nice if they're going soft.
I prefer to leave the skin on the sweet potato, just removing any damaged or bad bits, but if you prefer them peeled, by all means peel them first. These ones are peeled to fit the preference of my guests that day.
You can cut the chips thick or thin, depending only on your mood and preference. You can even cut them in rounds rather than chips if you prefer. They work as a base for this recipe in whatever form you choose to cook them.
Cooking the Sweet Potato
The only parts of the recipe that needs cooking are the sweet potato and the edamame beans, and for the sweet potato there are various options of how to cook them.
Oven Baked Sweet Potato Chips for Loaded Sweet Potato Fries
Option number one is to oven bake the sweet potatoes. Apart from the taste of the sweet potatoes, it also means you can roast a bulb of garlic in the pan for later squeezing over the top, something which you can't do with the other methods.
Cut up the sweet potatoes into chunky chips and lay in a baking tray on baking paper. You can make oven baked sweet potato chips with a brushing of oil with without any oil at all if you prefer an oil-free recipe.
If you opt to use oil, just brush the sweet potato chips with a touch of olive oil before placing in the baking tray.
Set the oven to 200ºc and bake for 15 minutes. Flip the sweet potato chips over and return to the oven for another 15 minutes. Keep checking on them until crispy.
Using an Air Fryer for Loaded Sweet Potatoes
Cooking with an air fryer is an all time favourite with me. If you haven't got into using an air fryer yet, you may like to take a look at my post on Oil Free Vegan Cooking in an Air Fryer You'll Love
No oil is needed in the air fryer (though you can add a little if you want), no supervision and no washing up. What could be easier or healthier than to air fry the sweet potatoes for this recipe?
Prepare and cut the sweet potatoes into the chip size of your choice. Place into the air fryer at 190º and cook for 15 minutes, shaking or flipping half way through.
Check the chips are cooked after 15 minutes and if necessary, return to the heat for another 5 minutes.
Frying Sweet Potato Chips
Personally, I don't fry any of my food because I think it's adding unnecessary oil to my diet, creating a high-fat meal without good reason, but I have to admit that deep-fried sweet potato chips can be absolutely delicious, so if you normally use a fryer, that is another option for cooking the sweet potato chips.
Toppings for the Loaded Sweet Potatoes
For the toppings you want to choose a great variety of flavours and textures.
This time I shredded some lettuce, white cabbage for extra crunch and had some baby spinach leaves and young green leaves. I chopped some avocado, red pepper, green pepper, cucumber, cherry tomatoes and grated some carrot.
From a tin came sweetcorn, from a jar, some jalapeños and some baby corn, and from the freezer some Edamame beans.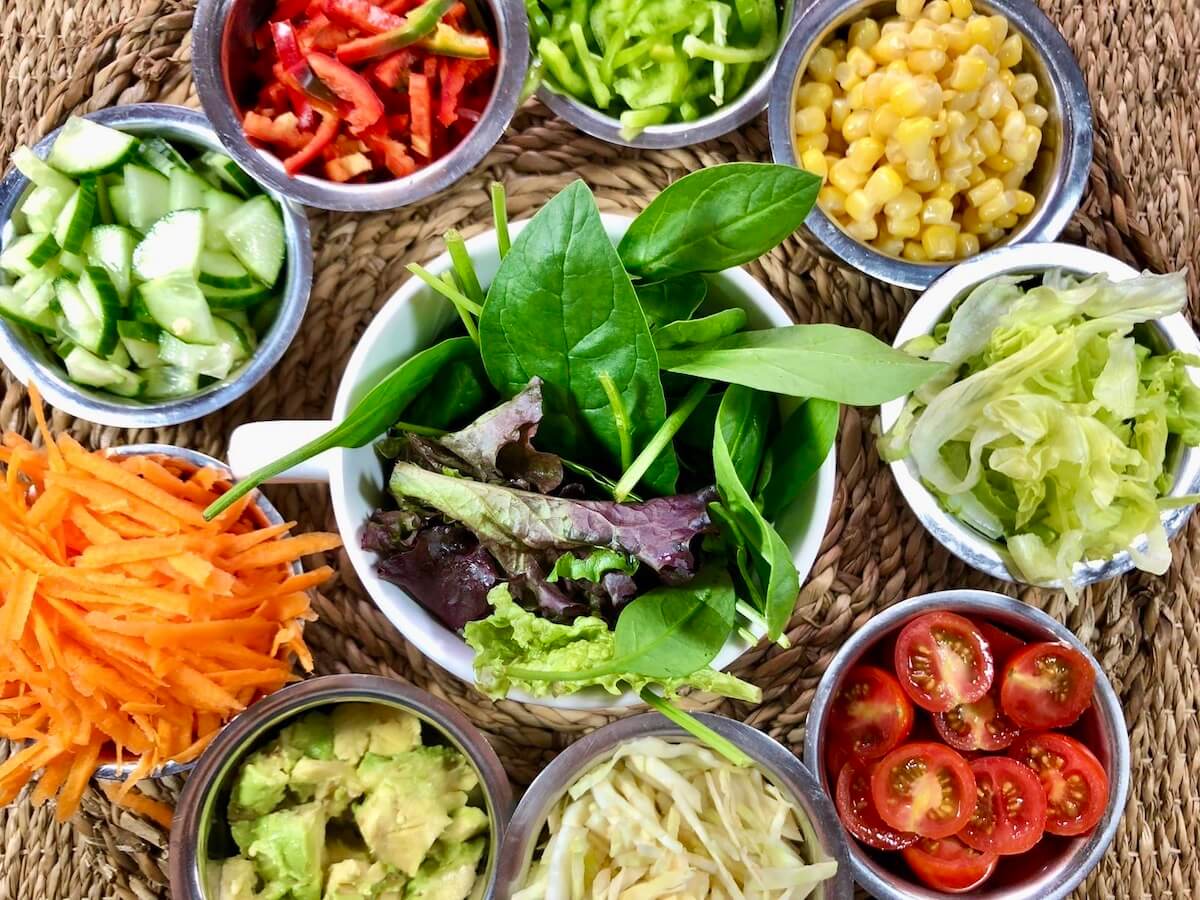 Make sure you roast a whole garlic in its skin, cooked in with the sweet potatoes in the oven, ready to use on the final dish, because that gives a wonderful surprise touch to the final flavour.
Cooking the Edamame Beans
Two topping that I that I love on this meal are the edamame beans and they also give a little extra protein which is otherwise missing, and the jalapeño peppers for spice.
Bring some water to the boil and place the edamame beans in for a few minutes. They don't take very long to cook, and I prefer them with a slight bite to them still rather than over cooked.
Taste them to check they are done to your satisfaction and then remove from the heat. Let them cool down before you pop them out of their shells, ready to use.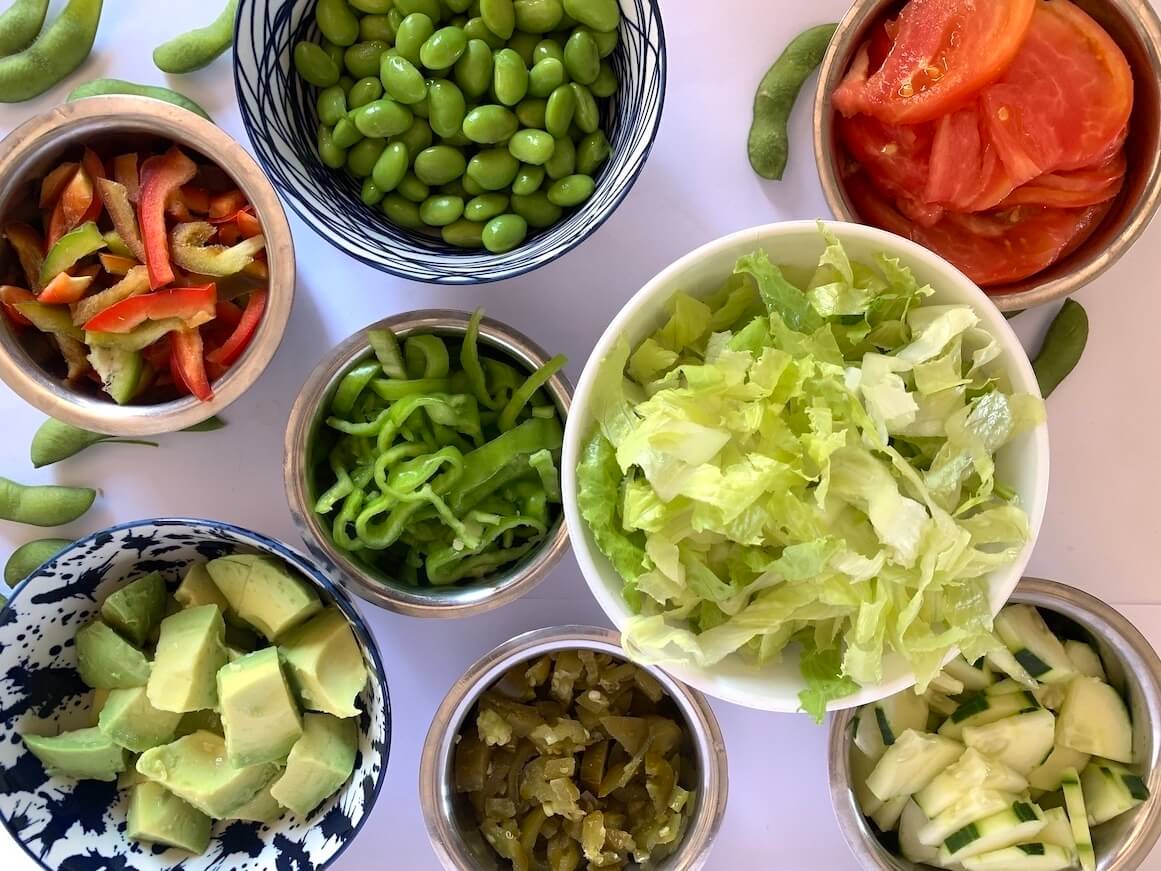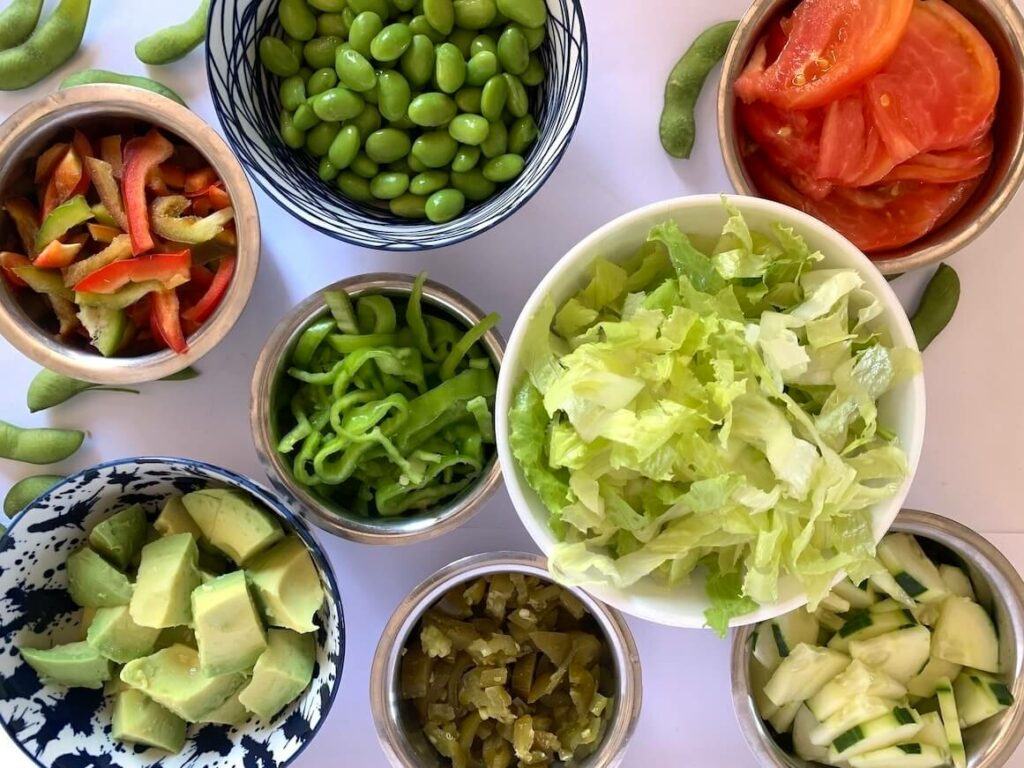 Creating the Easy Loaded Sweet Potato Fries
Put a generous layer of sweet potato fries on the bottom of a plate. Take the garlic and squeeze out some of the roasted cloves onto the chips.
Lay some greens on top, followed by the cabbage, peppers, cucumber, sweet corn and cherry tomatoes. Sprinkle over some grated carrot and finish with chopped jalapeño, edamame beans & baby corn.
Sauces to Serve with Loaded Sweet Potatoes
I serve my loaded sweet potatoes with cashew nut sauce or green pesto sauce and a spicy tomato sauce or you may like to take a look at these essential plant based sauce recipes.
You can add the sauce or serve it on the side but I prefer it dolloped across the whole lot.
Loaded Sweet Potato Recipe
Course: Main course
Cuisine: Vegan, Gluten free
Difficulty: Simple
Sweet potatoes loaded with toppings and served with a cashew nut sauce.
Ingredients
2-3 sweet potatoes

green leaves

tomato or cherry tomatoes

cucumber

edamame beans

jalapeño peppers

grated carrot

cloves of garlic

sliced red pepper

baby corns
Directions
Oven bake the sweet potato chips until slightly browning and going crunchy. Alternatively, you can use an air-fryer to cook the sweet potatoes.
Cook the edamame beans for a few minutes in boiling water. Then pop them out of their shells ready to use on the sweet potatoes.
Place the sweet potato chips on each plate and layer on top with all the toppings, finishing with the edamame beans.
Serve with cashew nut sauce or vegan pesto and a sweet chilli tomato sauce.
Notes
You can use whatever you have handy for the toppings but a wide variation of textures and flavours is what gives this recipe its special character.
If you have any comments about this sweet potato recipe feast, please leave me a comment below and I'll get back to you! And don't forget to follow me on Instagram @loveveganliving