This carrot and sweet potato mash is one of those simple side dishes that can be made in 20 minutes.
It makes a change from a straightforward mashed potato or mashed cauliflower and is quicker to make than a potato and kale mash (Dutch boerenkool stamppot)
It needs almost no hands-on time and is great served as a side dish to add colour and flavour to your meal.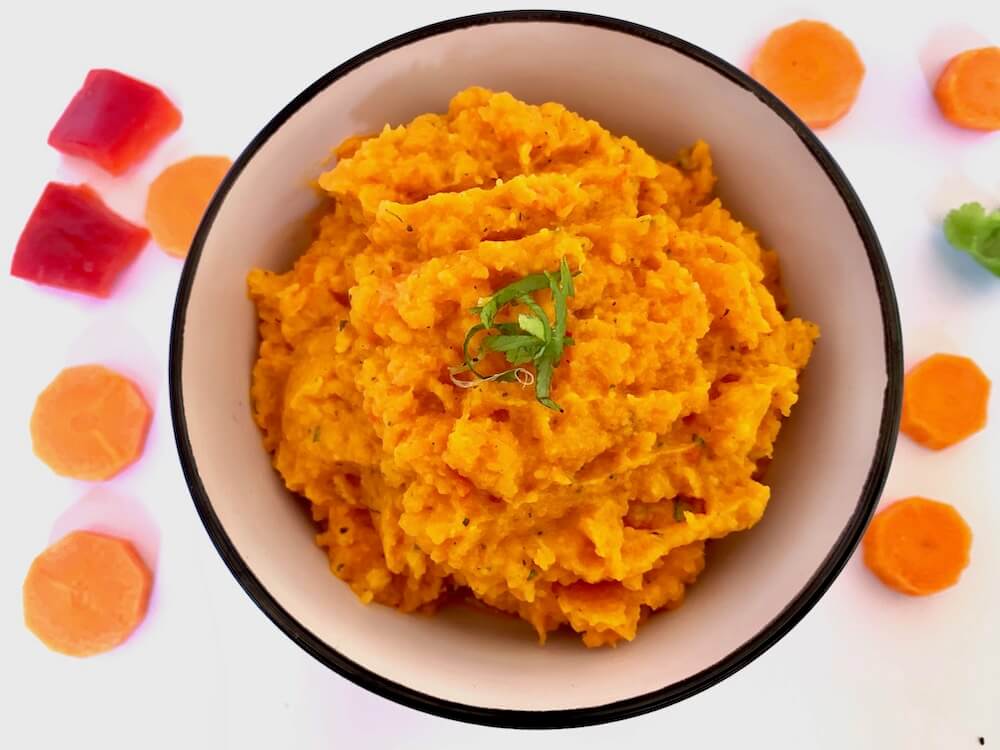 What to Serve this Carrot and Sweet Potato Mash With
Serve with potatoes, rice, pasta, veggies, whatever you want!
Maybe you've been cooking in the air fryer and want some mash to go with your air fried yummies.
Carrot and sweet potato mash goes well on the side of any main dish like stuffed cabbage leaves or a zucchini casserole or on the side of a no pasta vegan zucchini lasagne for example.
You could also serve this mash as part of a buddha bowl or next to your vegan burgers.
I even like this cold the next day, so serving this with salads isn't off the menu either.
How to Make Carrot and Sweet Potato Mash
Peel the carrots and sweet potato and chop into large chunks.
Boil the kettle and pour some water into the pan but don't cover the vegetables completely. You want about 1-2 cm of water showing at the bottom of the pan.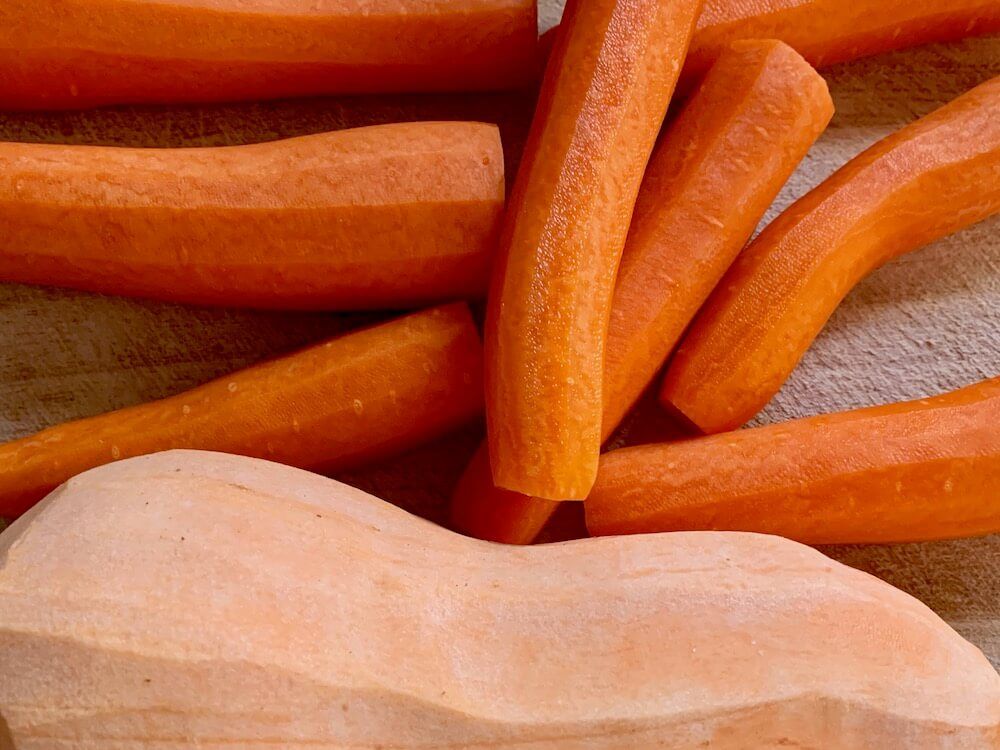 Sprinkle with a little salt and cover with a tightly fitting lid. Every so often, lift the lid and stir the vegetables so that the ones on top also get to be on the bottom.
When the carrots and sweet potatoes are soft, mash them with a hand masher.
You should have just the right amount of liquid so that you don't have to waste any of the water as it has been absorbed by the mash. If it runs dry, add a little more to the pan.
If there is excess liquid, turn up the heat and cook without a lid on, stirring all the time, to reduce the water.
You can serve this carrot and sweet potato mash just like this, with a little freshly ground black pepper and coconut oil mashed into it. (Don't add too much coconut oil or it will overpower the flavour.)
For an oil-free version just omit the coconut oil.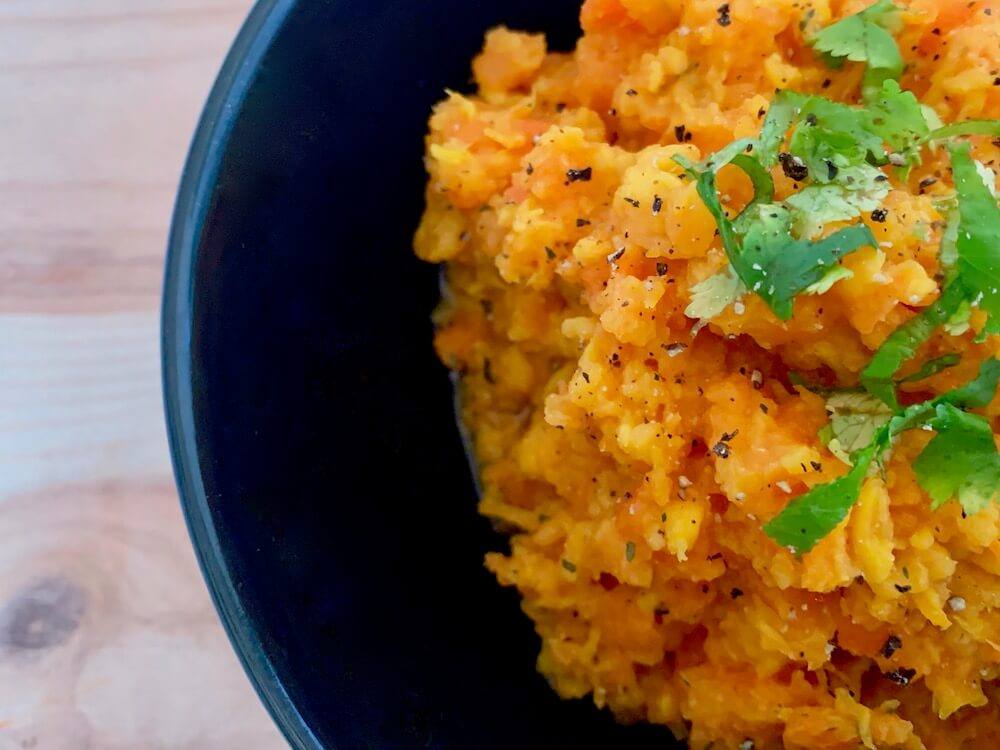 If you find the taste a bit too sweet, or you just fancy a variation, you can add a few large chunks of red pepper and a little fresh & dried coriander to the pan and blend the mash with your hand blender.
This will give additional, subtle flavours to the mash.
Carrot and Sweet Potato Mash
Course: Side dish
Cuisine: Vegan, Gluten free
Difficulty: Simple
Colourful and tasty side dish to accompany any meal.
Ingredients
6 carrots

1 sweet potato

1/2 tsp coconut oil (optional)

1/2 red pepper – optional

fresh or dried coriander
Directions
Cook the chopped carrots and sweet potato in a little water with a tight fitting lid so that they are partly in the water and partly cooking in steam.
Add a little salt.
Cook for 18-20 minutes, then mash.
Add 1/2 tsp coconut oil and freshly ground black pepper.
Optionally, add chopped red pepper, fresh and dried coriander, and blend with the hand blender.
Serve to accompany any main meal.
Notes
Simple side dish to brighten up your plate and your life!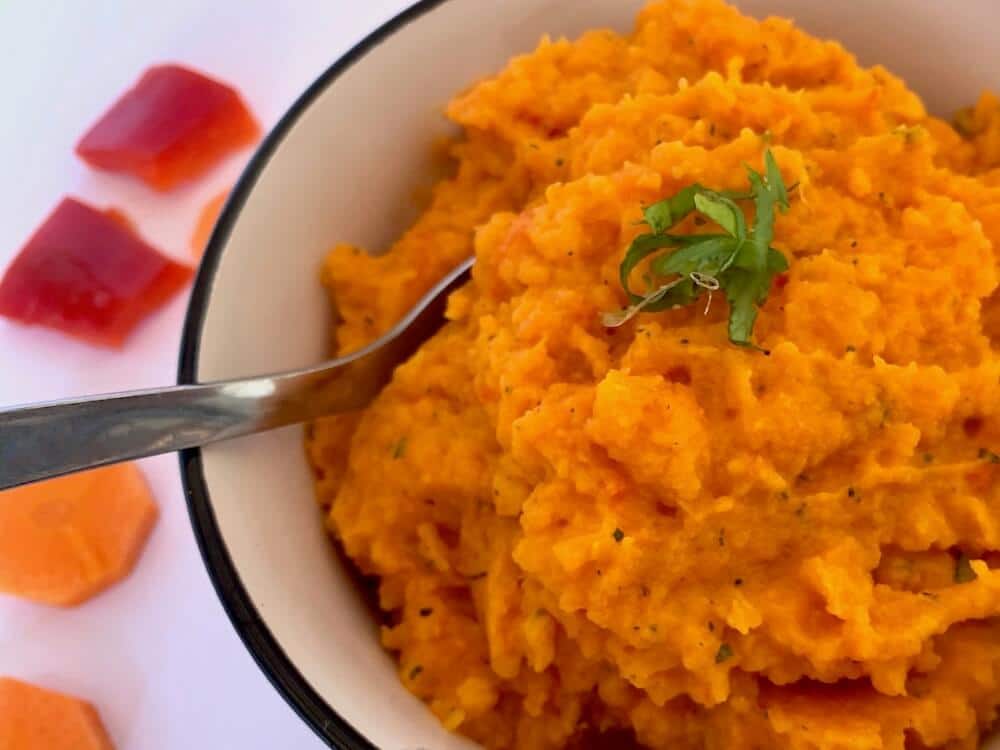 How to simply add a little orange to your rainbow of foods.