You're late home, need a quick sauce and no time to spend in the kitchen? This vegan carrot sauce is a game-changer. Once you've discovered this, you'll use it as a 5 minute wonder whenever you need a quick and delicious sauce.
While the cooking time is longer than 5 minutes, the hands-on time is literally just the time it takes to peel and chop, and the time it takes to blend. Finito. Hey presto. Done.
To tell the truth there are lots of other variations on a vegan carrot sauce, some with more work involved and some with less. I like other variations too but there's only one sauce that's so simple you can literally use it when you don't have any time (or don't want to spend any time!).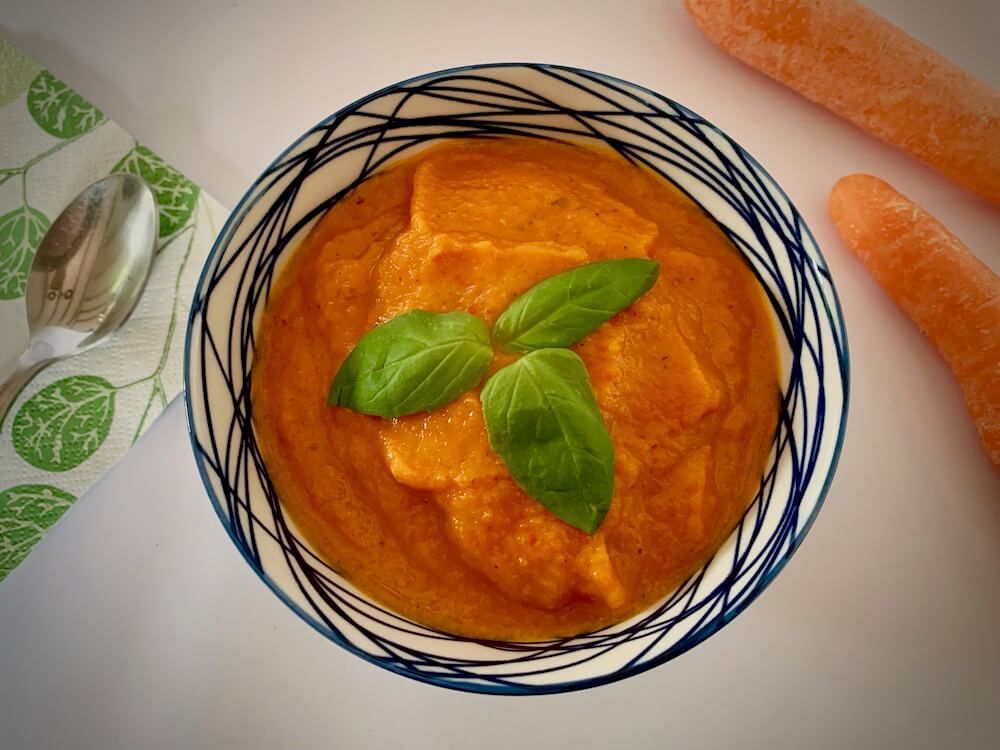 There's no frying, no watching, stirring or anything. Just boiling the ingredients together and blending. It isn't a sauce with great finesse, but it's a sauce with impressive adaptability.
When to Serve Vegan Carrot Sauce
Vegan carrot sauce goes well with roast potatoes, rice, pasta, broccoli, vegetables, quinoa . . . and the list goes on.
You can use it instead of a gravy or instead of a creamy sauce. It doesn't taste like either, but it gives a neutral, slightly sweet juicy sauce to compliment almost all flavours. It's also great for juicing up a dish that's too dry on its own.
I served it on my stuffed eggplant dish and they went like a dream together.
So if you have some leftovers from the night before and you need a sauce to wake it up, grab some carrot sauce and serve it on the side.
The impact of the flavour from such a simple sauce is quite incredible.
How to Make Vegan Carrot Sauce
Take 3 carrots and peel and chop them. Cut up a large slice of red pepper and a chunk of zucchini. Of course, you can change the vegetables according to what you have to hand. Remember to keep the colour intense, so avoid adding too many green vegetables.
Chop the carrots, pepper and zucchini into chunks and place in a small pan with just enough water to cook the vegetables. If your pan is large, you may not even need to completely cover the vegetables.
You want to use just the right amount of water that will be blended to create the sauce and you won't be throwing any of it away, so keep that in mind when adding the water. You can always add more if necessary, so it's better to lean toward too little rather than too much.
Add salt to the the water, a sprinkle of turmeric and some dried herbs of your choice. I added a little basil and a little oregano.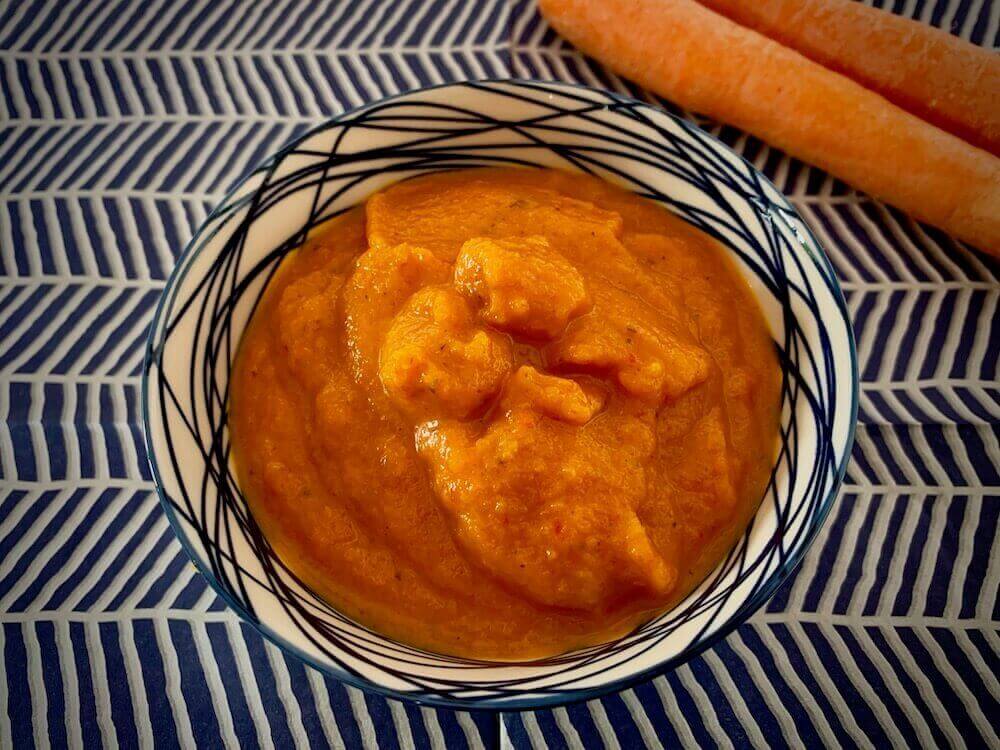 Boil the vegetables until they're completely soft through. Mash them with a potato masher to check that they're soft enough. When they really mash completely, it's time to transfer to the blender or food processor and bend completely.
If at this point you realise that there's too much liquid in the pan, turn the heat up to high so that the liquid reduces before blending.
It's also important to taste the mashed vegetables before blending, and decide if anything is lacking in the flavour. Consider the levels of salt, herbs, spices and black pepper.
Alternative Ingredients
You can use whatever you like in this sauce, which has its roots of inspiration in the Spanish tradition of making a vegetable purée. Purée itself can be really tasty but its never really appealed to me because, well I like to bite my veggies, not purée them.
But given the tasty character of a purée, it wasn't difficult to take it a step further and make it thinner so it could be used as a complimentary sauce to your plate.
You can add so many variations to the ingredients. Potato is an obvious one, sweet potato also goes fine with this. A tiny bit of cauliflower or celery are also fine. Avoid things like broccoli which will make the colour turn brown.
As for the flavourings, you could add garlic or chilli, ginger or coriander, cumin or basil. The world is yours. But because the beauty of this sauce is in its ability to be an instant simple creation, I keep it simple.
Just carrots, a couple of chunks of other veggies that I have in the fridge, salt, turmeric and away we go. This is never going to become a complexity of flavours on the tongue so I see no point in getting too elaborate with the ingredients.
Keep it simple and keep it clean in flavour. When you taste the final sauce, then it's important to balance the flavour if necessary, by adding something of choice (soy sauce, lemon etc).
Vegan Carrot Sauce
Course: Vegan sauce
Cuisine: Vegan, Gluten free
Difficulty: Simple
Such a simple, instant sauce solution to brighten up the meal.
Ingredients
3 carrots peeled and chopped

1 fat slice red pepper

1 chunk zucchini

Pinch of turmeric

Salt & pepper
Directions
Chop the vegetables and place in a pan with just enough water to cook them.
Add a dash of olive oil, salt to taste, herbs of choice, a grinding of black pepper and a pinch of turmeric.
Bring to the boil, cover with a lid and leave to simmer until the veggies are completely soft through.
Blend all the ingredients together and check seasoning.
Add more water if necessary.
Serve with your favourite food!
Notes
The carrots give a sweet flavour to the sauce and will go well with most main dishes.