This quick chickpea recipe is one of those things you throw together and out it comes, tasting like something out of this world.
Anything made with chickpeas tastes better if you cook your own chickpeas from dried chickpeas. Not sure how to cook them? Take a look at how to cook chickpeas in a rice cooker.
It takes less than 20 minutes to put together and is a complete meal, or you could serve it with gluten free pitta pockets, as a snack, as a side, with salad or as part of a buddha bowl.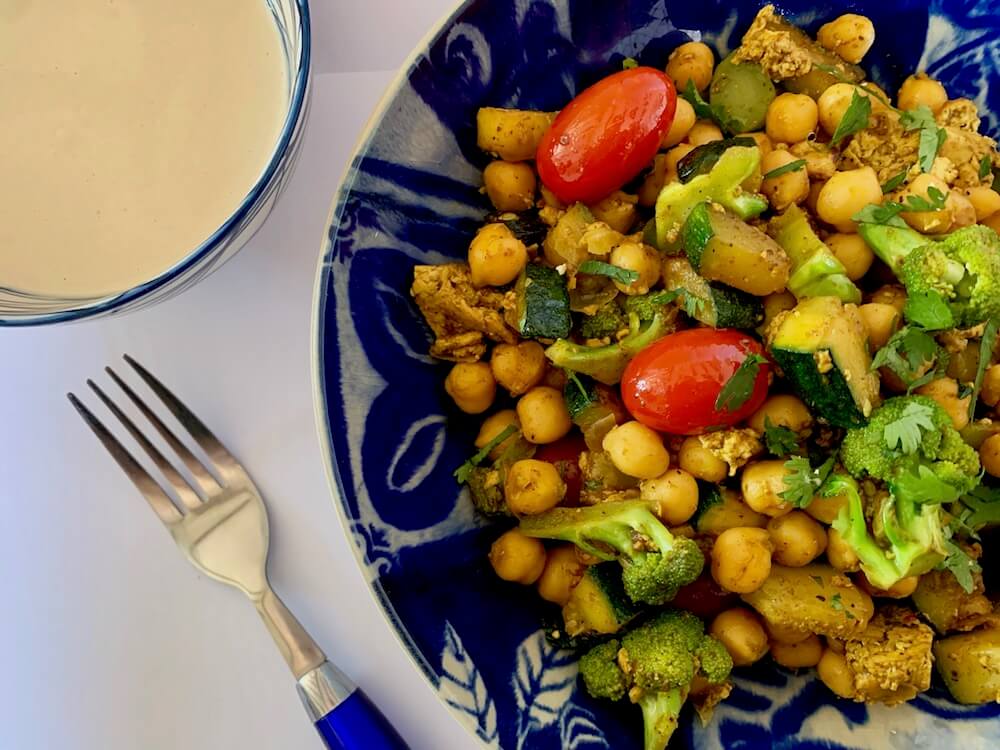 Chickpeas are probably best known for making yummy hummus to go on the side or as a snack but they're also perfect for creating complete meals. I make this to eat as the main meal and then put the leftovers (I always make more than I need) into the fridge for snacking on later.
Oh and by the way, it's delicious cold too.
7 Reasons to Eat Chickpeas
Chickpeas are also known as garbanzo beans and are high in vitamins, minerals, fibre and protein.
High in folate (vitamin B6), iron, zinc and other B vitamins.
They're great for helping in weight loss management as they fill you up without a heavy calorie count.
The soluble fibre they contain contributes to a healthier gut and healthier gut flora, especially beneficial for promoting gut health.
Chickpeas have a relatively low glycemic index (GI) so they won't spike your sugar levels and can help regulate blood sugar levels and reduce the risk of diabetes, heart disease and even cancer.
They contain all the essential amino acids except methionine, making them a great plant-based protein source (as long as you also eat other sources too).
They're cheap and delicious!
How to Make a Quick Chickpea Recipe so Delicious you'll be Coming Back for More
The secret lies in the combination of flavours. You can switch the veggies however you like but the contrast of flavours will zing your tastebuds the same. The play-off between the spices, ginger and the cilantro combined with dash of lime juice bring out the dazzle in this dish.
Chop a large zucchini into cubes and cut 3 broccoli heads into little florets. I use the stem too and the little leaves around the stem because the broccoli's homegrown and tender.
Heat some olive oil in a wok or deep frying pan and add 2 cloves finely chopped garlic along with 1 tsp each of cumin, coriander, ginger and turmeric.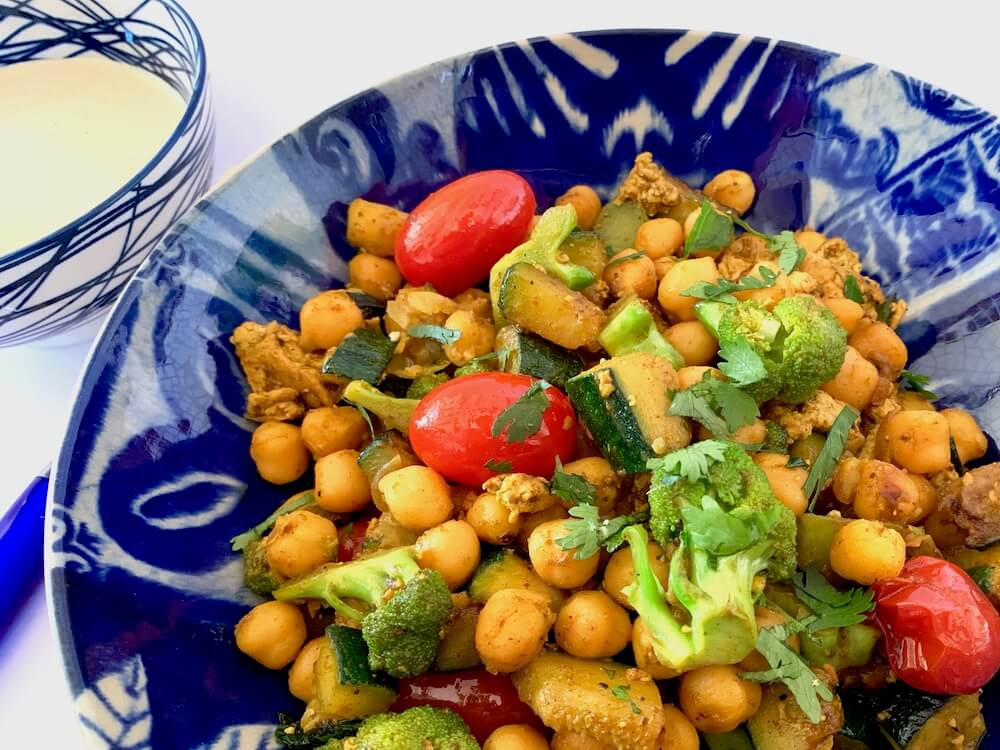 Fry for a moment before adding the chopped zucchini and a good sprinkling of salt (1/2 tsp) and raise the heat to high.
Stir to coat in the spices and continue to fry for 2 minutes, then add the small broccoli florets and stir again. Reduce the heat to a medium-high (6 on my hob) and fry for 5 minutes or until semi-cooked.
Add 1/2 packet of firm tofu, squeezed out of excess liquid and broken up into pieces. After a moment, add a jar of drained and rinsed chickpeas and stir the whole lot.
Leave to cook for another 5 minutes then stir through some fresh sliced coriander and add a good slosh of Tamari soy sauce.
Taste the dish and tweak the flavour buy adjusting the soy sauce, salt or chilli. Finally add a squeeze of lime juice and do the taste test again.
Serve with some fresh coriander on top and a swirl of tahini sauce on top.
So delicious and ready in 20 minutes!
How to Make Tahini Sauce
You can make the tahini sauce in a loads of different ways. As long as it has tahini in it!
This time I mixed 2 tbs tahini with 2 tbs cashew sauce and diluted it with water and lemon juice. I then added a touch of salt and a tiny dash of soy sauce and did the taste test to make sure it was balanced.
You can also make tahini sauce using just tahini, water, salt & lemon juice. Take a look at my favourite vegan sauce recipes.
Basically, it's a clean canvass and it's yours! So let it fly! Tahini sauce is always yummy!
Quick Chickpea Recipe with Broccoli & Zucchini
Course: Main course, Side, Snack
Cuisine: Vegan, Gluten free
Difficulty: Easy
Such a quick meal that fills the gap and is . . . oh my goodness . . . delicious!
Ingredients
1 jar cooked chickpeas

1 large zucchini, chopped

Cup of broccoli florets cut into small florets

Half a packet of firm tofu, broken up into little bits

2 cloves garlic

Handful of cherry tomatoes

1 tsp of each: cumin, coriander, turmeric & ginger

Fresh coriander (cilantro)

Tahini sauce for serving

Tamari soy sauce
Directions
Fry the chopped garlic in the spices for 1 minute
Add the chopped zucchini & salt, stir to coat in the spices, and fry for another 2 minutes before adding the broccoli florets. Fry for 5 minutes.
Add the tofu and chickpeas and cook for another 5 minutes.
Add a slosh of Tamari soy sauce and some freshly chopped coriander.
Taste and adjust the levels of salt or soy sauce and squeeze a lime over the dish to tast.
Serve with tahini sauce.
If you like this recipe and you like zucchini, check out my post on top 9 easy zucchini recipes or this grilled summer vegetable salad recipe.