Here are 15 easy homemade vegan snacks for keeping on hand in the fridge or putting together in a few minutes.
When you first go vegan or even if you've been vegan for a while but have only just become whole foods plant based, then it can be tricky to think of what to snack on, or what to serve your friends as a snack when they visit.
What Can Whole Food Plant Based Vegans Snack On?
Edamame beans
Mixed nuts (mixed at home)
Home roasted cashews
Tofu and sweet potato in the air-fryer
Baked tofu served with alioli or satay sauce
Lemon baked tofu with chickpeas and cherry tomatoes
Scrambled tofu
Chickpea & lima/fava bean mixed with air-fried eggplant, zucchini and tofu
Roasted chickpeas in cumin
Pan fried chickpeas
Homemade hummus
Cauliflower rice
Cauliflower rice salad
Roasted cabbage
Protein balls
Protein cookies
#1 Edamame Beans
Buy a bag of frozen edamame beans and cook them for 2- 3 minutes in boiling water. Transfer them to a bowl and sprinkle them liberally with salt.
You can make more than you need because they keep beautifully in the fridge for at least a couple of days and they absorb the salt to make them even tastier.
Whenever you get peckish and want to pick at something, grab a few edamame.
Or, alternatively, serve them as an aperitif.
To eat, pick up one of the bean pods and pop the beans out into your mouth, discarding the pods.
The salt soaks into the skin and when you pop out the bean between your teeth you get the lovely combination of the slightly salty tang with the bland edamame bean.
Edamame beans are a rich source of plant protein so not only a delicious snack but a healthful one too.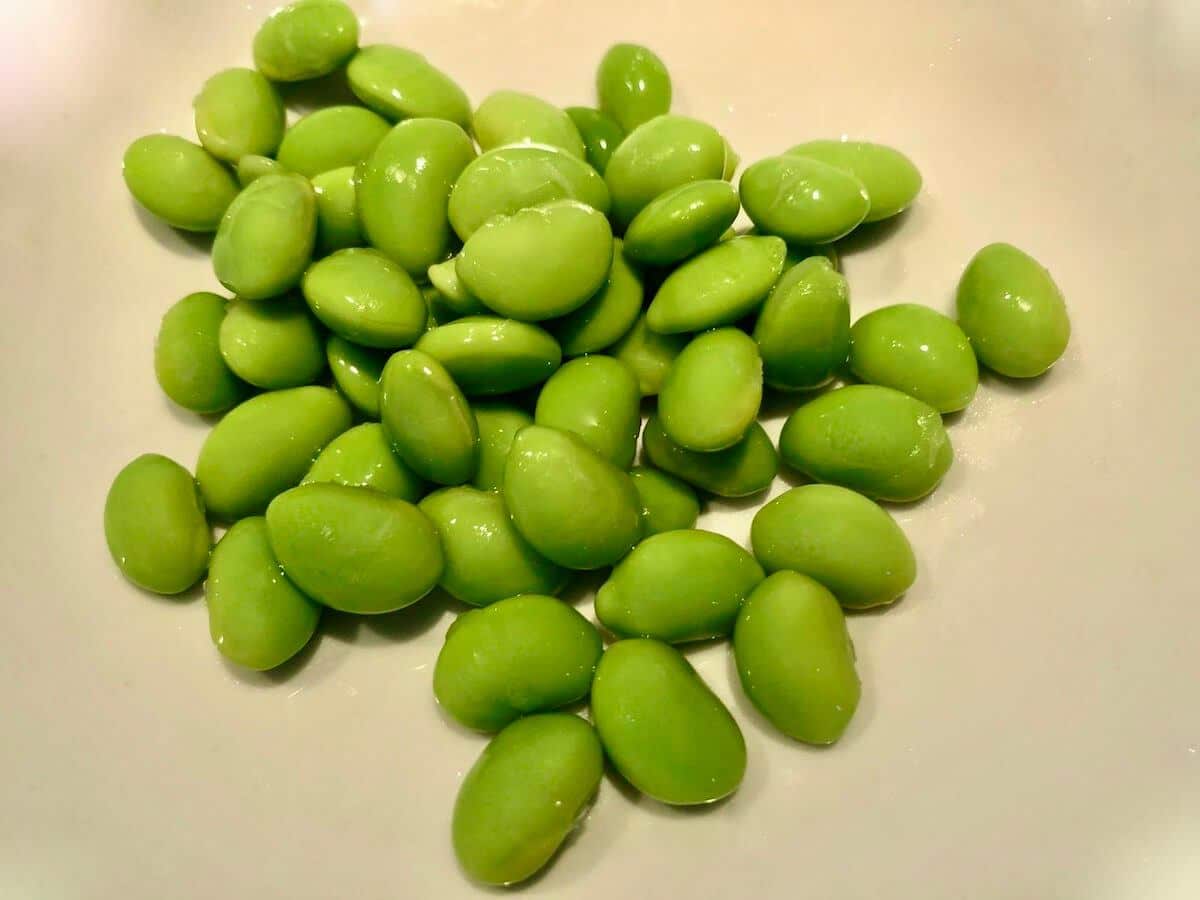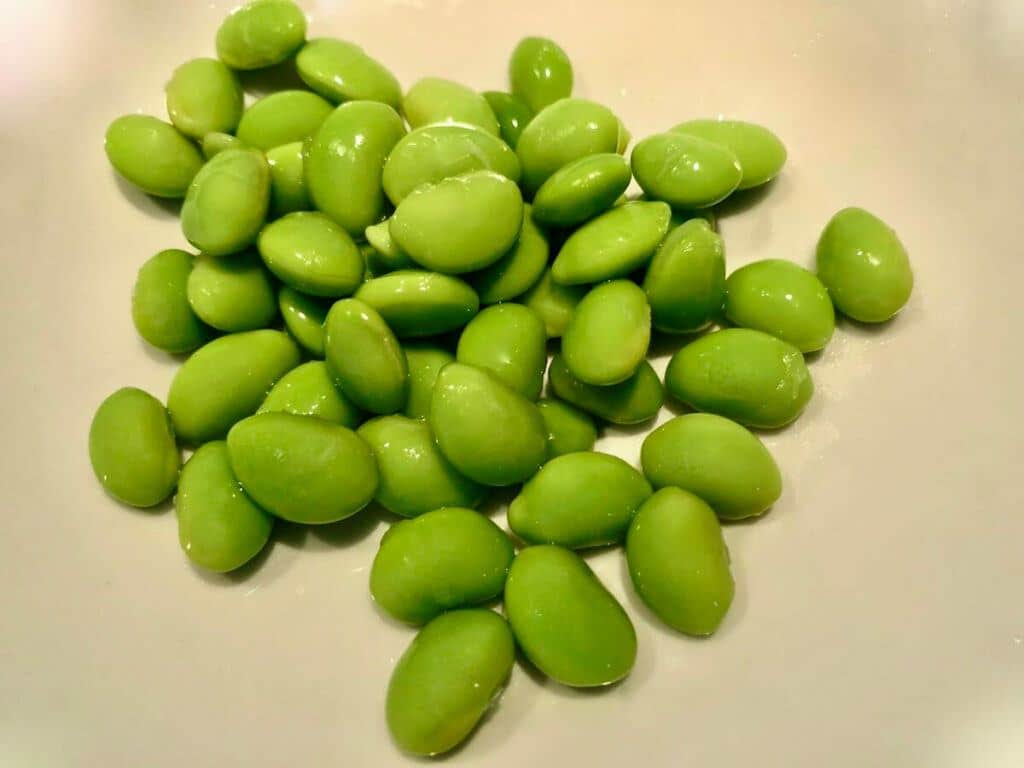 #2 Home-Mixed Nut Mix
Buy your nuts and dried fruits individually and mix them into a big cookie jar to keep handy in the kitchen for when you want to grab a handful or put a bowlful out for your guests.
Here's a list of the ones I usually include in my mix:
Unsalted peanuts
Unsalted cashews
Walnuts
Salted almonds in skin
Dried chickpeas
Unsalted pumpkin seeds
Unsalted or salted sunflower seeds
Dried cranberries
#3 Cajun Roasted Cashews
Place the cashews into a bowl and brush on a little olive oil just to coat them (or skip the oil if you like).
Next, take a teaspoon or more of spice mix and sprinkle it evenly over the nuts. Rub them to coat well and roast in the oven for 7 minutes.
#4 Tofu and Sweet Potato in the Air Fryer (or from the Oven)
Chop your sweet potato into bite sized chunks and cut the tofu into cubes. Add them to the air fryer for 15 minutes, shaking the basket once, half way through cooking.
Store the sweet potato and tofu in the fridge to snack on when you get hungry. Eat it with cilantro sauce or homemade pesto.
If you don't have an air fryer you can make this in the oven. The sweet potato will be softer and sweeter.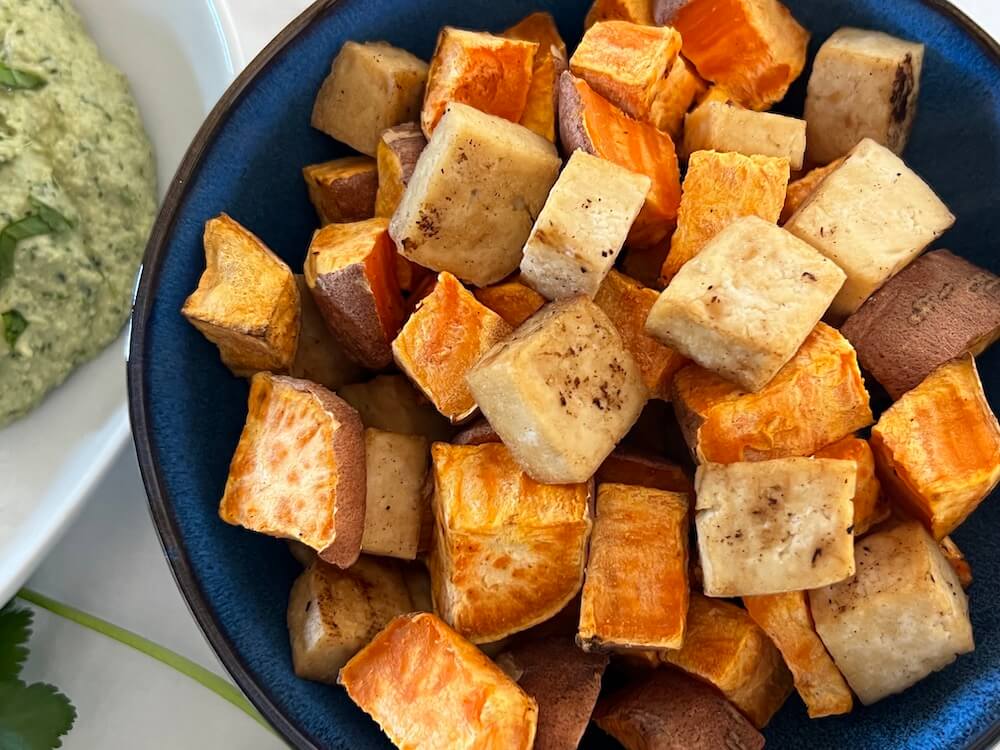 You can find more details on the tofu snacks in super easy snacks you can make with tofu.
#5 Baked Tofu with Cashew Garlic Sauce
Chop the tofu into cubes and pour over some gluten free ketcap manis or soy sauce and chilli.
Pre-heat the oven to 200ºc and add the drained tofu on a baking tray. I normally do another vegetable at the same time but it's up to you, the chef.
The amount of cooking time depends entirely on your preference. Anything from 10 minutes to 30 minutes will do.
Serve the baked tofu tapa with cashew sauce with garlic.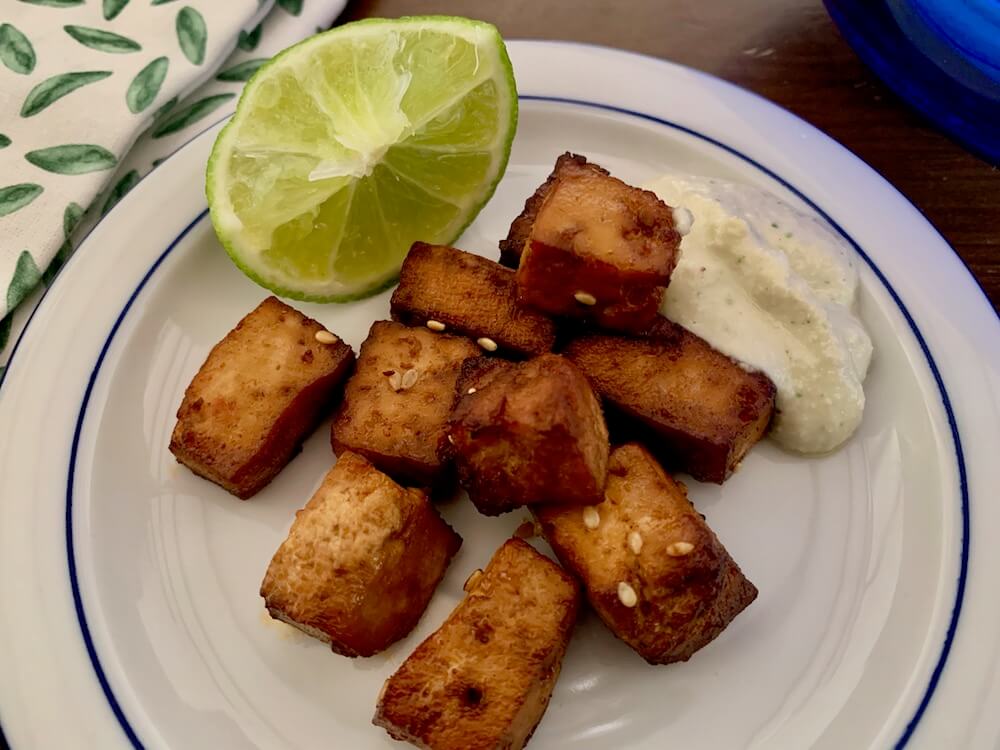 #6 Tofu Baked with Chickpeas and Cherry Tomatoes
Pre-heat the oven to 200ºc. Layer a baking tray with chickpeas, tofu cut into cubes, chopped zucchini and cherry tomatoes.
Grind over some lemon rind and squeeze on some lemon juice. Sprinkle with salt and bake in the oven for about 30 minutes or until cooked to the amount you like.
Leave to cool, then store in the fridge for snacking on with a squeeze of lime.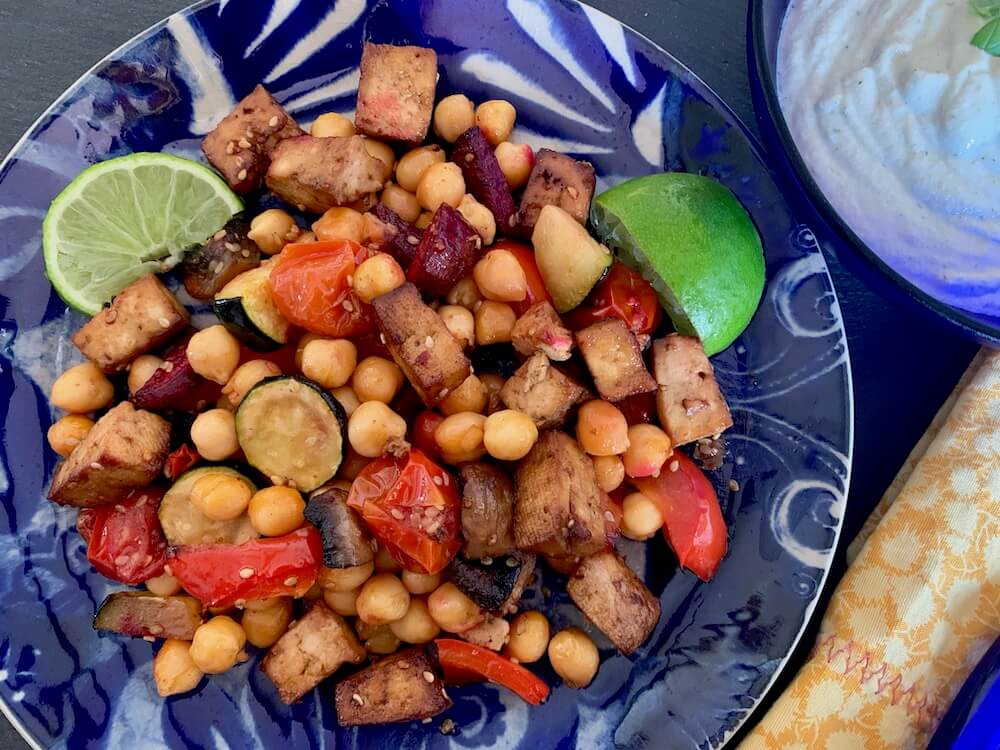 #7 Scrambled Tofu
It's so easy to whip up a scrambled tofu when you fancy a snack.
Just break the tofu into pieces and cook in a non-stick frying pan and sprinkle with a little turmeric to give it a yellow colour.
Add some veggies of your choice. For example mushroom scramble, bean scramble, zucchini scramble etc.
Use a little plant milk to stop it from getting too dry.
Cook for about 5 minutes and serve with a generous dollop of spicy kimchi on the side.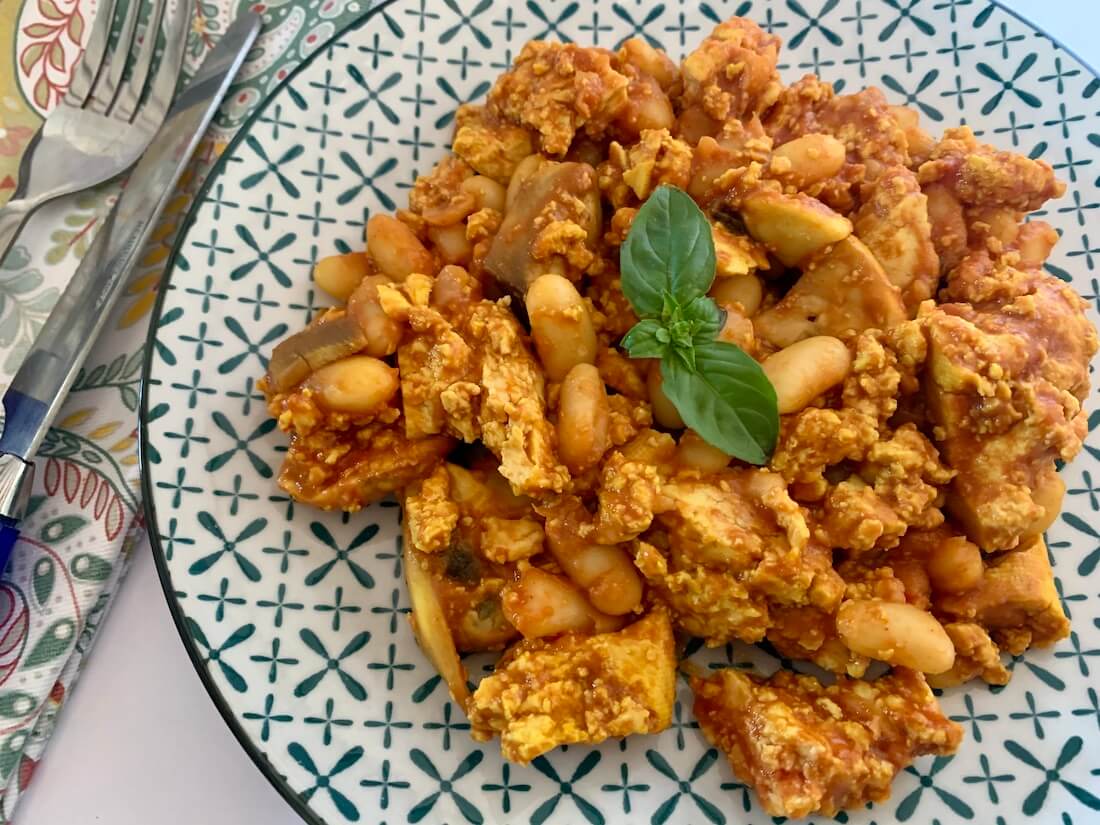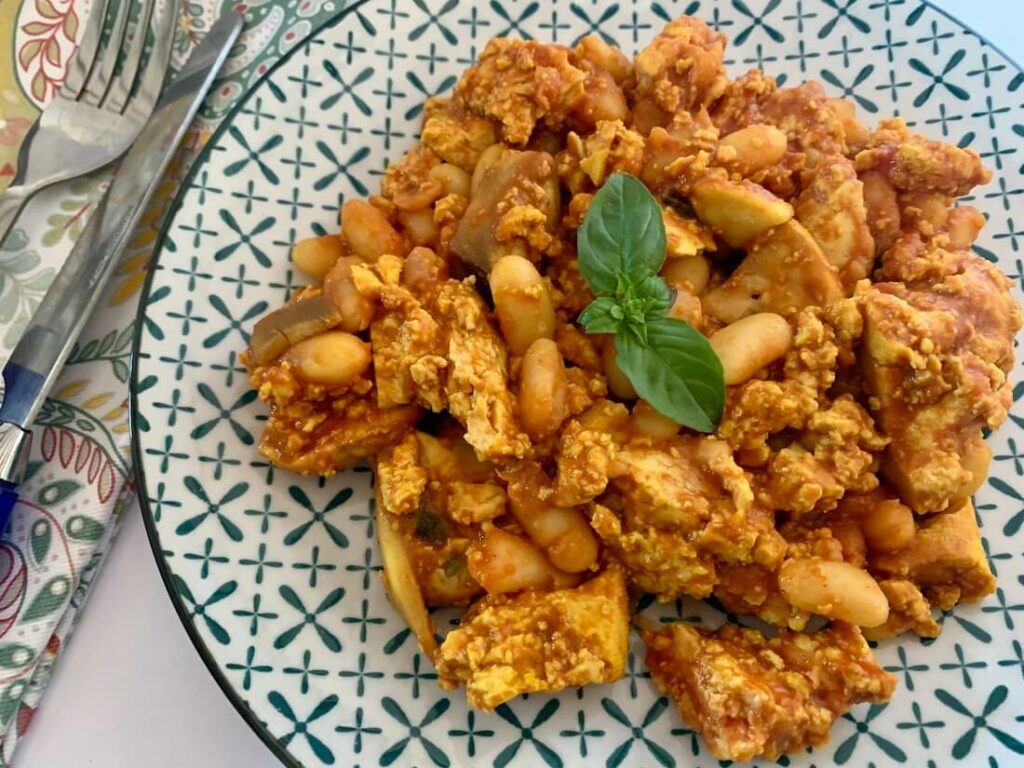 #8 Chickpea and Lima/Fava Bean Mix
I find both chickpeas and lima beans great for snacking on. Buy them ready cooked in a jar and open them and serve for an instant snack.
Or, soak the chickpeas and beans for about 5 hours in salted water, then drain and refill with new water. Cook in the rice cooker, but instead of letting the rice cooker decide when to turn off, cook them in plenty of water and check them as you go.
When they are soft, turn off the rice cooker and leave them to stand and absorb more flavour. I love real cooked pulses cooked this way, rather than from a jar.
And it's taken me all these years to discover it.
Next, add some air-fried zucchini, eggplant and tofu to the beans for a yummy combination.
#9 Roasted Chickpeas in Cumin and Chilli
Roast the chickpeas in the oven at 200ºc with a squeeze of lemon juice (approx the juice from 1/2 lemon) and the rind of the whole lemon grated on top. Sprinkle with salt, cumin and chilli before cooking.
If you eat oil, you can use a little olive oil in the pan, otherwise just the lemon juice is enough. Watch the chickpeas to make sure they don't overcook and become all dried out. They should be just a bit roasted but not dry.
Remove from the oven and keep them in the fridge for snacking on.
There are lots of variations to this snack, such as this roasted chickpeas with broccoli and zucchini and this roasted chickpeas snack.
#10 Pan Fried Chickpeas
Heat a little olive oil in a non-stick frying pan and add 1 tsp cumin and a generous sprinkling of salt. Fry the chickpeas for a few minutes, then flip them around to fry on the other side.
Cook for up to about 10 minutes or until you get the crispiness you prefer.
They can be eaten hot or cold from the fridge later on.
#11 Homemade Hummus
No snack list would be complete without including homemade hummus. It's such a delicious snack to have in the fridge and doesn't take much work to make it.
Blend together: chickpeas, lemon juice, garlic, salt, tahini. If you aren't living an oil free wfpb lifestyle, you will also add extra virgin olive oil.
You can add other flavourings for variations: roasted red pepper hummus, avocado hummus or roasted carrot hummus for example.
Serve as a snack with raw vegetable sticks or on gluten free toasts.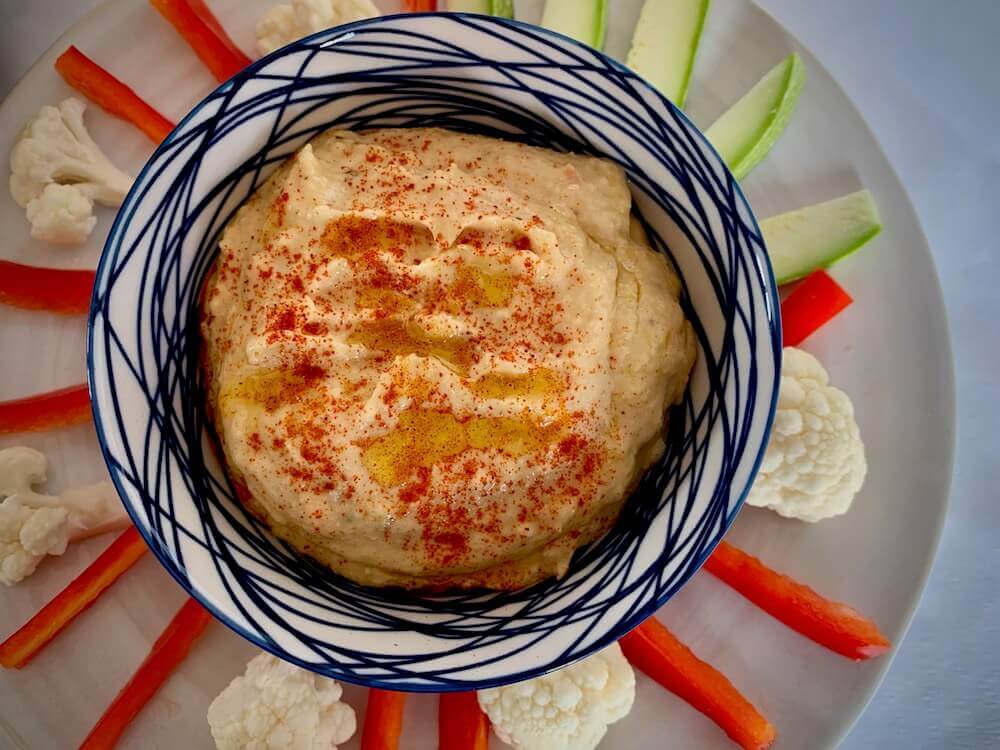 #12 Cauliflower Rice
Put some small pieces of cauliflower and a bunch of fresh parsley into your food processor and pulse them a few times until the cauliflower is small, similar to rice.
Heat a non-stick frying pan and add the cauliflower rice and a sprinkle of salt.
Cook for about 3-4 minutes on a high heat, checking to see when it's done enough for your preference.
Pour in a touch of gluten free soy sauce or ketcap manis and stir.
Add any vegetables you like and serve as a snack with tahini or cilantro sauce on the side.
#13 Cauliflower Rice Salad
Blitz the cauliflower in your food processor and transfer to a bowl. If you have a small food processor, you'll need to make it in batches.
It only takes one or two pulses to rice the cauliflower.
Add some cherry tomatoes in halves, some finely chopped cucumber, red pepper, fava beans (or other beans) and sweet corn.
Dress with vegan mayonnaise for a delicious cauliflower salad.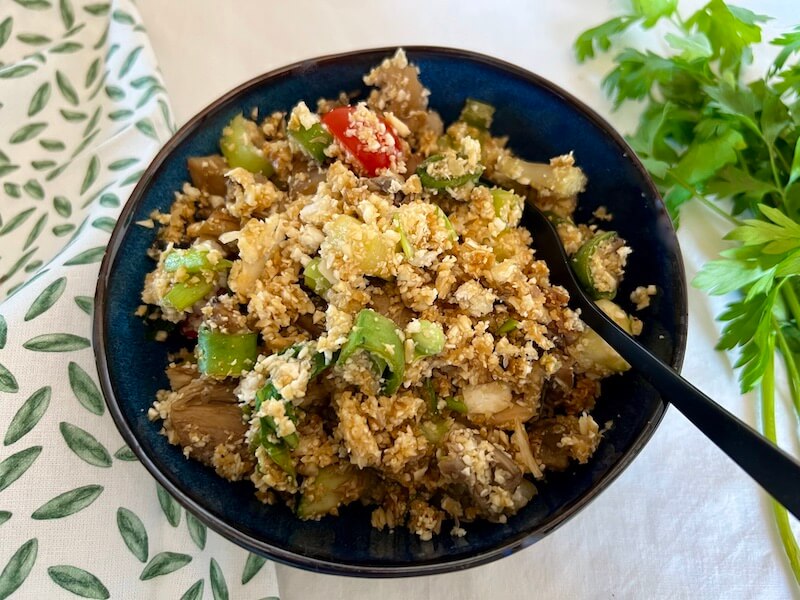 #14 Roasted Purple Cabbage
I love to roast purple cabbage in large chunks with a sprinkle of salt (important!) and keep it in the fridge for snacking on. It's a strange looking snack for guests, but it tastes so yummy.
Heat the oven to 200ºc and put the cabbage into the roasting tray with a generous sprinkling of salt.
Turn the cabbage chunks after about 15 minutes. Leave to cook for another 10-15 minutes or until soft.
Turn off the oven and let the cabbage cool down inside the oven. It continues to slowly cook and soften and develop more flavour this way.
#15 Energy Protein Balls
These high energy protein balls are absolutely delicious, but be warned they take quite a lot of work to roll out the little balls and then they're so moorish you might end up eating them all in one go!
They're high protein and high calorie and great after a work out or as a treat after a meal. For more of a daily snack, go for the high protein cookies below, which are quicker to make and lower in sweet things.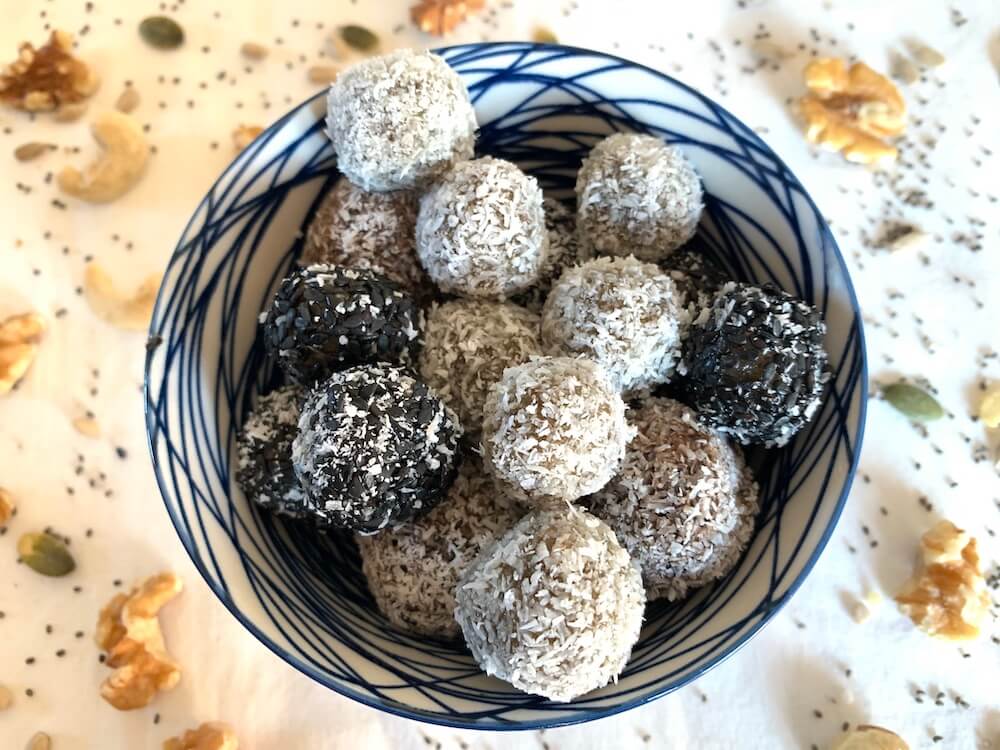 #15 High Protein Cookies
Make these high protein cookies and store them in an airtight container in the fridge for an easy energy kick throughout the day.
Blend together a mix of nuts. For example, hazelnuts, walnuts and cashews. Add some flax or chia seeds and a few Medjool dates, tbs peanut butter and blend until you have a smooth gooey chewy consistency.
Press it into a cake tin and refrigerate.
The recipe can be changed completely, so this is just an example. Makes about 20 cubes:
100g walnuts
100g hazelnuts
50g cashews
20g / 2 tbs dried cranberries
10g / 1 tbs ground flax
1 tbs peanut butter
5 Medjool dates
Coconut flakes for coating or chocolate chips for topping
The walnuts are great because they turn very quickly into a butter consistency while the hazelnuts are drier. Play with the flavours and quantities until you find the blend you like best. Then you can whip these together in a few minutes and have them always available in the fridge.
Press the mix into the bottom of a cake tin or use individual bars if you have them. You can cover the base and the top with desiccated coconut to make them more manageable and give them a twist of coconut.
Refrigerate for a couple of hours before eating.
Enjoy!