This avocado hummus recipe is easy to make, delicious, nutritious and oil free.
Serve it as a dip with some crunchy veggie sticks to dip into it.
Include it as part of a tasty buddha bowl or serve it alongside salad or veggies.
Make some lentil flatbreads, spread on some avocado hummus, and fill with your favourite veggies.
Oil free avocado hummus is perfect if you're eating a whole foods plant based diet to keep healthy or regain your health.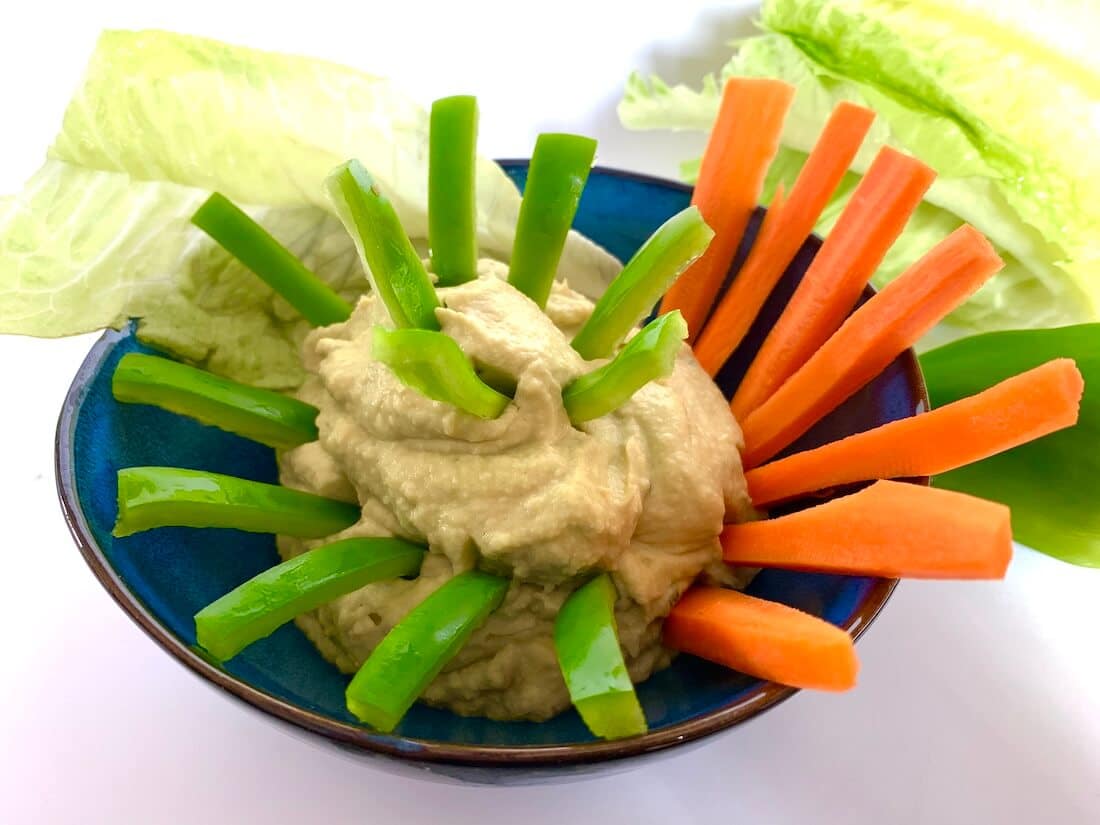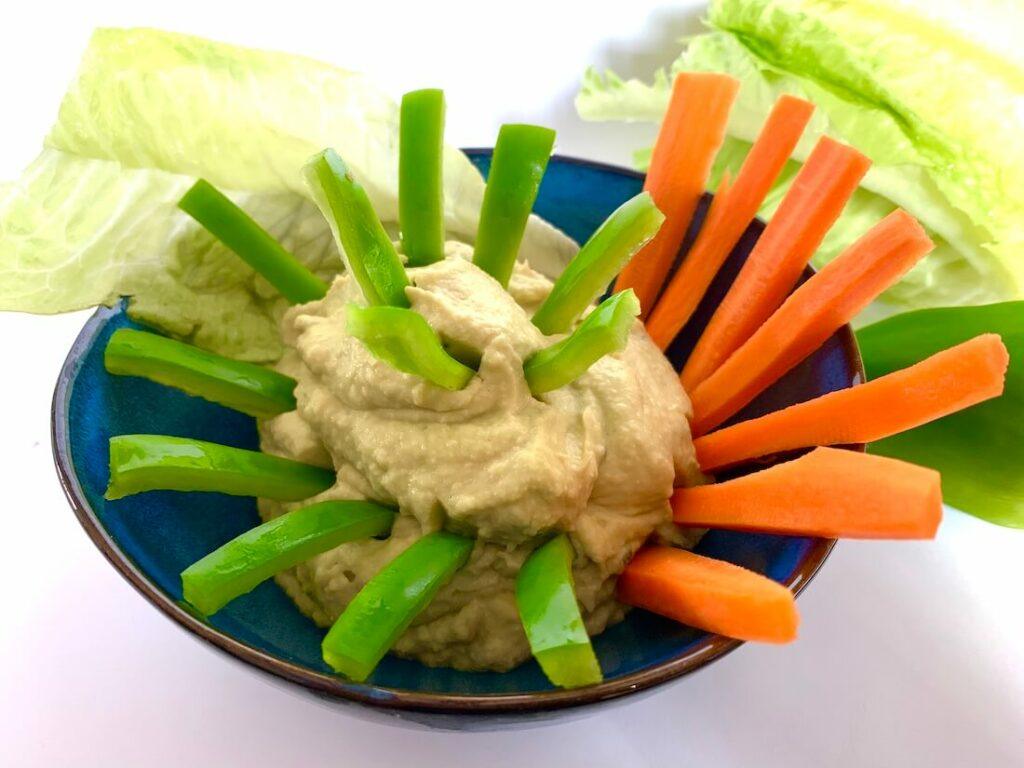 Nutritional Profile of Avocado
Avocado's one of the most nutritious fruits available and is the only fruit that contains monounsaturated fats – healthy fats which are good for the heart and cholesterol free.
Avocados are full of vitamins.
They have more potassium than a banana, as well as an array of other vitamins such as vitamin K, folate, copper, riboflavin, niacin, vitamin C, Vitamins B5 & B6, manganese, thiamin, vitamin E and carotenoids.
They're high in fibre and loaded with antioxidants and phytonutrients all of which contribute to better health and longevity.
And if all that doesn't say very much, let's just say that these little green beauties are superfoods.
In recent years avocado sales have skyrocketed as people have become aware of the potent health benefits.
Avocado is a high calorie food with one avocado coming in at around 240 calories.
Oil Free Avocado Hummus Recipe
Course: Dip
Cuisine: Vegan, Gluten free, Oil free
Difficulty: Simple
Ingredients
1 avocado

1 cup of chickpeas

1/2 clove of garlic

1 tbs tahini

1/2 tsp cumin

Salt, pepper and chilli to taste

Dash of gluten free ketjap manis (Indonesian sweet soy sauce)

Fresh lemon and lime juice to taste
Directions
Put the chickpeas and garlic in a hand blender.
Add a bit of salt and a squeeze of lemon and lime and blend.
If necessary to facilitate the blending, add a dash of water.
Add the avocado, tahini, cumin, chilli, salt and pepper and blend again.
Taste the hummus and add Ketjap Manis to taste.
Add more lemon, lime or chilli as necessary.
Notes
Sub the chickpeas for white beans for a variation on this dip.
Other Avocado Ideas
Apart from dips like this one and the all time classic guacamole, avocado other uses too.
For breakfast, enjoy an avocado smoothie, sliced or smashed avocado on toast, a bowl of quinoa, avocado and mango or make a delicious & easy tofu scramble and add chopped avocado to it.
For lunch, avocado goes a dream in any salad whether it be a king salad a quinoa salad or a simple side salad.
When you make a mash of any kind, like this carrot & sweet potato mash, avocado goes well sliced on top.
One last word on the versatility of avocado, don't rule out hot avocado! I've cooked it in with dishes before and it definitely can be a success served hot too.
And cubes of avocado added to a thin soup is also delicious.
Can you think of any other uses for avocado . . . ?