This easy quinoa salad recipe is perfect for when you fancy a complete meal in a bowl; a seriously tasty salad with more bite to the tooth and with a great nutritional profile, packed with healthy protein.
Quinoa is absolutely scrumptious and full of nutritional goodness, so if you haven't tried this delicacy yet, I highly recommend that you check out these other favourite ways to include quinoa in your diet.
And if you already eat quinoa salad, here's another variation to excite your taste buds.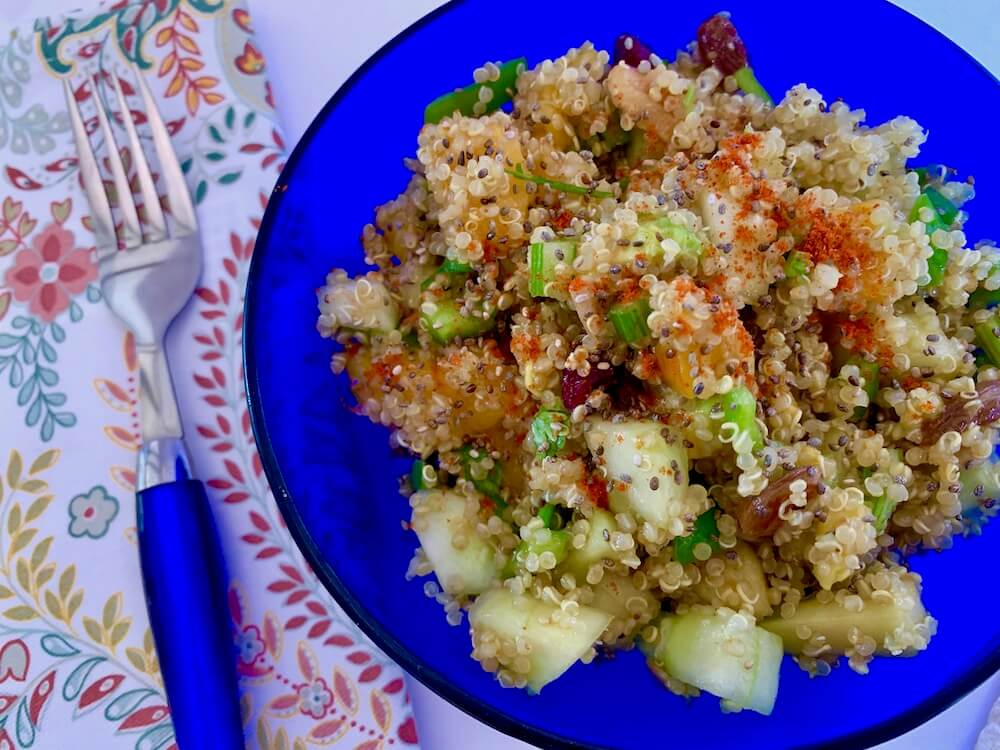 The Secret to Making Quinoa NOT Bitter for this Quinoa Salad Recipe
I still see packets of quinoa where it says rinse the quinoa and I still read people's comments that you should rinse quinoa before cooking. But this just isn't an accurate piece of advice!
Even if you Google bitter quinoa, you'll see many answers say to rinse first.
But rinsing isn't enough.
Rinsing means putting it in sieve and running it under the tap with running water over it and unless you buy quinoa that's already pre-washed (which I don't), you have to do much more than just rinse it.
Because that won't get rid of the biter taste and you'll be left wondering what you did wrong, or even worse, thinking that you don't like quinoa.
Quinoa is covered in a natural chemical, an outer layer called saponin, which is a natural protection to stop the birds and insects from eating it. It isn't difficult to get rid of but you do have to be persistent and thorough.
How to Get Rid of the Saponin on Quinoa
Measure out the quinoa you want to use and put it into a large saucepan and cover with water. Use your hand to squish through the quinoa, squeezing it through your fingers. You'll see the water turn cloudy.
Use a colander to empty the water and refill the saucepan again, repeating the process several times.
Next, fill the pan with water and leave the quinoa to sit in the water for 10-15 minutes. When you come back, squidge the quinoa through your fingers again and change the water once or twice more.
Finally, drain away the water and replace with the water you're going to cook the quinoa in.If you wash your quinoa in this way, you won't have any more problems with bitter tasting quinoa. And it isn't difficult to do!
It isn't essential to leave the quinoa to stand, as long as you're sure that the water is running clear and the saponin has all gone, and for that reason, sometimes I just find it easier to leave it to stand for 10 minutes before doing the final rinse.
How to Cook Quinoa
Ok, seriously I have to tell you this. If you haven't got a rice cooker yet, go and get one! I used to think I didn't 'need' one. But honestly? Need has nothing to do with it – once you've got a rice cooker, you'll never ever consider being without one again.
It takes cooking rice or quinoa to the next level. You measure the washed quinoa, put it into the rice cooker with the same measured amount of water as if it were rice, and switch it on. Forget about it.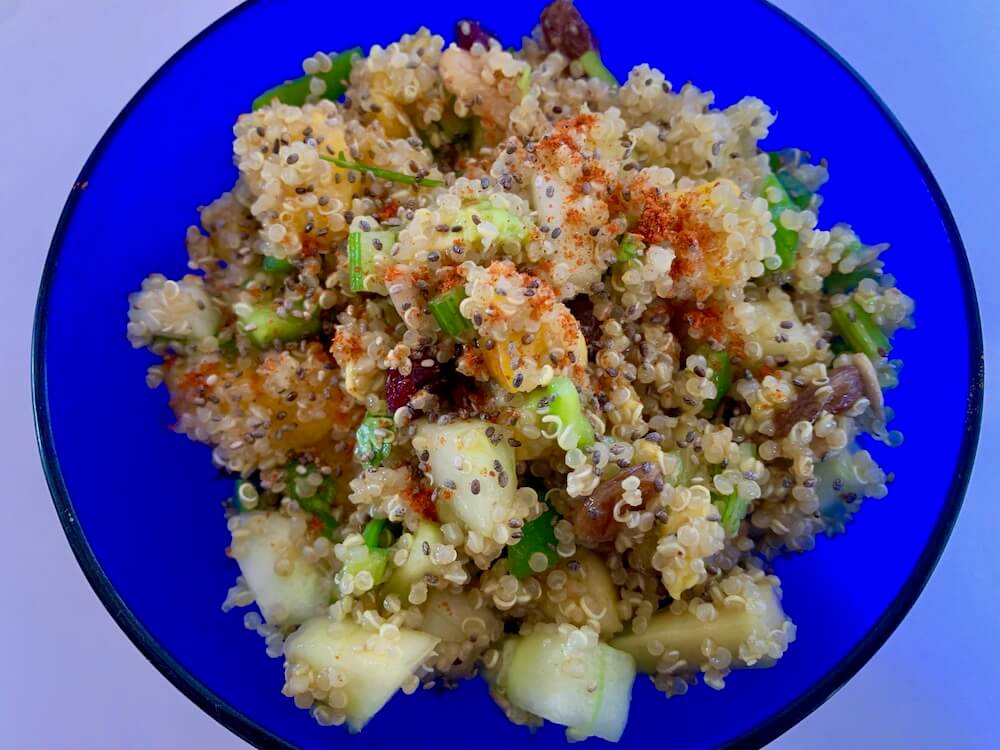 It not only cooks itself but once its cooked it stays just fine and heated in the rice cooker. You just have to forget about it and that's it. Perfect quinoa each time.
Different Ways of Eating Quinoa
So what is the best way to eat quinoa? Well, there are lots! In fact, so many, that I wrote a post on my favourite ways to eat quinoa.
Quinoa Stuffing
Quinoa's great for using as a stuffing ingredient for making stuffed peppers, stuffed zucchini, stuffed eggplant or any other kind of stuffing you want.
Simply fry and onion, garlic, herbs and spices of choice. Add the veggies chopped up very small and finally the cooked quinoa. Maybe add some beans too, or some tomatoes and hey presto you have a delicious stuffing.
Quinoa Instead of Rice
Anything you can do with rice, you can do with quinoa. So that means you can make an eggplant curry and quinoa, or cook some quinoa with spices & veggies cooked with it and served with spicy peanut sauce, just like the nasi rice dish I so love.
Why not try quinoa in your Buddha bowl? It's delicious, believe me.
You can use quinoa in casseroles, as a base, to make vegan balls or veggie burgers, in a lasagne, eggplant layers or with fruit as a breakfast bowl!
Quinoa for Salads
You can do anything you want and call it a quinoa salad, as long as it has quinoa in it! So you can make a basic, mixed salad with some quinoa thrown in and you have a quinoa salad.
You could choose to mix it with cooked veggies like grilled zucchini or stir fried broccoli, then add the salad things and have a 50% cooked 50% raw salad like in this king salad for example.
Another way of approaching your quinoa salad is to choose a creamy dressing, like a cashew sauce or tahini dressing and make it into a thicker salad, a bit like a traditional mayonnaise type salad.
You could add steamed/boiled new potatoes and have a potato, quinoa creamy salad. You could also add it to this grilled summer vegetable salad.
But apart from those suggestions, let's get on with the one at hand . . .
This Easy (& Delicious!) Quinoa Salad
This salad keeps the quinoa as the main ingredient, using other additional ingredients to ping the flavour.
Chop up one cucumber into little pieces, one nectarine (or you could sub for mango, peach . . .), some green pepper, some celery and add some raisins. Put the quinoa into the bowl and mix. Add some walnuts and fresh chopped coriander on top.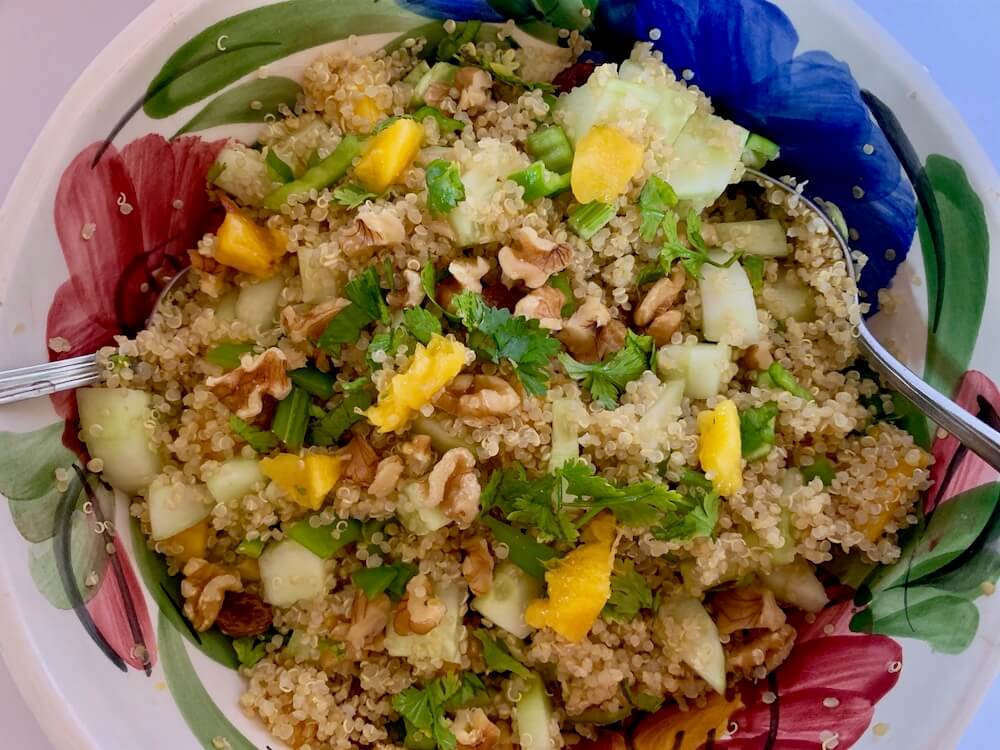 The basic idea is to chop things small and go with a theme – so I've gone with green veggies and some fruit for highlights; you can change it for whatever you like, but keep it to a few veggies to streamline the flavour.
Next add one chopped avocado, some dried cranberries, some sunflower seeds and chia seeds.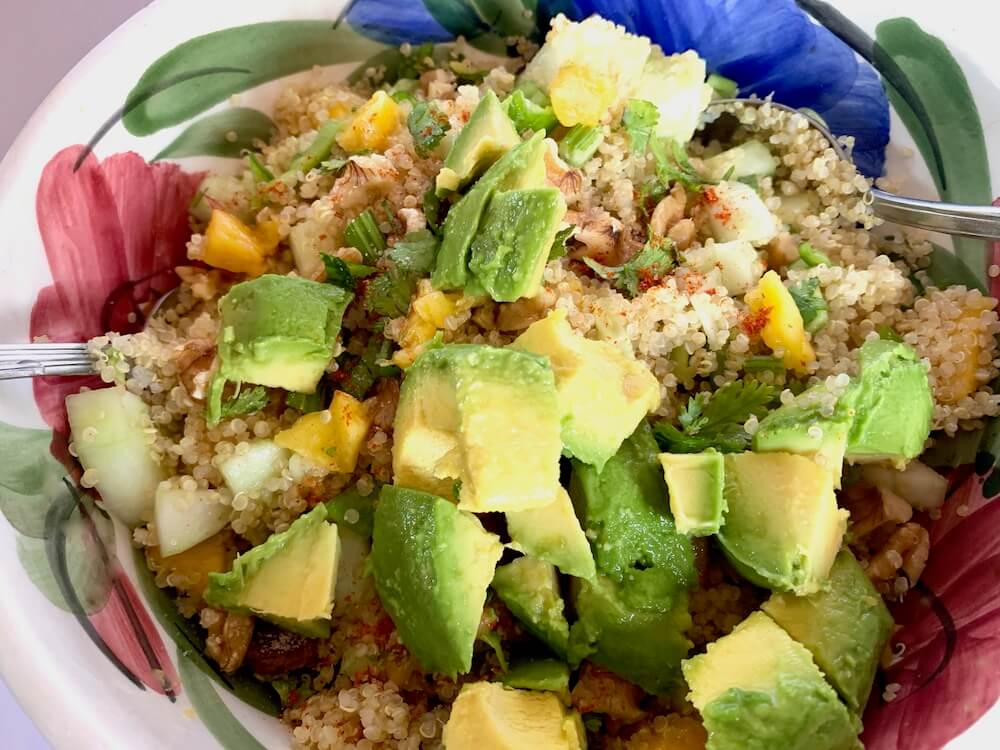 Now throw on some ground cumin, chilli powder, salt, lemon juice and some olive oil.
Taste the salad – it should ping off your taste buds!
If you like, combine it with one of these delicious vegan sauces and/or serve it alongside an easy vegan bean burger or a lentil pasta salad.
Easy Quinoa Salad Recipe
Course: Main course, Salad
Cuisine: Vegan, Gluten free
Difficulty: Easy
Delicious, easy quinoa salad. Vegan and gluten free.
Ingredients
3 cups quinoa

1 small cucumber

1 avocado

1 piece of green pepper

1 stick of celery

1 nectarine (or other fruit), dried cranberries

Walnuts, sunflower seeds, chia seeds

Tamari sauce, ketjap manis

Ground cumin powder, chilli powder, salt

Olive oil, lemon juice
Directions
Wash the quinoa several times, swirling it between your fingers and changing the water until the water is almost clear. Then soak the quinoa for 10-15 minutes, rinse again and put into the rice cooker.
Cook the quinoa in exactly the same quantity of water as if it were rice.
Add the chopped vegetables & fruit to a bowl with the cooked quinoa.
Add the nuts and seeds.
Add the flavourings and adjust to taste.
Serve with freshly chopped coriander on top (optional).
Video with great tips on how to cook quinoa (n.b. i use a rice cooker and it's ready straight away)
Notes
The quinoa can be served warm or cold, delicious both ways.
If you use a rice cooker, contrary to the video, the quinoa comes out perfect right from the first moment.