This homemade vegan balls recipe is slightly different to a st recipe because these are made from leftovers.
How to Eat Vegan Balls
You can eat them in so many different ways, just like you would eat falafel.
In a gluten free vegan wrap
As part of a salad
In a gluten free sandwich
With a tahini or sweet chilli dip, served as a snack or tapas
Served as the main meal with sides
Instead of a burger in a bun
In a nutritious and delicious vegan bowl
Alongside a Dutch boerenkool stamppot instead of the vegan sausages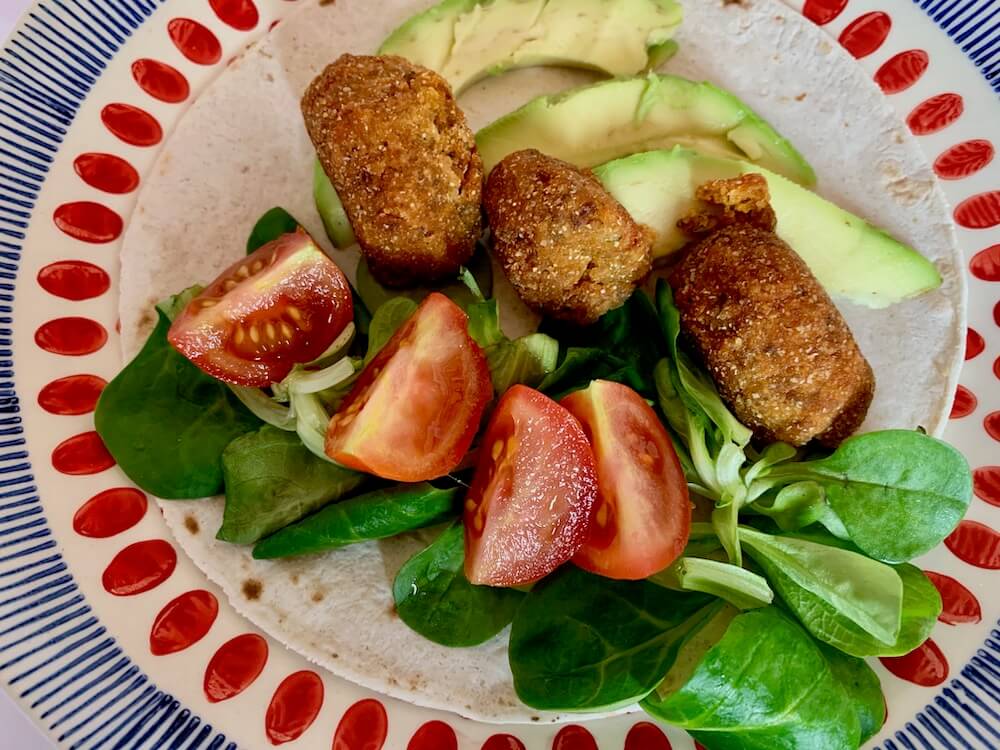 Vegan balls are tasty, handy, convenient and soo easy to make.
They're made from leftovers.
They're sooo easy to make.
They're scrumptious!
Vegan Balls – Made From Leftovers
The thing that's so handy about this vegan balls recipe is that you make them from leftovers. So whenever you cook something, just cook a bit too much and the next day, make some delicious vegan balls.
Here are some example meals which can be used, but really there' no limit to what leftovers go well for this.
(Gluten free) Pasta mixed with a pasta sauce: mash the pasta and sauce together, add some spice, then go ahead with the recipe.
If you've made a curry, it will work perfectly for this recipe. Just mash the curry and add a bit of the rice to it before following the recipe.
Leftover lentils? Great! Blend the lentils with a food processor, just enough to break them up and not to get a smooth paste. You still want some texture left.
Almost any leftovers will go. If it's a non-spicy food, add some cumin, coriander and chilli.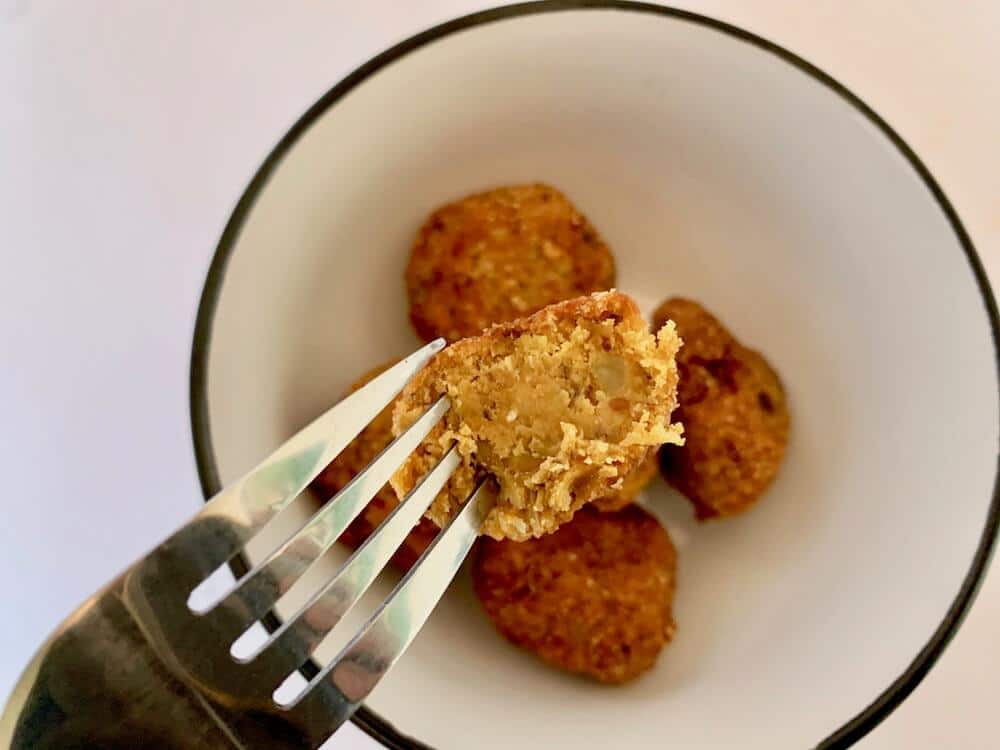 How to Make This Vegan Balls Recipe
Preparing the Vegan Balls
So, you've got your leftovers and you've either mashed them or given them a quick zap with the hand blender.
Next, add some cumin and chilli. You can add any flavourings you like at this stage: fresh coriander goes well if you have some.
Add some gram flour to the mix and stir it in. Keep adding it and stirring until your mixture thickens up sufficiently that you can make balls from it.
Now pour a little gram flour into a large bowl. Take a teaspoon of mix, roll it quickly between your palms to form a ball, dunk it into the gram flour and place onto a chopping board. The whole process can be done fairly quickly.
Cooking the Vegan Balls
Heat about 1 cm of olive oil in the bottom of a wide pan and add the vegan balls to fry on a medium high heat.
After about 10 minutes, turn the balls over to fry on the other side for another (approx) 10 minutes. Remove from the hot oil using a spoon with holes in it and place onto a plate with kitchen paper on it to absorb any surplus oil.
You can also bake these instead of frying.
Simply make the mixture a bit juicier, brush the ball with a little olive oil, place into a baking tray and into the oven for about 20 minutes, turning half way through.
I like the vegan balls best when they're fried because they can dry out when you bake them.
If you're aware of that and don't add too much gram flour though, they can also come out of the oven absolutely yummy.
Another option is to bake them and then store them in the fridge and when you're ready to eat, just toss them in a frying pan for a few minutes to heat them up in a little olive oil.
What to Serve With This Vegan Balls Recipe
Eat these in a wrap with some tahini sauce, chopped lettuce, cherry tomatoes and spicy jalapeños.
Make a delicious Buddha Bowl with vegan balls included in the bowl.
Choose a vegan sauce to go with the balls. Tahini sauce is a great one.
Make a king salad to accompany these vegan balls, and enjoy!
Homemade Vegan Balls – Easy Falafel Alternative!
Course: Lunch, Tapas, Dinner
Cuisine: Vegan
Difficulty: Easy
Delicious vegan balls you can make from (almost) any leftovers.
Ingredients
2 cups leftover food

1 cup gram flour (chickpea flour)

salt

cumin, chilli, coriander (depending on what leftovers you use)

olive oil
Directions
Blend or mash your leftovers so that they remain chunky but without separate ingredients
Add gram flour and stir until you get a thick paste which you can manipulate
Add salt, cumin, chilli and coriander, depending on what leftovers you used
Roll in the palm of your hands into little balls and then dunk into gram flour
Fry in 1 cm hot olive oil for 10 minutes on each side
If you prefer to bake, brush each ball with a little olive oil and bake in the oven at 190ºc for 20 minutes, turning half way through
Homemade vegan balls recipe
Notes
Serve with a spicy sauce and a sour sauce for a yummy wrap or tapas.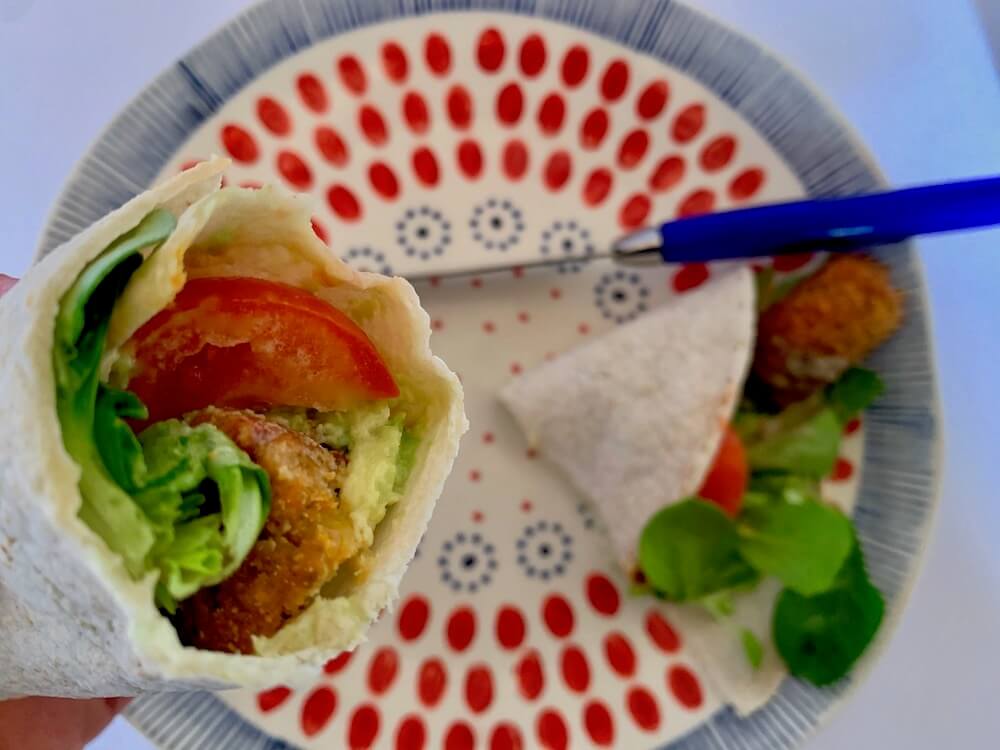 This recipe is brought to you to give inspiration for what to cook and ideas about how to go about making something but it is supposed to be altered to suit what you have handy, and the cooking times given are rough guides.
It will always depend on the quantities, produce, pans and oven you're using, so cook by keeping an eye on the food, not by times set down in the recipe.