Oh this quick potato soup recipe is amazing! It came about quite by accident. My daughter was telling me about a delicious leek and potato soup and I remember how much I used to love that soup when I lived in the UK, but since coming to Spain, I just haven't been able to find much flavour in the leeks.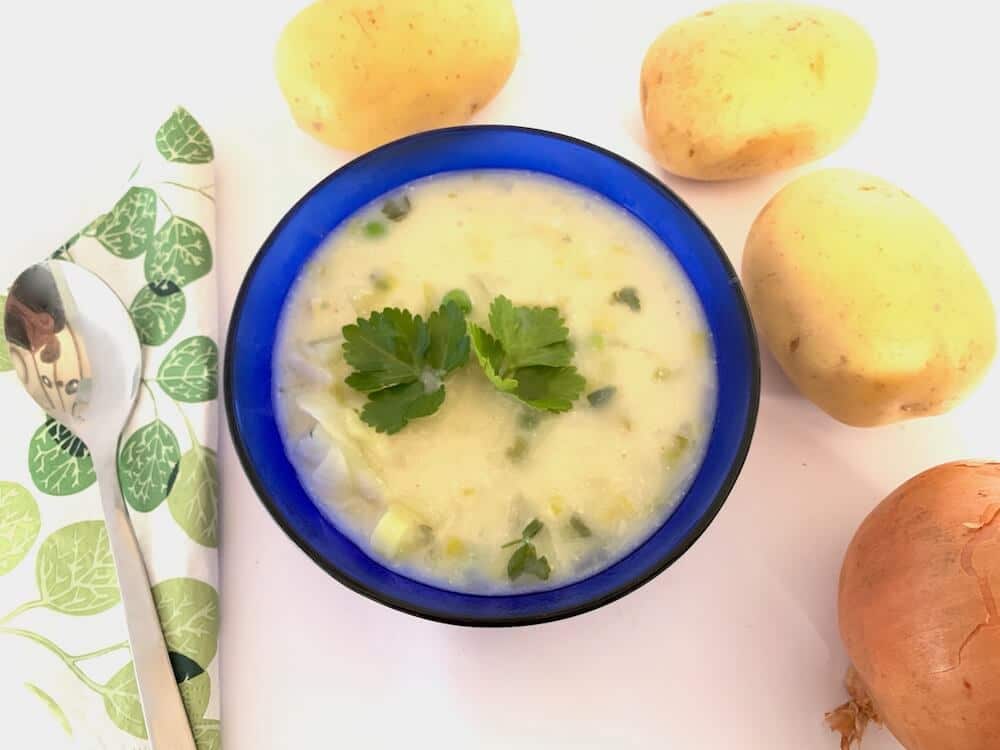 I don't know if that's just my memory playing tricks on me or whether the leeks really are stronger in the UK but either way it resulted in me making less and less leek and potato soup, until eventually I stopped all together.
The day after my conversation with my daughter, I fancied a quick soup. I looked in the fridge and saw that I had 3/4 of a leek left. And that was the beginning of this soup! So easy.
You don't have to leave this overnight, or chop loads of vegetables or make a separate stock. It's just a simple fix for a simple craving!
How to Make Quick Potato Soup
Finely chop one large onion, 2 cloves of garlic and 1 leek (if you have a whole one that is, lol! I only had 3/4 left to make this soup). Heat a little olive oil in a saucepan and fry the onion and garlic for a few minutes before adding the finely chopped leek. Add plenty of salt (check to taste).
Fry together for about 5 minutes, then add 3 chopped mushrooms if using, and some chopped fresh parsley (buy it fresh and store it in the freezer so you always have some handy). Fry for another 5 or so minutes, until the leeks are looking soggy and the mushroom is cooked through.
Next add 2 medium-sized potatoes, or however many you want to have in your final soup, chopped into small bite-sized pieces, followed by a generous handful of peas, stirred into the mix.
Add some more salt and continue to fry for another 10 minutes or so, keeping an eye on it so that it doesn't burn.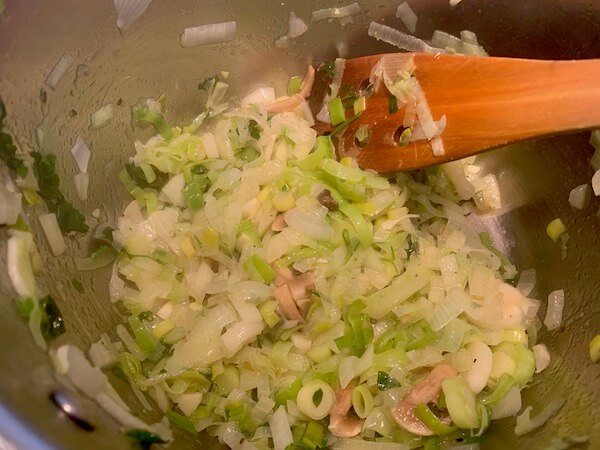 When I'm cooking, I use a normal spoon from the cutlery drawer to add flour and things. I do have measuring spoons but I think they make much smaller quantities than what I think they should be (i.e. on my measuring spoon a tablespoon is very small etc.). So I take a normal dessert spoon and dig it into the rice flour and add two of those to the pan.
Stir well and then add a tiny amount of water, stirring continuously. Keep adding water as it is absorbed by the flour/veggie mixture. It doesn't take long until you can start pouring the water freely into the pan and you're left with a creamy liquid.
Cook the soup until the potatoes are beginning to soften (about 10 minutes) and then add 1/3 litre of unsweetened plant based milk. I used unsweetened soy milk because that's the one I can get locally but any will do as long as it isn't oat (too sweet) or with added sweeteners. I prefer to buy organic and 100% pure.
Cook the soup for another 10 minutes and then add a 1/4 glass of white wine (optional of course).
Serve with gluten free bread or croutons and nutritional yeast sprinkled on top.
If you like, you can turn the soup off and reheat it later – always a plus with soups, but not essential.
Quick Potato Soup Recipe
Course: Soup
Cuisine: Vegan
Difficulty: Easy
Quick and easy, delicious potato soup recipe.
Ingredients
2 potatoes

2 cloves garlic

1 large onion

1 leek

3 mushrooms

handful frozen peas

fresh parsley (or dried)

unsweetened soy milk (or other plant milk)

olive oil for cooking

Salt
Directions
Finely chop the onion, leek and garlic; add to a pan with a little hot olive oil and fry for about 5 minutes, until just beginning to get soft.
Add 3 chopped mushrooms and some chopped fresh parsley to the pan, and cook for another 5 minutes, until the mushrooms are cooked.
Add the chopped potatoes to the pan and cook for about another 10 minutes or until the potatoes are just beginning to soften but are still raw in the middle.
Take two dessert spoon fulls of rice flour and stir into the mix.
Pour on water and stir as the flour mix absorbs the liquid. Continue adding liquid slowly, until you have a soup consistency. Taste and adjust the salt levels.
Leave to cook until the potatoes are soft through.
Add 1/3 litre of unsweetened plant milk and cook and until hot through.
Add a pinch of chilli and check the salt again.
Either serve with gluten free bread or croutons, or set aside and re-heat when ready to serve, later on.
Notes
You can make this soup with minimal ingredients. It's much quicker and easier than it sounds in the steps!