This vegan creamy leek and potato soup doesn't need any time, hassle or complicated methods to make.
Because healthy food doesn't need to be complicated.
Sometimes the most flavour comes from allowing the flavour of one ingredient to shine through, without making a carnival of other flavours to mask it.
Other soups which take their flavour from their main ingredient like this are:
So, what's the secret to getting delicious leek and potato soup instead of bland?
Well the main thing is to have plenty of salt in the cooking phase. It's no good just adding it at the end (sorry for anyone who's on low salt, but this one really needs it).
Second tip is to dry-fry the onion and green leeks before putting them in the pan of water. Of course you can make this soup as a one-pan affair.
But I think there's a slight edge to the flavour when you use two pans.
Other than that, use enough leeks, with the greens left on, and enough cashews for the creaminess.
You'll find a lot of people claim that you shouldn't eat the green part of the leeks because it's fibrous. I always include the greens and I think it's a complete waste not to.
Plus they add the lovely green colour.
Just cut out and remove any tips and the outer couple of leaves, or any which seem particularly tough and you're good to go.
Simple!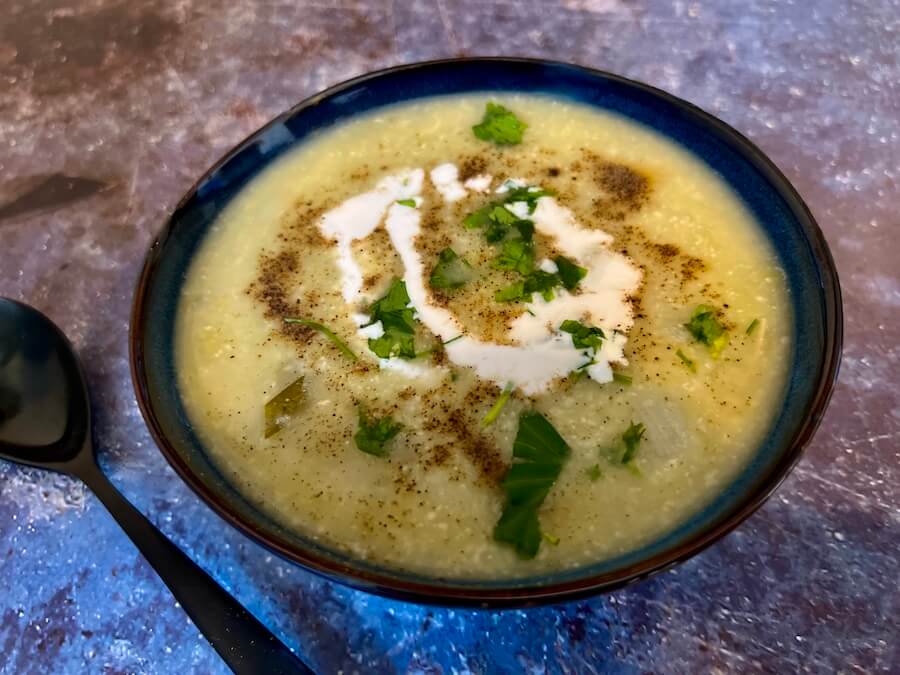 Creamy Vegan Leek and Potato Soup
Ingredients
1 kg leeks
500g potatoes
150g raw unsalted cashews
Salt
For the topping
Nutritional yeast
Chopped fresh parsley
Vegan cream
Ground black pepper
Directions
Put a pan of salted water on to boil.
Heat a frying pan and add the sliced onion, sliced green part of the leeks and a generous amount of salt.
Add the chopped potato, cashews and white part of the leeks to the pan of water (from cold or warm is fine).
Cook both pans for about 15 minutes, stirring the frying pan and flicking with a little water from the water pan if it starts to stick.
Mix the onion & green leek into the pan of water/soup and cook for a further 15-20 minutes.
Remove the chunky white leek pieces and some of the rest of the vegetables and put them in a bowl.
Pick out the cashews and return them to the pan of soup.
Blend the soup.
Return the veggies to the pan and serve with fresh parsley, ground black pepper and a swirl of vegan cream on top.
If the soup lacks depth of flavour try adding some more salt or nutritional yeast for more cheesiness.
Nutritional Benefits of Leeks