This easy sweet potato minestrone soup is so flexible and can be made in many different ways. In this recipe, we've substituted the traditional potato for sweet potato because it goes so well, but you could also make it with normal potatoes if you prefer.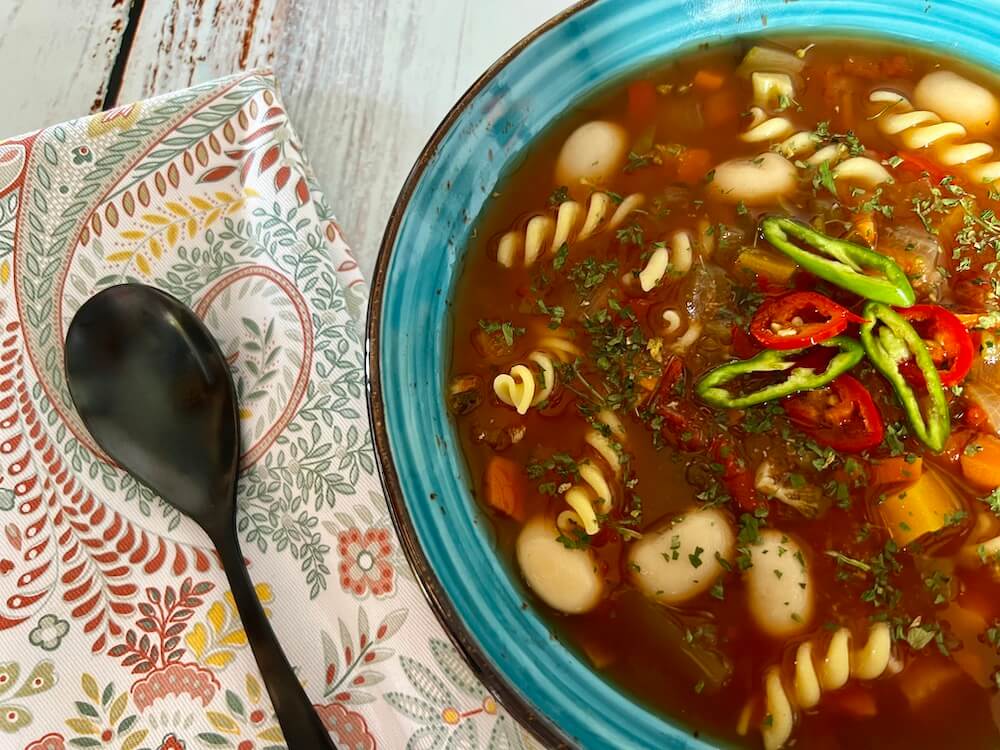 What is Minestrone Soup?
Minestrone soup is a classical Italian soup made from chopped vegetables, a tomato base and some beans or/and pasta.
It can be made from whatever vegetables you have leftover in the fridge and makes a hearty meal that can be eaten on its own.
The addition of the beans and pasta make minestrone soup into a lovely hearty meal.
What's the Difference Between Minestrone Soup and Vegetable Soup?
Minestrone is always made with a tomato base and it has the addition of pasta and/or beans in it, taking it into the complete meal zone for soups.
Vegetable soup, on the other hand, is any soup whose main ingredient is vegetables.
What Vegetables Should I Use for Minestrone Soup?
You can basically use whatever vegetables you want when you make a delicious minestrone soup.
You will usually find onion, carrot and celery in the recipe, but you can switch out for any vegetables of your preference and add as many extras as you like.
In this recipe I used onion, garlic, carrot, green and red pepper, zucchini, butternut squash, broccoli and sweet potato. But you can create a delicious minestrone soup without having to have so much variety as I have included here.
Other vegetables which go well are spinach (added toward the end of cooking) mushrooms and green beans.
Play with it and enjoy creating the perfect healthy minestrone soup!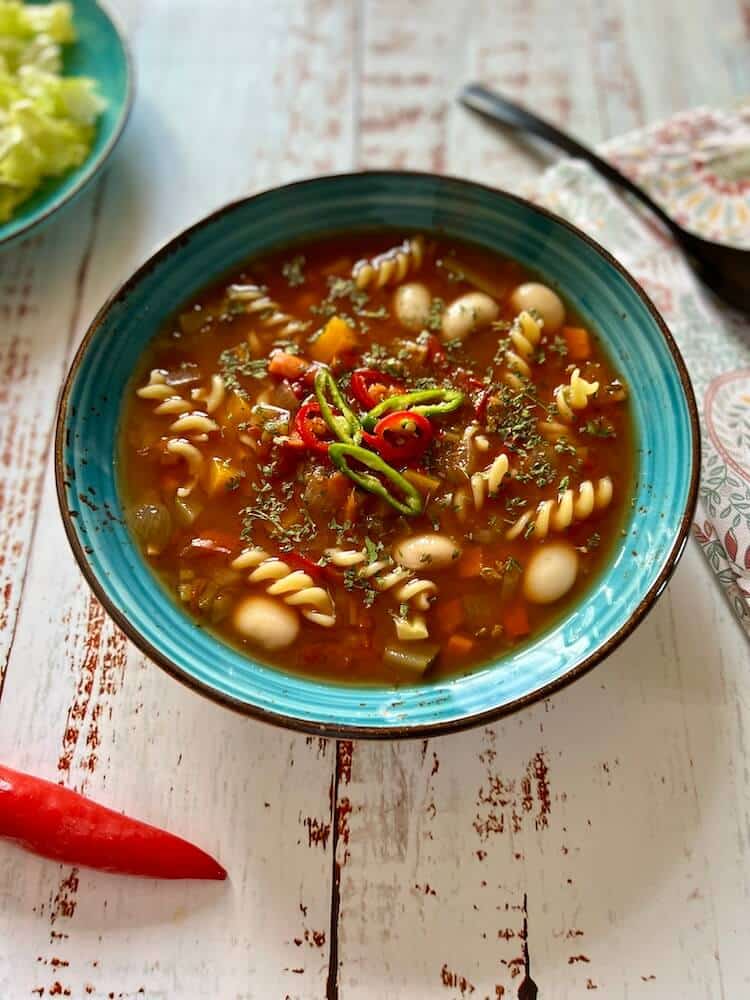 What Type of Tomatoes to Use for Sweet Potato Minestrone Soup?
I've learned over the years that tomatoes and their flavour varies enormously from country to country, region to region and shop to shop.
So which tomatoes you should choose won't be a one-size-fits-all kind of answer. The tomatoes will have a huge impact on the ultimate flavour of your minestrone soup.
I like to use chopped fresh plum tomatoes, or big beef tomatoes in summer, but you may find the garden tomatoes are more flavoursome in your area, and of course you can also substitute fresh tomatoes for tinned tomatoes.
In addition to the fresh or tinned tomatoes, you can add some tomato passata, tomato puree, or a dash of natural tomato ketchup to enrich the tomato-y flavours of the soup and give it a more rounded flavour.
Which Beans to Use in Minestrone Soup?
You can use any beans that you prefer: red beans, kidney beans, lima beans . . . even chickpeas go well in minestrone soup so don't feel limited by rules here.
If you cook your own beans from dried, be sure to prepare them in advance so as to keep the cooking time for the soup down.
How to Make Sweet Potato Minestrone Soup
Finely chop all the vegetables you're going to use in the soup. In a pan, heat a couple of tablespoons of water or vegetable broth (or olive oil if you prefer) and add the chopped garlic and onion.
The trick to frying in water is to keep the water to a minimum so that the veggies 'fry' rather than steam or boil, and in order to do this successfully, you'll need to keep a very close eye on the pan and add a dash of water each time it dries out.
If you get distracted, you might find the veggies get dry and stick to the pan, burning the bottom of the pan if you don't catch it in time.
So fry the onion and garlic in a little water and sprinkle with salt and herbs of choice. I use oregano and parsley. Next, add the chopped carrots followed by the peppers, zucchini and pumpkin etc.
Once the veggies are almost cooked through but still firm, pour in the chopped tomatoes and leave to cook while the tomatoes lose their shape and become a sauce consistency.
Pour on water or homemade vegetable stock and heat through.
Taste the soup and add salt, pepper, more herbs and tomato passata (or tomato puree or natural ketchup) as necessary.
You may like to add a dash of soy sauce, a pinch of chilli powder or an extra pinch of salt.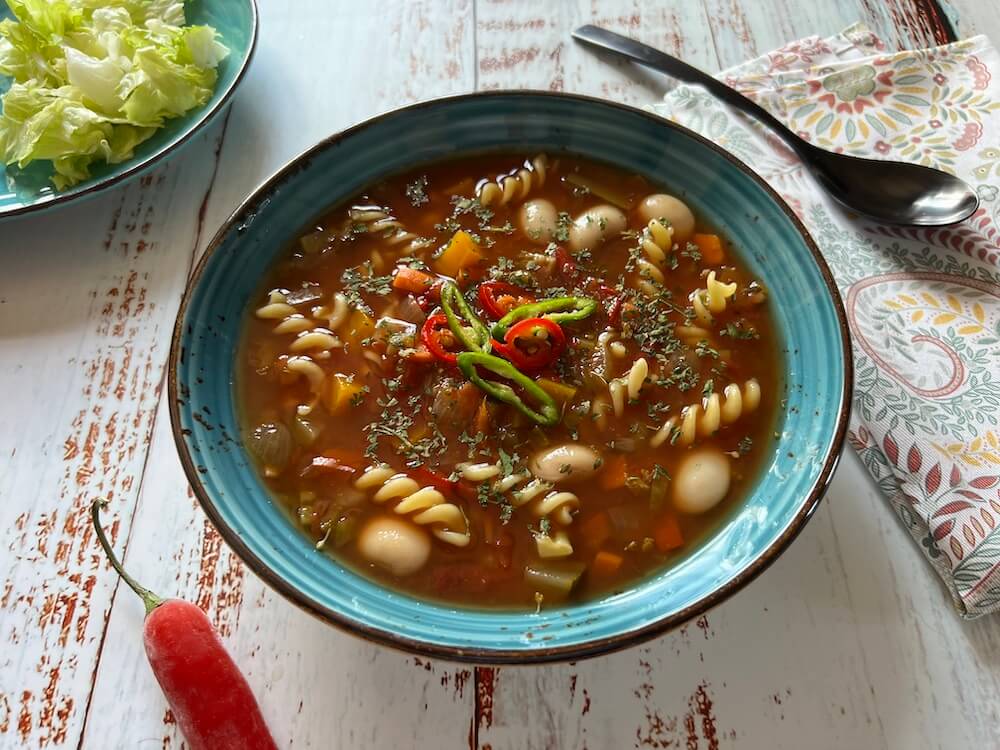 Adding Pasta and Beans to Minestrone Soup
I like to cook the gluten free pasta separately and then serve it in the bowl together with the soup.
Use standard gluten free pasta, lentil pasta, chickpea pasta, buckwheat pasta or brown rice noodles.
If you add the cooked pasta to the soup pan, bear in mind that over time it will absorb the liquid from the soup, making the soup dry out and causing the pasta to go soggy.
So by all means, if you're going to serve the whole pan of soup immediately, then you can throw the pasta into the pan of soup. But otherwise, I recommend cooking it and storing it separately.
The beans can be added directly to the soup or served on the side if you are feeding people who either don't like beans or can't eat them for whatever reason.
Variations on Sweet Potato Minestrone Soup
Fry the veggies in water or stock for an oil free soup, or use olive oil if you prefer to cook with oil.
Switch sweet potato for normal potato.
Choose any veggies you have to hand or the ones you prefer. Add spinach towards the end of cooking or serve with raw baby spinach leaves as a garnish on top.
Use fresh tomatoes or tinned tomatoes for convenience.
Serve with gluten free pasta twists or rice noodles and beans.
Use a little chilli to spice it up if you're a spice fan.
Top with fresh herbs, nutritional yeast, freshly ground black pepper, grated vegan cheese or a swirl of vegan mayonnaise.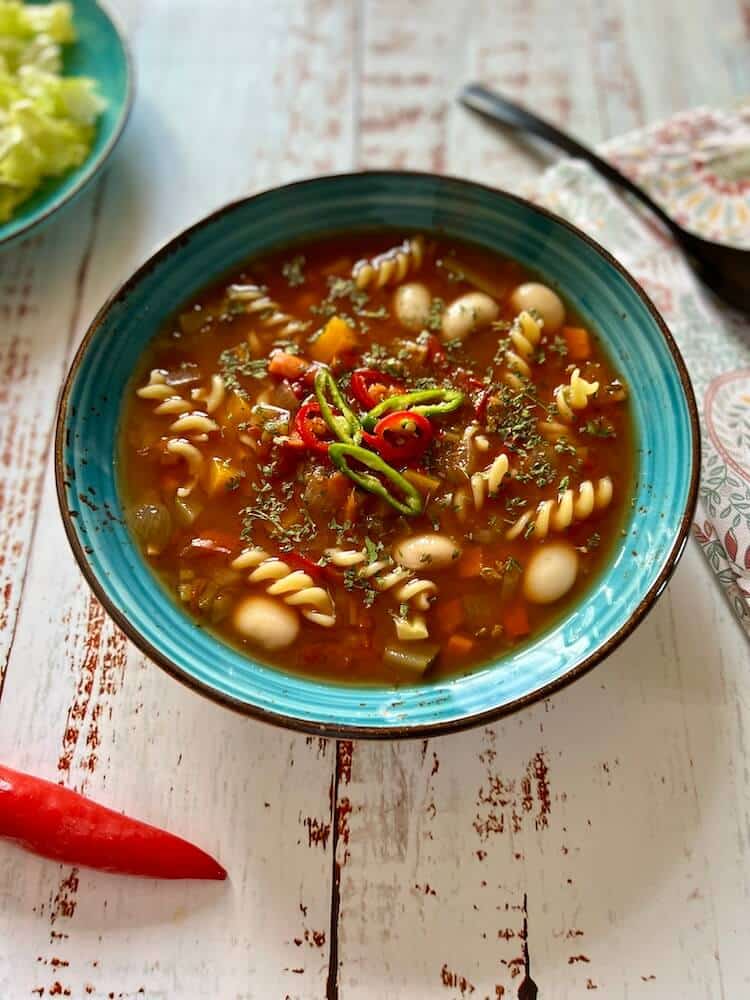 Sweet Potato Minestrone Soup Recipe
Ingredients
8-10 large plum tomatoes or 2 regular tins
2 cloves chopped garlic
1 chopped onion
1 large chopped carrot
1 large sweet potato, chopped small
Other chopped vegetables of choice (e.g. zucchini, pepper, broccoli, butternut squash)
Dried herbs (oregano, parsley)
Fresh basil for topping
1/2 jar of cooked lima beans
Choice of cooked gluten free pasta
salt & pepper
Directions
Sauté the garlic and onion in a little water (or substitute for olive oil)
Add the rest of the vegetables in order of hardness
When the veggies are cooked, add the chopped tomatoes and cook until they lose their shape
Add the beans and pour in water or homemade vegetable broth to get the desired consistency for the soup
Taste and adjust the flavourings by adding soy sauce, salt, pepper, tomato passata (or puree or natural ketchup)
Allow to stand if possible, or cook it the day before so that the flavours can infuse
Place some pasta in each bowl before serving so that the pasta doesn't get soggy from sitting in the soup
Serve with fresh basil, grated vegan cheese or a swirl of vegan mayonnaise/cream on top
All soups improve with time so if you can, make this soup the day before you're planning to eat it so that it can mature in flavour overnight.
Or perhaps instead make too much quantity so that you can enjoy it immediately as well as the following day.
Other Easy Vegan Soups You May Enjoy
All the soups on this site are easy to make. Some of them are incredibly simple while others are just simple. The two which stand out as being incredibly simple while still having robust flavour are the instant pea soup or the classic beetroot soup.
Beyond those two simplest soups we have two lovely orange coloured soups: roasted pumpkin soup and roasted sweet potato and carrot soup.
And if you're looking for the greens, look no further than this zucchini soup or oil free broccoli cheese soup.