You may wonder what makes this the best homemade tomato sauce recipe, and the answer is simple – this is a guide to making the tastiest tomato sauce to go on your pasta, whether or not you want to add vegetables, chilli, or other variations.
It's the few simple pointers that change a tomato sauce from nice to delish.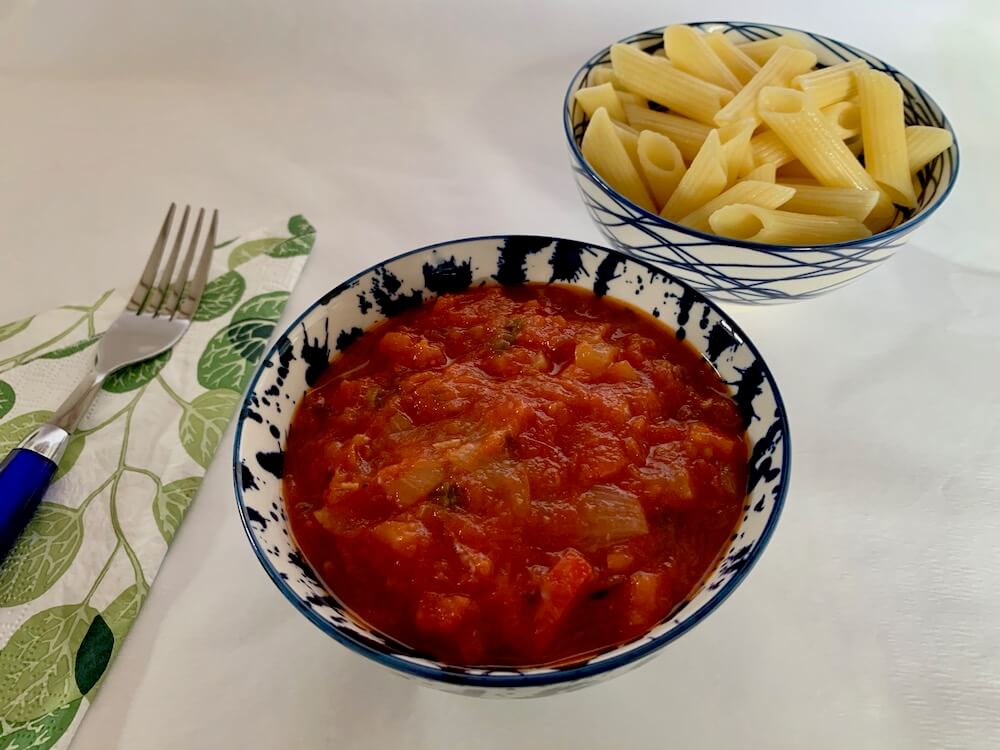 I first learned to make my tomato sauce taste, well tastier when I was living in Italy in the 90s, along with cooking other delights like artichokes and vegan eggplant parmesan.
Such a long time ago but some things stay with you forever and obviously I've made this homemade tomato sauce uncountable times and over the years, refining the things that can go wrong or right.
So, How to Make the Best Tomato Sauce?
The secret lies in the care taken and the length of time to cook the onions with garlic and chilli (if you like it) before adding anything else. Finely chop the onions and 2 cloves of garlic and the small chill if using.
Heat a little olive oil in a pan and add the chopped garlic first. Allow it to cook just a little before adding the onions.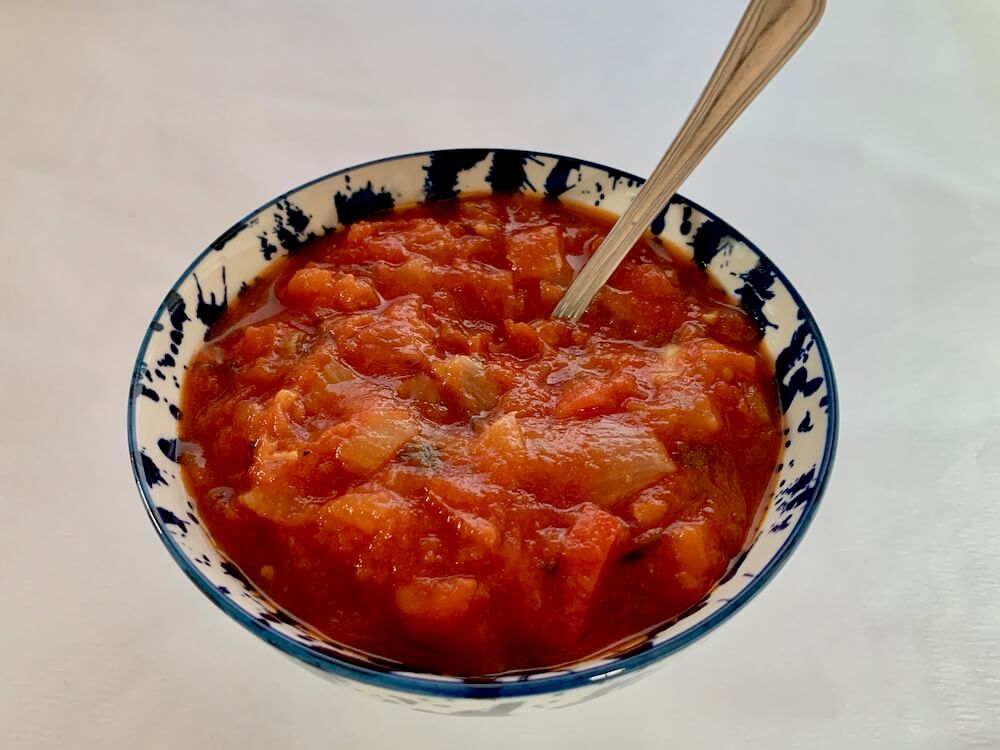 Here's where the magic happens. Sprinkle the onions with a little salt (optional) and leave them to cook in the olive oil on a low heat. It should be just enough heat to see that the onions are cooking. Not so low that they just sit there in warm oil but not high enough that they would burn.
If you allow the onions to really cook through you'll get the best flavoured tomato sauce ever. Stir them just to make sure that they aren't burning. You may turn the heat up slightly toward the end of the cooking time. I let the onions cook for at least 10 minutes.
Herbs
Fresh Basil
The traditional and arguably tastiest herb for fresh homemade tomato sauce is fresh basil. To use this, simply tear up little bits of the leaves and add them to the sauce once its already basically made. Basil is also lovely served on top as a garnish as well as within the sauce as an ingredient.
The negative point of using fresh basil is that it's very difficult to get hold of (actually impossible where I live except for a month of the year) and if you grow it, it doesn't seem to last very long before it dies!
So that's why in my cooking you won't find much mention of fresh basil except for when it's in season and I have a window plant in my kitchen!
Fresh Parsley
If you haven't got any basil, another wonderful herb to use is fresh parsley. It's by far the most useful fresh herb you can find because you can buy a bag in the supermarket and put it into the freezer, taking out a little bit whenever you need it.
Fresh parsley is best added to the onion and garlic stage and gently fried in the olive oil.
Dried Herbs
If you have no opportunity to add fresh herbs you can turn to dried herbs. In that case, dried basil is fine but it has a totally different flavour to fresh basil. I'm not a big fan of dried basil, but a little bit is fine.
Dried parsley is fairly innocuous and can be used quite liberally without worrying that you might overpower the flavour unless you really overdo it.
Dried oregano has a very pungent flavour and I like to use it in very small quantities.
You can use all 3 herbs in your tomato sauce. I normally just use parsley and will always choose fresh over dried.
Extra Ingredients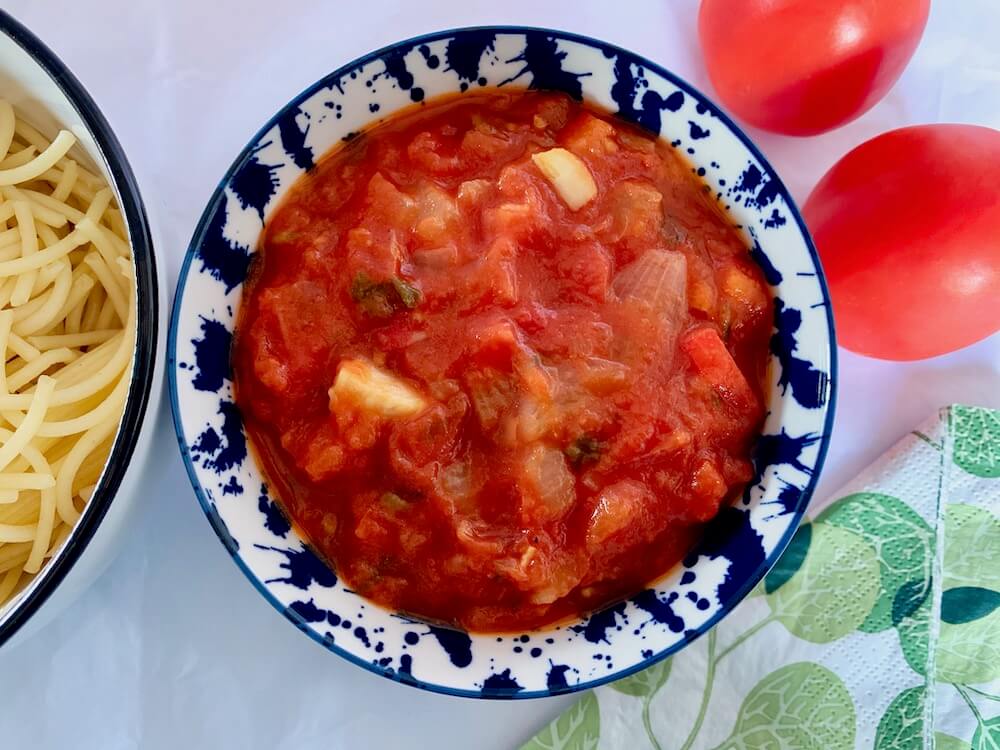 You can add extra ingredients to the sauce to turn it into a vegetable sauce for example but the flavour is at its sweetest if you don't add too many distractions. One thing I do love to add to the olive oil stage, after the onions are cooked, are a couple of mushrooms. They just seem to give it an extra boost.
As mentioned I also like to use chilli and I would recommend it even if you only put a tiny amount in without making it spicy. Again, it just adds a bit of complexity to the sauce.
In the image I added some pine kernals and it was also delicious.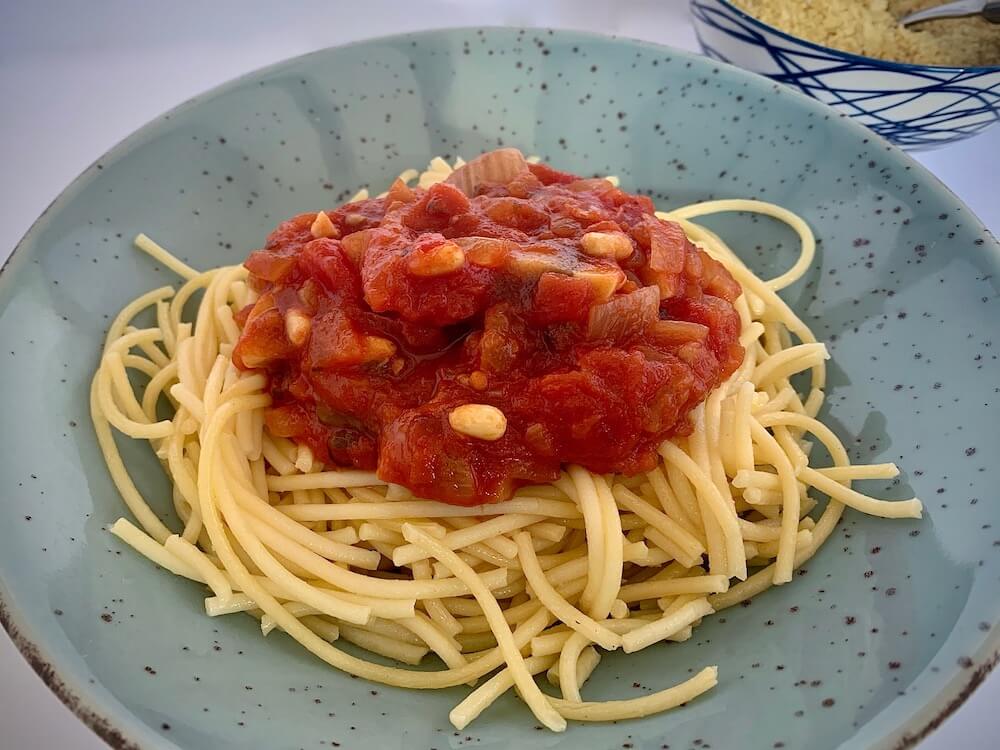 How to Make the Best Tomato Sauce
When you've taken care of slow frying the onions with garlic and chilli, next add the chopped fresh tomatoes and stir. Salt is an optional addition at this point.
Leave them to cook on a medium heat but not so high that it starts to boil. The secret to a tasty tomato sauce is allowing everything to be slow (unless you're doing the fast track method).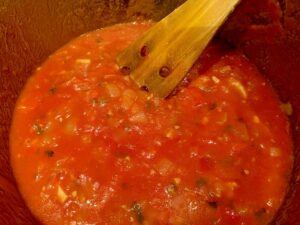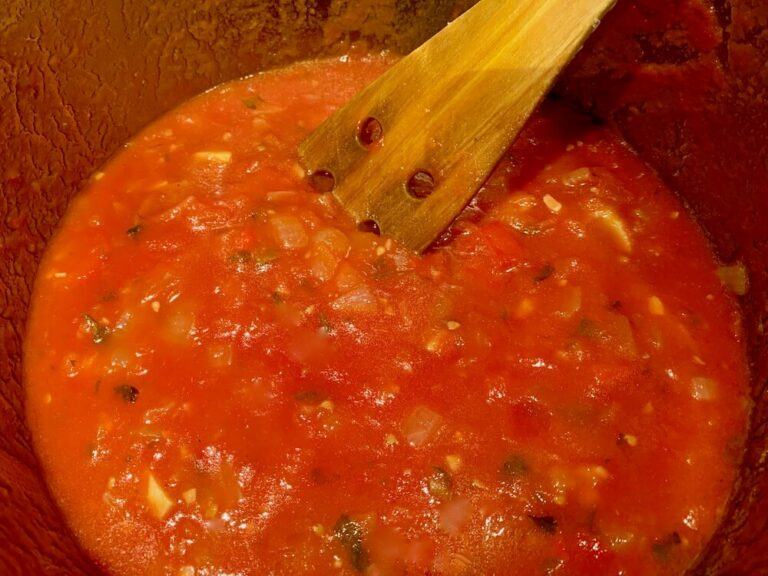 You can also make this sauce fast-track and it will still taste good, but it will have much less character than if you let it take its time.
When the tomatoes are getting along nicely and beginning to lose their form, add a little water to the pan and cook for a few minutes without a lid.
When the sauce is practically ready-looking I like to put a lid on and turn the heat down to low.
How long you leave it is up to you. It's just an additional flavour-boosting tactic to leave the sauce to stew in its own flavours.
At this point, taste the sauce and add a little tomato purée if necessary. If you're using tinned tomatoes, add them and prolong the cooking time, turning up the heat to reduce and thicken the tinned tomatoes.
When it's all cooked and ready to go, turn off the heat and leave the sauce to stand. Allowing the sauce to cool down seems to add to its flavour when you later re-heat it.
Then, on reheating, you can turn the heat up and allow the liquid to reduce and the sauce to thicken.
Oh, and don't forget to top it off with lashings of homemade parmesan cheese!
Best Homemade Tomato Sauce Recipe
Course: Tomato sauce
Cuisine: Italian, Vegan
Difficulty: Simple, Can be made quickly
Optional Resting Time
3 hours
This gluten free vegan tomato sauce for pasta can be made quickly or slowly; choose to make it slowly for the best flavour.
Ingredients
8 ripe tomatoes (or use part fresh, part tinned)

Tomato purée

Tinned tomatoes if you don't have enough fresh.

1 large onion, finely chopped

2 cloves garlic, finely chopped

1 small red chilli, finely chopped

small handful fresh parsley, finely chopped, or other herb of choice.


Sprinkle dried basil


Salt and pepper


Olive oil for cooking

If you're going to serve with pasta, you'll need a gluten free pasta you know to be tasty. Not all GF pastas are the same by any means. Sainsbury & Waitrose do great GF pastas if you're in the uk.
Directions
Heat a little olive oil in a heavy based pan.
Add the chopped chilli & garlic and stir for a moment over a medium heat. Add the chopped onions and a sprinkle of salt. Cook over a medium heat for about 5 minutes, checking that they don't burn.
Reduce the heat to medium-low and leave the onions to gently cook for another 10 minutes or so – as long as they're still looking good, you're good to go. (For the quick version, you can cook the onions in just a few minutes.)
Add chopped parsley if you're using it and let fry in with the onions.
(At this point you can add some chopped mushrooms if you like. In that case, let them fry until cooked before adding the tomatoes as in step five.)

Add the chopped tomato and turn the heat back up. When the tomatoes have begun to lose their shape, reduce the heat to low and cover the pan with a lid.

Once the tomatoes have lost their shape, pour in some water and stir. Cook the sauce on a medium high heat without a lid to reduce the water and thicken the sauce.

Add a little tomato purée to taste.
If you're using tinned tomatoes, add them now (chopped) and simmer the sauce until the tinned tomatoes have blended in with the real tomatoes.
Leave to cook on a low heat with the lid on for a further 10 minutes.
Turn off the heat. If the sauce is thick, leave it with a lid on. If the sauce is too thin, leave it to stand without the lid. Allow to cool completely. Reheat when ready to serve. This is an important point for boosting the flavour.