What defines the best homemade tomato sauce recipe? The answer for me is that should be extremely easy to make and absolutely stunning in flavour.
It's the few simple pointers that change a tomato sauce from nice to delicious.
Tomato sauce is a reliable favourite sauce for pouring generously over pasta but it's also wonderful with chilli sin carne, or on top of homemade gnocchi, or a homemade vegan pizza.
Or you can use it to speed up the making of vegan stuffed zucchini boats to mention just a few suggestions. Or use the leftover sauce as a base for a delicious tomato vegetable soup.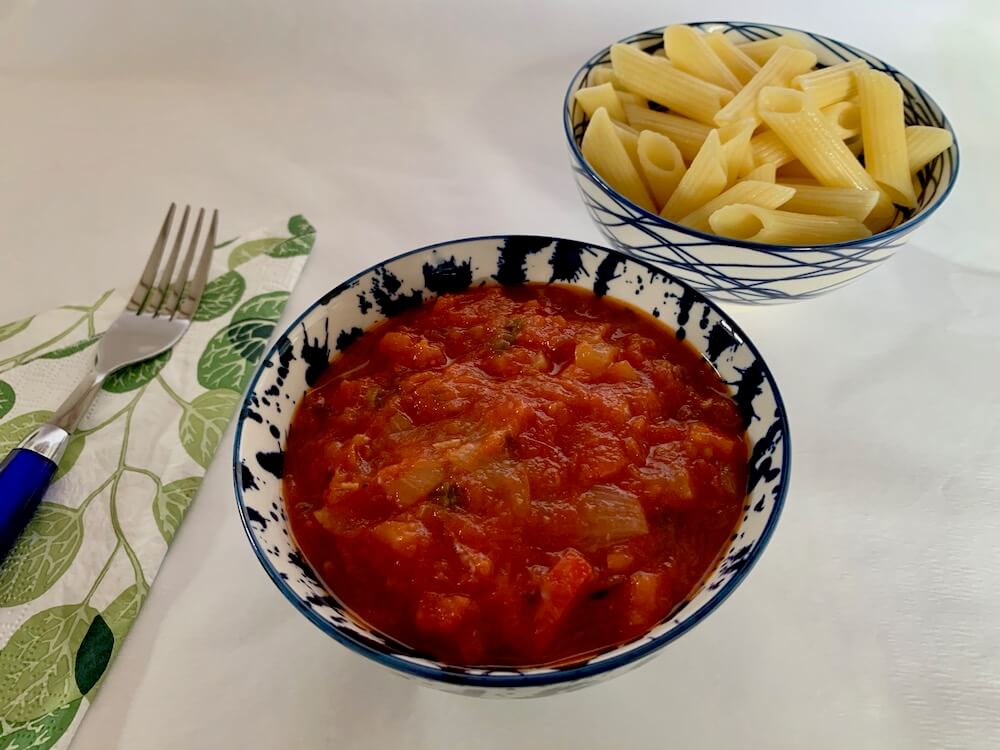 I first learned to make my tomato sauce taste, well tastier than before, when I was living in Italy in the 90s, along with cooking other delights like artichokes and vegan eggplant parmesan.
Such a long time ago but some things stay with you forever and obviously I've made this homemade tomato sauce uncountable times and over the years, refining the things that can go wrong or right.
Which Pasta to Buy
Back in the 80's, traditional pasta used to be considered healthy, but since then we've learned a lot and we now know that simple carbs like white bread and pasta break down into glucose quickly and cause a spike in blood sugar levels.
White pasta has a high glycemic index, causing spikes in blood sugar levels, food cravings and unstable blood sugar levels. This in turn can lead to increased appetite and consequent weight gain as well as other health issues.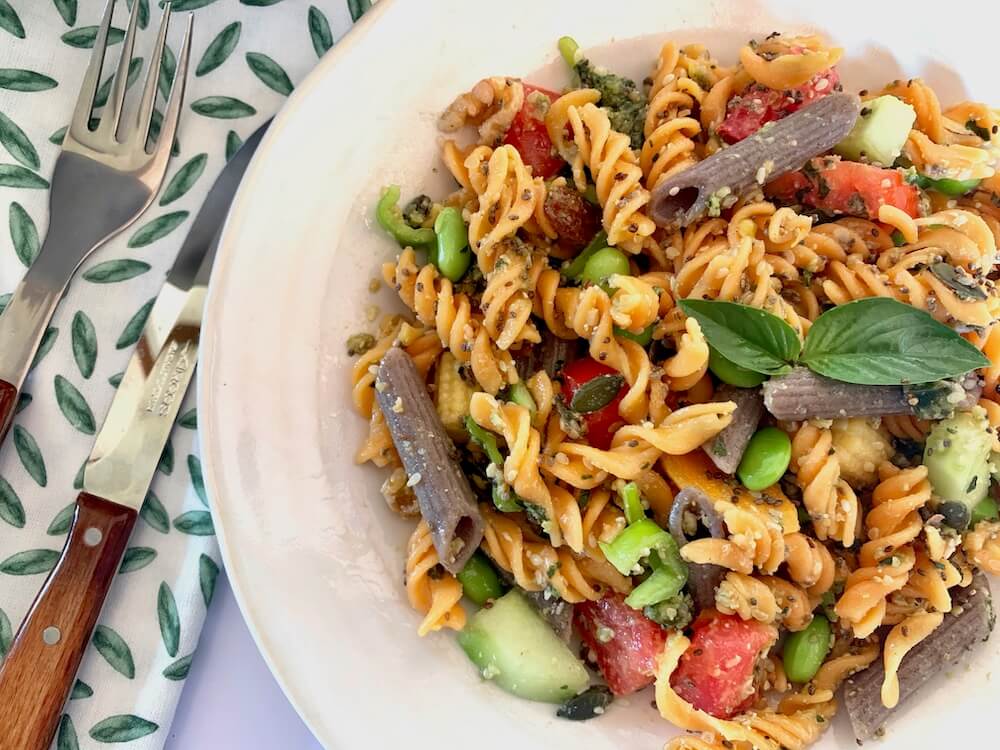 Before going gluten free I used to love white pasta. But then I began to have trouble staying awake after a meal of pasta. I literally wouldn't be able to drive. I became fatigued and started a journey of health issues which culminated in discovering that I had severe gluten intolerance.
These days I like the food I eat to count. To have nutritional value and health-boosting properties. Empty calories are not very welcome on my plate!
So I switched regular pasta for lentil pasta which is high in fibre (slowing down the digestion process and reducing/removing food cravings) and high in protein.
It works perfectly served hot with this tomato sauce or cold in a delicious pasta salad (not all gluten free pastas work in salad form as they lose their shape and texture).
Secrets to Making the Best Homemade Tomato Sauce
The secret lies in letting the onions with garlic and chilli (if you like it) cook slowly and infuse with flavour before adding anything else.
Finely chop the onions and 2 cloves of garlic and the small chill if using. Heat a little olive oil in a pan and add the chopped garlic first. Allow it to cook just a little before adding the onions.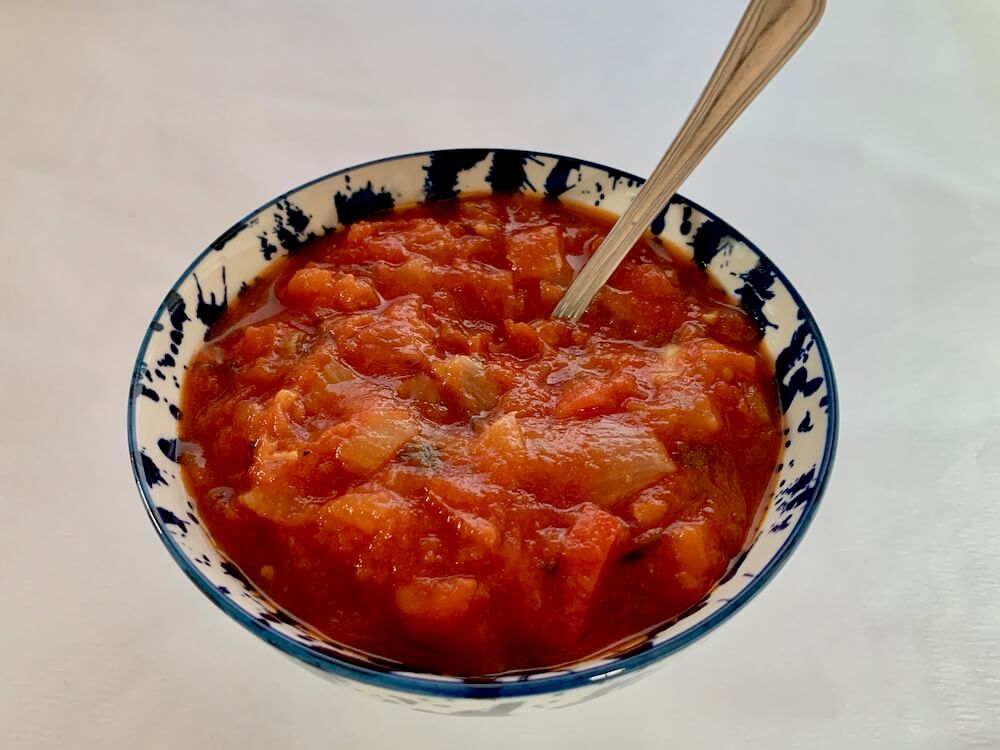 Here's where the magic happens.
Sprinkle the onions with a little salt (optional) and leave them to cook in the olive oil on a low heat. It should be just enough heat to see that the onions are cooking. Not so low that they just sit there in warm oil but not high enough that they would burn.
If you allow the onions to really cook through you'll get the best flavoured tomato sauce ever. Stir them just to make sure that they aren't burning. You may turn the heat up slightly toward the end of the cooking time. I let the onions cook for at least 10 minutes.
Adding Herbs to your Homemade Tomato Sauce
Fresh Basil
I love fresh basil. It's the most traditional herb for tomato sauce and possibly the tastiest, but it isn't always available. If you have some fresh basil, simply tear up the leaves or finely slice, and add them to the sauce once it's already made.
Alternatively, if you have some homemade vegan pesto made from fresh basil, you could add a teaspoon to the tomato sauce too.
Basil is also lovely served on top as a garnish as well as within the sauce as an ingredient.
Fresh Parsley
If you haven't got any basil, another wonderful herb to use is fresh parsley. It's by far the most useful fresh herb you can find because you can buy a bag in the supermarket and keep it into the freezer, taking out a little bit whenever you need it.
Fresh parsley is best added to the onion and garlic stage and gently fried in the olive oil to release its flavour.
Dried Herbs
If you have no opportunity to add fresh herbs you can turn to dried herbs. In that case, dried basil is fine but it has a totally different flavour to fresh basil. I'm not a big fan of dried basil, but a little bit is fine.
Dried parsley is fairly innocuous and can be used quite liberally without worrying that you might overpower the flavour unless you really overdo it.
Dried oregano has a very pungent flavour and I like to use it in very small quantities in this sauce.
You can use all 3 herbs in your tomato sauce. I normally just use parsley and/or basil and will always choose fresh over dried when possible.
Extra Ingredients in Homemade Tomato Sauce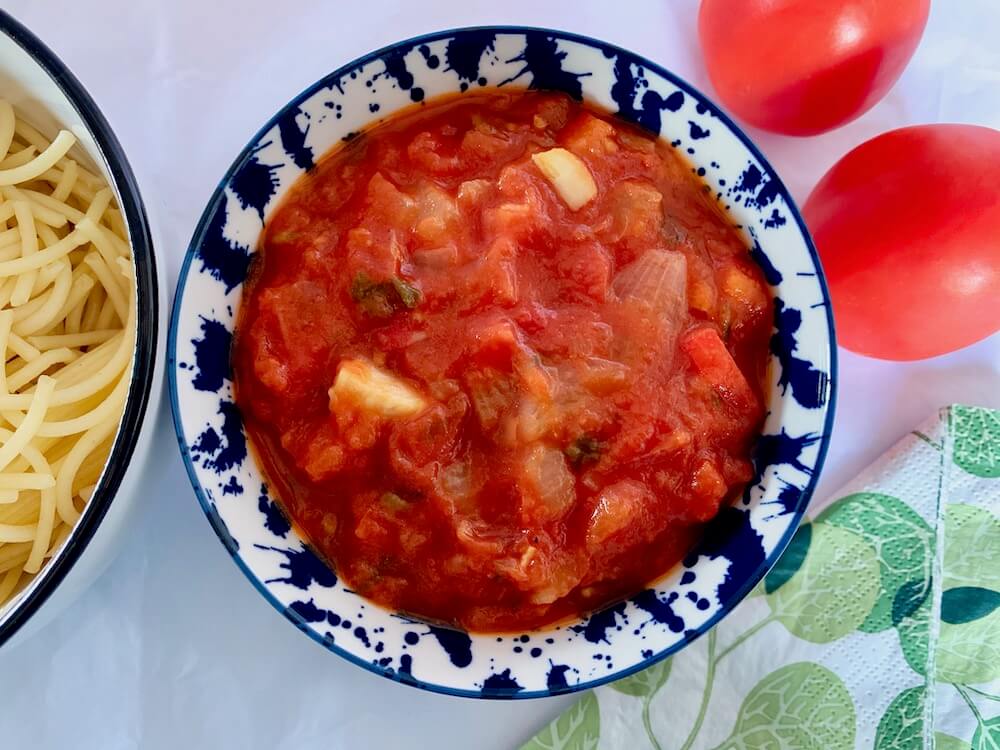 You can add extra ingredients to the sauce to turn it into a vegetable sauce but the flavour is at its sweetest if you don't add too many distractions.
One thing I do love to add to the olive oil stage, after the onions are cooked, are a couple of mushrooms. They just seem to give it an extra boost.
As mentioned I also like to use chilli and I would recommend it even if you only put a tiny amount in without making it spicy. Again, it just adds a bit of complexity to the sauce.
A few pine kernels are also delicious in this tomato sauce.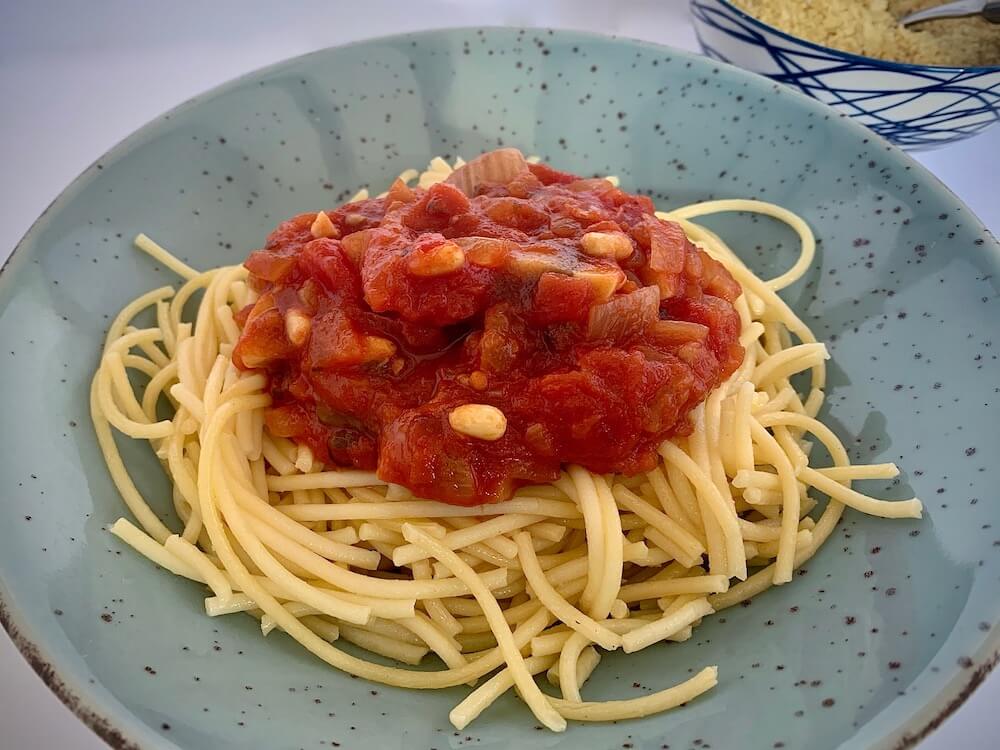 How to Make the Best Tomato Sauce
When you've taken care of slow frying the onions with garlic and chilli, add lots of chopped fresh tomatoes and stir. Sprinkle on some salt (unless on a low sodium diet) to enhance the flavour.
Leave them to cook on a medium-low heat but not so high that it starts to boil. Cover with a lid and leave to simmer for about 10 minutes or more. The secret to a tasty tomato sauce is allowing everything to be slow (unless you're doing the fast track method).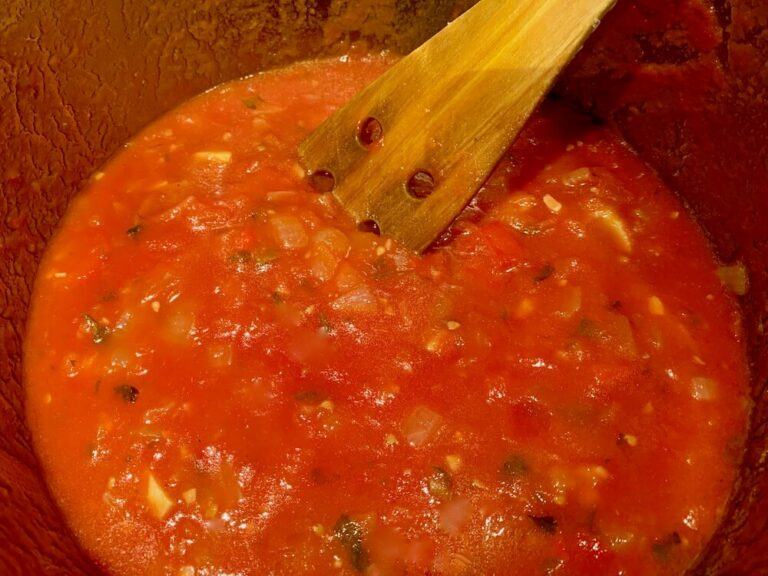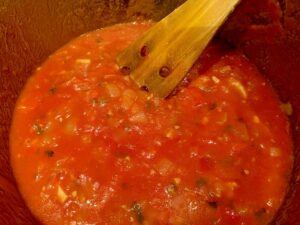 You can also make this sauce fast-track and it will still taste good, but it will have much less character than if you let it take its time.
When the tomatoes are beginning to lose their shape, add a little water to the pan and cook for a few minutes without a lid.
When the sauce is practically ready-looking I like to put a lid on again and turn the heat down to low.
When it's all cooked and ready to go, turn off the heat and leave the sauce to stand. Allowing the sauce to cool down will add to its flavour when you later re-heat it.
How long you leave it is up to you but it definitely improves in taste if you let it cool down and later re-heat it. It's just an additional flavour-boosting tactic to leave the sauce to stew in its own flavours.
Then, on reheating, you can turn the heat up and allow the liquid to reduce and the sauce to thicken.
Don't forget to top it off with lashings of homemade parmesan cheese.
Best Homemade Tomato Sauce Recipe
Course: Tomato sauce
Cuisine: Italian, Vegan
Difficulty: Simple, Can be made quickly
Optional Resting Time
2 hours
This gluten free vegan tomato sauce for pasta can be made quickly or slowly; choose to make it slowly for the best flavour.
Ingredients
8 large ripe tomatoes (or use part fresh, part tinned)

1 large onion, finely chopped

2 cloves garlic, finely chopped

1 small red chilli, finely chopped

3 mushrooms (optional)

Tomato purée (optional)

Tinned tomatoes if you don't have enough fresh.

small handful fresh parsley, finely chopped, or other herb of choice.

Olive oil for cooking

Salt and pepper

Directions
Heat a little olive oil in a heavy based pan.
Add the chopped chilli & garlic and stir for a moment over a medium heat. Add the chopped onions and a sprinkle of salt. Cook over a medium heat for about 5 minutes, checking that they don't burn.
Reduce the heat to medium-low and leave the onions to gently cook for another 10 minutes or so – as long as they're still looking good, you're good to go. (For the quick version, you can cook the onions in just a few minutes.)
Add chopped parsley if you're using it and let fry in with the onions.
(At this point you can add some chopped mushrooms if you like. In that case, let them fry until cooked before adding the tomatoes as in step five.)

Add the chopped tomato and turn the heat back up. When the tomatoes have begun to lose their shape, reduce the heat to low and cover the pan with a lid.

Once the tomatoes have lost their shape, pour in some water and stir. Cook the sauce on a medium high heat without a lid to reduce the water and thicken the sauce.

Add a little tomato purée to taste.
If you're using tinned tomatoes, add them now (chopped) and simmer the sauce until the tinned tomatoes have blended in with the real tomatoes.
Leave to cook on a low heat with the lid on for a further 10 minutes.
Turn off the heat. If the sauce is thick, leave it with a lid on. If the sauce is too thin, leave it to stand without the lid.

Allow to cool completely. Reheat when ready to serve. This is an important point for boosting the flavour.
Notes
You can always add a dash of gluten free soy sauce, Tamari, or ketjap manis to this recipe.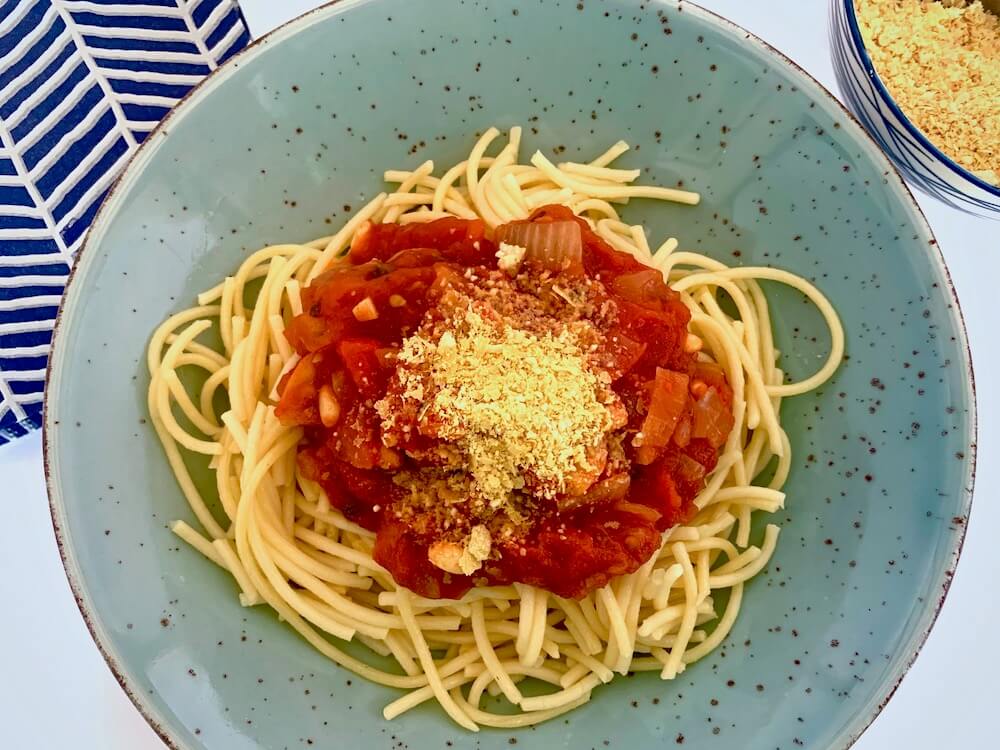 If you enjoyed this recipe, please don't forget to like, comment and share! Take a look at this post for more plant based, essential & easy sauce recipes.