This vegan vegetable rice recipe was inspired by seeing the Dutch version of Nasi Goreng – an Indonesian rice dish which, in its vegan form, is made with fried rice, spices, ketjap manis (sweet soy sauce) and vegetables.
If you go to Italy, you have Risotto, travel to Spain and you get the famous Paella. And if you visit the Netherlands, you'll find they use the term Nasi to describe their fried rice meal with spices, sweet soy sauce, non-vegan things and vegetables.
It deserves to be named because it's so much more tasty than just plain old 'vegetable rice'!
So this is my own version of Nasi, and I should add, it isn't pretending or trying to be an Indonesian recipe.
It's just what it is – delicious. In fact, it's one of my all-time-favourite meals. If I could only choose one 'favourite', this would probably be it.
There are so many reasons to love this dish apart from its full flavour; it's a complete meal, so you can have a meal-in-a-bowl, or if you prefer you can use it as part of a Buddha Bowl.
Also, you can prepare it in advance and when you're ready just throw it together in under 10 minutes.
If you're having a dinner party, you can serve this vegetable rice dish with a soup (e.g. this pumpkin soup) as a starter.
You can add lots of spicy things like extra chilli, hot peanut sauce (essential!) and jalapeño peppers. And it's a dish you can make in bulk and eat over the space of 3 days, either the same or with alterations each day.
It's delicious, it's versatile, it's perfect for inviting guests over and it's easy to make.
If you remove the peanut sauce, this is also a great meal on a budget, being a dish you can make really cheaply. For a protein boost, you can add beans or tofu.
Rice to Use for this Vegetable Rice Recipe
I've made this rice dish with whole grain round rice, long grain and basmati, and they've all worked fine.
Long grain rice goes better than a round grain but contrary to an authentic nasi goreng, this version can be made using any type of rice you have available.
Preparation of the Veggies for this Best Vegetable Rice Recipe
Get all your veggies out of the fridge or wherever you keep them and start chopping!
The essential things for this recipe are garlic, chilli and fresh ginger plus cumin and coriander. I also add a touch of turmeric but it isn't essential.
For the vegetables, you basically want a large variety, but which veggies you choose is entirely up to you or to your household stock.
For today's vegan vegetable rice recipe I literally used the vegetables that I had handy. That included an eggplant, which isn't essential by any means.
Chop the veggies up into small pieces and heat some olive oil in a large wok-type pan.
Add the garlic, chilli and ginger first. Next, if you're using eggplant it's essential that it goes in first and gets some time to cook on its own before you add the other veggies.
Eggplant is the only vegetable that you have to take special care with. All the others can go in roughly in order of hardness and it doesn't matter if they're still hard when you've finished.
Add all the vegetables and a handful of cashews, stir and you're done. You can either leave the veggies in the pan until you're ready to eat, or put them into a Tupperware in the fridge for using the next day.
Preparing & Cooking the Rice for this Vegetable Rice Recipe
I use a rice cooker for cooking the rice. I just find the rice cooker to be one of the best things I've ever bought for my kitchen.
I remember being resistant to it, thinking to myself, 'Why would I want a rice cooker? I can cook rice just fine in a pan, thank you!'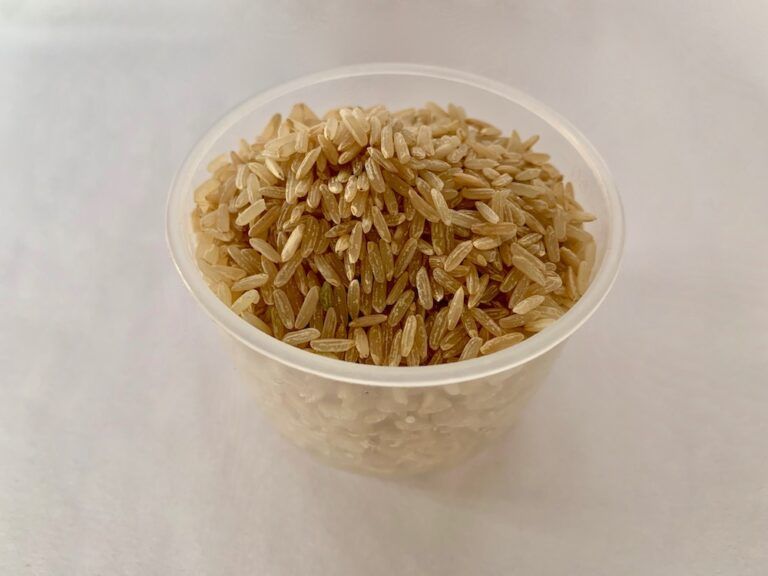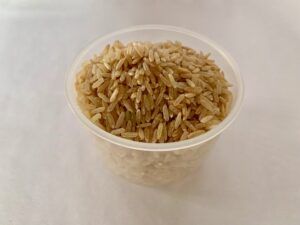 But I was missing the point.
The rice cooker takes away every single moment of time that you normally spend cooking rice.
You just put the rice in the cooker, switch it on and forget about it. It will turn off automatically when the rice is cooked, but it keeps it warm.
You can actually cook the rice an hour before you plan to eat if you want and the rice cooker will keep it warm.
For this recipe, you can either make it well in advance and put it in the fridge, or make it a few hours in advance, or just at the moment you want to eat.
I think it's slightly improved if it's made in advance but it really doesn't matter.
Just cook the rice and then turn it off and forget about it.
At this point you have a pan of veggies cooked and ready and a pan of rice, cooked and ready.
So now you can relax and forget about your meal, knowing that all the work is done.
The final stage of this takes just a few minutes.
Final Stages in Creating this Vegetable Rice Recipe
So you've done all the preparation and now you can relax until it's time to eat. Then all you have to do is put the ingredients together.
If the rice has been cooked recently and is still hot, in the rice cooker for example, then all you need to do is add the rice to the pan of vegetables, stir well and allow to heat through. Add a dash of gluten free soy sauce.
You can also add lemon juice if you like it, or one chopped tomato if you think it looks dry.
If you've cooked the rice the day before, then the method is slightly different. Heat a frying pan with a tiny amount of olive oil and add the rice to the pan.
Heat and stir the rice to separate any lumps. You may need to add a tiny bit of water as you fry the rice. Once the rice is looking separated, add the vegetables and continue to heat through.
Use gluten free soy sauce, lemon juice and/or a chopped tomato to tweak the flavour to suit your taste.
Serve with gram flour flatbread or lentil flat bread and spicy peanut sauce.
For the Spicy Peanut 'Pinda' Sauce
You can see the full recipe for spicy pinda sauce here. But I will also explain it in brief on this page.
Put 2-3 tablespoons of smooth peanut butter into your hand blender container along with a little chopped garlic, chopped fresh chilli and chopped ginger.
I use a small clove of garlic, 1/2-1 red chilli and a thin slice of ginger.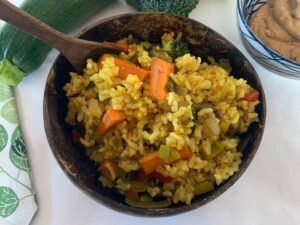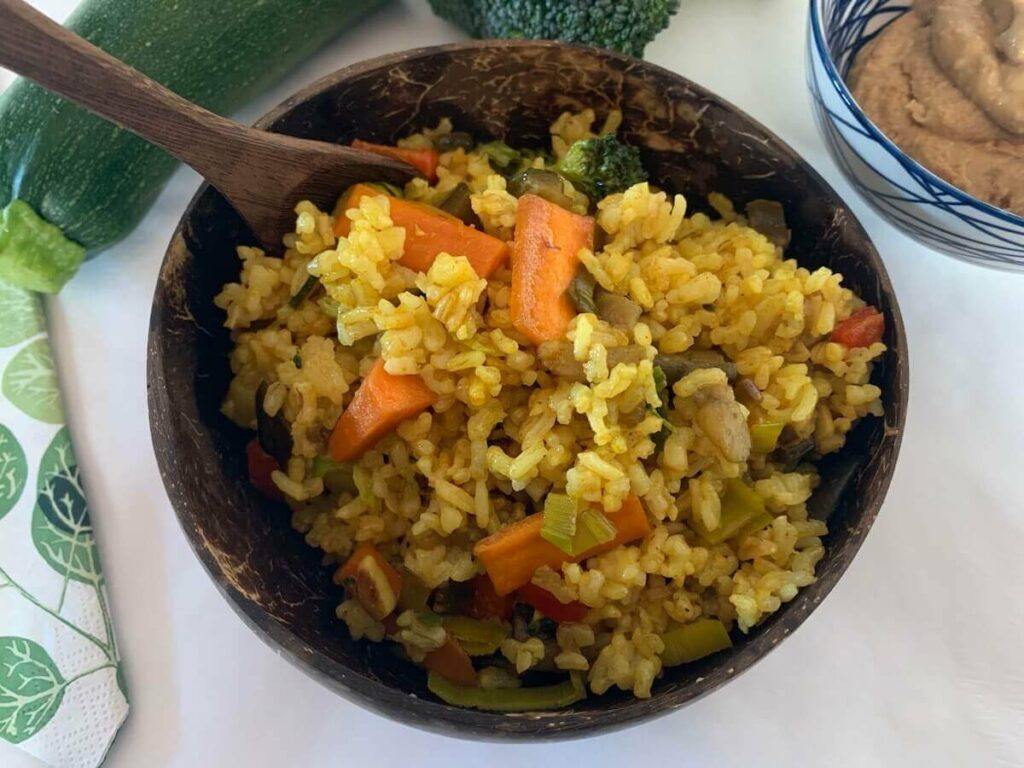 Add some soy sauce and a good squeeze of lemon juice.
Not too much because you can always add more at a later stage when you do the taste test. Sprinkle in some salt and pour in some water to get the consistency of a thick liquid.
The sauce will thicken up when you heat it, so make it a little bit thinner than you want it.
Blend the whole lot together and taste – it shouldn't taste like plain peanut butter, but rather like a tangy sauce. Add whatever ingredient is missing in order to get the balance right.
Remember that the flavour will infuse and improve after a little while.
Heat the sauce in a saucepan before serving. See the full pinda sauce recipe.
Veggie Rice Recipe – Vegan & Gluten Free
Course: Main course
Cuisine: Rice, Vegan
Difficulty: Easy
Best meal for versatility. So many ways to eat it; in a wrap, as a bowl, spicy, mild . . . one of my favourite meals ever.
Ingredients
For the Vegetables you can use any you like. Here is an example:

1 eggplant (totally optional)

1/2 zucchini

Piece of white cabbage

1/2 leek

1 carrot

red pepper

broccoli

Handful raw unsalted cashew nuts

garlic, chilli & fresh ginger

cumin, coriander & turmeric

Olive oil for cooking

Squeeze of lemon juice

For the Rice

3 cups rice of your choice
Directions
Chop all the vegetables into small pieces
Heat a little olive oil in a large pan and add the garlic, chilli and ginger
Add the hardest vegetables first. If you're using eggplant, that should always be the first vegetable and it should have a little time to cook before adding anything else to the pan.
When all the vegetables are in the pan add a handful of cashew nuts and cook for a few minutes.
Switch off the heat and put a lid over the pan. Set aside and leave it alone.
Cook the rice
Cook the rice in a rice cooker or according to your favourite method. Set aside or put it in the fridge until you're ready to eat.
Option 1. Using hot rice.
Pour the rice into to the pan of vegetables and heat thoroughly.

Add a little gluten free soy sauce or ketjap manis. Taste the rice and consider adding a squeeze of lemon juice or a chopped tomato.
Option 2. Using cold rice
Pour the rice into a frying pan with a tiny amount of heated olive oil and fry the rice.
Add the vegetables and heat through with a little gluten free soy sauce or gluten free ketjap manis.
Serving the Nasi Vegetables with Rice
Serve the 'Nasi' vegan vegetable rice dish with spicy peanut 'Pinda' sauce and gluten free flatbreads.
Yummmy vegan vegetable rice recipe
Notes
You can boost the protein levels by adding tofu or beans to the recipe.
Can be made the day before.
If you don't want to make the spicy pinda sauce, you could serve this with homemade cashew sauce.
The basis for this recipe can also be used with vegetable noodles instead of rice.
Enjoy!