These vegan stuffed cabbage leaves are actually an incredibly successful new experience for me. The inspiration came to me after scrolling through Instagram and seeing a post on the lovely feed of @vtheveggie and right away I knew I had to give it a go.
You can make the stuffing any way you like, but for this recipe I decided to stuff it with nasi style rice and it works perfectly.
You could also mix and match from this easy quinoa stuffed peppers recipe if you prefer to use quinoa for your stuffing.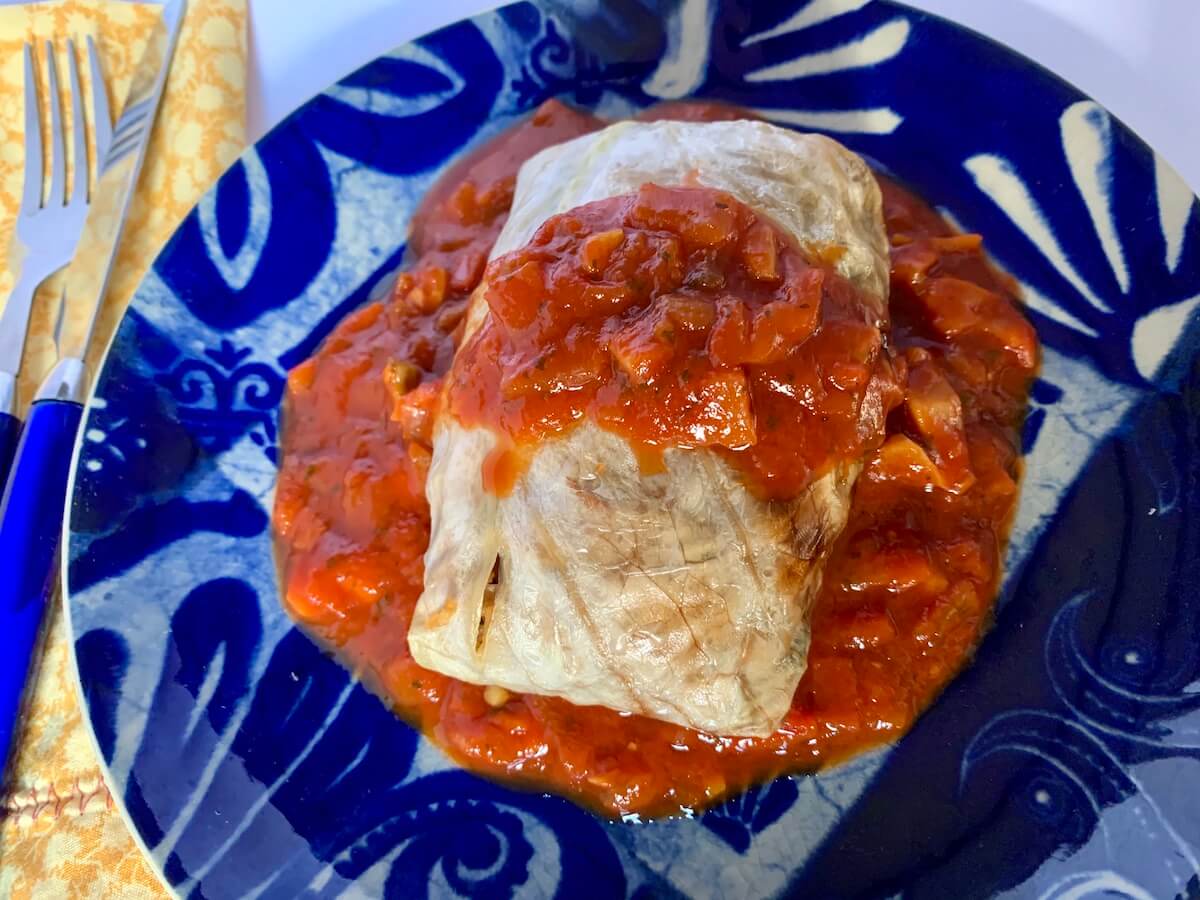 How to Plan Your Vegan Stuffed Cabbage Meal to Save Time & Make Cooking Easier
These vegan stuffed cabbage leaves can offer an awesome way of making a complex dish in a simple way, namely by planning ahead.
Especially if you have guests to feed, it's nice if you don't have to slave away in the kitchen for hours. And besides, I don't like having to make too many components in one go. Much better to do it bit by bit!
I'm not a planner, I have to be honest. In fact I almost never plan anything; I'm more of a go-with-the-flow kind of person. But sometimes, just sometimes, planning's really the only way to go!
So if you fancy making stuffed cabbage, and you want to make it easy, come up with a two day plan. The day before the big event, enjoy a dinner of roasted pumpkin soup for starters (for example) followed by nasi style vegetable rice and a spicy peanut sauce.
Ooh, I love that meal.
On the second day, make these vegan stuffed cabbage leaves with the leftover nasi style rice, et voila, easy!
Using the Nasi Style Rice for Stuffing Cabbage Leaves
When you make the meal of nasi style rice, double up on the quantity of rice, so there's leftovers for the stuffed cabbage the following day.
Et voila! With this simple plan, you have two easy-to-make meals that are like feasts, instead of one feast with more complicated preparation.
If you use the rice from the day before, all you need to do is add some extra cashew nuts (if necessary) and some dried cranberries – if you like them.
Please note that according to the NHS, in order to avoid the risk of food poisoning from rice, it should be refrigerated within one hour and subsequently kept in the fridge.
And all that's left is to make the tomato sauce.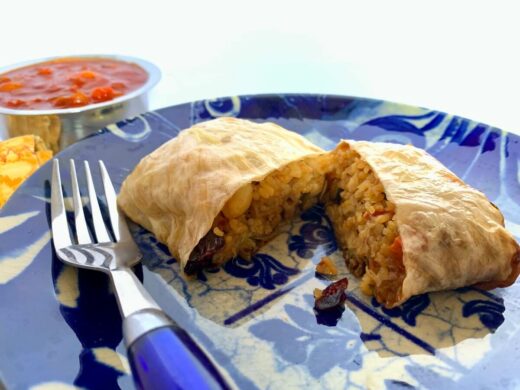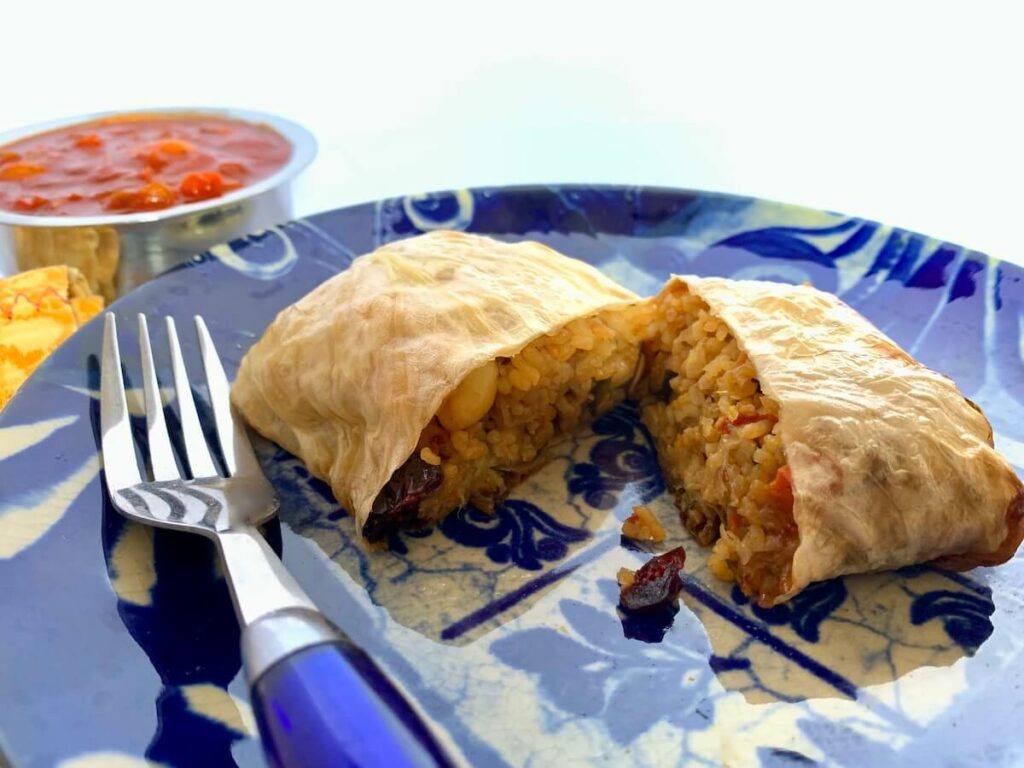 Making the Filling for Stuffed Cabbage Leaves from Scratch
First off, if you have enough time, make a meal of nasi style rice and keep some for the following day. But if you can't do that, well then I guess you can go right ahead and make it all at the same time. It is more work though.
Making the Rice from Scratch
Basically, all you have to do is fry a little fresh grated ginger (optional) and plenty of chopped garlic in a little olive oil until the garlic is fragrant, then add 1/2 – 1 finely chopped leek.
After the leek, you want to add finely chopped vegetables in the order of hardness. Which vegetables you choose to use is entirely up to you, but for example you may add a finely chopped carrot & sweet potato, followed by cabbage, zucchini, red pepper, small pieces of broccoli and finally some mushrooms.
You can either add the tofu to the pan at this point, or fry it in the air fryer and add it later. The air fryer will give you a dryer chewier texture, and adding it now, a more soft texture.
Next add a generous handful of cashew nuts and a a few dried cranberries. If you don't have the cranberries, you can omit them no problem.
Once the veggies are looking semi cooked, add some gluten free soy sauce or ketjap manis and carry on cooking for a few minutes in the juice.
Making a stir fry is the basis for the stuffing so it's the most important step of the recipe.
Next, add 1 glass of water, bit by bit, allowing it to evaporate as the veggies cook, and 2 chopped tomatoes. You can leave the vegetable mix at this stage for several hours or even prepare it the day before.
The vegetables should be sitting in a little bit of saucy juice but not swamped in liquid.
Separately, cook the rice in a rice cooker and add to the vegetable pan, mixing everything together.
Preparing the Cabbage Leaves
Place the whole cabbage into the pan and pour in water to the right level, about half way up the cabbage. If you have a small cabbage, the water may come to the top of it, but if it only comes half way up, that's fine.
Remove the cabbage and bring the water to the boil. Carefully return the cabbage to the pan, stem side down, back into the now hot water and cover with a lid. Steam the cabbage for about 10 minutes until the leaves are flexible and soft.
Remove the cabbage from the pan and leave until cool enough to handle. One by one, peel away a leaf and stuff it, using a knife to cut the leaf away from the stem of the cabbage.
Stuffing the Cabbage Leaves
Place a leaf flat on your surface and spoon in a couple of spoonfuls of the rice. Fold in the thicker, stem side inwards (it has a natural bend-spot), followed by the two edges.
You can now hold the 'cabbage' envelope up and squeeze the rice downwards to make it more compact. If necessary, add a little more rice. Fold the final side over and place it face downward into a baking tray.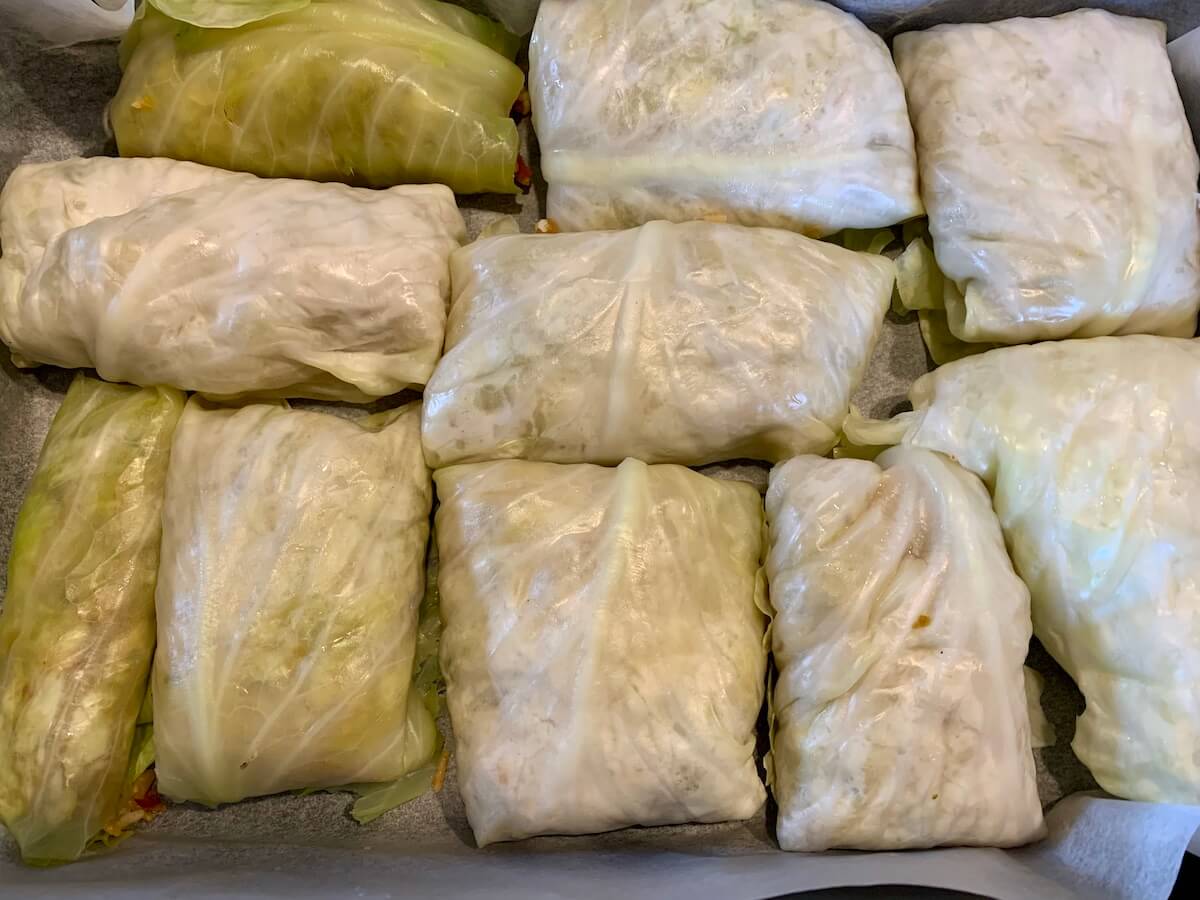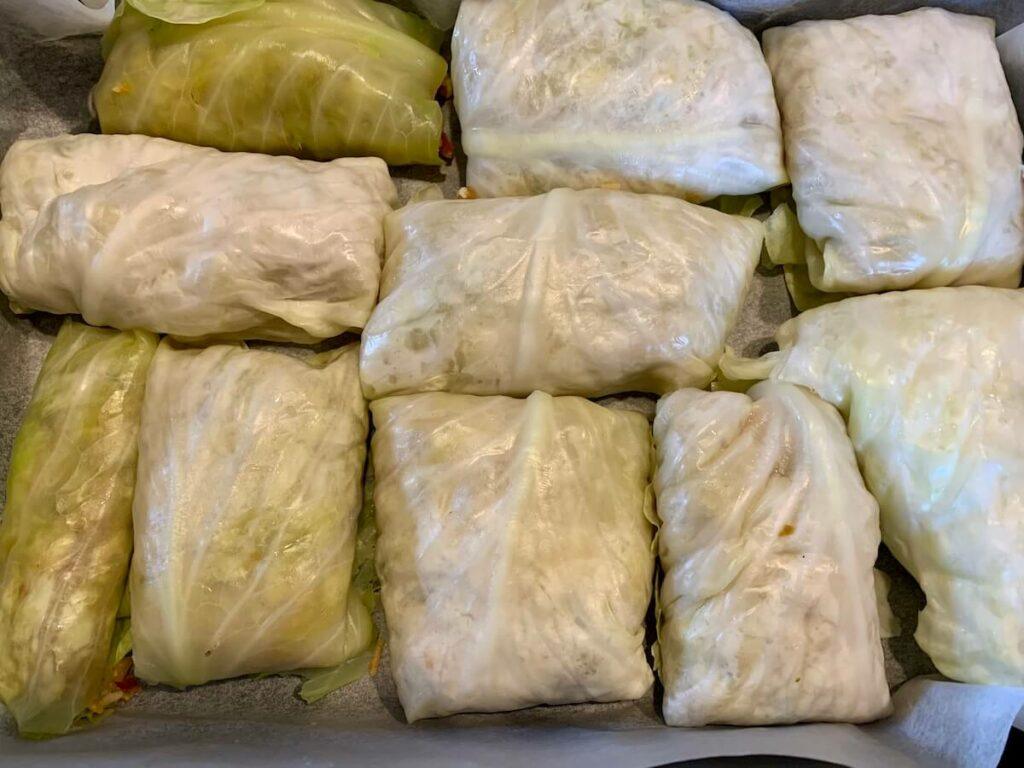 Cover the baking tray with silver foil and bake in the oven at 180ºc for 20 minutes or until cooked through and slightly browning.
Making the Tomato Sauce
Fry 3 cloves of finely chopped garlic and 1 finely chopped onion in a little olive oil with salt for about 5 minutes or until translucent. If you like spicy sauce and are using fresh chilli, add it now and fry it along with the onion.
Add 1 small finely chopped red pepper to the pan and cook for another 5 minutes. Finally, add 3-4 chopped mushrooms and some dried parsley or other herb of choice. Cook until everything is really well done.
Add 2 glasses of water and cook a little longer before adding 1 small tin of tomato purée (170 g of double concentrate) and 1 small brick of tomato frito (215g). Stir the sauce and taste. It should be a rich flavoursome sauce to complement the cabbage rolls.
Serve the cabbage rolls with a generous amount of the tomato sauce on top.
Vegan Stuffed Cabbage Leaves
Course: Main course
Cuisine: Vegan, Gluten free
Difficulty: Easy
Ingredients
8 leaves from 1 white cabbage or flat cabbage

Basmati or any other rice of choice

2 garlic cloves

Selection of vegetables: leek, sweet potato, zucchini, pepper, broccoli, mushrooms

1 chopped tomatoes

1 packet firm tofu

gluten free ketjap manis

For the tomato sauce

1 onion

3 cloves garlic

2 tsp dried parsley

Chilli to taste

Tomato purée (170g)

Tomato frito (215 g)
Directions
Fry the ingredients for the rice stuffing by adding the vegetables in order of hardness.
Add some ketjap manis to the pan, and after a few moments, a glass of water.
When the water has evaporated, consider adding another glass or half a glass of water. You want the veggies to be cooked and left sitting in a little juice at the bottom of the pan.
Cook the rice in a rice cooker or a pan with a tightly fitting lid.
Mix the rice and vegetables together.
Steam the cabbage until the leaves are pliable.
Stuff each leaf and place them, tightly packed into a baking tray.
Cook at 180ºc until cooked and slightly browning (about 30 minutes)
For the tomato sauce
Gently fry the onion, garlic, dried parsley and chilli if using, in a little salt, for about 5 minutes.
Add the finely chopped red pepper and fry for another 5 minutes.
Add a few mushrooms, cut small and cook further.
Pour in a glass of water and heat.
Add 1 small tin of tomato purée and 1 small block of tomato frito.
Mix well and check the seasoning. It should be a rich flavoursome sauce to complement the rice.
Notes
You can vary the recipe to suit whatever ingredients you have available. It will taste awesome with whatever!