We're still in zucchini season with zucchini coming from the garden at lightening speed, and enough quantity to feed a herd of elephants, so I thought I'd make some vegan stuffed zucchini boats to carry on exploring all the different ways to cook this delicious vegetable.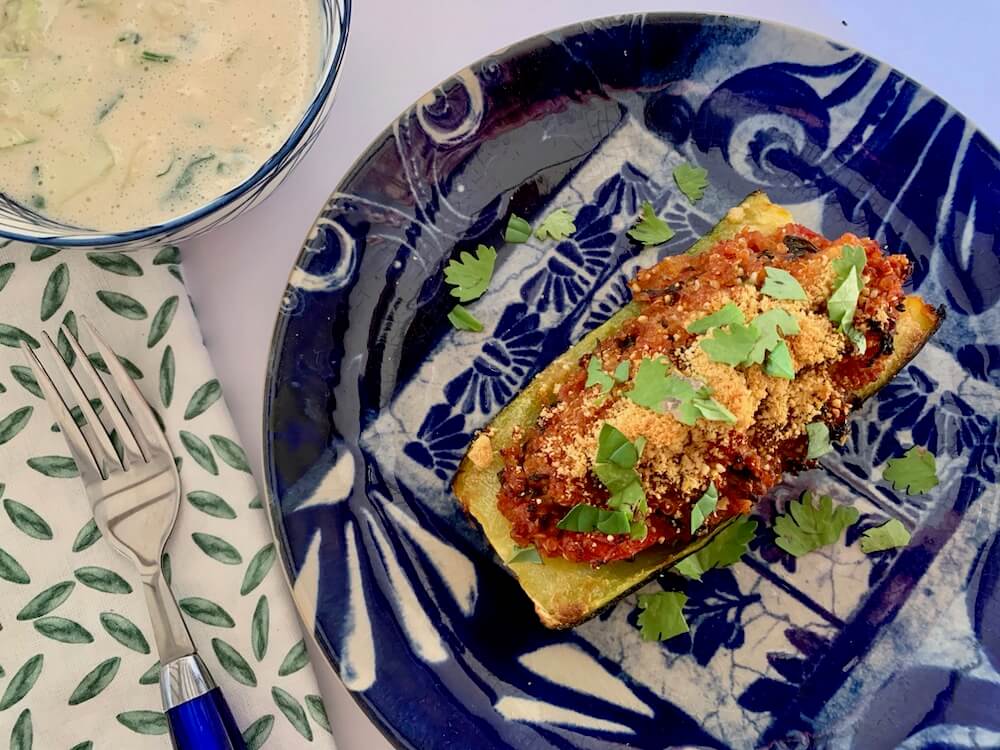 I've already posted quite a few zucchini recipes about the good 'ol tasty zucchini, or courgette as it's called in the UK.
So if you've also got zucchini coming out of your ears, you may like to check out some of the others ways of cooking and other recipes you can make with zucchini.
To be honest, I'm more in love with zucchini than ever before. I just don't get tired of it at all.
Recipes Using Zucchini Other than Stuffed Zucchini Boats
When you fancy a refreshing and elegant starter, we have the one and only zucchini carpaccio salad, which looks beautiful and will surprise your guests for sure.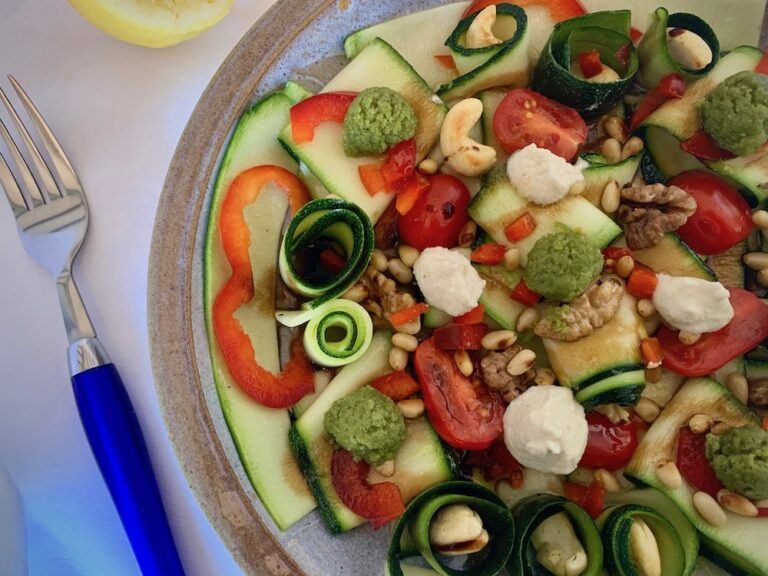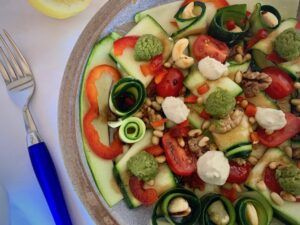 Or maybe this easy zucchini soup, which is so simple to make but always so tasty, and delicious served chilled the next day, like a green version of gazpacho.
For something a little more unusual, I experimented with a pure zucchini casserole, which uses up lots of zucchini and comes out creamy and yummy.
Or, if you want to camouflage the zucchini in with other ingredients, you could try this potato zucchini casserole with beetroot. Casseroles are so cool because all the work gets done in advance and then all you have to do is pop it into the oven before you want to eat.
And besides all these vegan zucchini recipes, don't forget that zucchini goes well in a delicious nasi goreng or bami goreng, and it's absolutely scrumptious straight from the grill in this high-protein king salad.
It's also a great vegetable for when you're in a hurry and want to rustle up a quick meal-in-a-bowl with a quick chickpea recipe with broccoli & zucchini and it's the star of the show in this Spanish pisto recipe.
As you can see, there's no shortage of ways to cook and serve the tasty zucchini!
The uses for zucchini are pretty endless! And what is one of the main ways to cook it? Yes, by stuffing – this time with quinoa!!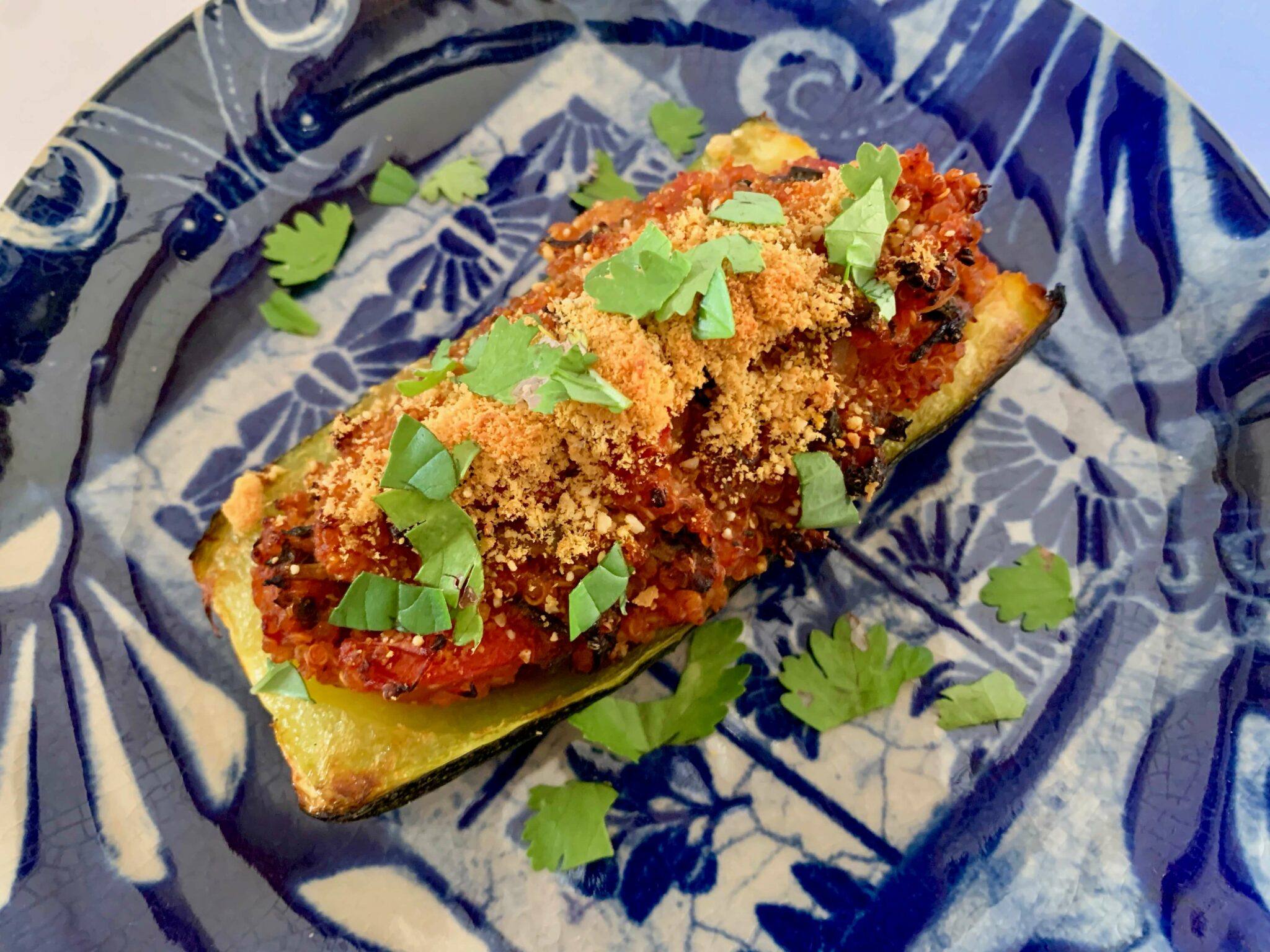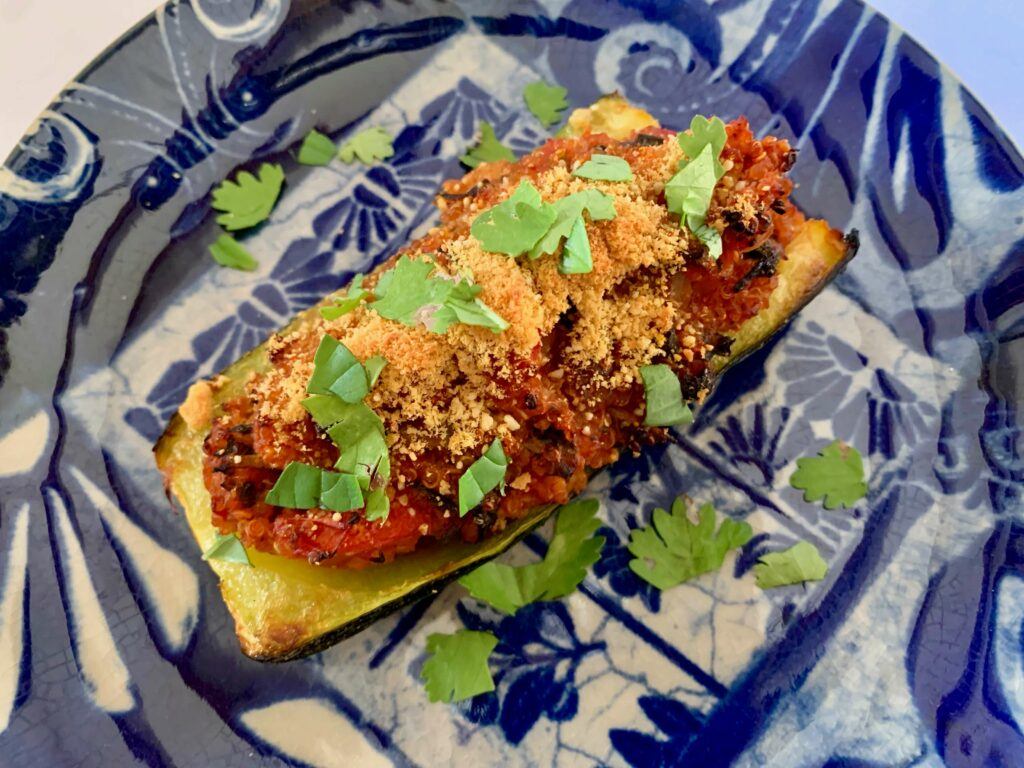 Zucchini facts – Stuffed Zucchini Vegan
Zucchini are a really healthy option to include in your diet, and they have lots of health benefits. They're cholesterol free and virtually fat free and also low in calories. High in fibre and vitamin C, they're a good source of vitamin B6, and contain smaller amounts of vitamin A, riboflavin folate and thiamin.
1 cup of zucchini also provides 1.5g of protein and is low on the glycemic index which means it won't cause blood sugar level spikes and are great for helping with a healthy weight loss plan.
In real terms all this means that they contribute to many aspects of your health, including promoting a healthy heart, skin, digestion, eyes and aiding in lowering cholesterol levels.
They're high in antioxidants, so helping to control the effects of free radicals and slow the ageing process. They're also very good for your digestive system and it's claimed that consuming zucchini (and other healthy veggies) can reduce the risk of cancer.
If the zucchini tastes bitter it means it has higher levels of cucurbitacins, a natural substance present in the zucchini which can cause gut problems and even sickness in high quantities.
The cause of the rise in bitterness is usually due to lack of water and/or the zucchini being very old, so if it's bitter, best not to eat it.
Stuffing Zucchini for Vegan Zucchini Boats
Stuffing vegetables doesn't have to be a laborious job and you can vary the flavours each time to suit your mood and use the ingredients you have to hand.
This recipe is intended as a guide to stuffing zucchini, but the actual ingredients which you choose are entirely up to you.
Don't be scared to change it around and play with it.
How to Cook Vegan Stuffed Zucchini
Stuffing the Vegan Zucchini Boats
The principal for stuffing a vegetable like zucchini is to scoop out the flesh, leaving the shell intact. I like to use big fat zucchini for obvious reasons – there's more space to stuff with filling – but I've seen this done with small zucchini too.
Chop the flesh of the zucchini. Fry an onion with garlic and spices of your choice. I also used some chopped up kale from the garden (optional).
Add the zucchini flesh to the pan and other veggies of choice, like finely chopped red or green pepper. After a few minutes add some chopped mushroom and cook some more. When the veggies are looking almost cooked, add 1 chopped tomato and cook for a few minutes.
Now you should taste to check the seasonings and general flavour, and at this stage you can add some soy sauce or Tamari or Ketjap manis.
To this veggie mix you're going to add some cooked quinoa and some more tomato.
You can choose to use only fresh tomato, in which case you add more than 1 tomato in the stage mentioned above, or you can add tinned or pureed tomato at this stage and then leave to cook a little to combine the flavours.
I like to make the stuffing moist but not saucy.
Later I serve the stuffed zucchini boats with a sauce on the side, so the tomato is only there to provide some moisture.
Of course it's all is a matter of choice – you can also make the stuffing dry and rely entirely on the accompanying sauce to bring some juice to the dish, or you may fancy loading the stuffed zucchini is a sauce before they go into the oven.
Everything is doable. And eatable. And delicious!
The Zucchini Shells for making the Zucchini Boats
When you've scooped out the flesh of the zucchini shells, check the length of your zucchini. It may be that you cut it in half to make 4 shorter shells from 1 zucchini.
Whatever length you choose to make the shell, lay them into the baking tray, sprinkle with salt (optional) and brush them over with olive oil on both sides.
Heat the oven to 200ºc and place the zucchini shells into the oven face up for 10 minutes. After 10 minutes, turn the zucchini shells over so that they're facing down in the pan and cook for another 10 minutes.
They should be par cooked and just tinging a little brown on the edges.
Putting The Vegan Zucchini Boats Together
Turn the shells face upward in the baking tray and carefully scoop spoonfuls of the filling into each shell. I like to be generous and make them heaped, but you can do either, flat or heaped.
Next, take some homemade vegan parmesan and cover the top of the stuffed zucchinis.
Use a bottle with a pourer (so that you don't drown them!) to pour a little olive oil over the top of the zucchini boats, and return to the oven for another 30 minutes or until cooked through and browning on top.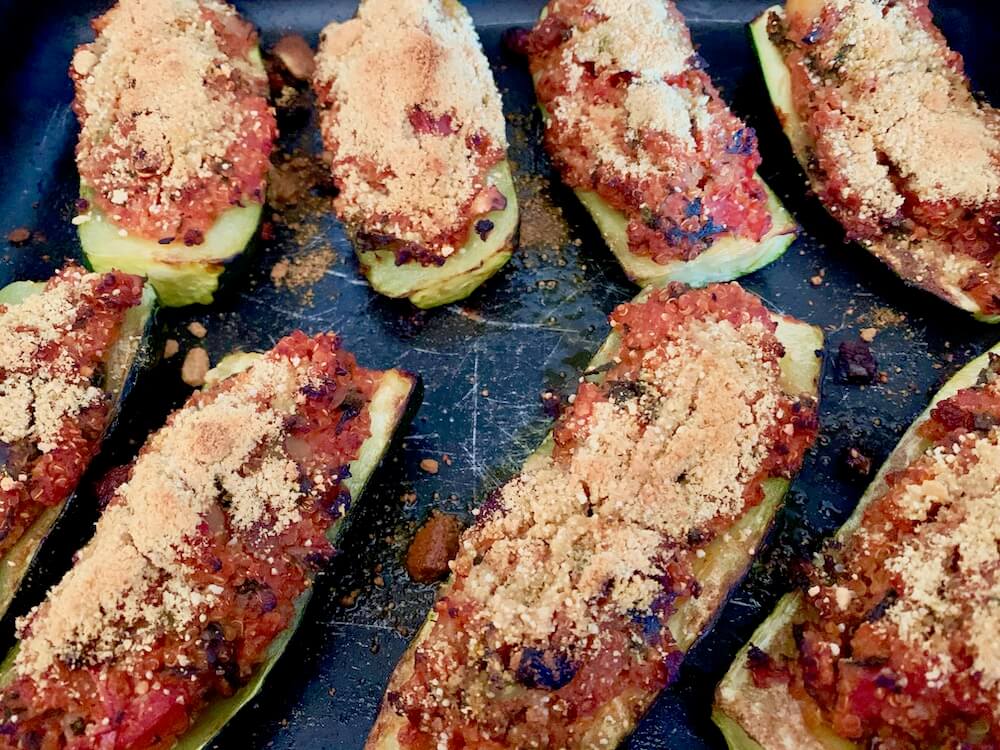 To Serve Vegan Stuffed Zucchini
Serve the stuffed zucchini with a generous sauce on the side (or on top!).
There are lots of plant based sauces that could go well with this, from vegan raita style sauce to sweet basil sauce or a vegan cashew sauce. Or maybe you fancy a hot sauce like homemade tomato sauce.
They all do the job of complementing this dish and making it even more scrumptious than it already is.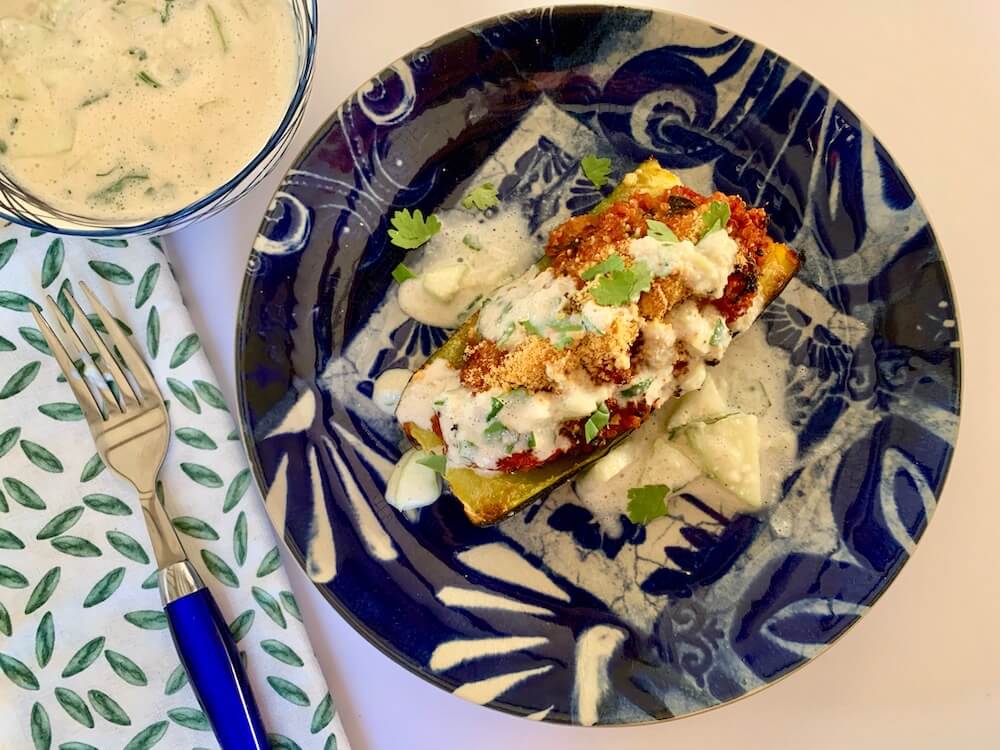 Stuffed Zucchini
Course: Main course
Cuisine: Vegan, Gluten free
Difficulty: Moderate
Vegan stuffed zucchini boats, a perfect, vegan & gluten free meal.
Ingredients
2-4 large zucchinis (depending on size)

1 cup chopped kale (optional)

1 large onion

3 cloves garlic

Fresh chilli to taste

1 green pepper

2 large mushrooms

1 large tomato

1 tsp cumin, coriander & turmeric or spice mix of choice

Soy sauce, Tamari or Ketjap manis

3 cups cooked quinoa

1 tin chopped tomatoes, 1 tin tomato purée or 1 packet of tomato frito

Some optional additional ingredients

1 cup of cashews broken into pieces

Handful of raisins to give a sweet twist

Chopped fresh coriander
Directions
Cut the zucchini in half lengthwise and scoop out the inner flesh.
Sprinkle with a tiny amount of salt, and brush on both sides with olive oil. Place in a baking tray, face up for 10 minutes. Turn over and bake face down for another 10 minutes.
For the Stuffing
Fry 1 large chopped onion with 3 cloves garlic and kale if using. Fry enough chilli to suit your taste.
Add 1 tsp cumin, 1 tsp coriander & 1 tsp turmeric, or a spice mix of your choice and fry for a minute.
Add 1 chopped green pepper and the chopped zucchini flesh and fry for a few minutes more before adding the chopped mushroom.
Chop up 1 large tomato and add that to the mix (add more if using only fresh tomatoes).
Taste the mix, adjust the seasoning and add soy sauce.
Add 3 cups of cooked quinoa and mix.
Finally add 1 small tin of chopped tomatoes or tomato purée or tomato frito.
Creating the Stuffed Zucchini
Fill the shells with the desired amount of stuffing.
Cover with a generous topping of vegan parmesan or sub for nutritional yeast.
Sprinkle over a little additional olive oil on top.
Bake in the oven at 200ºc for 20-30 minutes, until cooked and browning on top.
Serve with a sauce of your choice.
Notes
Can be made in advance and reheated in the microwave.
To get the best out of this recipe, it's important to serve with a sauce.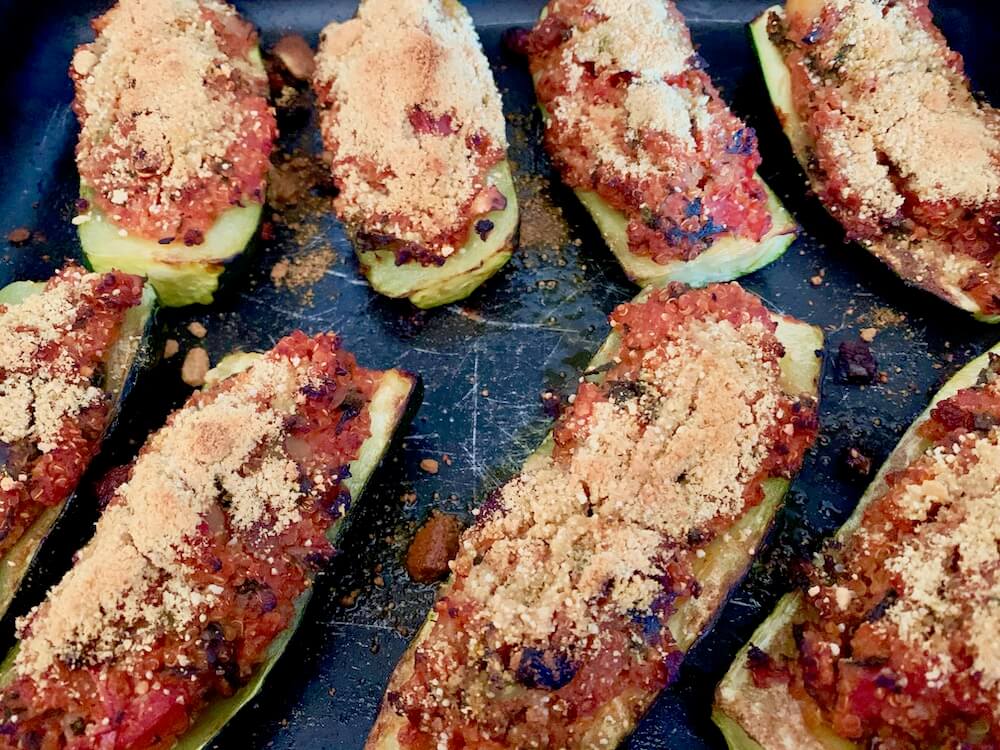 If you make any of the recipes on this site, please be kind enough to give me feedback in the comments!
Follow us on Instagram @loveveganliving