This gluten free pasta salad recipe is a handy meal that can be prepared in advance and served on its own or as part of a salad buffet.
When I was young, a friend's mother used to make the most delicious pasta salad and for me it was love at first taste!
That was back in the days when I ate gluten and it was so long ago that I really couldn't say what it was that made that particular pasta salad recipe soooo delicious.
But it was.
And I'll always remember it that way.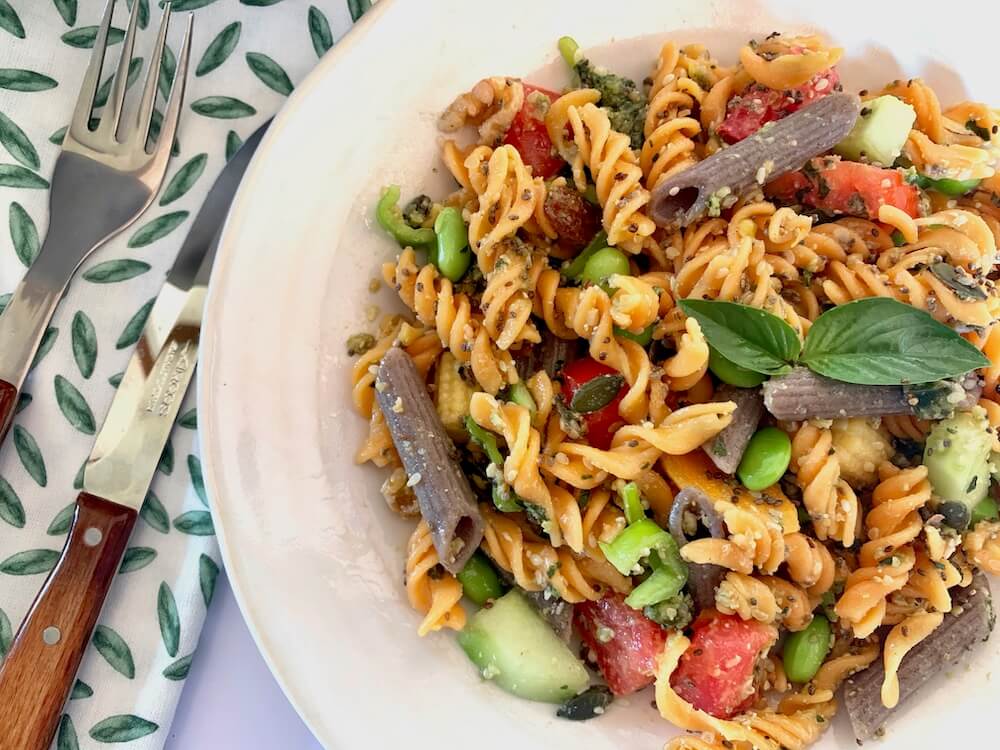 So after going gluten free, I tried to recreate this heavenly memory using gluten free pastas, and I found, much to my disappointment, that most gluten free pastas don't taste so good after they've cooled down.
And that's when I started experimenting with different types of pasta and discovered that lentil pasta not only tastes great but works really well in salad too.
About Gluten Free Pastas
There are lots of types of gluten free pastas on the market but just because they're gluten free doesn't mean that they're more nutritious or healthier than normal whole wheat pasta.
The nutritional value will vary from brand to brand. A gluten free pasta sold as brown rice pasta for example, may not be made from 100% brown rice. And quinoa pasta is usually made from a blend of quinoa and rice flours.
In order to choose a pasta which has a healthy nutritional value it's important to read the ingredients of the specific brand of pasta.
One exception to the rule and one way of ensuring that the pasta has a high nutritional value is to choose 100% bean or lentil pasta.
Types of Gluten Free Pasta
There are so many types of gluten free pasta on the shelves these days you might be left wondering which one to choose.
While they all vary in nutritional value according to the flour used to make them, they also vary from brand to brand.
Maize &/or Rice Pasta
Lots of gluten free pastas are made using 100% maize flour, which you can easily recognise by its more intense golden-yellow colour. The trouble with maize pasta is that it doesn't have any better nutritional value than regular pasta and it doesn't hold its shape for making a salad; it goes too mushy.
A common occurence is to mix maize and rice flour pasta. While it may prove slightly better at keeping its texture, this blend of pasta doesn't have a particularly high nutritional value and in my opinion, still isn't good enough for making pasta salad.
Quinoa Pasta for Making Gluten Free Pasta Salad
Quinoa is a great ingredient for making gluten free pasta, but even though quinoa is a super food with all the essential amino acids (making it a great source of complete protein), that isn't necessarily the case when it comes to pasta.
So often it's labelled quinoa pasta when in reality it's a rice/maize flour pasta with a little quinoa thrown in for marketing as a quinoa pasta. The result is another high carb, low nutritional value pasta.
Quinoa pasta can be better at keeping its shape and I've occasionally had excellent tasting quinoa pasta. However, sadly it just isn't normally the case, at least at this time where I live.
Always read the label and make sure that the ingredients are just quinoa – or at least high in quinoa – if you're looking for a nutritional boost in a great gluten free pasta.
Buckwheat Pasta for Gluten Free Pasta Salad
Buckwheat pasta keeps is shape well and can be a little higher in protein and fibre than wheat pasta. Again it depends largely on the brand with some brands offering a buckwheat pasta with lower levels of protein and fibre than others.
It's a tasty alternative for eating gluten free pasta and does hold its shape for making a salad.
Edamame Bean Pasta
Edamame pasta is tasty but quite heavy, meaning just a small portion will fill you up and if can land a bit heavy in the stomach.
For that reason, while I do like the taste, I don't use edamame pasta to replace regular pasta.
But you could use it as an additional dish, unique in its own right.
It is high in protein and in fibre and can be quite delicious.
The Solution for Gluten Free Pasta Salad: 100% Lentil Pasta
Lentil pasta is generally higher in fibre and protein than other pasta types, as well as holding it's shape in salad and having a great (albeit different) flavour, making it a favourite of mine.
Lentil pasta's a great substitution which packs a protein and fibre punch.
Benefits of Eating Lentil Pasta
Lentils are naturally gluten free.
Lentil pasta has double the protein as regular wheat pasta.
It won't cause a spike in blood sugar levels after eating, due to the higher levels of protein and fibre.
It is has a low glycemic index.
It holds its shape perfectly for using in salads and doesn't disintegrate like so many other GF pastas do.
100% lentils so no nasty, added ingredients.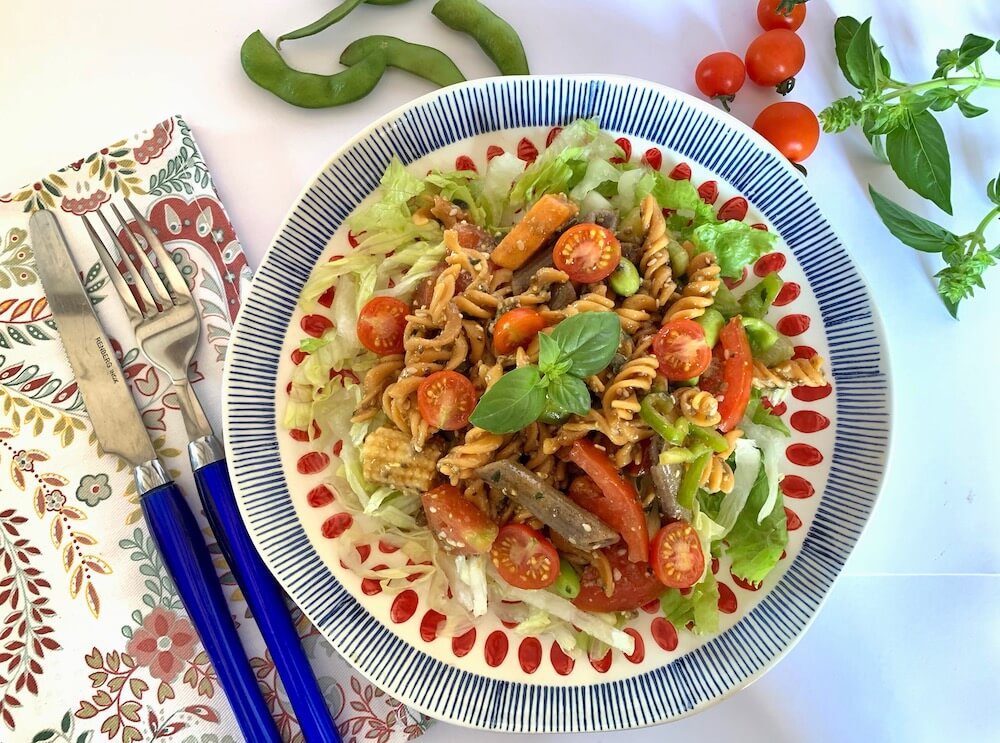 How to Make a Delicious Gluten Free Pasta Salad
First things first, it's important to choose a pasta that will hold it's shape and have great flavour in the salad. Assuming you've got that covered, the rest is a piece of cake.
I go with the lentil pasta because not only does it taste great, but you know you're eating a nutritionally valued food rather than empty calories.
And the best tip I can give for a delicious salad of any kind is to include a great variety of ingredients. Chop up some tomatoes, lettuce and cucumber by all means, but don't stop there.
Add some cherry tomatoes, chopped green or red pepper, some fresh onion if you like it, some chick peas or some grilled zucchini for example. Try to add various colours to the salad and contrasting flavours.
Once you've got the veggies covered, pull out all stops by adding the seeds and nuts. Add some chia seeds, sesame seeds, pumpkin seeds, sunflower seeds, walnuts and cashews for a yummy crunch.
Gluten Free Pasta Salad: the Dressing
#1 Olive Oil & Basil Dressing for Gluten Free Pasta Salad
Blend or finely chop some fresh basil leaves; add olive oil, balsamic vinegar or lemon juice and a dash of Tamari. Finish with salt & pepper and pour over the salad before serving.
#2 Cashew Nut Cream for Gluten Free Pasta Salad
To replicate a more mayonnaise-type of dressing, soak a small cup of cashews in boiling water for 15 minutes.
Blend in the blender with the juice from half a lemon (to taste) and tiny piece of garlic (optional), some chopped fresh basil or parsley, a dash of apple cider vinegar and some salt and pepper. Dilute with water until it has a thin but creamy consistency.
Pour over the salad and serve immediately. Inspired by the thicker version, cashew nut sauce.
#3 Oil Free Dressing for Gluten Free Pasta Salad
Instead of using olive oil, you can make a refreshing and tasty dressing using freshly squeezed lime juice and freshly chopped herbs, a dash of ketjap manis or Tamari, and a dash of balsamic vinegar or white wine vinegar.
Yum.
Gluten Free Pasta Salad Recipe
Course: Main course, salad
Cuisine: Vegan, Gluten free
Difficulty: Simple
Pasta salad is a great meal to prepare in advance and serve up for a wonderful summer lunch in the garden!
Ingredients
1/2 packet lentil pasta

Salad leaves and rocket

Chopped tomato and/or cherry tomatoes

Edamame beans

Chopped cucumber

Chia seeds, sesame seeds, pumpkin seeds and sunflower seeds

Walnuts broken up

For the Olive Oil & Balsamic Dressing

Extra virgin olive oil

Fresh basil

Dash soy sauce and/or balsamic vinegar.

Salt and pepper
Directions
Cook the pasta according to the instruction. Rinse under cold water to stop the cooking process.
Mix all the ingredients in a bowl.
Choose a salad dressing to serve on the pasta salad: 1. Olive oil and balsamic vinegar with fresh basil, 2. Oil free – balsamic vinegar, lemon or lime juice, tamari sauce 3. tahini, water, salt & pepper 4. cashew nut dressing
Add a dash of soy sauce.
Taste and adjust the seasoning.
Notes
You can use any ingredients you like for this pasta salad to go with the lentil pasta.
Serve the salad warm or cold.
Other Salads for Summer Eating
In summer time I love to eat salads almost every day.
It's probably to do with the heat but I just don't feel like standing over a hot oven, or eating a heavy lasagne for example.
So most days I will make a salad of some sort, like this high protein king salad for example.
Another favourite for me in the hot summer days is to eat grilled vegetables and one of the best veggies has to be the zucchini. You can read my favourite zucchini recipes, which includes casseroles and soups or head over and make yourself a yummy buddha bowl.
I hope you enjoyed this gluten free pasta salad recipe!
Come and follow me over on Instagram @loveveganliving