This gluten free vegan pizza recipe is for when you fancy a pizza but don't want to spend ages cooking and, umm . . . well yeah you're vegan. And gluten free. And those two things together can make finding a ready-made pizza a little tricky!
But in this post I'm going to show you a hack to making your own instant pizza if you're vegan and gluten free. And it's so delicious I wouldn't want to eat a traditional pizza again! Just give me one of these . . .
Is Vegan Pizza Healthy?
Obviously traditional pizza isn't a very healthy food. It's full of refined carbs, sugar and dairy. In fact the only healthy part of a traditional pizza is the vegetables you put on top (and that's if you do put veggies on top lol!).
But what about vegan pizza then? This pizza recipe is healthy because it's bursting full with natural products. The only part that could be less healthy is the base. But as the title says, this is an instant pizza hack.
Of course you can make a homemade base with the most healthy ingredients ever (and tasty to boot) but then this wouldn't be an instant pizza hack!
Best Hack for Gluten Free Vegan Pizza Base
So, what's the trick? Simple . . .
Go to your cupboard and take out a gluten free, vegan wrap to use as the pizza base. But hang on, that's not all.
If you don't normally stock gluten free vegan wraps in your kitchen, maybe this post will change your mind. Be sure when you're buying the wraps, to read the ingredients and make sure they're not stuffed with E numbers or sugar or any other nasties.
And of course, if you normally make your own wraps, even better! Just use one of your own (healthier) wraps and follow the steps below.
Turning a Gluten Free Vegan Wrap into a Pizza Base
This method has worked for every wrap I've tried it with and it's completely hassle free. Simply heat a frying pan with 1 tsp olive oil (or you can brush the wrap with oil instead and leave the frying pan dry).
Heat the wrap for 2 minutes, then flip and heat for another 3 minutes on the other side or until it's looking a bit brown and cooked.
Place the wrap pizza base with the more cooked side facing upwards.
Spread the wrap with a sauce of your choice. My favourite is hummus but you can also use tomato or tahini.
Next, choose your toppings and arrange them on top.
Once the toppings are on, dollop about 4-5 little balls of homemade pesto on top and sprinkle with chilli powder (if you like it spicy).
I don't buy many processed foods actually. But wraps? Well that's another story all together. You won't find my kitchen without some wraps handy, unless I'm in a mood for making my own, and even then I'd probably have a packet of shop ones stacked away somewhere for emergencies.
It's one of the few processed foods I still buy to be honest, because it's just so handy for those occasions when you don't have any time.
My Favourite Gluten Free Vegan Pizza Recipe
Hummus & Avocado Pizza
There are no limits to what you put on a vegan pizza and here I'm going to share two variations with you. The first on, and my personal favourite, is this one which is absolutely delicious!
Make the base according the the steps above.
Spread some homemade hummus over the base. You can be a little bit generous with the amount of hummus because it does vanish a bit with cooking. I love it when the hummus has a strong cumin flavour for pizza. If it doesn't you may consider adding extra cumin to the hummus and giving it a stir before coating the pizza base.
Next, thinly slice some fresh zucchini and place them on top of the hummus layer. Make some thin slices of avocado and place them around the pizza.
Next take some homemade vegan cheese and put some slices of that around. Finally, some chopped jalapeños and homemade pesto.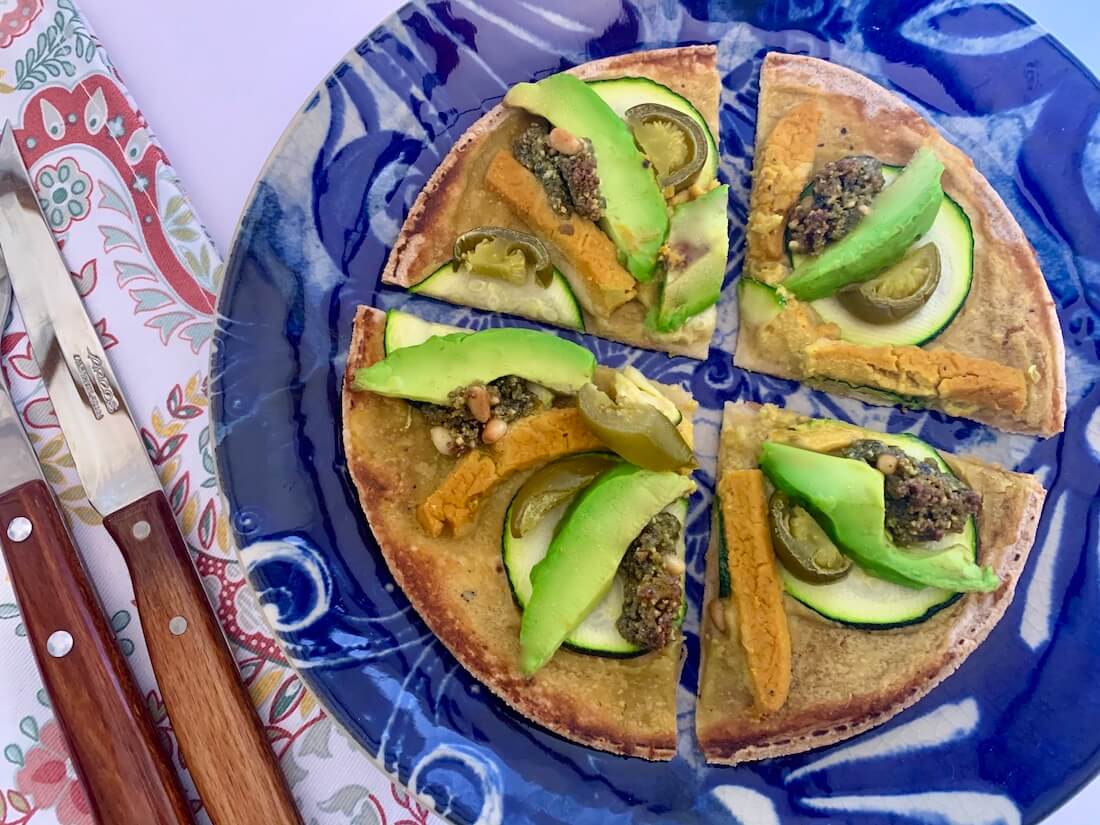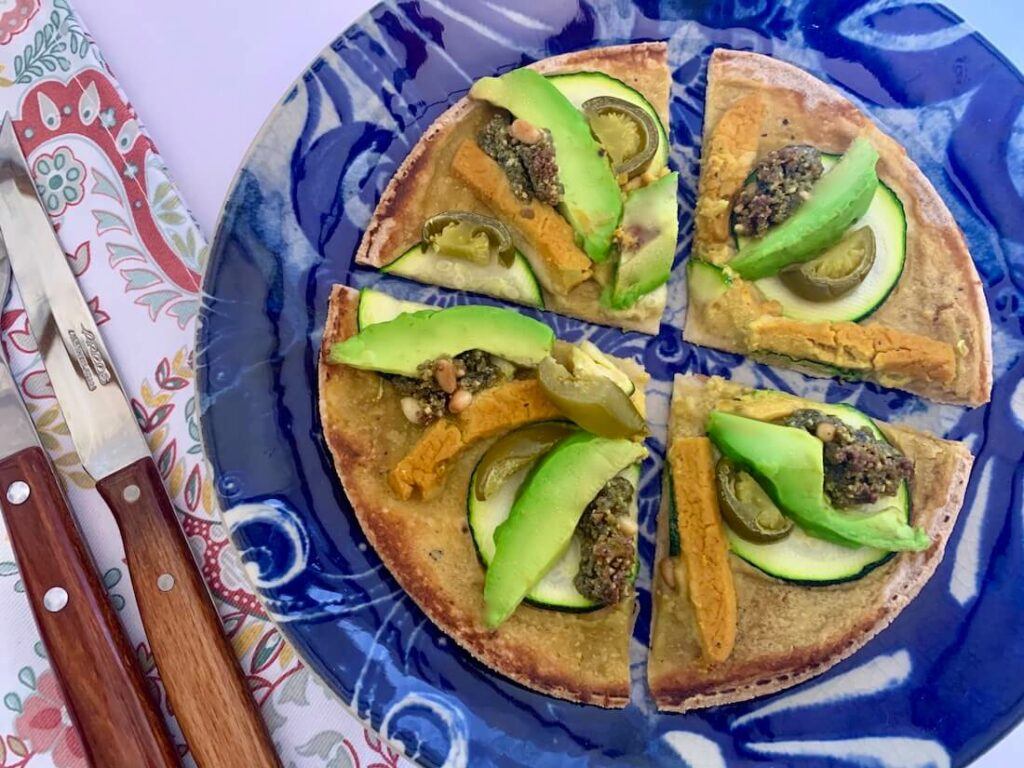 Variations
I love to add sweet potato to this pizza. Just take some cooked sweet potato and either spread it or put it in dollops over the base.
Cherry tomatoes go perfectly.
I'm in love with the health benefits of hemp seeds, so a generous sprinkling of those would be quite normal in my home (add the seeds after cooking the pizza though).
Because I like it spicy, I almost always add some chilli powder.
For a more traditional take on a vegan pizza, see below!
Gluten Free & Vegan, Cheese & Tomato Pizza
This cheese & tomato vegan pizza was the original recipe which I posted as a quick hack to a gluten free vegan pizza, but since discovering the hummus & avocado version (with all its varieties) I just had to come back and add it here.
I leave the original recipe here below for you incase you prefer a more cheese & tomato style pizza.
By the way, the 10 minute pizza assumes that you have all the components already prepared and ready for use (vegan mozzarella etc).
First, make a quick vegan mozzarella-type cheese (don't worry, that's easy peasy).
Choose a sauce to use on top (tomato sauce, spicy chilli sauce, sweet potato . . . ) and then choose a couple of vegetables and if you like spice, some jalapeño peppers.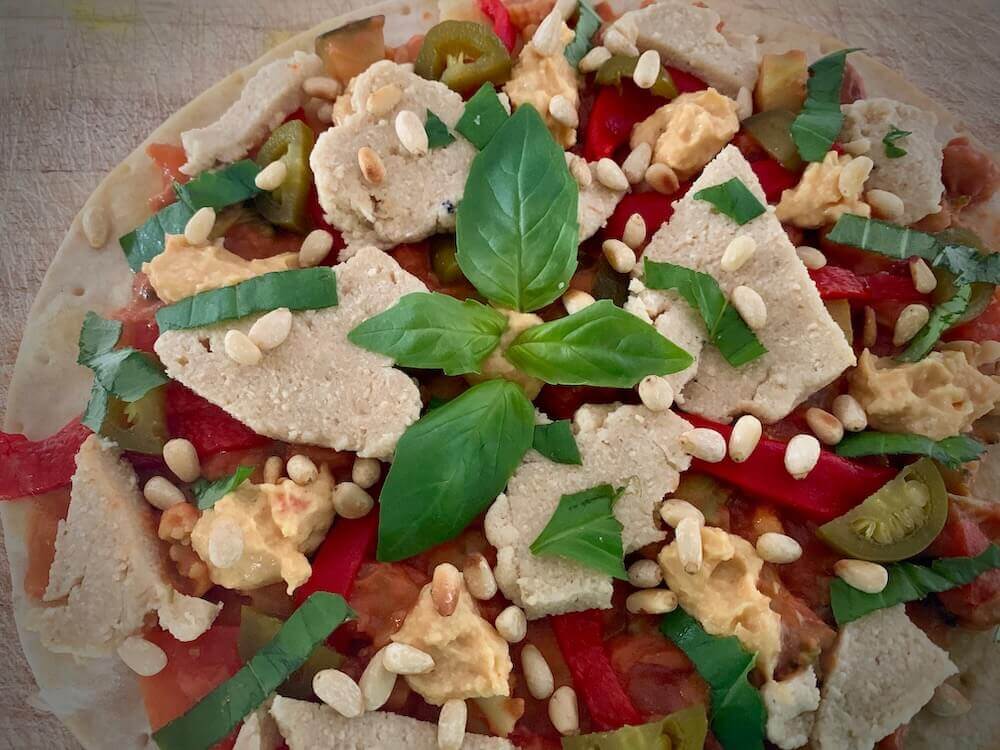 Top it all off with toasted pine nuts and you have a delicious, gluten free vegan pizza. If you make use of ingredients you already have ready-made, this gluten free, vegan pizza can become a quick fallback meal, taking just 10 minutes to put together and cook.
The easiest way to make this gluten free vegan pizza is to use the leftovers from other meals for the pizza toppings. So if you recently made chilli beans, use that as your topping.
If you don't have leftovers handy, then you'll just have to get inventive!
Here is a breakdown of a few variations.
Hack for a Gluten Free Vegan Pizza Base
#1 Use a Gluten Free Wrap!
Heat a tiny bit of olive oil (just a coating on the pan or brush the wrap) and fry the gluten free wrap for a few minutes on each side, until slightly golden.
These gluten free wraps were given to me as a present, but they're too thick (for my liking) for a wrap, but perfect as a pizza base.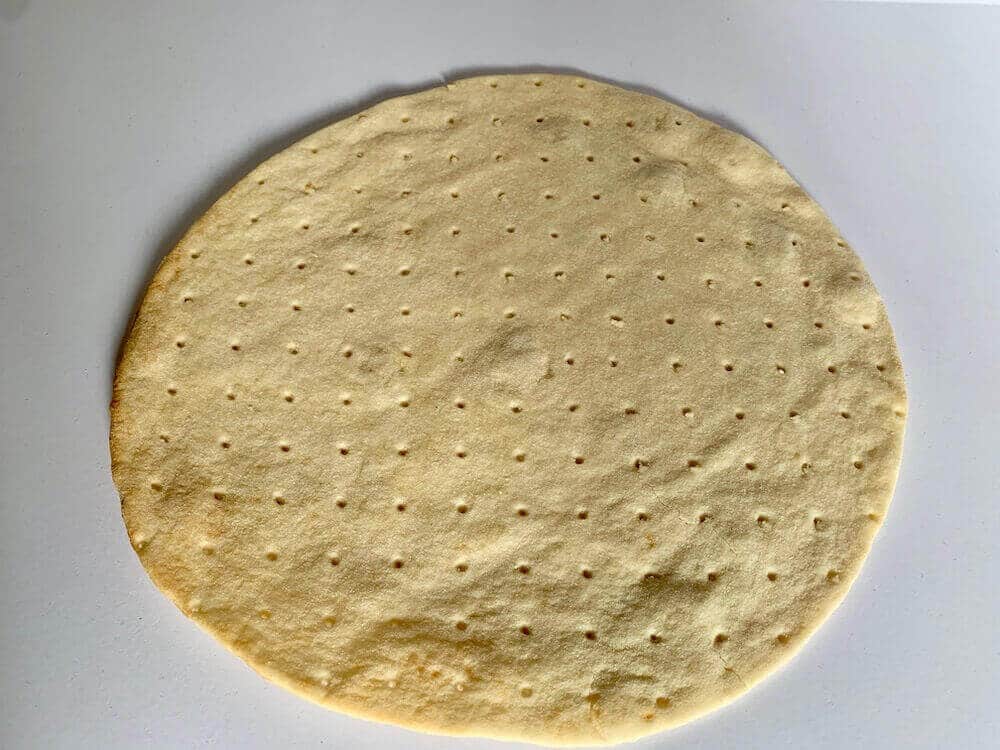 Go for this larger size if you want to make your pizza look like a normal pizza size, but the small wraps also work perfectly.
#2 Make a Pizza-Base-Substitute with Gram Flour
If you don't have any gluten free wraps which you can fry, you can also make a quick cheat-pizza-base using 4 tablespoons gram flour, 1 tablespoon tapioca flour, 1/2 teaspoon bicarbonate soda and a little bit of salt.
You can blend it in the blender if you like, but it isn't necessary.
Mix together while gently adding water until you reach a pancake batter consistency. Leave it to stand for about an hour and then stir again before using.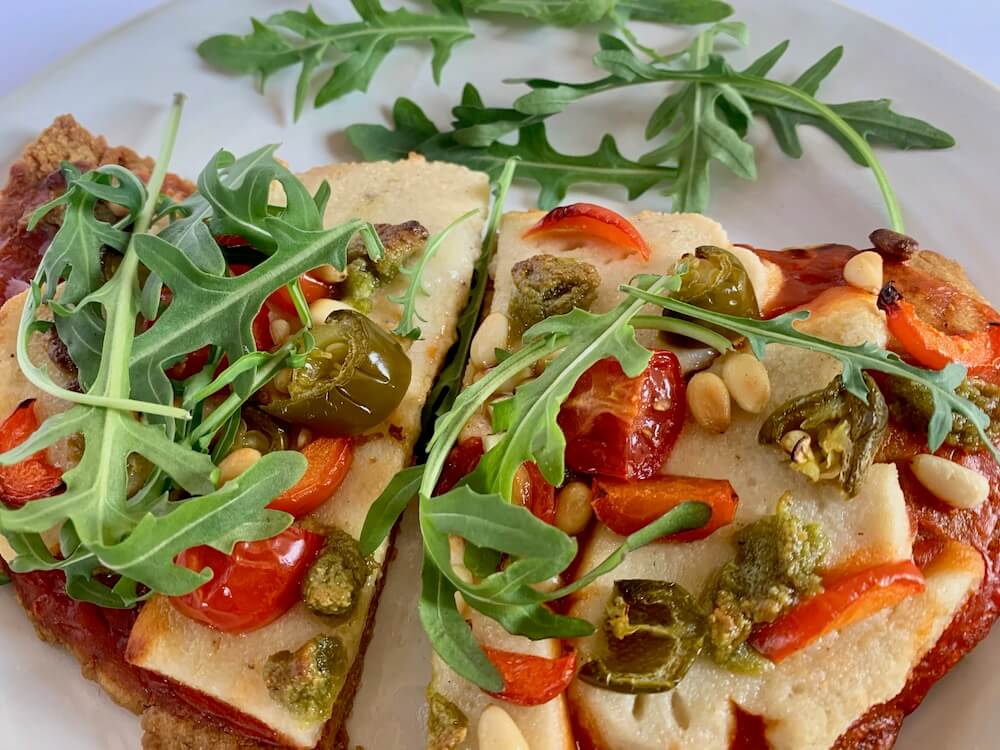 Heat a little oil in a frying pan (enough to coat the base of the pan – use a brush to spread it). Pour in the batter to form a thick layer in the frying pan and cook over a low-medium heat until it starts to bubble.
Gently use a spatula to free the underside of the pizza base and turn it over. If it's ready, it will come free from the frying pan, if not, give it a bit longer.
You'll need to cook it on both sides and you can repeat the process as necessary until you have a golden brown pizza base.
This pizza base is not like a traditional pizza base. This is a quick, make-your-own type, improvised from gram flour to make a replacement gluten free pizza in a short time. It's a useful recipe, but not a prize-winning pizza-base.
Once it's cooked, top it with the toppings of your choice (see below) and bake in the oven for 5-10 minutes. I love it.
Gluten Free Vegan Cheese & Tomato Pizza: Toppings
So if you make some pasta with tomato sauce, get into the habit of making too much sauce and using it for a another recipe the next day, like this pizza for example. The same thing goes when you make chilli bean wraps.
Make too much of the wrap filling and use that as the sauce on your pizza.
If you don't have any leftover sauce, you can make a new tomato sauce or you can just use tomato frito instead, although of course it isn't as healthy as homemade tomato sauce.
Another option is tomato purée but in that case, you should make sure to add something a bit juicy so that the pizza doesn't end up dry.
Vegan Mozzarella
Vegan mozzarella is so unbelievably easy to make, don't be put off, just do it! Take some cashews and soak them in water to soften them. Discard the soaking water and rinse the cashews. Add 1 cup of cashews to your blender.
Add lemon juice to taste (about 1/2 a lemon is normally good) and a pinch of salt. Next add some water, just enough to blend the nuts into a paste. Then add a little more water again and blend again. Continue to add water and blend until you have a thin sauce consistency.
Next, add three tablespoons of tapioca flour and blend. Pour into a saucepan and heat. Continue to stir the cheese for 5 minutes as it thickens and separates more and more from the edge of the pan.
When you're sure that it's not continuing to thicken, transfer the mix into a glass container and allow to cool. Chill in the fridge and you're ready to go.
Red Pepper
You can choose anything you like to go on top of your pizza. I've had great pizza with soft broccoli stems on top, with sweet potato paste and with red pepper. For this pizza I chose roasted red pepper from a jar, just because I fancied it.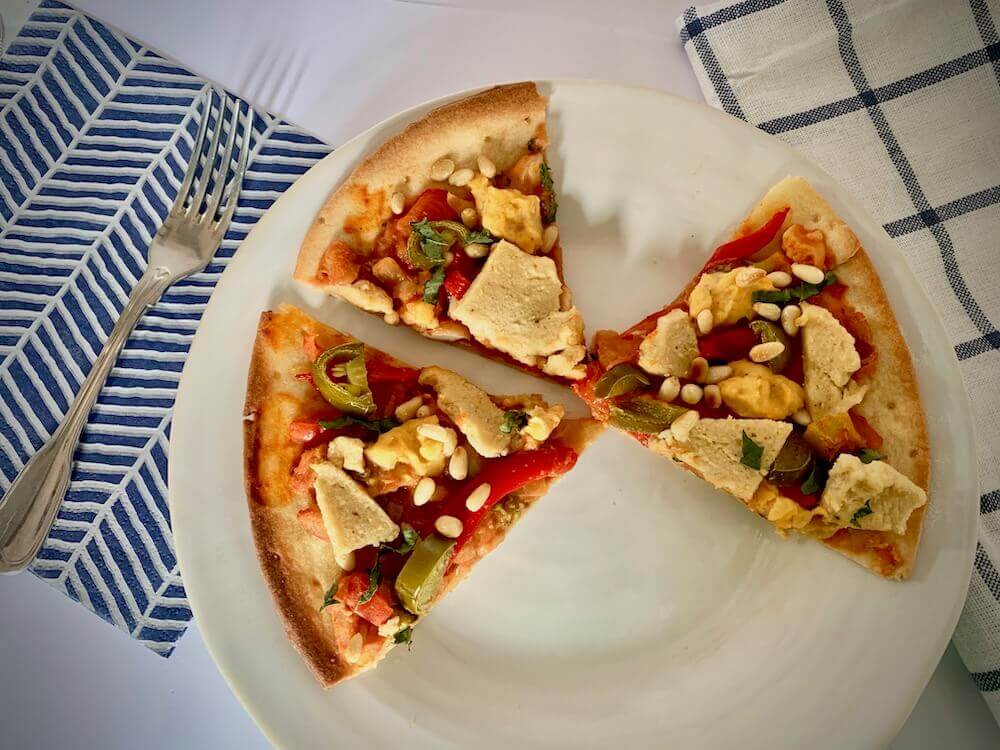 Jalapeños
I love jalapeños at the moment so I put them on anything that 'fits'! And gluten free vegan pizza definitely fits! If you don't have any jalapeños, don't despair, you can sprinkle over some chilli powder instead.
Toasted Pine Kernals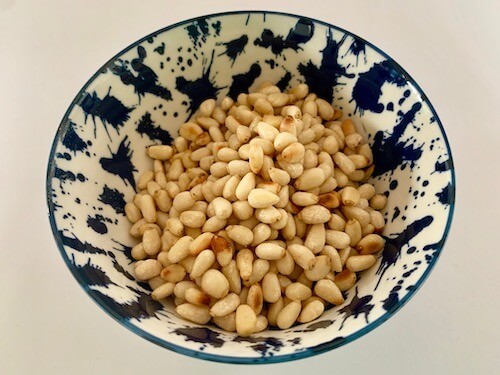 I decided to toast some pine kernels and pop them on top. To toast the pine nuts, heat a frying pan and toss in the nuts.
Let them cook but keep moving them around so they don't burn on one side. It takes about 4-5 minutes for them to go golden.
Fresh Basil
If you've got some, it's well worth throwing some onto your pizza! If not, you could use any herb of choice, basil, oregano or parsley are my top three.
Homemade Vegan Pesto
If you've got some homemade vegan pesto in the fridge, put a few dollops around your pizza alternating with the hummus for and extra yum quality.
Other Toppings
You could top with spicy chickpeas that have been tossed in a pan with cumin, chilli and turmeric.
Consider fresh cherry tomatoes in half if you're not using tomato sauce.
Sweet potato mashed with cumin and spread over the base.
Left over stir-fry for some veggie input.
Putting it All Together
Take the lightly fried pizza base and cover it in a sauce of your choice. Then place some pieces of vegan mozzarella on it and fill the gaps with the rest of the toppings of your choice. You can use veggies, onions, broccoli, red pepper etc as well as the hummus and fresh basil.
Cook it in the oven for 6-8 minutes, keeping an eye on it so that it doesn't burn.
Gluten Free Vegan Pizza – Cheat Sheet Version
Course: Main course
Cuisine: Gluten free vegan
Difficulty: Medium
Gluten free base with vegan toppings making a delicious pizza.
Ingredients
Full sized gluten free vegan wraps

Homemade tomato sauce or use tomato purée/frito.

1 slice roast red pepper from jar (or use fresh) or some tender cooked broccoli spears.

Slices of vegan Mozzerella

Fresh Basil or pesto sauce

Toasted pine nuts

Jalapeño peppers
Directions
Lightly fry the gluten free wrap in a frying pan with a tiny bit of olive oil.
Spread some tomato sauce over the base.
Put some slices of red pepper around the pizza base.
Put some dollops of homemade hummus around the pizza.
Put a few jalapeños around the base.

Add some generous slices of homemade vegan Mozzarella.
Sprinkle over with fresh chopped basil leaves.
Sprinkle over the toasted pine kernels.
Cook in the oven at 200ºc for about 5-7 minutes, watching that it doesn't burn.
Notes
The images make the pizza look dry, but it wasn't at all as it has all the tomato sauce undereath the toppings as well as the blobs of hummus throughout. I just didn't spread the sauce out to the edges.