If you've ever wondered how to make vegan pesto, it isn't difficult, it just depends on finding a supply of fresh basil and pine kernels, but if you can't get your hands on some pine kernels, don't worry, we've got a fix for that too.
You can make vegan pesto using cashew nuts instead of the pine kernels, which makes a sweeter sauce, or you can use a mix of pine nuts and cashews, which is what I've done for this recipe.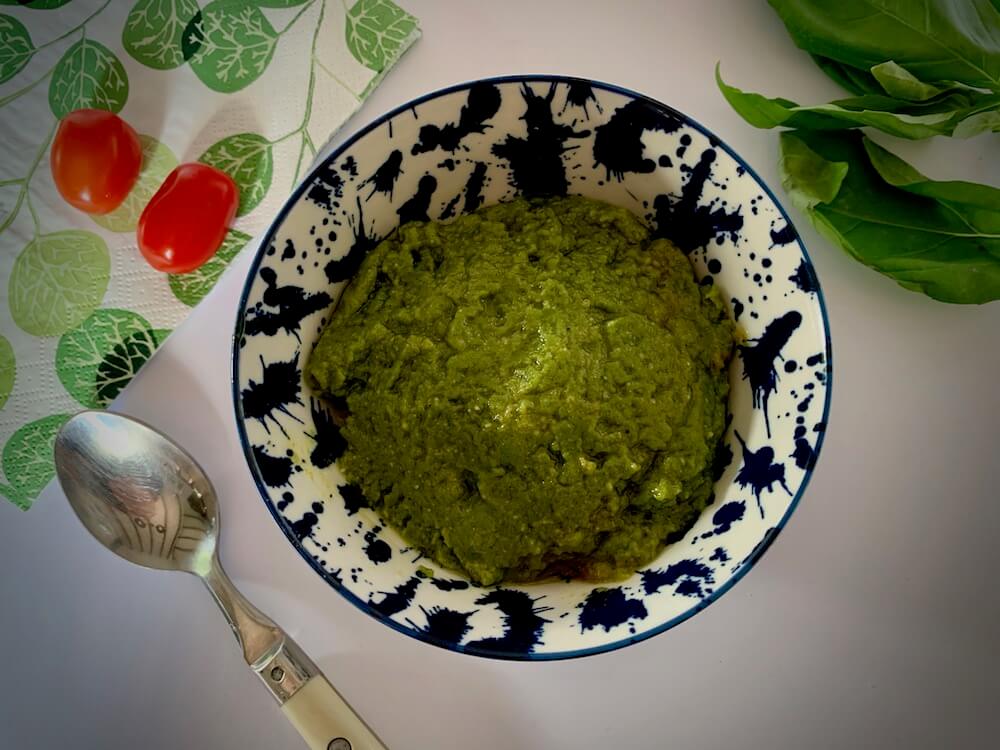 Vegan Pesto Ingredients
Pesto traditionally contains basil, pine kernels, garlic, parmesan cheese & olive oil, so to make it vegan all you have to do is switch the parmesan cheese for something else. The most obvious ingredient for the job is nutritional yeast, which will give the pesto that cheesy tang.
Beyond that however, you need to think about what you want your pesto to turn out like. Thick and rich or thinner and more like a sauce to eat on the side.
If you make a rich pesto, like the one in the image above, you'll need to add a few tsp to the pasta/veg whatever you're making, and stir it in with a little liquid.
You can also use this concentrated type of pesto neat, on your homemade vegan pizza or little spoonfuls into your Buddha bowl or on top of a zucchini carpaccio salad.
But you also have the option of diluting the pesto with a little water to create a more pliable sauce which is easier to handle. It will make the colour go lighter as soon as you add the water.
How to Make Concentrated Vegan Pesto
Put a couple of handfuls of fresh basil leaves, 3 tbs pine nuts and 2 tbs raw unsalted cashew nuts into the food processor. Add 1/2 clove of garlic, a pinch of salt, some olive oil and freshly ground black pepper.
The cashew nuts will blend up smoother if you soak them in advance. You can soak them for a few hours in cold water or 20 minutes in boiling water. The pesto will also come out find without soaking, so it's a matter of personal choice.
Blend together until you get a thick paste consistency. I used to like to make this 'concentrated' form of pesto but since going oil free, I prefer to make it as a thinner sauce that can be used easier (and even eaten from the spoon!)
The pesto in the bowl in the image above is thicker than the pesto you would usually put on your pasta and would need a little diluting to get it to spread.
But one advantage of making it like this is that you can choose if and how to dilute it each time for each different recipe.
In order to make the concentrated pesto, I used olive oil and then I added the juice of half a lemon and a dash of soy sauce.
There are a few options, and I recommend tasting the sauce before adding the extra ingredients to suit your preferences. If you add lemon juice, remember the flavour will mellow & blend in with the sauce when left to infuse.
Optional Ingredients for Concentrated Pesto
You can add more olive oil to moisten it.
A good squeeze of lemon juice will do the trick if you like the tang of lemon in your pesto – which I do!
A liberal dash of soy sauce will deepen the flavour but will also tone down the lovely bright green colour a little.
When you've added the extra liquid of your choice, go ahead and blend again until the sauce is smooth. I like to save a few whole pine nuts to add to the finished pesto, but this time I forgot and blended them all!
Diluting the Concentrated Pesto Before Using
If you leave the pesto in its concentrated form like I do, you'll need to dilute it before adding it to pasta, for example. I prefer to do that rather than dilute the whole lot.
N.B. Adding water to the concentrated pesto changes its colour from dark green to a lighter creamy-green. I prefer the darker, concentrated pesto for eating on cheese biscuits etc.
To dilute or not?
The first option of course is not to dilute at all. That will happen if you want to add a teaspoon of concentrated pesto to a sauce you've already made, or to a nasi rice dish for example, because the pesto will blend in with the rest of the existing dish.
For adding pesto directly onto your pasta, use a few spoonfuls of the hot, cooking-water to dilute the pesto before adding it.
If you're adding pesto to ready cooked potatoes and you already have a vegetable stock made, take a couple of spoonfuls and mix it into your pesto before using.
What to Serve with Vegan Pesto
I'm a great fan of pasta with tomato sauce but sometimes I fancy a simple homemade vegan pesto on pasta or on a variation of pasta salad.
But pesto isn't only for pasta. It's also great on potatoes, rice, quinoa, or on toast or in stir fries. Spread it thinly on (gluten free) cheese biscuits.
If you're not used to making your own vegan cheese you may like to read about how to give up traditional cheese and make your own.
How to Make Vegan Pesto
Course: Sauce
Cuisine: Italian, Vegan, Gluten free
Difficulty: Easy
Easy yummy vegan pesto to go on your pasta, toast, rice or vegetables.
Ingredients
2 cups fresh basil leaves

3 tablespoons toasted pine nuts

2 tablespoons raw unsalted cashew nuts

3 tablespoons nutritional yeast

1-2 cloves garlic

Olive oil

Salt & pepper

Lemon juice

Dash of gluten free soy sauce
Directions
Blend all the ingredients together except the lemon juice and soy sauce.
Taste the thick pesto and decide which liquid and how much of each you want to use to dilute it with.
Add the extra liquid (lemon juice or soy sauce) and blend again until you get the consistency you want for a concentrated pesto.
Put into a bowl or container and keep in the fridge or freezer.
If using in its concentrated form, simply take a bit out of the fridge and add it to your dish or on your gluten free toast or whatever you fancy.
For pasta or potatoes, use the cooking water to dilute the pesto until it's the right consistency for serving on your food.
vegan pesto Recipe Video
Notes
Freeze this vegan pesto in ice cubes & it can be taken out in handy single portions.
Oil Free Basil Sauce
As a variation of pesto, you might like to try this oil free basil sauce instead.
I started out oil free a few weeks ago as part of my 5 steps to beat menopause naturally, and I've certainly learned a lot about how much oil I was using in my cooking!
This oil free basil sauce is absolutely delicious, and is more of a general on-the-side-of-anything-you-eat kind of sauce. I make this and keep it in the fridge to use instead of mayonnaise. I don't actually make vegan mayonnaise anymore, because I prefer cashew nut sauce or this oil free basil sauce.
And it's extremely simple to make!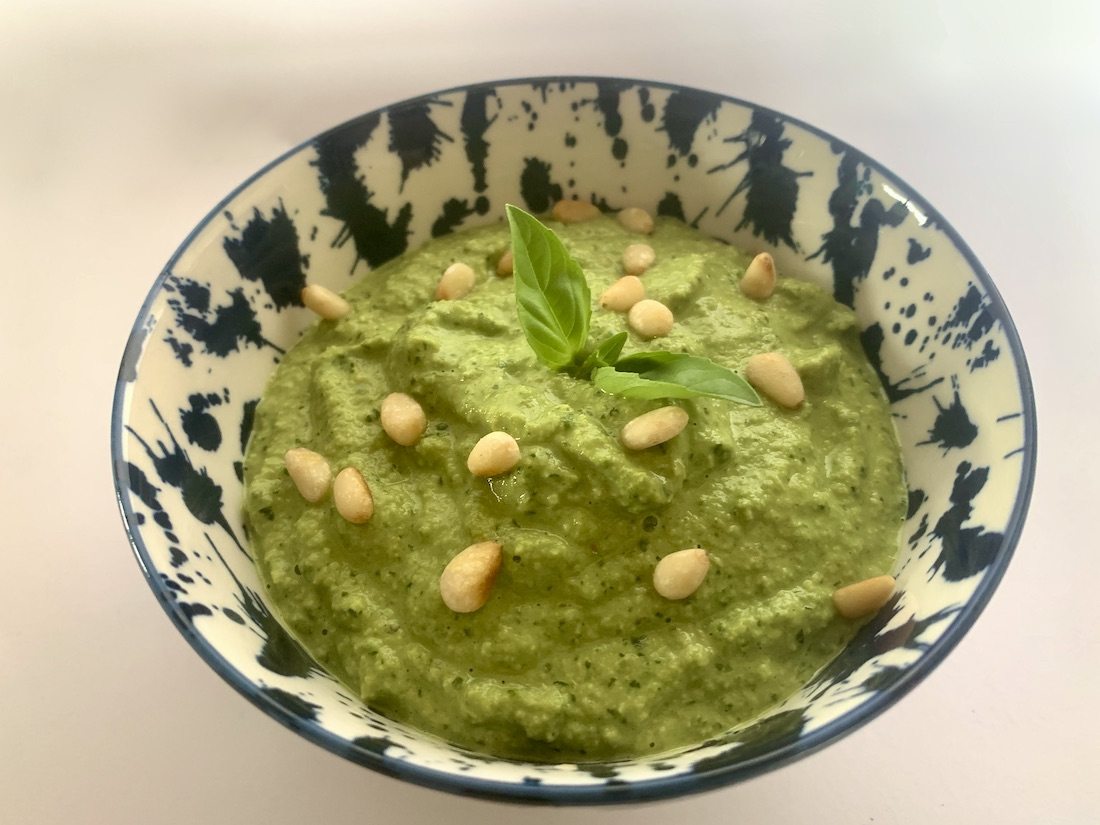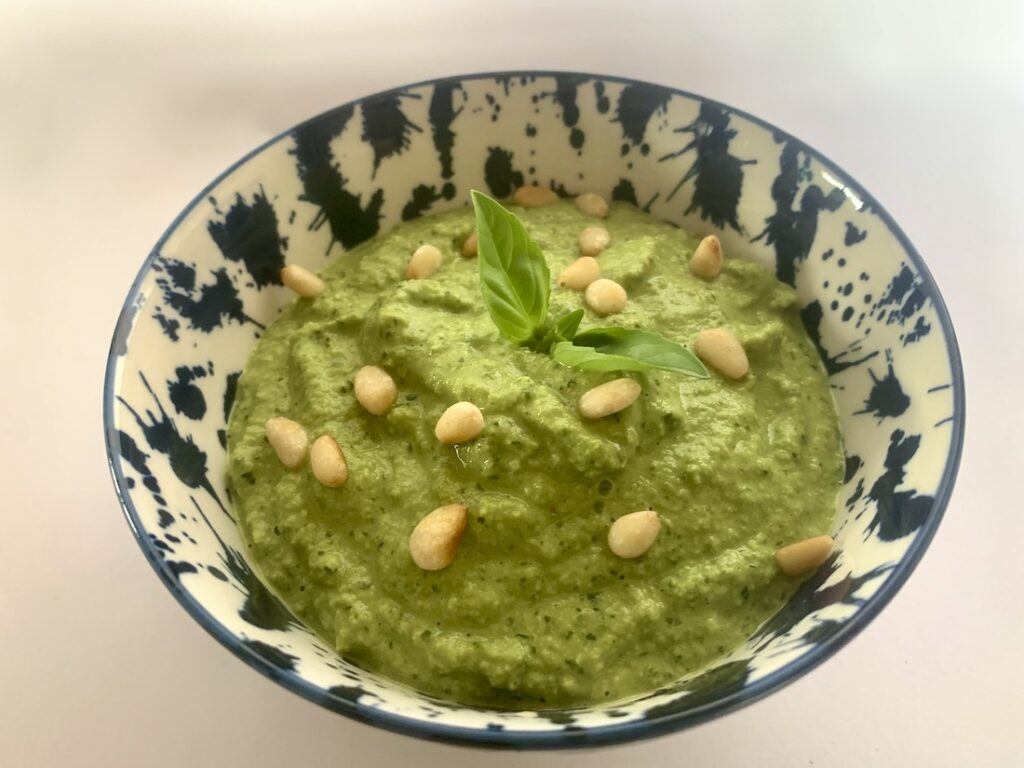 Ingredients for Oil Free Basil Sauce
Lots of fresh basil leaves
Tiny piece of garlic
Dry toasted pine kernels
Raw cashews
1 heaped tsp applesauce
Squeeze of lime juice (or sub with lemon)
Nutritional yeast
Salt
Water
Method for Making Oil Free Basil Sauce
Heat a frying pan and tip the pine kernels in. Sprinkle with salt and leave to toast for 5 minutes before stirring. Leave to cook for another 5 minutes or so and then remove from the heat and use in the recipe.
They are ready when they're beginning to turn brown but they won't taste crunchy until they cool down.
Blend the basil with the garlic and then go on adding the ingredients, adding just enough water to get the sauce to blend and then adding the lemon juice to taste. Make sure to keep tasting and tweaking the flavour as you go.
Save some toasted pine kernels to add back to the sauce whole when you've finished.
Transfer to a jar and keep in the fridge for using to accompany your favourite meals!
If you make this recipe and tag me on Instagram @loveveganliving I will happily share your post.