This tofu tapas is an extremely easy baked tofu recipe which can actually be used as two recipes in one. It is one of my top 5 easy tofu snacks to make.
First off comes the tofu tapas, easy baked tofu recipe served with a cashew, parsley & garlic sauce and a squeeze of lime juice.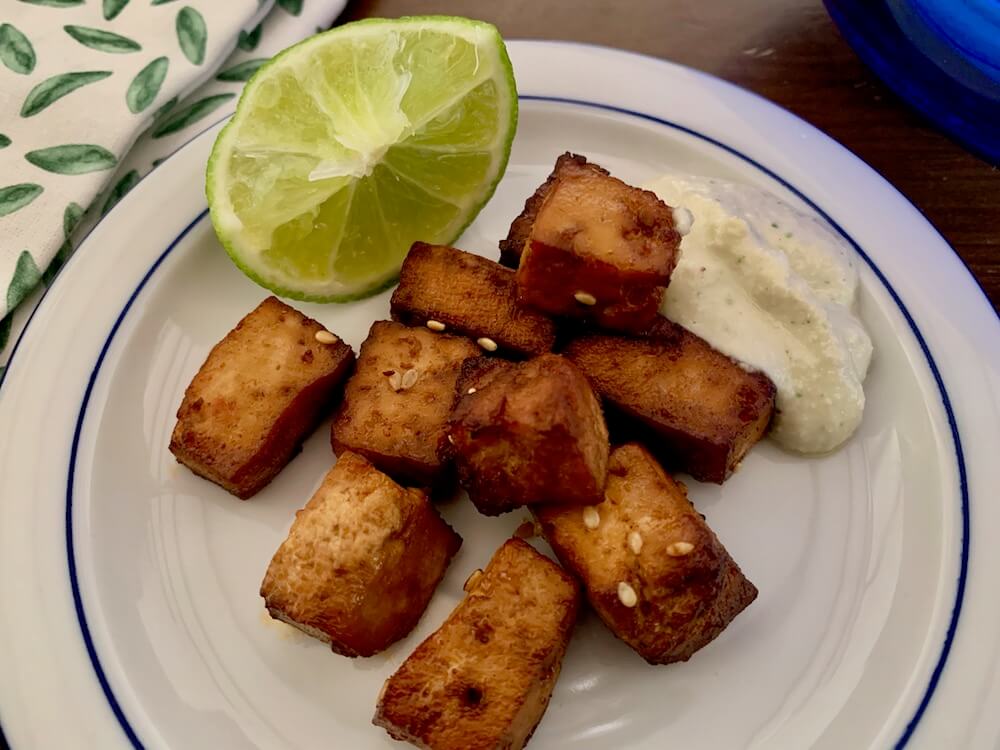 Be sure to bake more tapas than you need so that you can create a complete meal with the second half.
And after enjoying the tapas, add a few additional ingredients to create a complete, delicious complete meal in one.
Tofu Taps – Which Tofu to Use for This Easy Baked Tofu Recipe
The length of cooking time and the final flavour your tofu tapas will depend partly on what tofu you use for the recipe. I prefer to use organic, non-GMO firm tofu.
These days tofu is easy to find, but be aware that there are various types of tofu and some are nicer than others.
And if you think you don't like tofu at all, don't give up after one try. There are loads of ways of cooking tofu and different ways to flavour it too.
Give it time and you'll most probably learn to love tofu.
Different Types of Tofu
Apart from varying from brand to brand, there are different categories of tofu according to their softness.
Silken Tofu
Silken tofu is also known as Japanese style tofu and is quite unlike the other varieties of tofu (as described below). It's very soft, with a creamy texture a bit like a creme-caramel dessert texture.
Silken tofu is often sold from the shelf whereas other tofu varieties are to be found in the fridge. Silken tofu doesn't lend itself to this tofu tapas recipe because it doesn't hold its shape well, being to soft and with a high liquid content.
It is useful for making creamy sauces or desserts or vegan soft cheeses like vegan ricotta or mascarpone. It can also be eaten raw, with some flavouring added. If you add it to a cooked recipe, you'll have to be careful that it doesn't fall apart and bear in mind that it won't absorb the flavours like firmer tofus do.
Firm Tofu
Within the category of firm tofus, there are varying degrees of softness. A tofu from Mercadona supermarket which is sold as 'firm', is actually what I would call relatively soft for a firm tofu while the tofu from Lidl, which is also a firm tofu is much denser and firmer.
So it's a matter of getting to know the tofu that's available to you, and trying them out to see which one you like best.
For this tofu tapas recipe, the firmer the tofu the better.
Firm tofu can be used in stir fries, tofu scrambles, casseroles, as a protein boost to a dish that would otherwise lack protein, as a quick burger on the griddle or chopped into a delicious salad, like a king salad for example, or used to create a Buddha bowl.
The uses for firm tofu are endless.
Each brand of tofu will vary from another brand, but as long as it's firm, it will do fine for this recipe. Beyond that, it's a matter of trying the different brands until you find the one you like best.
For more information on tofu and its health benefits take a look at this tofu scramble recipe, where I discuss the nutritional value of tofu in more depth or read my 5 steps to beat menopause naturally to see why I include tofu in my daily diet right now.
How to Make Tofu Tapas
Squeeze the tofu as much as you can to get rid of the excess liquid.
Either place it under some weight for a while until the excess water comes out, or use some kitchen roll to wrap around it while you squeeze the tofu and let the paper absorb the liquid.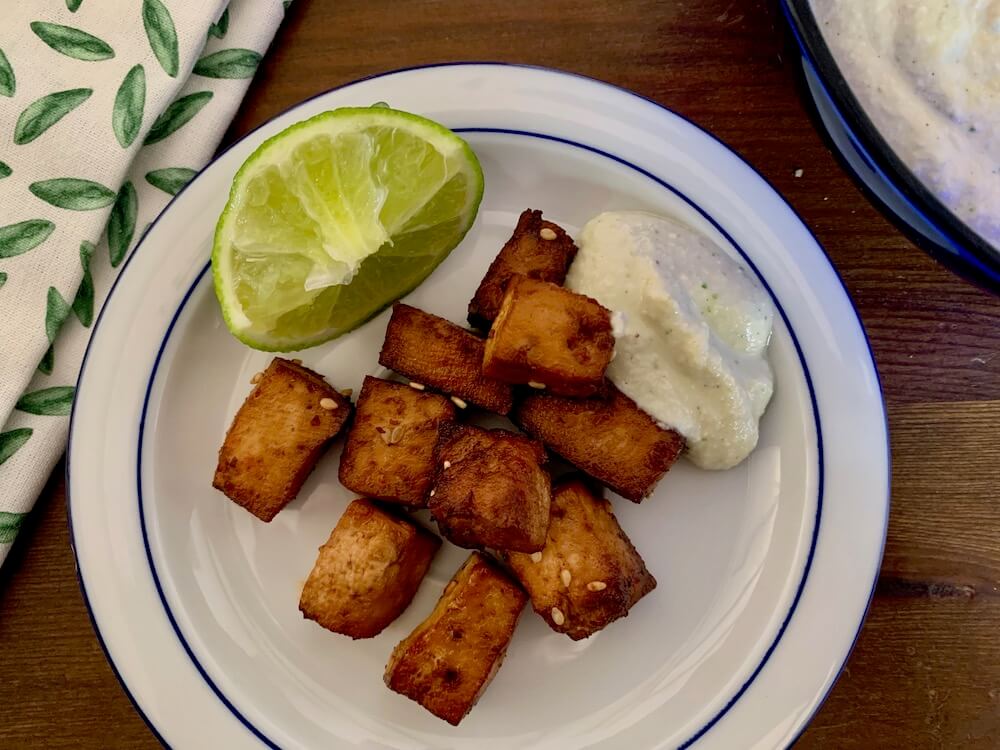 Chop the firm tofu into bite sized squares and put into a bowl. Pour on some gluten free soy sauce, gluten free Tamari, gluten free Ketjap Manis or any other soy sauces you have/like.
Sprinkle on some chilli powder and pour over enough olive oil to coat each piece.
Stir the tofu in the marinade so that it gets equally coated. Leave for a few minutes, then turn over and leave for another couple of minutes.
Sprinkle on plenty of sesame seeds and stir to coat each piece, being careful not to break up the tofu bits.
After a few minutes in the marinade, place the tofu pieces separately in a baking tray on baking paper.
Bake in the oven on 200º until crunchy. The length of time it takes will depend on the size of your chunks and the brand of tofu, but roughly speaking, allow 15-20 minutes.
Half way through cooking, turn the tofu pieces so that the other side gets crunchy.
Serve with a cashew, parsley & garlic sauce and a slice of lime, for an easy but tasty tofu tapas or use as part of a delicious Buddha bowl.
How to Turn Tofu Tapas into a Complete Meal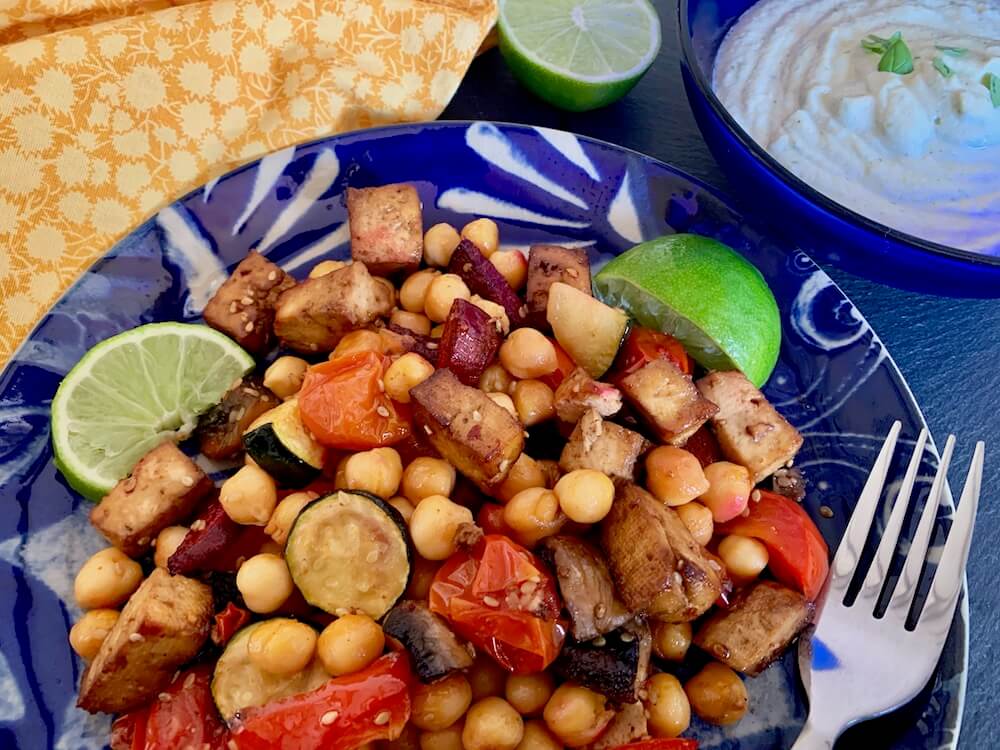 Use the extra tofu tapas which you made to create this complete meal.
Place some chickpeas and an assortment of veggies into a baking pan: zucchini, cherry tomatoes, mushrooms, sweet potato, etc.
Sprinkle on cumin and salt and pour on a little marinade from the tofu marinade.
Place into the oven and leave to cook for 20-30 minutes or until the veggies are looking well-cooked. Re-introduce the tofu to the pan for the last 5 minutes.
You can also make the tofu tapas straight away with the added vegetables and chickpeas.
This tofu meal also tastes divine the next day, served cold as a . . . yes you guessed it . . . tapas!
Making a sauce to go with it is essential and gives the tofu snack its I-can't-stop-eating-this character.
If you fancy making a different sauce, check out these essential plant based sauces or my favourite cilantro pesto sauce.
I love eating this complete meal as a snack.
It tastes great hot or cold and served with a squeeze with lime juice and a cashew, parsley & garlic sauce or cilantro pesto sauce.
For the Cashew, Parsley & Garlic Sauce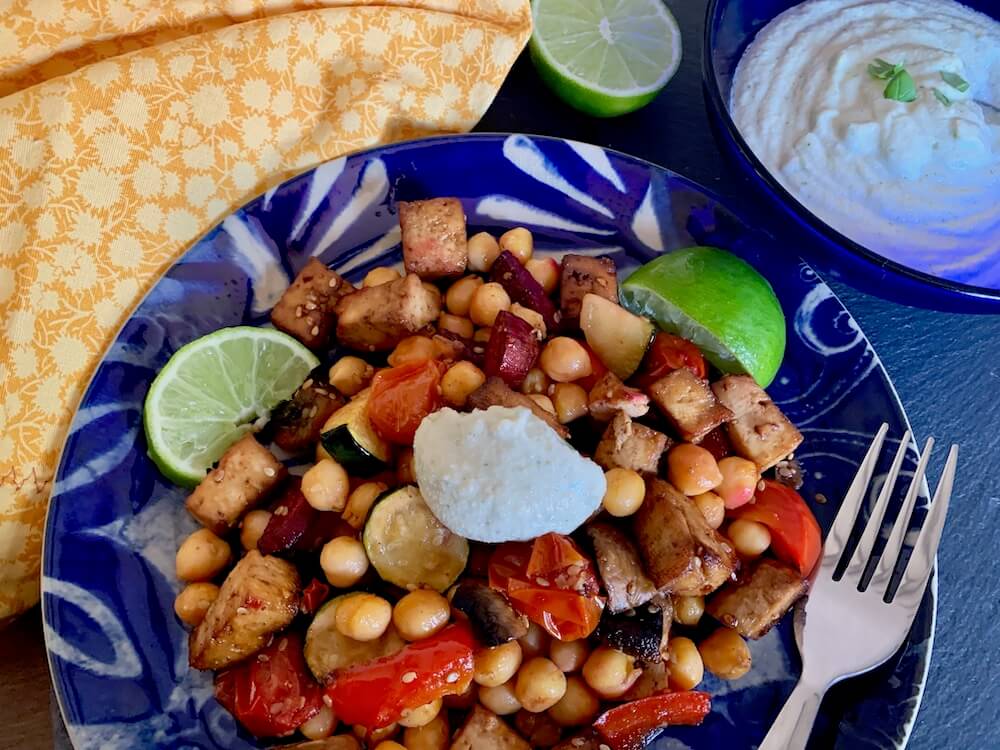 Put a cup of cashews and a small clove of garlic into the blender and add a little water. Blend and scrape down the sides as necessary, until the cashews are ground into a paste.
Add some fresh parsley and a couple of leaves of basil (the basil isn't essential) and a little more water, adding the liquid bit by bit until you have a the right consistency, and keep blending.
Taste the sauce and add apple cider vinegar and a squeeze of lemon to balance out the flavour. Finally, check the salt and put it into the fridge to thicken.
Serve with the tofu tapas or the tofu veggie snack.
Easy Baked Tofu Tapas Recipe
Course: Snack, Tapas
Cuisine: Vegan
Difficulty: Easy
Make this baked tofu for eating as a tofu tapas or as a tofu, chickpea & veggie snack
Ingredients
For Tofu Tapas

1 block of firm tofu

Gluten free soy sauce, various type if you have them

Chilli powder

Sesame seeds

Extra virgin olive oil

For the Tofu, Chickpea & Vegetable Snack

As above, plus . . .

Half a jar of chickpeas

Cherry tomatoes

Sliced zucchini

Fresh beetroot cut into cubes

Mushrooms

1 lime (or substitute with lemon juice & zest)

1 tsp cumin

For the Cashew, Parsley & Garlic Sauce

1 cup of cashews

Fresh parsley leaves

A couple of leaves of fresh basil (optional)

1 small clove garlic

Apple cider vinegar

Squeeze of lemon juice
Directions
For The Tofu Tapas
Squeeze out the liquid from the tofu.
Put the tofu in a bowl and pour over a little soy sauce. If you have various types, mix them. Stir the tofu to cover it well in the soy sauce.
Pour on some extra virgin olive oil, just enough to coat the tofu, followed by plenty of sesame seeds and some chilli powder. Leave the tofu for a few minutes, then turn it over to coat the other side.
Line a baking tray with baking paper and place the tofu in the baking tray, each piece of tofu separated so that they don't touch.
Bake in the over at 200ºc until brown and crunchy (approx 15 mins), turning half way through cooking.
For the Complete Tofu Meal
Cook the tofu as above.
Add chickpeas and an assortment of vegetables to the baking tray, including cherry tomatoes.
Sprinkle with a little cumin and salt and return to the oven until the veggies are well cooked.
Drizzle with a squeeze of lime juice and serve with garlic & parsley sauce (see above).
Notes
The complete tofu meal is also delicious eaten cold the following day. Switch the veggies for whichever ones you have handy.
Enjoy your tofu!