Sometimes it's great to prepare this easy & tasty vegan potato casserole so you can just put it in the oven and forget about it until it's ready to eat.
All the preparation is in advance, which makes it a great meal for sharing with friends.
And it's flexible so you can make it as a potato dish for sides, or add vegetables (& other ingredients of choice) to make it into a complete main dish.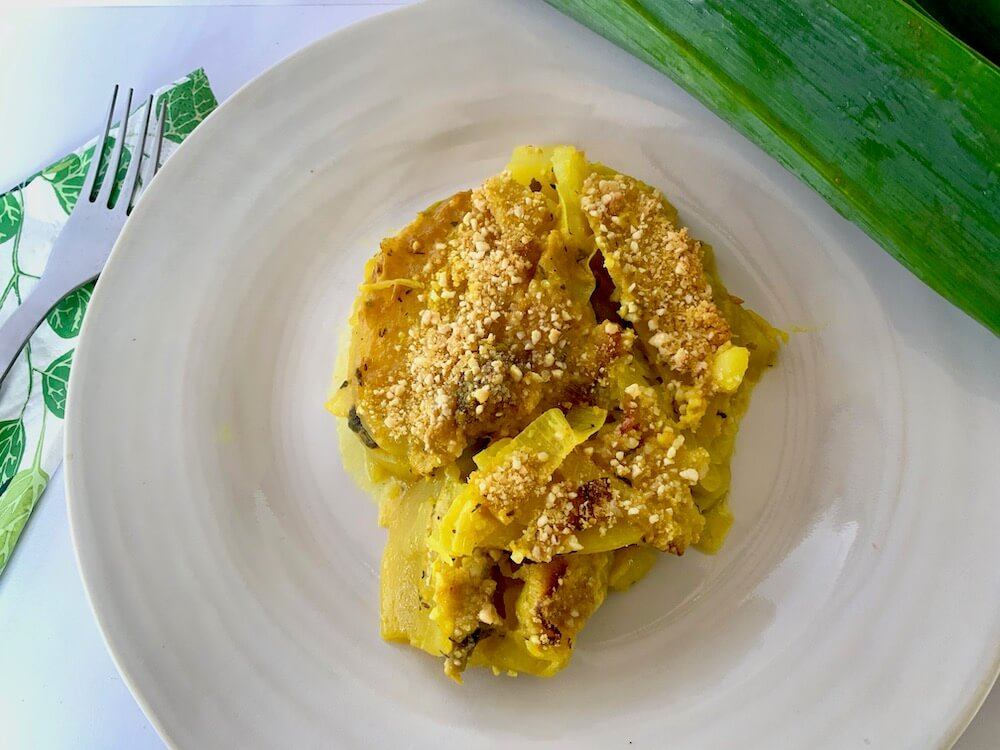 Easy Vegan Potato Casserole
This easy vegan potato casserole is basically a few thinly sliced potatoes, cooked in almond milk with onion and leek.
Chop 1 leek, 1 onion, 2 cloves garlic and gently fry in olive oil with salt for about 10 minutes. Add 5 thinly sliced potatoes and 1/2 tsp turmeric, 1 tsp thyme and a good sprinkle of salt.
Cook for 5 minutes, stirring to coat in turmeric then pour in a cup of almond milk.
Transfer the whole lot to a baking dish and add a little extra almond milk until it covers the bottom layer of potatoes, which with my dish was about one and a half cups of milk.
You can check it by looking through the side of the dish; the milk should come up to about a centimetre or a little more.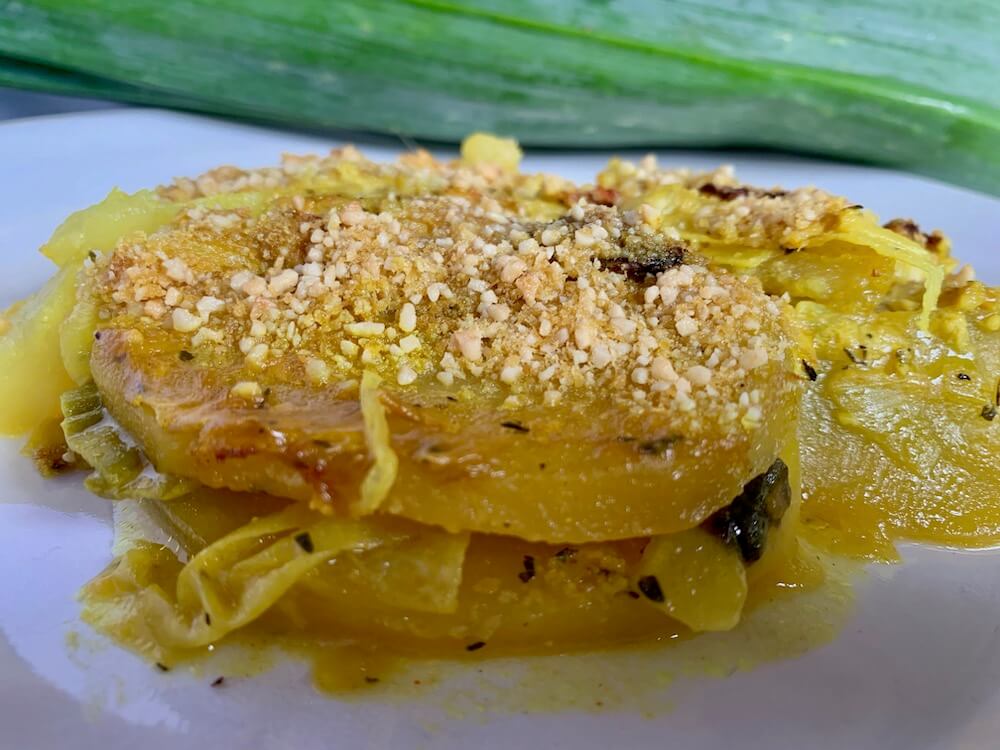 Cover the top of the potato layers with cashew sauce (see recipe below), sprinkle with nutritional yeast or homemade parmesan and put in the oven on 190ºc for another 45 minutes, or until cooked through and slightly golden brown on top.
Serve with homemade vegan balls and a side salad or with a high protein king salad.
Vegan Potato Casserole Cooked with Vegetables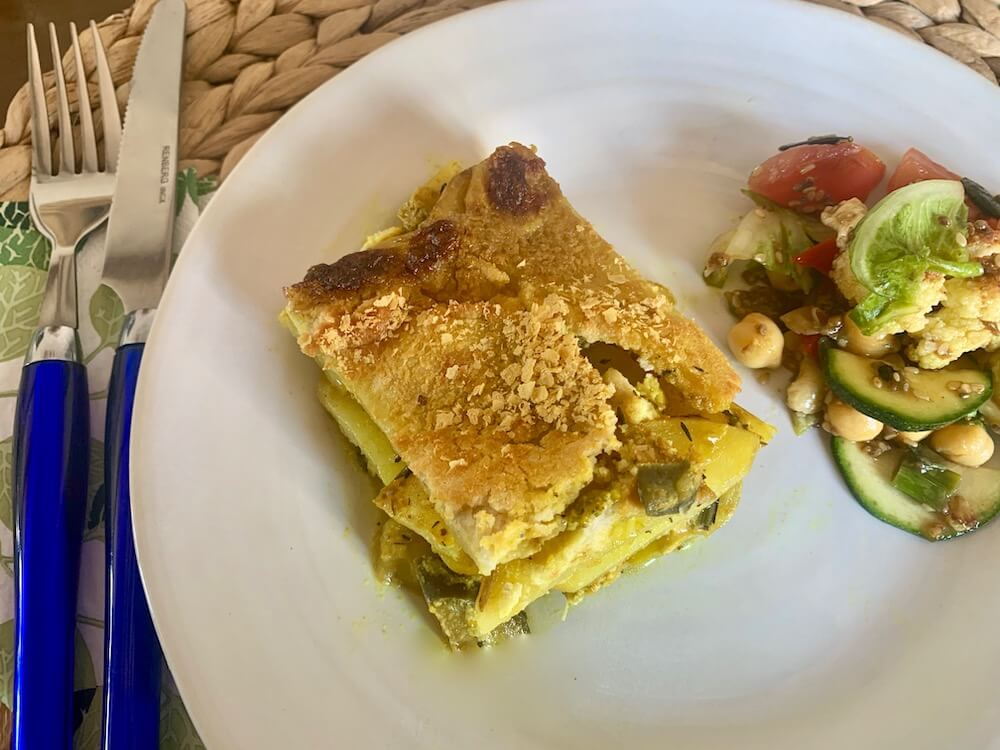 You can make the same casserole but with added vegetables, lentils, chick peas or beans. The principle is the same, you're just baking the veggies with the potatoes in almond milk.
Method for Making a Vegan Potato Casserole with Added Veggies, Lentils or Beans
First, chop a leek and an onion and 2 cloves of garlic, and fry them in a little olive oil with salt.
After a few minutes, add the veggies. I chopped an eggplant into small squares and added a sliced zucchini, and add some extra salt.
Fry for a few minutes and then add any softer vegetables like some chunky mushrooms.
Stir fry and add 1 tsp turmeric. Sprinkle with thyme and a dash of soy sauce, tamari or kecap manis.
It takes about 10 minutes in the frying pan/wok before you can transfer it into a casserole dish.
Sprinkle on a little chilli powder and pour on 1 glass plant milk.
Next, lightly toss the thinly sliced potato in the pan with a little more turmeric, and sprinkle with thyme and salt. Layer on top of the veggies. Do 2-3 shifts until you have about 3 layers of potatoes.
Pour a dash of soy sauce over the potatoes, then cover the top of the casserole with cashew sauce (see below), and a sprinkling of nutritional yeast.
Pour on an additional 1/2 glass of milk, pouring into each corner.
It takes about 30 minutes to prepare the casserole. Cook on 200ºc for about 45 minutes.
For the Cashew Sauce
See the full cashew sauce recipe for a more detailed process, but basically, it's so simple to make.
Easy Vegan Potato Casserole
Course: Main course, Side course
Cuisine: Vegan
Difficulty: Easy
Easy potato casserole as a main dish or a side dish.
Ingredients
Potatoes, thinly sliced

1 leek

1 large onion

tsp turmeric

salt

Olive oil for cooking

1.5 cups almond milk

1 cup cashew sauce

Nutritional yeast or vegan parmesan

For making the potato vegetable casserole:

zucchini, eggplant & mushrooms or other vegetables of choice
Directions
Gently fry the leek and onion in a little olive oil with salt.
If using vegetables, add the vegetables and some more salt and fry in order of hardness, adding the mushrooms last. Sprinkle on a tsp of turmeric and a tsp of thyme and fry some more. After 10 minutes, transfer the vegetables to the bottom of a casserole dish.
Add the sliced potatoes to the frying pan (with the leek and onion if making plain potato casserole, or with the veggie mix removed if making potato vegetable casserole).
If making the potato casserole with additional vegetables, add a little oil and turmeric to the pan before tossing the potatoes in the pan to coat with turmeric. Sprinkle on some more thyme and lightly fry for a few minutes.
Transfer the potatoes to the casserole dish and cover the top with about 1 cup of cashew sauce followed by some nutritional yeast or vegan parmesan.
Notes
Perfect for making in advance for a hassle free meal later.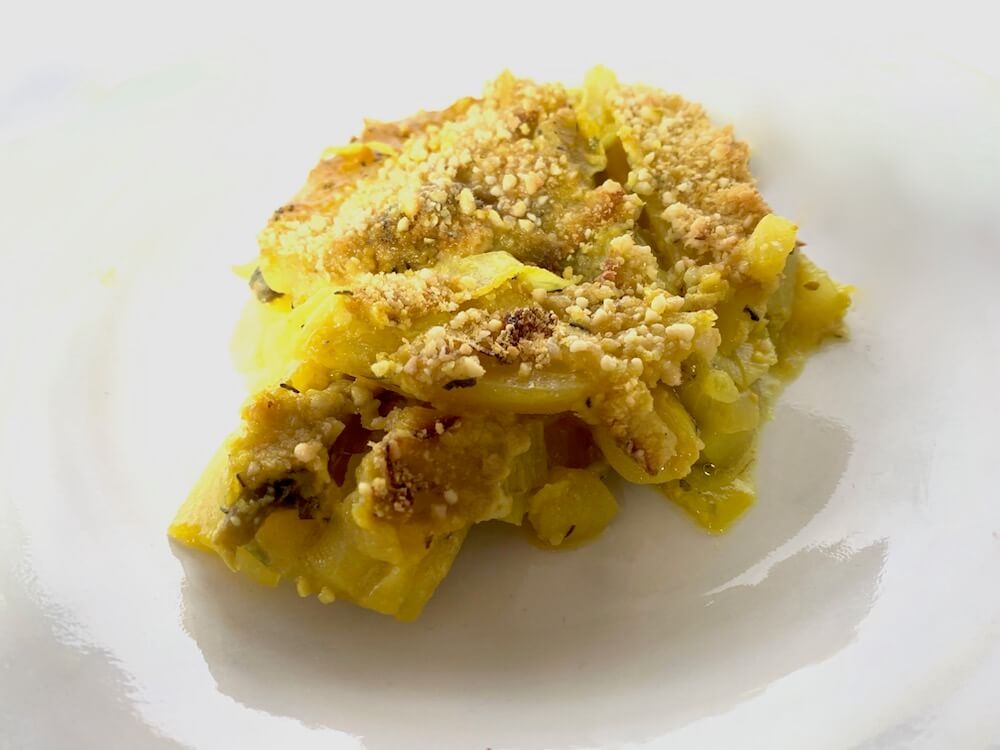 Other Hassle Free Vegan Meals
Other than this hassle free potato casserole, there are so many staple dishes to serve when you don't want to spend too much time in the kitchen. Cooking in an air fryer is one of the most relaxed way of cooking ever.
There's also a zucchini potato casserole recipe with tofu or a no-pasta zucchini lasagne.
Another way to save time in the kitchen is to make lots of tomato sauce or oil free tomato sauce and whip up different meals each day, using the pre-cooked tomato sauce as the basis, thus cutting down on the time you spend in the kitchen.
Making a vegan nasi-inspired vegetable rice is a great option because all the work is done in advance, making it another hands-off option. And the same thing goes for a bami inspired veggie noodles dish as the noodles only take 3 minutes to cook and the rest can be done in advance.