In today's post I'm going to share how to make a delicious vegan Spanish omelette – and yup incase you didn't know it, you can have a delicious tortilla Española without eggs!
So the saying goes: you can't make an omelette without breaking eggs. Oops well now you can! Just like you can enjoy a delicious & completely vegan version of the most famous dish from Spain, the Spanish paella.
This eggless omelette recipe is really incredible and got huge thumbs up from my non-vegan husband. And the bonus? It only needs 7 ingredients.
Just like any Spanish omelette, this takes a little bit of putting together, but it's well worth it.
If you eat it hot it stays gooey in the middle, but if you allow it to cool down (even if you then reheat it) you get a solid tortilla. So which do you prefer gooey-in-the-middle tortilla or solid omelette?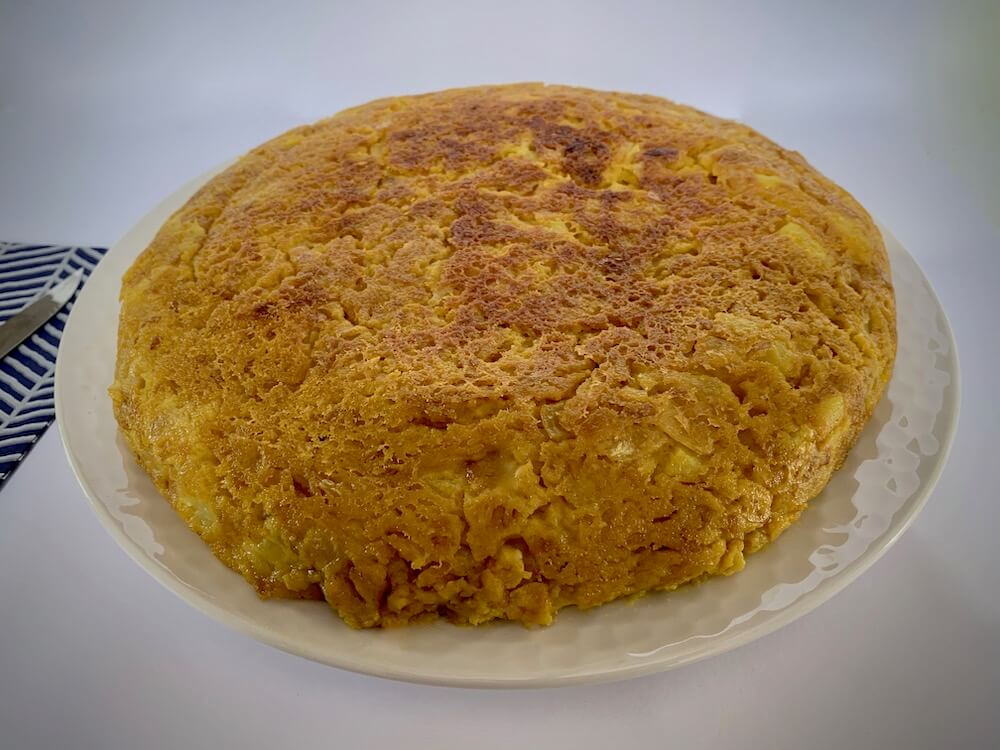 There are loads of different ways to make a vegan Spanish omelette, many of which I've tried. But this is the best one ever in my opinion – for its taste and also for its similarity to an authentic Spanish omelette.
If you've recently cut down on eggs and/or dairy, you'll know all about the learning curve when first discovering how to make vegan egg dishes or how to include vegan cheeses in your life, or even how to make a vegan cheese substitute like this vegan cashew cheese with jalapeños.
You may also be wondering how to make those favourite recipes which you used to make with dairy, like this vegan eggplant parmesan recipe for example.
How to Make a Ridiculously Delicious Vegan Spanish Omelette
The basic plan is simple: you cook the potatoes, the onions and some garlic, and meanwhile you prepare a thin paste which constitutes the egg replacement.
You mix them together and cook the whole thing in a dry frying pan with a lid, or in a tortilla pan. As always, there are various ways of making this recipe so I will include some options here below.
Frying the Onions & Garlic for a Vegan Spanish Omelette
An important part of the flavour comes from the fried onions and garlic. Put a little olive oil into a frying pan and heat on a low to medium heat. Add the garlic and chopped onion and allow to fry slowly until cooked.
Add the turmeric and fry for a few more moments.
I like to add salt at the beginning because I think it brings out the flavour of the onions, but if you're on a low sodium diet, you can leave out the salt or just add a little.
If, like me, you're interested in a whole foods plant based diet, then you may be interested in making this vegan Spanish omelette without the oil, in which case, just dry fry the onions, adding a tbs of water as necessary.
Cooking the Potatoes for a Vegan Spanish Omelette
My favourite way to cook the potatoes is to steam them whole first. If you don't have a steamer you can steam them by putting a little bit of water (1 cm) in the bottom of a pan and covering with a tight lid.
Make sure the water doesn't all evaporate and result in a burnt pan. (If it does run dry, just add another cm of water to the pan and carry on steaming.)
When cooked (but not overcooked), peel and chop into large chunks. (If you don't want to steam the potatoes, you can follow one of the variations below.)
Then, once they're cooked, it's easy to peel the skin away and chop the cooked potatoes before putting them in with the onions and garlic and allowing them to get a little bit sautéed. This method gives the most flavour in my opinion!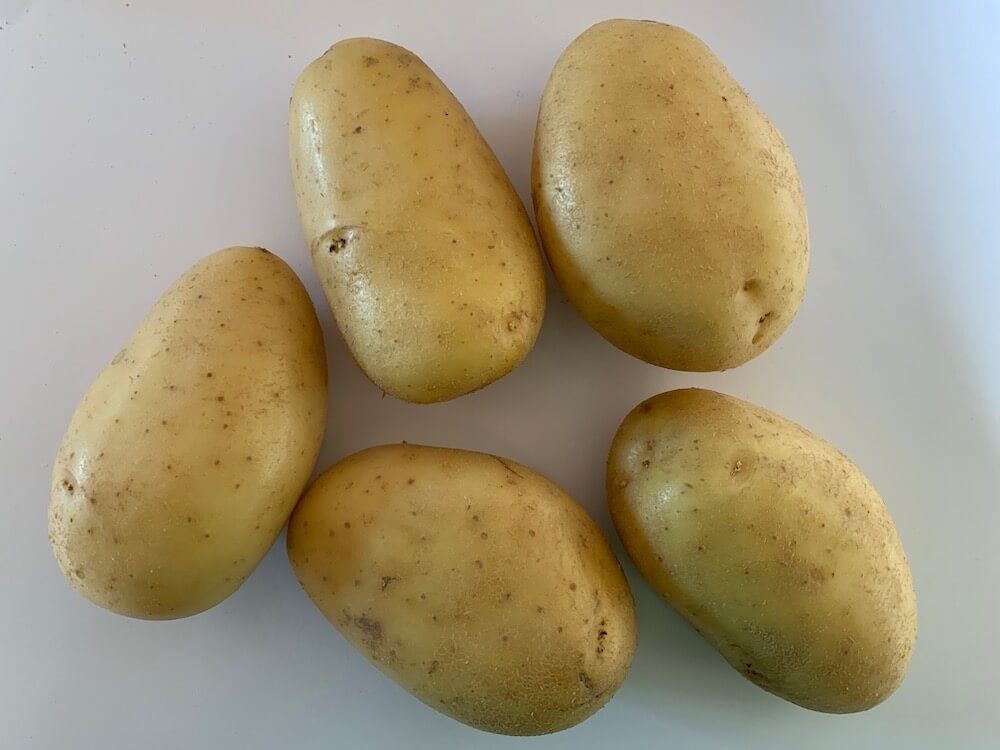 Variations for Cooking the Potatoes
Fry the onions with garlic and after a few moments add the peeled & chopped potatoes. Fry in deeper oil slowly until well cooked through, then drain off the excess oil.
Peel potatoes and chop them into cubes, then steam or boil them to par-cook. When they are par-cooked add them to fry with the onions and garlic, once the onions are already translucent.
Making the Omelette Mix for Your Vegan Spanish Omelette
Take the measured out cashew nuts and flax seed to a small blender and grind as much as possible. When you can't grind them any more, add a little water from the measured out water and carry on grinding.
Add the tapioca flour, turmeric and salt to taste and grind some more. Keep adding water to increase the paste quantity. If you use a small blender like mine, you won't fit all the water in it but it doesn't matter as long as everything is properly ground up.
My blender is the type that has a small container which you fit a hand blender into. A hand blender alone won't grind the nuts or flax seed properly.
Transfer the mix to a saucepan and stir in the remaining water. Stop if the mixture is getting too runny. It should be a thick consistency.
Secrets for the Best Vegan Spanish Omelette
I'm blown away by this recipe because I really think it's the best vegan Spanish omelette out there. The secrets to the success of this recipe lie in the cooking of the onions potatoes and the mix to replace the eggy omelette part. So that's just about everything then!
Vegan Spanish Omelette: the Onions
Make sure that you fry the onions long and slow so that their flavour really gets through. This is an important step because a lot of the final flavour comes from the onions.
Whether or not you choose to include garlic is of less importance: if you love garlic, use it and if you don't: leave it out, no problem. Even if you use it, you can't actually taste garlic in the finished tortilla.
The onions can be cut larger or smaller without altering the flavour. I like to cut them reasonably small so that they blend into the final tortilla better.
Vegan Spanish Omelette: the Potatoes
You can cut the potatoes into big chunks or smaller cubes. Both work well, but if you steam or boil the potatoes and they're cut too small you run the risk of them disintegrating and losing their form.
If I were frying the potatoes from the start, I would chop them into small cubes so that they cook through quicker but if I were par-boiling them, I'd cut them slightly larger. And if I'm steaming the potatoes, I just leave them whole and cut them large, after peeling them, after cooking.
Method for Cooking the Vegan Spanish Omelette
The thing to remember when cooking this vegan Spanish omelette is that the mixture that replaces the eggs, well, it isn't egg so don't expect it to cook in the same way as an egg would.
If you were to keep cooking an egg omelette it would cook through in the middle, but even if you keep cooking this omelette, it will stay soft in the middle, resembling a paste still.
And this is much more delicate to move around. Don't worry, the paste becomes 'omelette' when it's had a few moments to settle after cooking.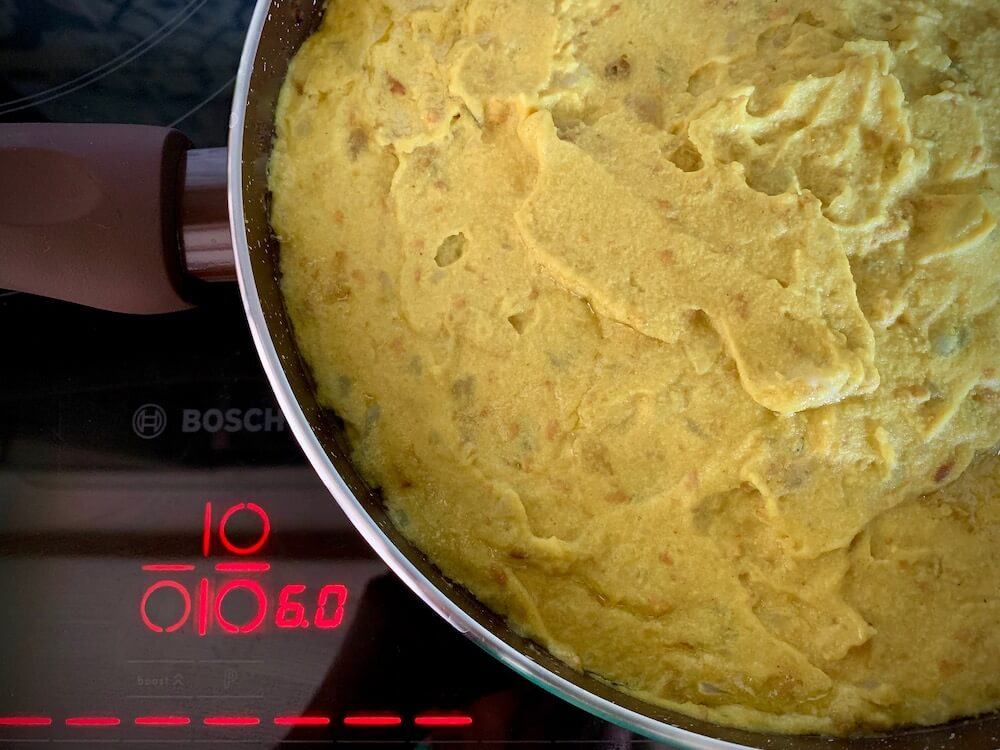 So aim to have the exterior of the omelette cooked to perfection and forget about the middle for now because once it's cooked it will start firming up in the middle. I started out using a 6 for the heat and then reduced it to a 4.
When you take the omelette out of the pan, it won't 'move' from pan to pan as easily as an egg omelette does. Instead it still moves a bit like a paste, so you have to be extra careful with handling it (just until it's cooled a bit).
Once the omelette has been out of the pan for a few minutes the consistency improves and the omelette becomes totally sliceable like an egg omelette. I like to eat it with some cashew sauce on the side, but then again, I like to eat cashew sauce with everything!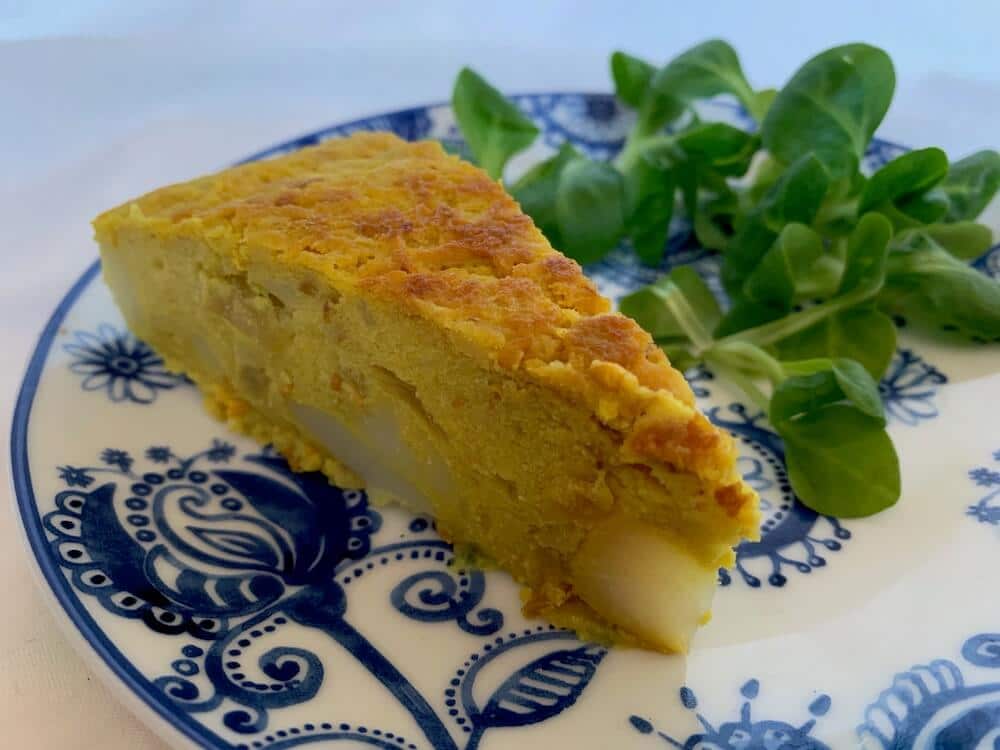 Recipe for Vegan Spanish Omelette
Vegan Spanish Omelette Recipe – Tortilla Española
Course: Main Course
Cuisine: Spanish
Difficulty: Moderate
Delicious vegan Spanish omelette
Ingredients
4 potatoes

1 onion

1 clove garlic

1/2 tsp turmeric

Olive oil for cooking

For the Egg Replacement Mix

6 tbs cashews, finely ground

2 tbsp flax seeds

1 tbs gram flour

1 tbsp tapioca flour

Salt to taste

1.5 mug water
Directions
To make the egg replacement, finely grind the cashews. It can help to soak the cashews in hot water for 15-20 minutes first if your grinder isn't super powerful.
Add the gram flour, tapioca flour & flax seed, then blend together with the 1.5 mug of water and a little salt. Set aside.
Next, gently fry the onion and garlic with a little salt, until almost cooked. Sprinkle on the turmeric and fry for a few more minutes.
Add the drained, steamed, chopped potatoes and fry for 5 minutes.
Pour the egg replacement mix into the potatoes & onions and stir well. The whole mix should turn yellow.
Place into a frying pan or tortilla pan and cook on a low-medium heat for 30 minutes each side.
To turn the omelette place a plate over the top of the frying pan and flip it over so that the omelette sits cooked-side-up on the plate. Then carefully slide it back into the frying pan to cook the raw side.
Notes
To make the omelette quicker, just reduce the ingredients to make it shallower.
It tastes delicious!!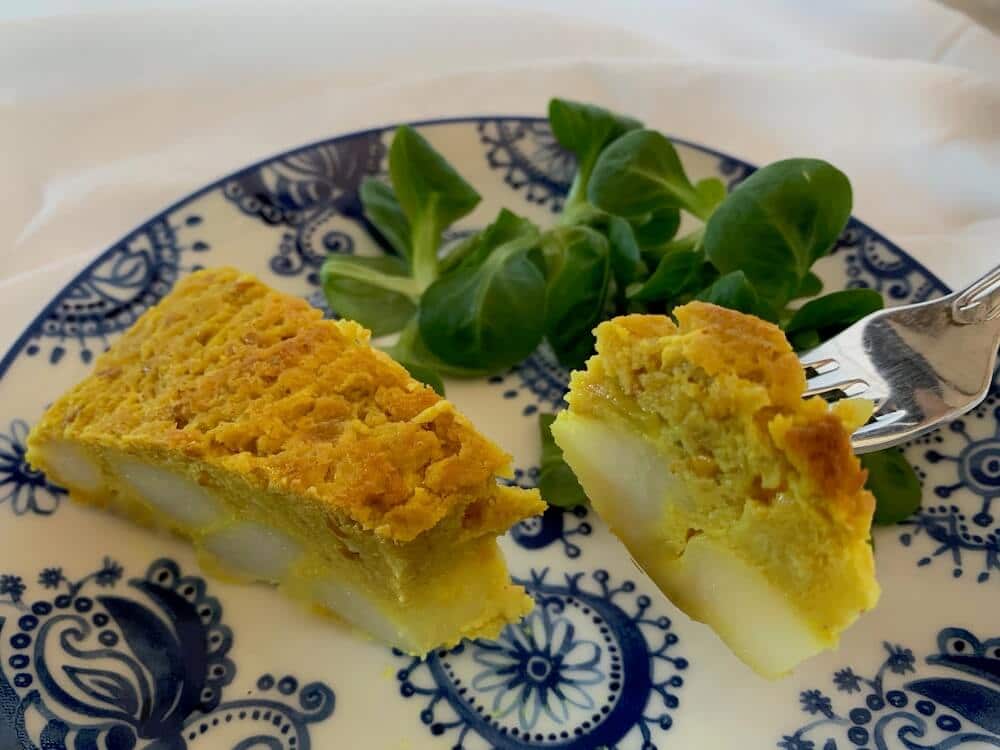 This recipe has got to be one of my favourites. For a light lunch, serve it with a tasty green salad, or with chickpeas, or chilli beans for a more filling meal.
Or why not serve a slice topped with chopped jalapeños peppers and homemade vegan mayonnaise?
This looks like an omelette, behaves like omelette and tastes like (or better than) and omelette (and yes of course I admit it, I'm biased). It's my favourite for sure. How do you make your vegan Spanish omelette?
If you're a fan of Spanish cooking, why not check out this vegan 'pisto' recipe, this broad bean recipe from Spain, or the delicious vegan paella.
Why not come and join me on Instagram @loveveganliving