This delicious and easy vegan cauliflower cheese recipe is also gluten free and quick to make.
And did I mention tasty?
In fact, this is one of the quickest ways to make a vegan cheesy sauce, and it's one of my favourites.
Sure, there are other sauces which I love too, but this one has earned its place!
Cauliflower in General
Cauliflower is a healthy food. It's full of fibre and antioxidants and is believed to be an anti-cancer food. Not only is it healthy, but it's filling and versatile too.
Cauliflower can be blitzed into cauliflower rice, which can be used in place of rice, or mashed in place of mashed potato, used for a cauliflower rice salad or as a snack in its own right.
Cauliflower can be roasted in the oven, fried in a little olive oil, eaten raw in a salad or as crudités with a yummy homemade hummus, made into a cauliflower soup, or tasty cauliflower bites.
And if you think you don't like cauliflower, take a look at this post on how to make cauliflower taste great even if you don't like cauliflower.
In fact, although you might not know it, cauliflower's one of the most versatile vegetables out there.
And the most famous cauliflower dish?
Well in this area of Spain it would be the tapas de coliflor but I'd guess that in the UK it's cauliflower cheese.
I mean who hasn't eaten cauliflower cheese at some point in their life?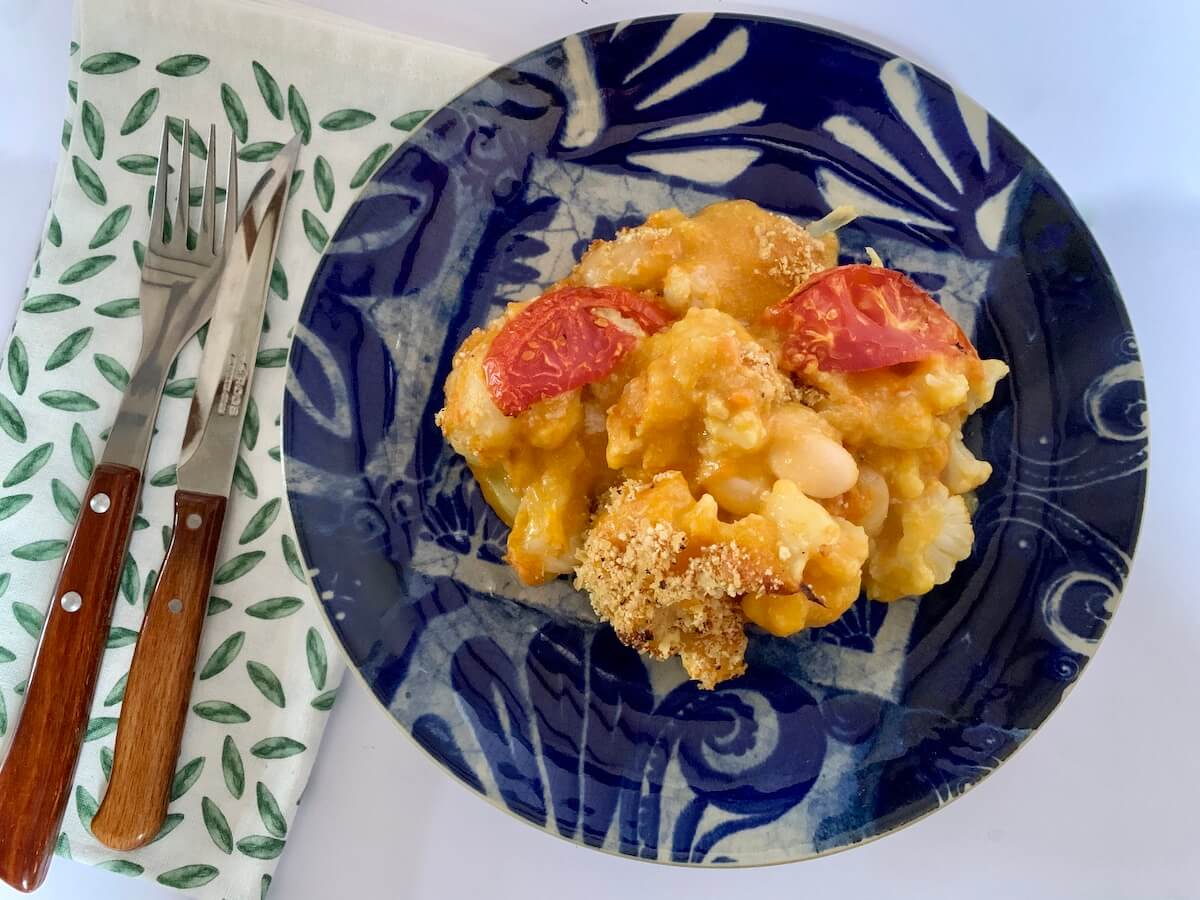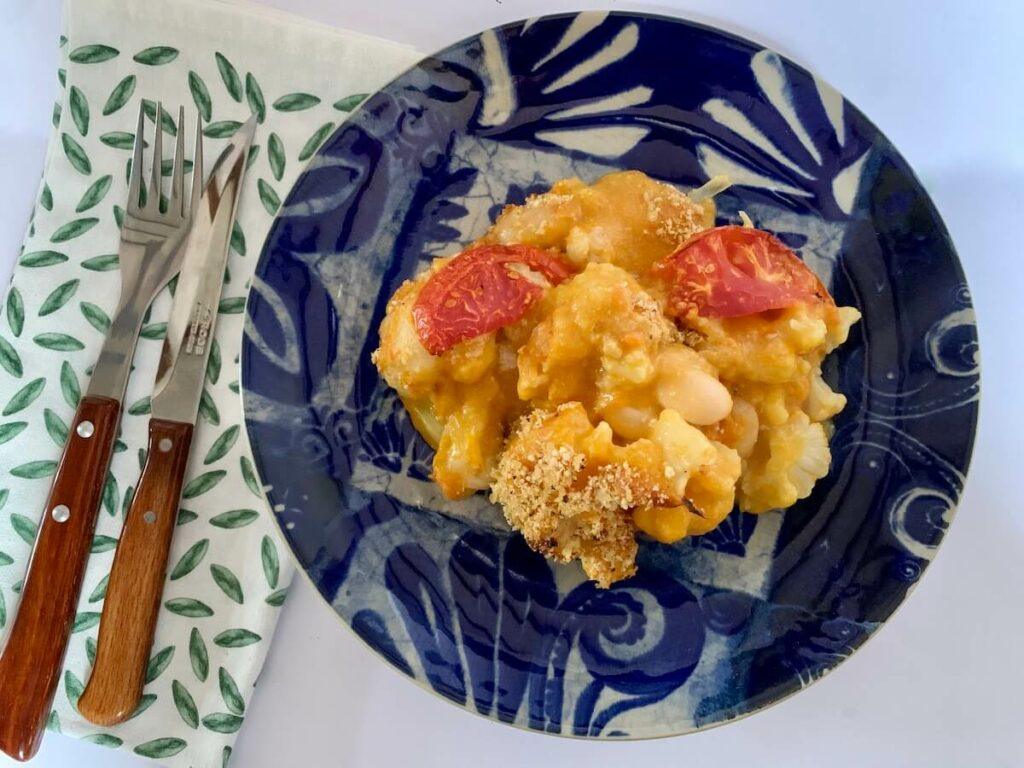 And if you use to love eating cauliflower cheese, then you'll probably love this too, even though it is different, of course.
And if you've never loved traditional cauliflower cheese, then you'll still love this!
Because while this reminds me of cauliflower cheese, I'd be lying if I said it were the same. And to be honest, I used to enjoy making cauliflower cheese more than I liked eating it.
Everyone else liked eating it, so I enjoyed making it!
If you're making cauliflower cheese as the main dish, and you're planning to serve a starter, you might choose something light, like a vegan French onion soup or maybe even a tasty celery soup.
Then for the main course you can make this easy, delicious cauliflower cheese served with a quinoa salad or king salad.
All these dishes can be made in advance, making this a very easy option for family meals or guests.
Traditional, Roux-Based Vegan Cauliflower Cheese Recipe
When I first became vegan, I stopped cooking cauliflower cheese, but eventually that yum-I-love-making-cauliflower-cheese feeling popped up and I knew I had to create a vegan version.
Initially, I made my vegan cheese sauce following a traditional roux style (recipe included further down the page).
That was ok, but it's a hassle to stand stirring the sauce and to be honest, I never found it to be absolutely delicious. I mean it was fine but, well there was something missing.
So as time went by I decided to start experimenting, and this quick sauce came into existence.
And this is by far the easiest, quickest, tastiest version of vegan cauliflower cheese that I've ever had.
I must add, the traditional 'dairy' version of cauliflower cheese which I used to make was never actually the same as other people's traditional cauliflower cheese either, because I always added other veggies, spices or herbs to it.
So it follows that this one won't be the same as the traditional one either!
I always add extra things, so my white sauce is never just made from flour and milk. Ooooh no it always has to have some onion, garlic, herbs or spices – and that hasn't changed since going vegan.
And here it is. Brought to you in all its simplicity!
As always, I encourage you to be free with your quantities and play with creating when you're cooking.
You shouldn't feel bound by a recipe, but rather just let the recipe be a starting point of inspiration. So without further ado, here goes . . .
How to Make This Easy Vegan Cauliflower Cheese Recipe
#1 Cook the Cauliflower Florets
Wash the cauliflower and break into medium sized florets. If they're too big, slice them in half. The size of the florets is a matter of personal preference, but I like them to be fairly small.
Put a few centimetres of water in a pan and bring to the boil. Add salt to the water and then the cauliflower florets. They don't need to be submerged in the water, just enough to create enough steam to cook them and for the water not to evaporate during the cooking time.
Cover with a tightly fitting lid and leave to steam for about 10-15 minutes, turning carefully half way through, so that the cauliflower that was sitting in the water at the bottom are now sitting on top.
The timing is very variable depending on your heat and the size of the cauliflower florets etc., so just keep an eye on them. You want the cauliflower to be cooked but not too soft. I like it to still have a bite to the tooth.
Use a slotted spoon to take the cauliflower florets out of the pan and place them into the bottom of a casserole dish, keeping the cooking water in the pan.
If the cauliflower is well cooked, leave them to stand with air circulating in a colander for example, to stop them from cooking further. (If they're over cooked, run them under the cold tap to prevent further softening.)
If they're still on the al-dente side however, you can pop them straight into the bottom of your casserole dish.
The amount you cook the cauliflower will have a huge impact on the final flavour, and it's a matter of individual preference. I know some people like their cauliflower to be soft and mushy while I like it al dente.
Go with whatever you like best.
Adding Beans to this Vegan Cauliflower Cheese Recipe
I love to add a jar of large white beans or butter beans to the casserole. Not only do they taste delicious in the final cauliflower cheese, but they're packed with fibre and healthy protein and micronutrients.
You could choose any type of bean you like to add to the cauliflower, or, if you don't have any beans you also could add some green peas or tofu for an additional bit of protein.
If using the white beans, simple empty the jar of beans into a colander and rinse under running water. Allow to drain or pat dry with some kitchen roll, then pour over the top of the cauliflower.
How to Make Vegan Cheese Sauce for Cauliflower Cheese
So, as I mentioned above, this isn't the standard roux-type recipe. No, this is much simpler, and much quicker.
First of all you'll want to blend a cup of cashew nuts into a fine powder type consistency or as good as your blender will get them.
Next, wash and chop about 5 carrots (peel if they're not organic) and 1/2 a sweet potato. Put into a pan with 1-2 cm of water in the bottom, depending on the size of the pan. You want the carrots and sweet potato to just sit in the water but only just covered.
You can substitute the sweet potato for more carrots if you don't have any sweet potato to hand, or you could even use a small normal potato.
Add 1/4 tsp salt (or to taste) and bring to the boil. Cover with a tightly fitting lid, reduce the heat and leave the carrots to cook for 10-15 minutes or until soft through.
When soft, add the ground cashews to the pan and cook for another 5 minutes.
Then, use a hand blender to blend the mixture, tasting and checking the salt level, and adding more if it tastes bland.
When you have a smooth blend, turn on the heat to medium-low and add 3 tablespoons of tapioca flour to the carrot mix. Stir for a few minutes and suddenly you'll see the sauce thicken like magic!
Use the saved cauliflower water to add liquid to the pan until you get the consistency you want.
If the sauce gets too thin, you can always add more tapioca flour.
Finally, pour in a load of nutritional yeast. I like to add lots but it's a matter of personal taste.
Putting it all Together for this Vegan Cauliflower Cheese Recipe
Arrange the cauliflower florets in the bottom of a glass oven dish and pour the white beans in on top.
Next, add the sauce over the top and sprinkle with vegan parmesan on top. Slice up 2 tomatoes in half slices and arrange around the top of the casserole.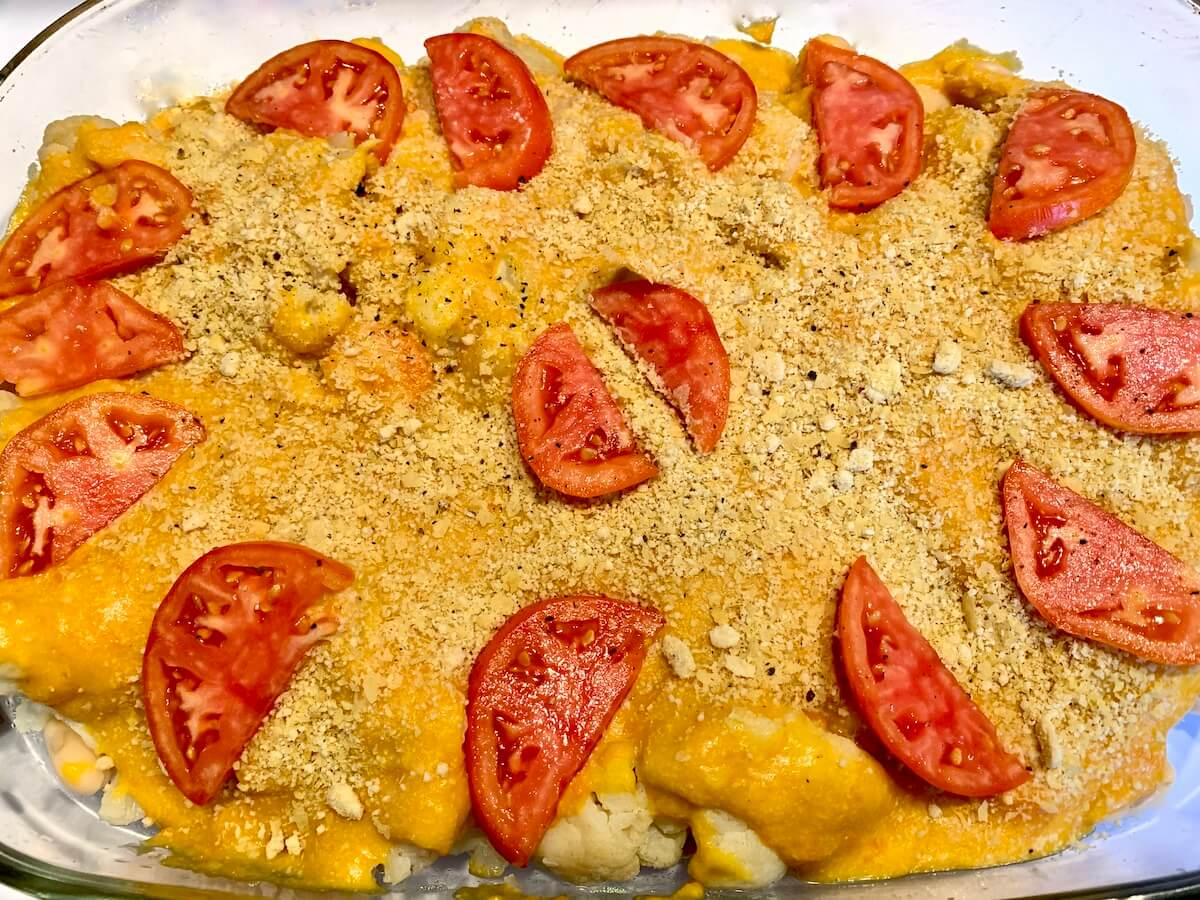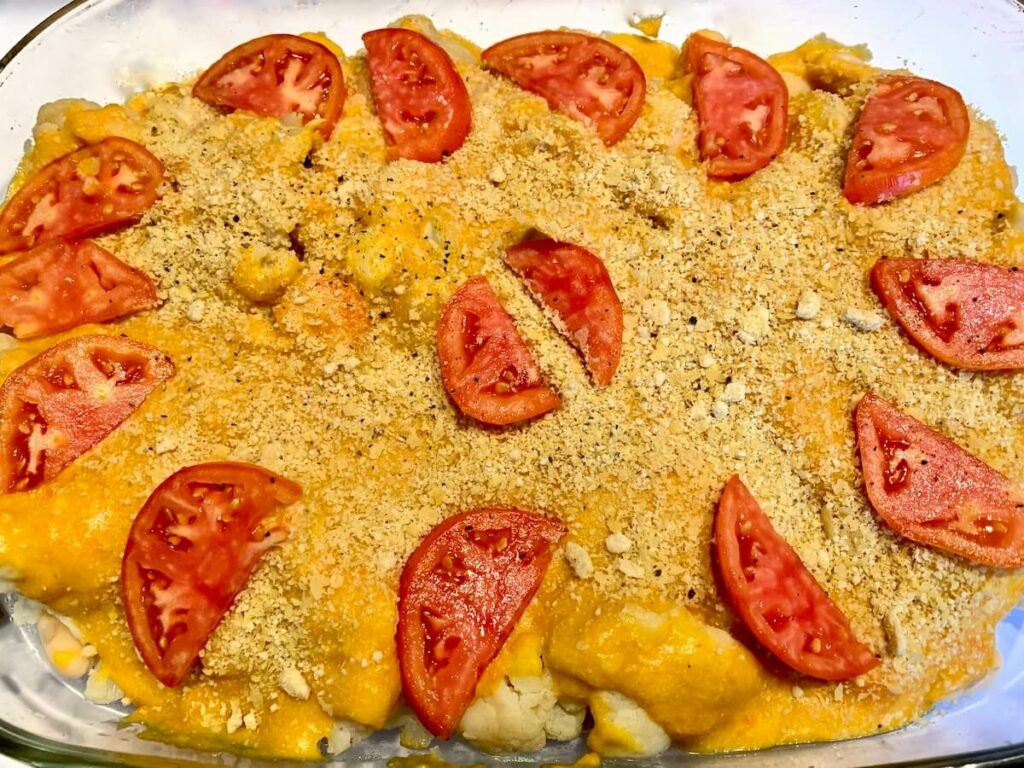 Cook in the oven at 190ºc for about 30 mins or until golden brown and cooked through.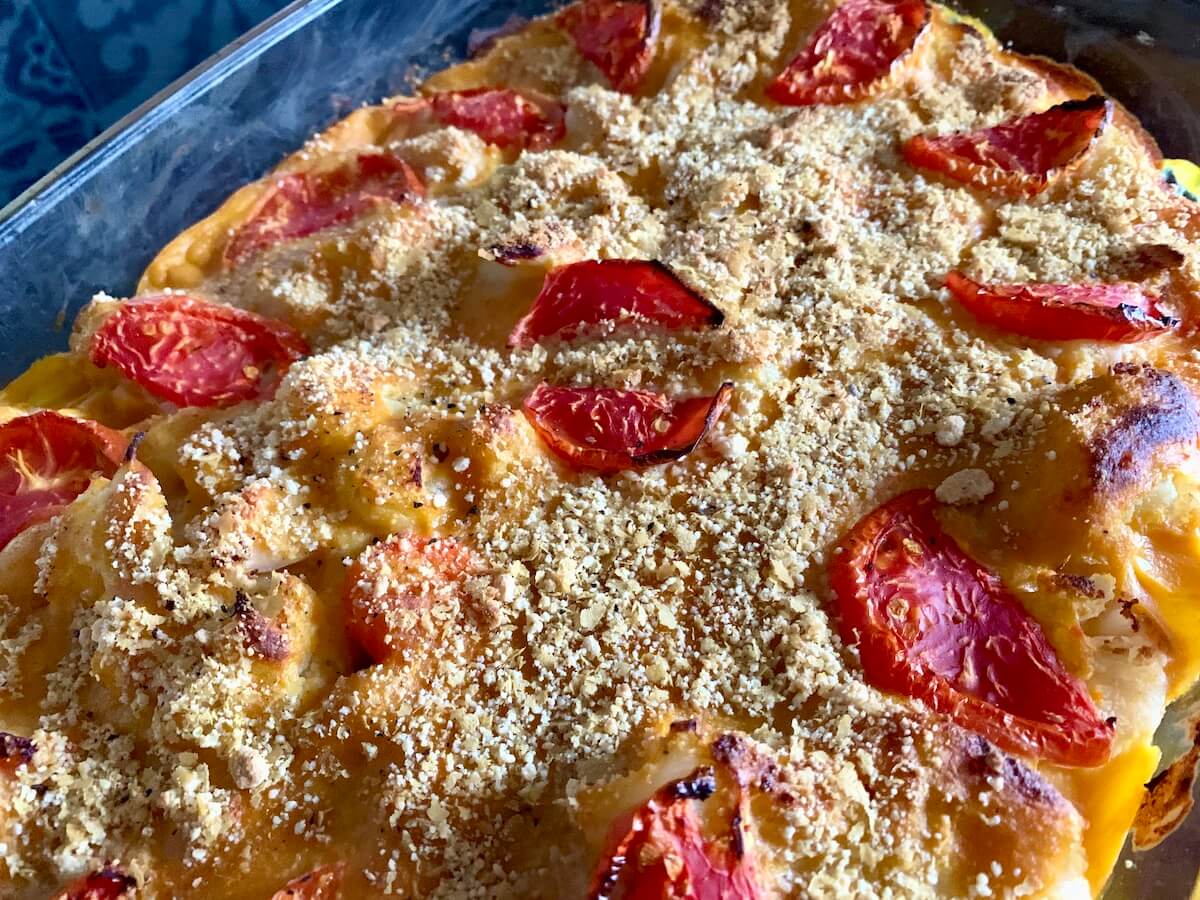 Not only is this easy cauliflower cheese recipe incredibly simple to make, it's also delicious and completely oil free so can be included in a wfpb diet.
Vegan Cauliflower Cheese Recipe – Gluten Free
Course: Main course
Cuisine: Vegan, Gluten free
Difficulty: Easy
Tasty variation on classic cauliflower cheese, vegan and gluten free and sooo easy to make.
Ingredients
1 cauliflower

1 jar large white beans

5 carrots

1/2 sweet potato

1 cup ground cashews

Vegan parmesan cheese (homemade)

Nutritional yeast

Salt and pepper

3 tbs tapioca flour
Directions
Cook the cauliflower by steaming it in a little salted water, turning half way through.
Cook the carrots and sweet potato until soft, chopped into small pieces, in enough salted water to just cover the veggies.
Add the ground cashews and cook for another 5 minutes.
Blend the carrots, sweet potatoes and cashew mix.
Add 3 tbs tapioca flour and stir teh mixture for a few minutes over a medium heat until the sauce thickens.
Use the cooking water from the cauliflower to add to the sauce and get the right consistency.
Taste to check the seasoning and add more salt if necessary.
For the Cauliflower
Wash the cauliflower and divide it up into medium sized florets.
Bring a little salted water to boil in a pan with a tight fitting lid, and place the cauliflower florets into the pan.
Cover with a lid and steam the cauliflower for about 10-15 minutes or until just tender to the fork.
Drain the cauliflower (save the water for the sauce) and place in an oven dish.
Pour the rinsed and dried white beans over the cauliflower.
Pour the sauce over the top of the cauliflower and sprinkle over some more vegan parmesan on top.
Place some slices of tomato around the top of the cauliflower cheese casserole.
Cook in the oven for about 30 minutes at 190ºc.
Serve and enjoy!
Notes
You can add some broccoli or beans or whatever vegetables you prefer.
If You Prefer a Traditional Roux-Type Sauce, Here it is:
Chop one onion and a couple of cloves of garlic and fry in enough olive oil to just about cover the onion. Start on a high heat and then reduce to a medium heat. Sprinkle with a little salt.
After about 10 minutes, add 1 tsp cumin, 1/2 tsp turmeric and some fresh chopped parsley, and cook for a couple of minutes more. If you prefer the sauce to be white, just add the parsley and leave out the cumin and turmeric, which will not only flavour the sauce but also turn in a slightly yellow colour.
Next you need a gluten free flour. I use chickpea flour and rice flour mixed 50% – 50% but you can make this with just chickpea flour, no problem.
Add about 4 tbs of flour to the onion mix, stirring it into the oil as you add it. When all the oil's been absorbed and the flour has become a lump in the pan, stir it for a moment to make sure the flour cooks right the way through.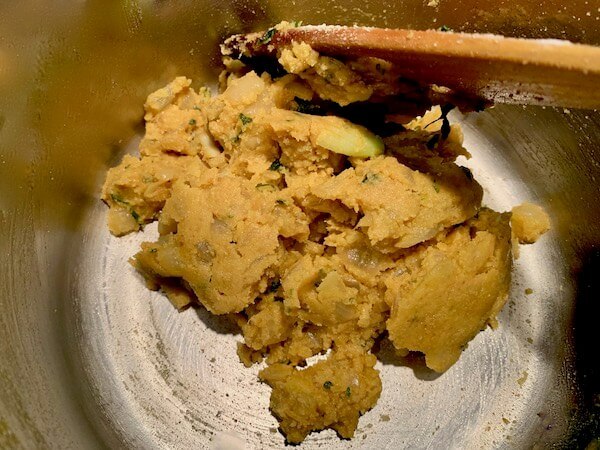 Gradually add plant milk to the pan. I use unsweetened soy milk because it's the one I can get nearby and I like it, so it does the job just fine.
Pour in a little milk, allow it to heat a little, then stir until the milk is absorbed. Add more milk and repeat the process as many times as necessary until you have a thick, creamy sauce.
At this point, add some dried parsley and a pinch of chilli. Taste the sauce for seasoning and if it tastes bland, add a bit more salt.
Add a small cup of nutritional yeast and 4 tbs vegan parmesan (cashews, nutritional yeast & salt, blended together: blend the cashews first).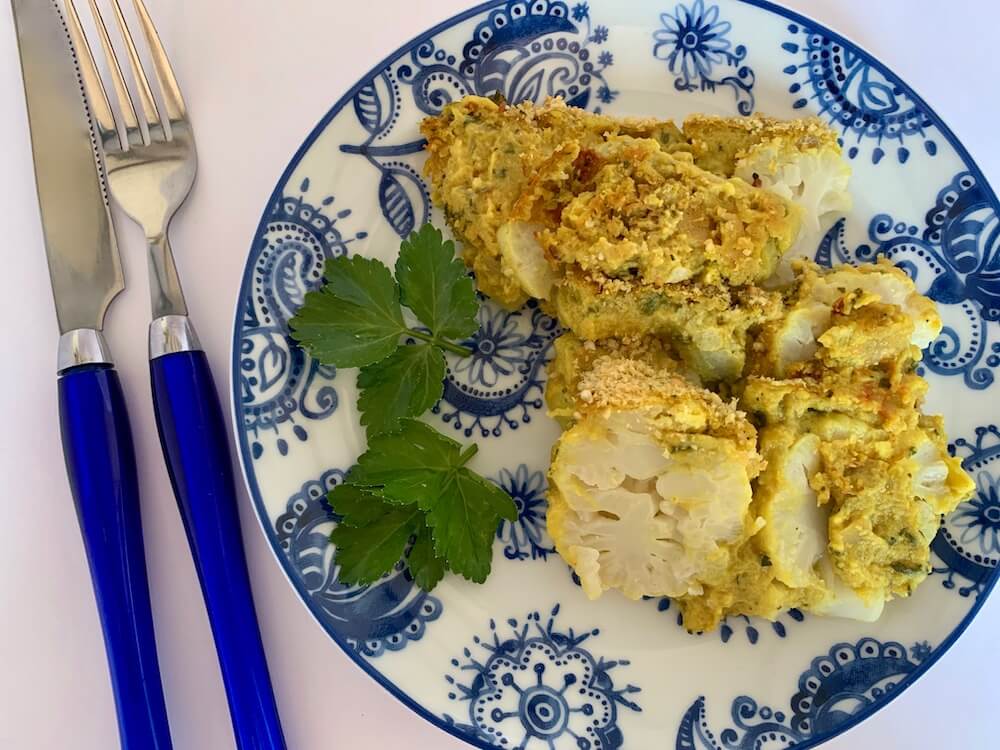 Serve with a salad or roast potatoes, rice or quinoa.
You can also add extra veggies to this casserole dish. I like making it with additional leek.
Finally, if you've got any questions, let me know or take a look at our page on common vegan FAQ.