This incredibly easy apple compote recipe is another one of those 'once you know it you can't un-know it' kinds of recipes.
You know the ones. The ones that become a fixed part of who you are in the kitchen.
It's just too easy and too out-of-this-world-delicious to be forgotten about once discovered.
Why Make Apple Compote?
The reason I wanted to make this easy apple compote was because as you might know, I recently decided to cut oil out of my diet as part of my 5 steps to beat menopause naturally.
Now, I don't know whether I will always eat an oil-free, whole foods plant based diet or whether this is just for a trial period.
Either way I'm going to stay oil free for a couple of months at least and really get into oil free cooking, experimenting with all the different ways we can roast, fry, bake and sauté without using oil.
And one of the methods I want to try is to roast vegetables in apple sauce.
Sounds odd right? That's what I thought, but then again, I also thought it sounded weird to stir fry vegetables for using in recipes like Bami Goreng in orange juice and that worked out just fine!
So, that's the why but what about the what?
What Can You Use Apple Compote For?
Apart from using apple compote for roasting oil free veggies (which I've yet to try), this compote is so utterly delicious, you can just eat it on its own.
I mean seriously delicious.
Eat a bowlful for breakfast or as a dessert after lunch or dinner. Alternatively, you can serve this as a sauce on the side of almost any meal you can think of.
I don't know about you, but I'm blown away by the flavour of this apple compote, so please, if you make it, let me know if you feel the same way as I do.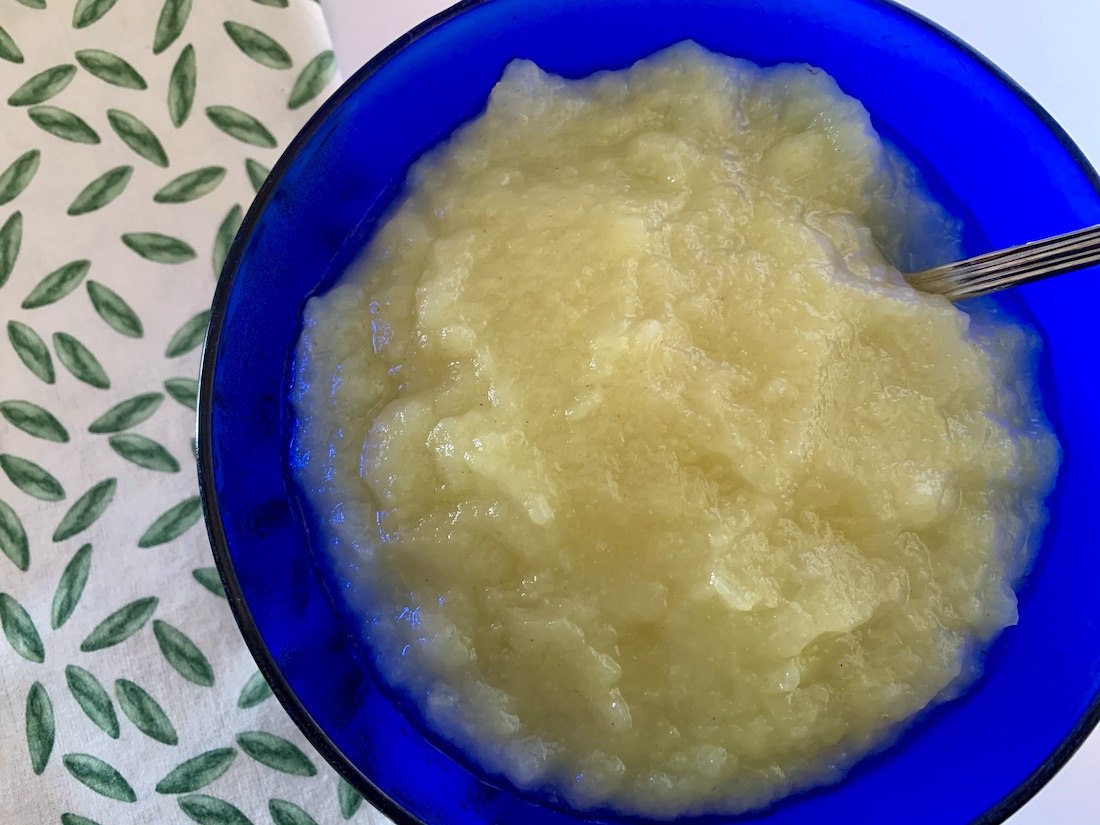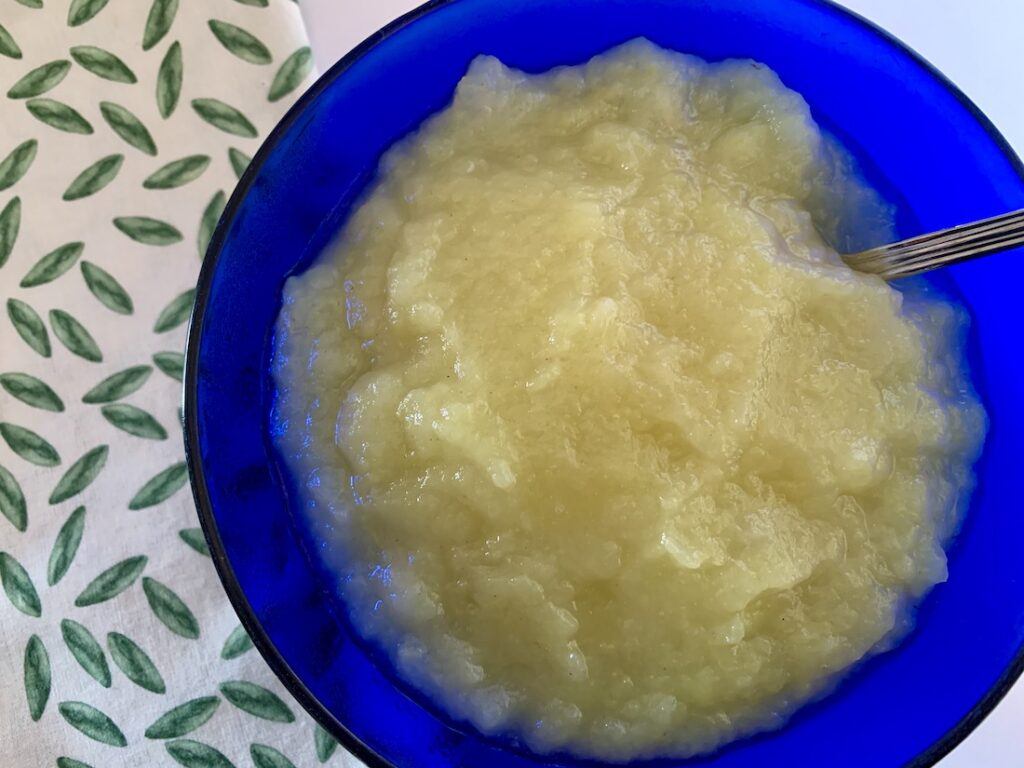 Which Apples to Use for this Easy Apple Compote Recipe?
I chose a green, sour apple and I'd definitely recommend using a hard apple rather than a soft furry one. I'd also go for a sour version over sweet, as this comes out naturally sweet all on its own!
Obviously, if you've got a glut of apples and they aren't sour, go ahead and use them. The recipe will work with any kind of apple but the flavour and texture will vary.
Softer apples give more of a sauce and harder apples a little bit of texture in the final compote.
To Peel or Not to Peel the Apples in this Easy Apple Compote Recipe?
This is optional. If your apples are organic, it might seem a shame to throw away the nutrients in the skin, so you may choose to include the whole lot, excluding the core.
The peel will remain in the final compote, so be sure to cut your apple slices small.
If your apples aren't organic, they might have a wax on them so peeling them seems the best option to me.
Peeled apples are best if you want a smoother looking sauce/dessert too.
Variations for this EasyApple Compote Recipe
You can find many recipes for apple compote on the internet, with plenty of variations on ingredients.
I like to keep things simple and I never add sugar to anything I ever cook.
So, first off, no sugar. It isn't needed and it doesn't have any health benefits.
Other recipes call for cooking the apple in (vegan) butter.
No way. Don't do it.
This is one food that is 100% just on its own merits. No need to go adding extra fat or unnecessary ingredients.
As for alternative flavourings, you can add cinnamon to this recipe if you like cinnamon. Simply add a bit of the stick into the pan and remove it before storing the compote.
I don't add it because I'm not a fan of the flavour of cinnamon.
Incredibly Easy Apple Compote Recipe that Tastes Awesome
Course: Dessert, Sauce
Cuisine: Vegan, Gluten free, Oil free
Difficulty: SImple
This is so simple and so tasty, you'll wonder why you never made it before!
Ingredients
4 apples

Small piece of ginger (1/2 cm)

Juice from 1/2 a lemon

Grating of Nutmeg

Pinch of salt
Directions
De-core, chop and peel the apples if peeling.
Place into a small saucepan and add enough water to almost cover the apple pieces.
Add the pinch of salt, piece of grated ginger, a grating of nutmeg and a squeeze of lemon juice.
Bring to the boil and simmer, covered for 8-10 minutes or until the apple has softened and lost its shape.
Taste to check the flavour and adjust as necessary.
Notes
2 servings refers to if making the compote as a dessert.
Go careful on the ginger.
If making as a sauce, place in an airtight container, allow to cool and then store in the fridge.
I loved this so much that I ate a bowlful of it just like that.
And this is going to become one of my favourite essential plant based sauces for sure.
If you make this, please let me know how you like to eat it best. As a sauce? A dessert? In a sandwich?