Fancy making some easy vegan creamy garlic mushrooms?
They go with almost anything, or even as a snack on toast, for breakfast, lunch or dinner.
Eat these creamy mushrooms with your vegan bowl, pour them over your sweet potato, or guzzle them with your bowl of buckwheat pasta.
With a little imagination, any leftovers (if there are any 🤣) can easily be transformed into a pasta sauce or mushroom gravy the next day.
Hang on, did you think that making delicious creamy vegan food is challenging?
If so, no way!
And have you ever wondered how to get that deliciously unique fried-mushroom flavour without using oil?
Easy-peasy.
This creamy garlicky mushroom dish is made with zero oil and can be whipped together in about 10 minutes including preparation.
Yes you read that right, it only takes 10 minutes to create this from start to finish, assuming you have some vegan cream already stocked in your fridge – and if not, worry not, we cover the question of vegan cream in this post too.
How to Make Vegan Cream
These days you can buy vegan cream quite easily in many shops. But if you can't find any in your area, don't worry, it's easy to make.
No, it's even easier than easy, it's sooo simple.
All you need to do is soak 200g cashew nuts overnight. If you don't have overnight as an option, soak them in boiling water for 30 minutes.
Rinse the cashews and add them to your food processor and blend along with a little water.
Watch the consistency of the cream and keep adding water until you get a creamy thickness.
Tip: Don't add all the water in one go, but slowly in increments.
That way you'll get a smoother cream. If you add too much water in one go, you may end up with bits of nut which don't get blended.
If you have super powerful blender, you can probably disregard this word of caution. I just have a standard blender and I need to add the water slowly to get a smooth result.
Et voila! Your vegan cream is ready!
How to Eat Creamy Garlic Mushrooms
These creamy garlic mushrooms can be eaten as a topping on toast, in a jacket potato or as a side dish to (almost) any favourite meal.
Add them to your vegan bowl for a bit of variation, use them on pasta as a sauce, pour them over your air fried sweet potato or have with rice.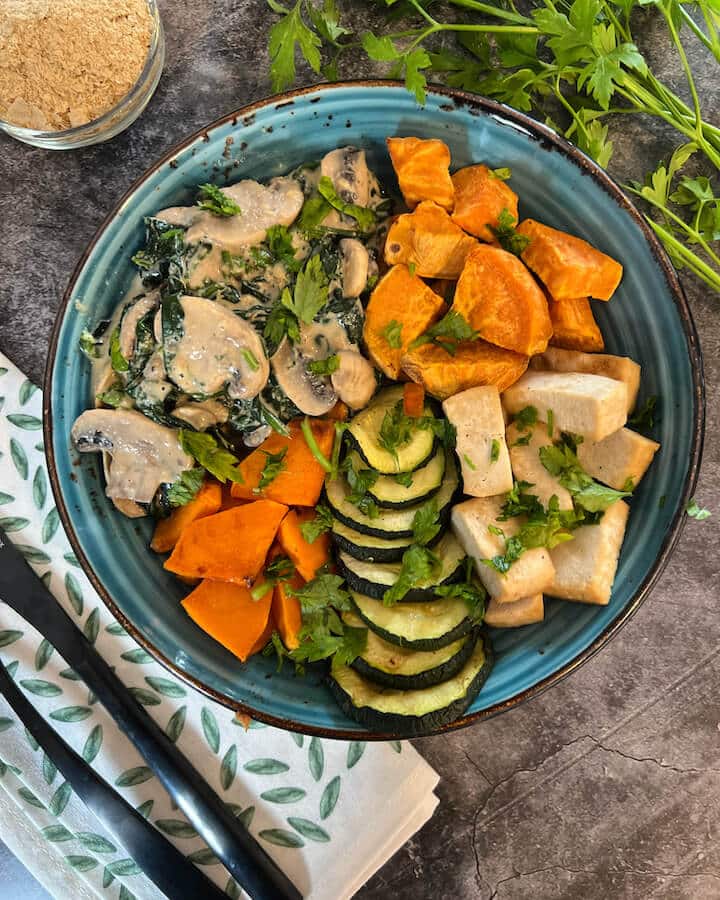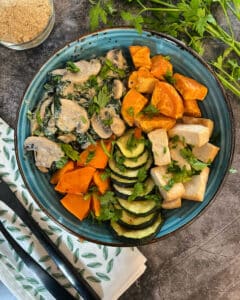 Vegan bowl with vegan creamy garlic mushrooms, sweet potato, tofu, courgette and pumpkin on a bed of green leaves.
How to Make Vegan Creamy Garlic Mushrooms
Some recipes add the garlic last, but personally, I hate it if the garlic isn't properly cooked through and you get some semi-raw garlic in your mouth.
So, since going oil free I always put the garlic into the heated frying pan first.
Just for a moment, then add the sliced mushrooms, stir once and then let them cook for a few minutes, preferably without moving them around.
After 2-3 minutes, flip the mushrooms over to cook on the other side.
Sprinkle with salt during the cooking process.
When the mushrooms are cooked but before they shrink, add a dash of tamari or other gluten free soy sauce and stir.
If using spinach, add it to the pan, turn the heat down and cover, leaving the spinach to shrink down for a couple of minutes.
Once the spinach has reduced, you're ready to add the vegan cream and a dash of white wine or brandy.
Brandy makes it sweeter than white wine. Both give a nice tang to the final flavour.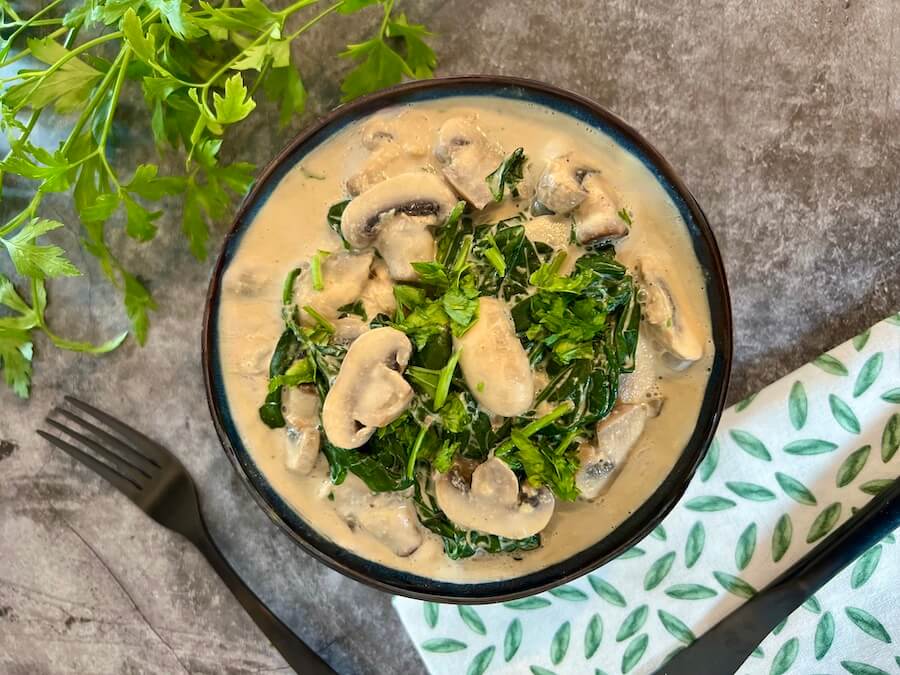 Vegan Creamy Garlic Mushrooms with Spinach
Ingredients
1 tray mushrooms (250g)
1 carton vegan cream (200ml)
3 cloves garlic
1 bag spinach (optional)
1/2 cup white wine (optional)
dash of tamari or other gluten free soy sauce
salt & pepper
Directions
Wash and slice the mushrooms
Heat a frying pan on a medium high heat and add the crushed garlic cloves followed by the sliced mushrooms.
Cook for a few minutes before flipping to cook the other side.
Sprinkle the mushrooms with salt and a dash of tamari or other gluten free soy sauce.
Pour in the fresh spinach, reduce the heat to medium and cover with a lid.
When the spinach is reduced, pour in the vegan cream and stir.
Pour in a dash of white wine.
Add a tiny bit of water if necessary and depending on your preference.
Cook for a further 3 minutes to heat through.
When frying without oil it's a delicate balance to get the fried result without any burning or sticking to the pan.
A little bit of sticking is fine as it just adds flavour, but if it begins to stick too much, add a flick of water and stir.
Repeat until the sticking has stopped but before you create liquid in the pan.
Mushrooms and Brain Health
Mushrooms contain lots of health promoting qualities, including dietary fibre, antioxidants and protein as well as vitamins such as vitamins B, D and C and minerals such as potassium, zinc, selenium, copper, thiamin, magnesium and phosphorus.
One typical serving of mushrooms contains about 2.2 g of protein.
According to scientific research, various types of mushrooms not only have a positive effect on overall health by helping to stabilise blood pressure, boost the immune system and support us with micro nutrients but are also powerful with boosting memory improvement and cognitive function.
According to an article in Medical News Today, eating more than two servings of mushrooms per week could lead to a 50% reduced risk of MCI (mild cognitive impairment) which usually sets in before Alzheimer's disease and other forms of dementia.
Video on Eating Mushrooms for Brain Health
I hope you enjoy these creamy vegan mushrooms! Please give a thumbs up or a share if you found this recipe useful.