Take a break from everyday life and escape to Villa Castaño to enjoy a holiday at the foot of El Torcal Natural Park, perfect for hiking through the countryside of Torcal or for exploring Andalucia by car.
Villa Castaño is a 3 bedroom villa located on the edge of the small town of Villanueva de la Concepción, complete with garden and swimming pool and views down to the coast.
The villa is in easy walking distance of all amenities, or alternatively, take the car and be at the shops/bars in 2 minutes.
Stay at Villa Castaño when You Holiday at the Foot of EL Torcal
The villa sleeps 6 and comes completely equipped so that you can enjoy your stay and relax into the Andalusian pace of life.
You may opt to stay in the villa independently of activities, or you can choose to book a week of hiking or even have some guided excursions to the incredible cities of Malaga, Granada, Sevilla or Cordoba, to name just a few.
Activities for Your Holiday at the foot of El Torcal
There are plenty of optional activities which you can choose to do when spending a week at Villa Castaño.
Villanueva de la Concepción is considered to be situated 'at the crossroads' of Andalusia, ideally located for visiting all the major cities and highlights of Andalusia.
See below for all the easy to reach destinations.
Visit the white villages of Andalusia, hike through the countryside or spend a day on the beach.
You may like to go star watching on el Torcal or birdwatching in a nearby hide. The choice is yours when you plan a holiday here in Villa Castaño at the foot of El Torcal.
Day Trips from Villanueva de la Concepción
El Torcal Natural Park (10 mins)
Historic town of Antequera with the Alcazaba (fort), Dolmenes and many churches (20 mins)
Malaga historic centre & Malaga Port 'Muelle Uno' (45 mins)
Beaches of the Costa del Sol (40 mins)
Malaga Alcazaba (fort) (45 mins)
El Chorro and El Caminito del Rey (1 hour)
Picturesque town of Nerja (1 hour)
Frigiliana white village of Andalusia (1 hour)
Puerto Banús (1 hour 10 mins)
Granada and the Alhambra (1 hour 15 mins)
Córdoba and the Mezquita (1.5 hour)
Ronda and the famous gorge (1.5 hour)
Hiking the Area of El Torcal Natural Park
The villa is perfectly located for enjoying a hiking holiday, and there are lots of well known and hidden tracks to suit your own personal preference and fitness level. Ask us more information.
There are so many gorgeous cross country trails in this area, it's easy to fill up a week of hiking without repeating a route. Many of the routes we take are not named so they can't be looked up on the map unless you know where to look.
Others are well documented routes, such as the El Torcal official routes, the Caminito del Rey, and a section of the Camino Mozarabe de Santiago.
El Torcal Natural Park
Of course you can't visit this area and not go up to the top of El Torcal! The scenery in El Torcal is one of a kind, made up of limestone formations which were eroded by the sea over 150 million years ago when the Torcal was under water.
When you visit El Torcal, you can go just for an easy visit with a little amble around to appreciate the rock formations and the views, or you can go hiking in El Torcal on one or more of the many routes available to you.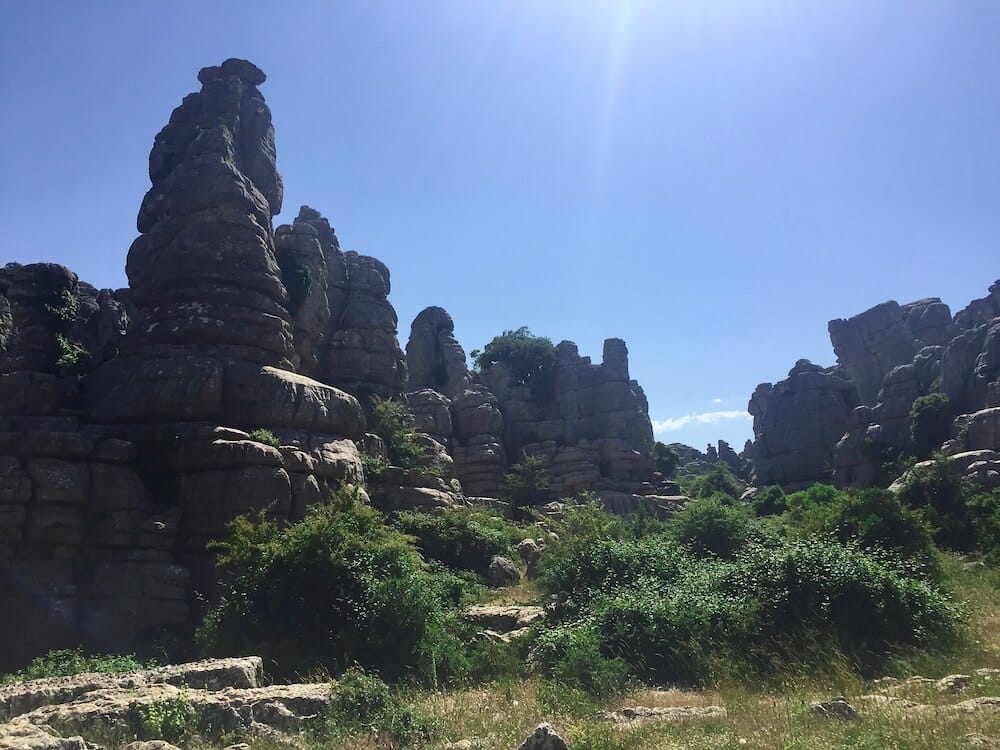 Whatever your choice, you won't regret visiting this fascinating landscape!
El Chorro and the Caminito del Rey
El Chorro and the Caminito del Rey has fast become one of the favourite destinations to see when visiting Andalucia.
In the past there was an old, broken, breathtakingly dangerous path which was used by the workers to transport goods along from one end of the area to the other. The path was originally officially opened by the king, hence the name Caminito del Rey (King's little path), but it deteriorated so much that there were several fatal accidents before the decision was made to close all access to the old path.
And so begun the project of re-creating Europes most dangerous walk, only this time making it safe!
The path winds its way through breathtaking scenery and really is a must-see, except perhaps for those who have a fear of heights as they might not enjoy the experience so much in that case.
The actual path of the Caminito del Rey is 2.9km but with 4.8km to get to the start, the whole walk is 7.7 km long.
You do need to buy tickets for El Caminito del Rey so it's best to plan in advance.
Puerto de la Escaleruela – Camino Mozarabe de Santiago
One of my all time favourite walks is this one, the Puerto de la Escaleruela, a steep path which winds its way down from one side of El Torcal to the other side (Antequera side).
This is the 4th section of the Camino Mozarabe de Santiago, the section which joins Villanueva de la Concepción to Antequera..
Hiking Unnamed Countryside in Andalusia
There are so many paths, not all of them named, where you can walk for an hour or more and admire the Andalusian countryside all around you.
There is an abundance of beauty in this area.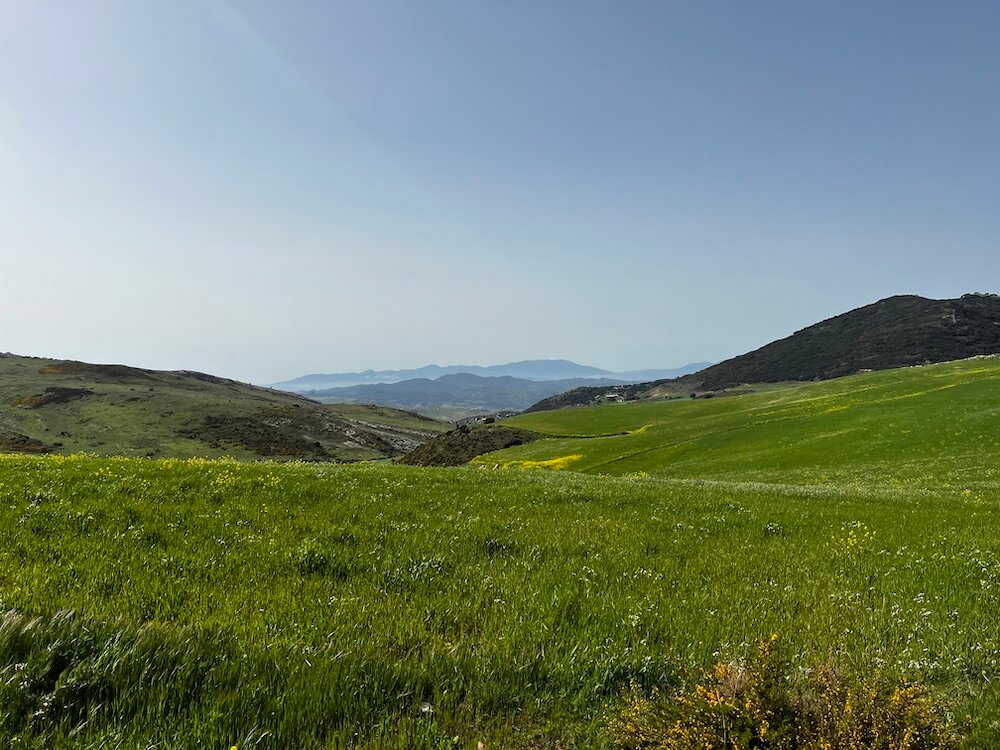 Or why not make a combination of hiking and visiting Andalucia?
Contact us for more information.
Welcome to your holiday at the foot of El Torcal Natural Park!