Hiking El Torcal Natural Park is a must-do for all hikers and nature lovers visiting the province of Malaga in Andalucia.
You simply can't miss out on experiencing the breathtaking scenery and views.
I'm so lucky to live in a most amazing area of natural beauty with so many tracks of cross-country hiking available, and all with the most stunning views. In fact I'll let you into a secret – it has a lot to do with the reason why I'm still living here, 28 years after first discovering this area back in the 90's!
I love nothing better than to climb the rocky paths of El Torcal and stroll along the little goat tracks as I marvel at the awesomeness of nature.
The natural beauty is just incredible.
In this post I invite you to join me on one of my many hiking areas – I share this, hopefully to help inspire you to come and join me in hiking though the El Torcal region or at least get you to put it on your bucket list!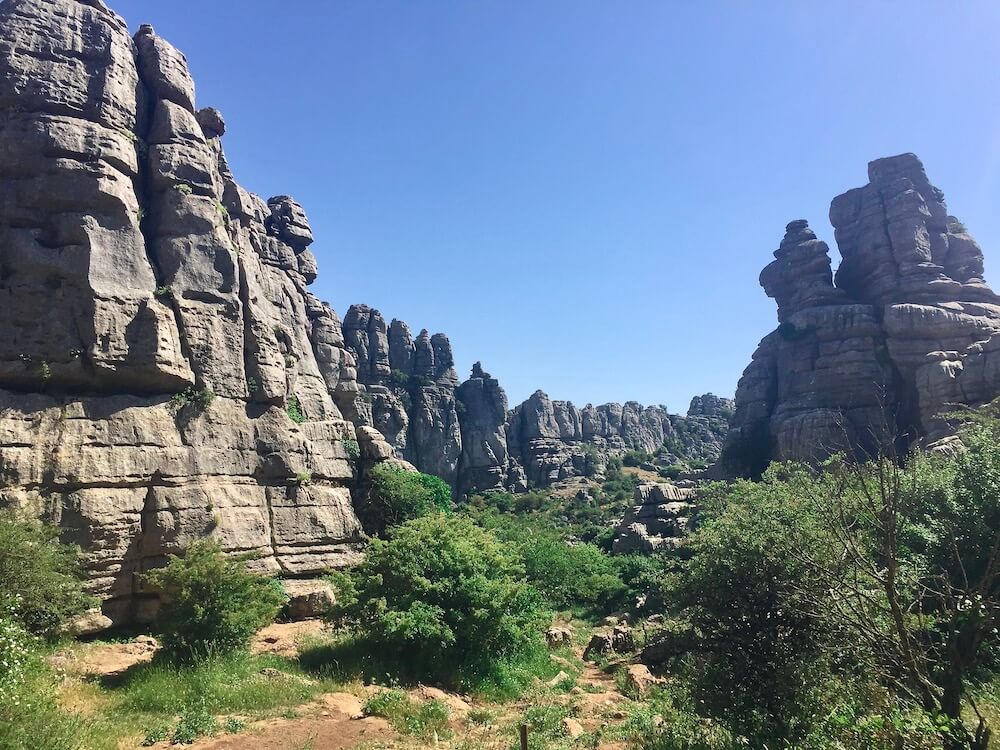 Hiking Keeps You Younger & Healthier!
Hiking's been proven to be hugely beneficial for your health, but you probably already know that or you wouldn't be here.
By the way, I'm vegan (obviously – the name of the site is a bit of a giveaway), and I just wanted to say that being vegan doesn't just refer to eating a healthy wfpb vegan diet and buying ethical vegan products.
Becoming vegan has also made me more conscious of the other choices I make in life, and more aware of the nature around me.
So now I suspect that following a vegan lifestyle brings with it untold pleasure as it expands our consciousness much like as in a ripple effect. Throw a stone into a pond and watch its effect . . .
But I digress. . .
Hiking through the incredible scenery of El Torcal is just one of the many ways in which we can escape the stress of modern life, reenergise ourselves and keep ourselves feeling younger.
Once you hit somewhere around the 50 year old mark or thereabouts, I believe you come to a crossroads in life: you can choose to go to the left with vibrant health, or to the right towards sedentary old age.
To the right takes you along the path towards less activity, less energy and reduced vitality, while if you choose to go to the left, you discover the joy and pleasure in becoming a vibrant, healthy and active older person.
Because as we age we realise (or some of us not) that our bodies need taking care of. We can no longer abuse them and expect them to flourish.
Our body is the only vehicle we have to experience life with, so it's only right that we learn to cherish it.
Taking up yoga and hiking are both great activities to keep you feeling young and fit and healthy.
But more on that in another post. First, a look at El Torcal natural park.
About El Torcal Natural Park, Andalucia
El Torcal Natural Park is an area of National Interest and occupies about 11.7 km2 of land just to the north of Villanueva de la Concepción. It's one of the largest and most important karst landscapes in Europe.
It actually belongs to the small historic city of Antequera and is called El Torcal de Antequera, because of that fact. In reality though you can reach El Torcal much faster and easier from Villanueva de la Concepción, being only 5.8 km to the base of the mountain (compared with 12.2km to Antequera).
Villanueva de la Concepción is a small market town with a traditional Spanish feel. For me it's awesome to live in an authentic place that hasn't been taken over by tourism. It's also the place where we have our holiday home for visitors to stay in and where I do my day-to-day shopping.
Back to El Torcal – during the Jurassic age, the limestone of which El Torcal is formed was at the bottom of the sea. Movement of the earth's crust forced El Torcal upwards to form a mountain range around 150 million years ago.
The highest peak on El Torcal is known as Camorro de las Siete Mesas and stands at 1300m above sea level.
There are many rock structures which have been given names, such as the most famous El Tornillo (the screw), El Púlpito (the pulpit), El Sombrerillo (the hat) and many more.
You can see the Ibex wild goats standing majestically up on the rocks or crossing the paths in front of you; there are also cattle in some areas within the mountain range, foxes and plenty of Griffon Vultures to name just a few of the fauna that thrive on Torcal.
From Villanueva de la Concepción, the bottom of El Torcal is just a 10 minute drive and 15 minutes to the top. Malaga city is about an hour's drive away, so it's all really accessible from the coast.
Visitor Centre & Cafeteria/Restaurant El Torcal
You can find information about the mountain in the Centro de Visitantes El Torcal as well as a cafeteria/restaurant.
However, at the time of writing, I've found that the centre is quite often closed, so make sure to take a snack with you if you think you will be exploring for a while, and of course bring enough water for your hike if you're going to follow one of the routes.
If you're vegetarian or vegan, don't expect to get a great meal here, although you can normally ask for a mixed salad or a tomato salad in almost all local bar/restaurants.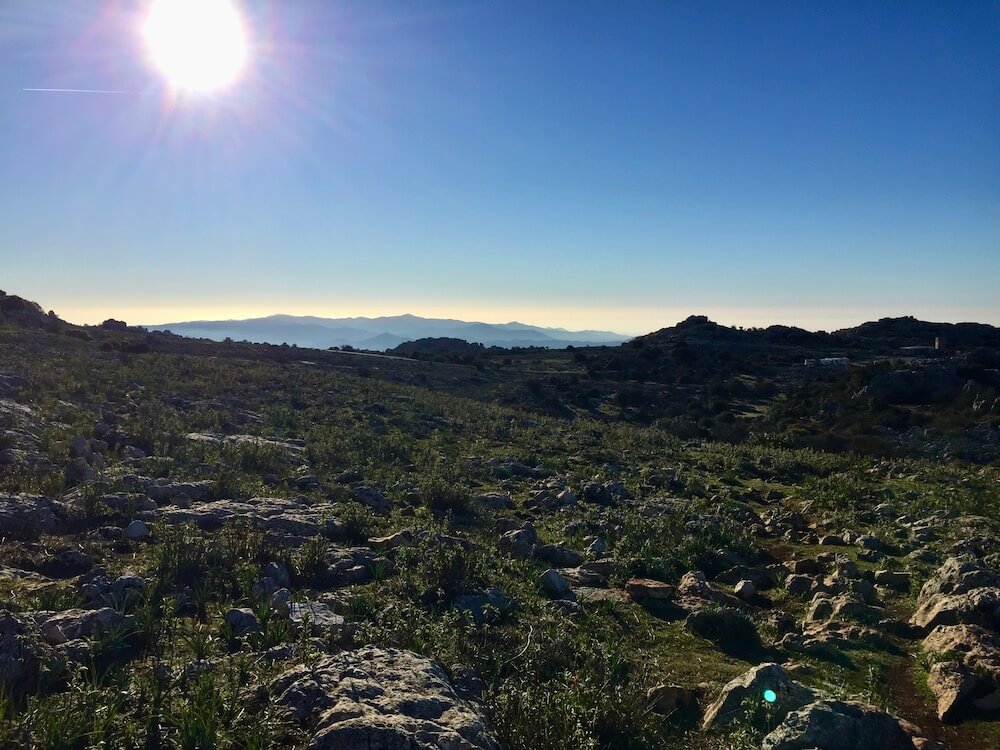 General Advice for Hiking El Torcal
You can of course visit El Torcal to have a gentle wander around, admire the view from the mirador and pop down to the Hoyo de la Burra, without taking any special items with you.
But if you want to walk in the mountain, there are a few tips which may be helpful.
It's best to keep to the marked routes unless you're with an experienced guide or local who knows the way because it's so easy to get disorientated by the similar rock formations and get lost if you stray off the beaten track.
Don't set out to do the walk if it's getting late or foggy as the fog can get very intense and cause you to lose your way. A family who set out just before sunset and who then got lost in the dark, ended up spending the entire night on Torcal. Luckily for them a search and rescue party found them in the morning.
Make sure you wear suitable footwear for clambering over rocky terrain, which can get slippery, especially when wet. It isn't advisable to go walking in sandals or flip flops.
There's little to no mobile phone cover within the mountain.
Always carry enough water with you.
In hot weather, take some sunscreen to prevent sunburn.
Personally, I always like to wear a hat when hiking and the sun is shining due to the strength of its rays.
Dogs are allowed as long as they are always kept on a lead.
It isn't allowed to pick flora or remove anything from the mountain.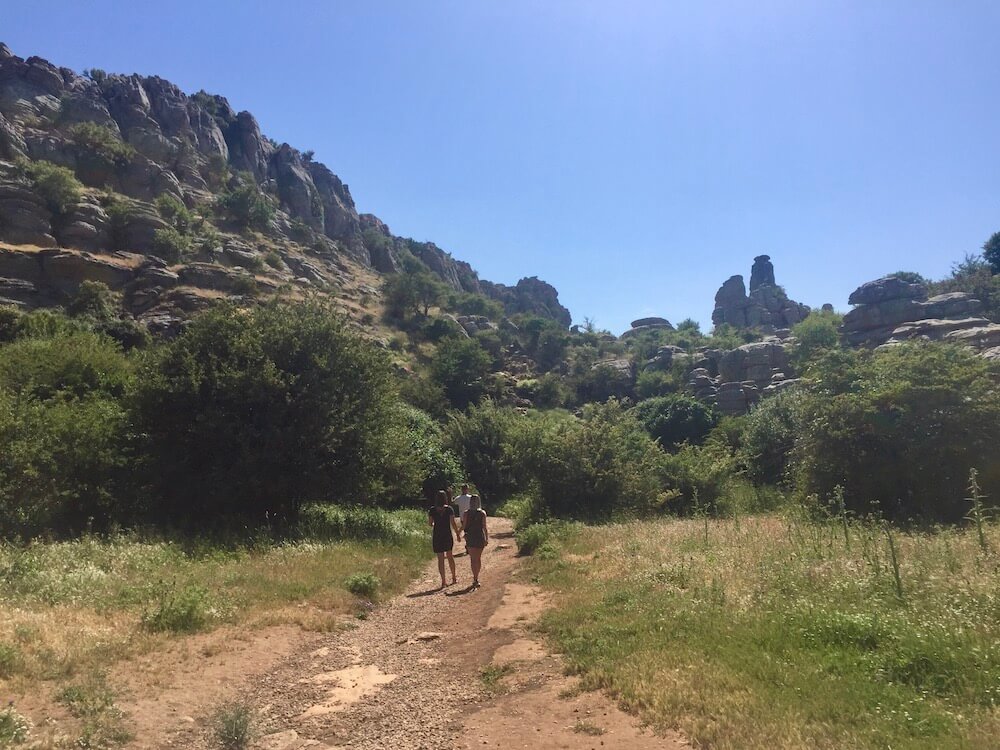 Where to Park Your Car When Visiting El Torcal
There's plenty of space in the car park at the top of Torcal, just outside the visitor's centre. In total there are two main carparks: one at the bottom of the mountain, El Torcal Bajo, and one at the top, El Torcal Alto.
On normal days you can drive all the way to the top and start out walking from there and this would normally be the best option of the two.
However, on some weekends and bank holidays the road is closed in order to limit the traffic which goes up the mountain and you will be obliged to park in the lower car park.
On these days, there is a bus service running up and down the mountain. Alternatively you can arrive early in the morning before the bus service starts and then you will find the barrier up and access is allowed.
You could also opt to take the bus to the top and then walk the orange route back down to the bottom carpark (see below for a description of the orange route).
Hiking El Torcal on Your Own
When you visit El Torcal as a tourist, there are some walks you can easily explore which are marked by colours, especially if you want do do a relatively easy route.
And if you've never been there before, El Torcal is beautiful to see even if you stick to the main areas.
However, if you prefer to venture away from the majority of other people, then you could return with somebody who knows their way around.
It's only logical that there are more routes, which aren't easily discovered by a tourist and which go unseen unless you know where to look. If you want to explore more of this area for hidden hikes, you're welcome to join us for a week of hiking.
Contact us if you would like to book a holiday with us and we will be delighted to show you the hidden gems of the area.
The Lookout – Mirador Las Ventillas
From the spacious car park at the top of El Torcal, the Mirador is a gentle stroll on a flat path which takes you to the lookout in just a few minutes.
From here you can see over the landscape surrounding Villanueva de la Concepcion and all the way down to the coast. It's a simple way to get an introduction to Torcal and appreciate its incredible stone formations.
Stroll to el Hoyo de la Burra from the Mirador
You can also take a short walk down to the beautiful valley called Hoyo de la Burra, and from there appreciate the stone formations rising up all around you.
If you're a bit more adventurous, you can climb up the rocks and stand on top of the world for a spectacular view down to the coast. And don't miss out on the gigantic fossil which can be found at the top of the rocks.
Don't do this climb unless the weather is perfect. If it's windy, raining, foggy or getting dark, better to leave it for another day as it does take some rock climbing to get to the ledge.
I also wouldn't recommend doing this if you have any fear of heights, and even if you don't, always make sure you're wearing the right footwear for climbing over the sometimes slippery rocks.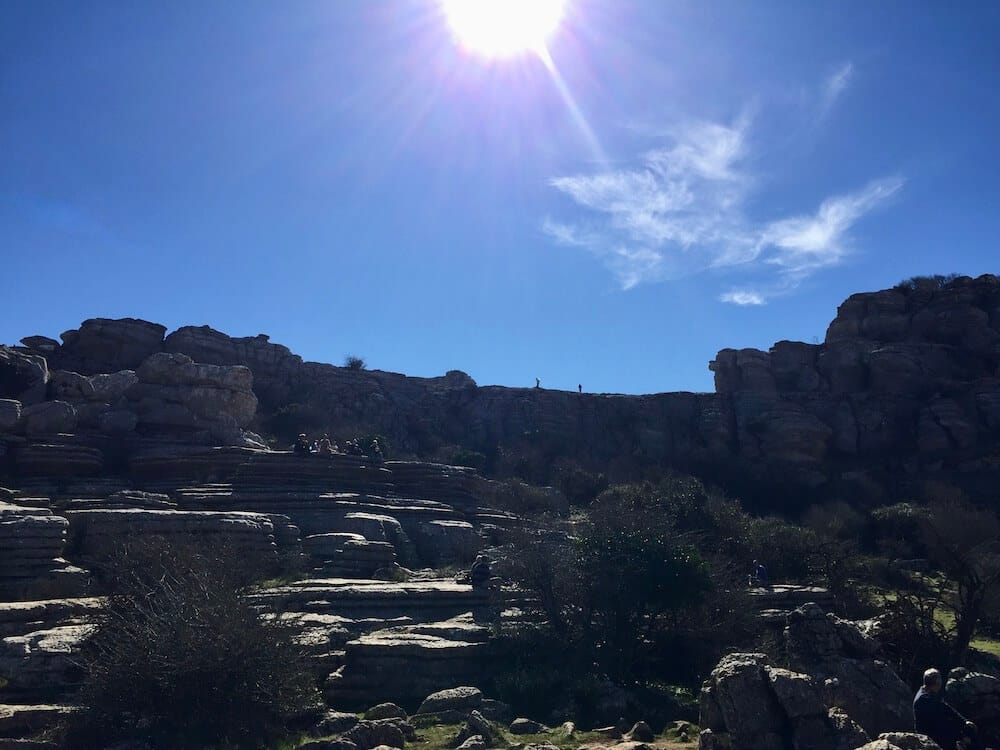 Hiking El Torcal – Colour Coded Routes
There are three routes which are marked and open for anybody to follow. There used to be a fourth but it is now closed unless you go with a guide (or a local who knows the way).
The routes which are marked and available are marked by colour code: the green route, the yellow and the orange.
Hiking El Torcal the Green Route – La Ruta Verde
Distance: 1.5 km – circular,
Climb: + 40 m,
Official time suggested: 45 minutes (it can be done in much less than this)
The green route is the shortest of all, coming in at just 1.5 km.
The difficulty is rated at easy to moderate given that there are a couple of places where you need to climb uphill on a stony path; it's a bit like going up steep steps made of irregular, natural stone.
At other places you will need to walk uphill on a more regular track.
The green route starts in the car park and ends outside the visitor's centre or vice versa.
Hiking El Torcal the Yellow Route – La Ruta Amarilla
Distance: 3 km – circular
Climb: + 53 m
Official time suggested: 2 hours (though it can be done in much less than this)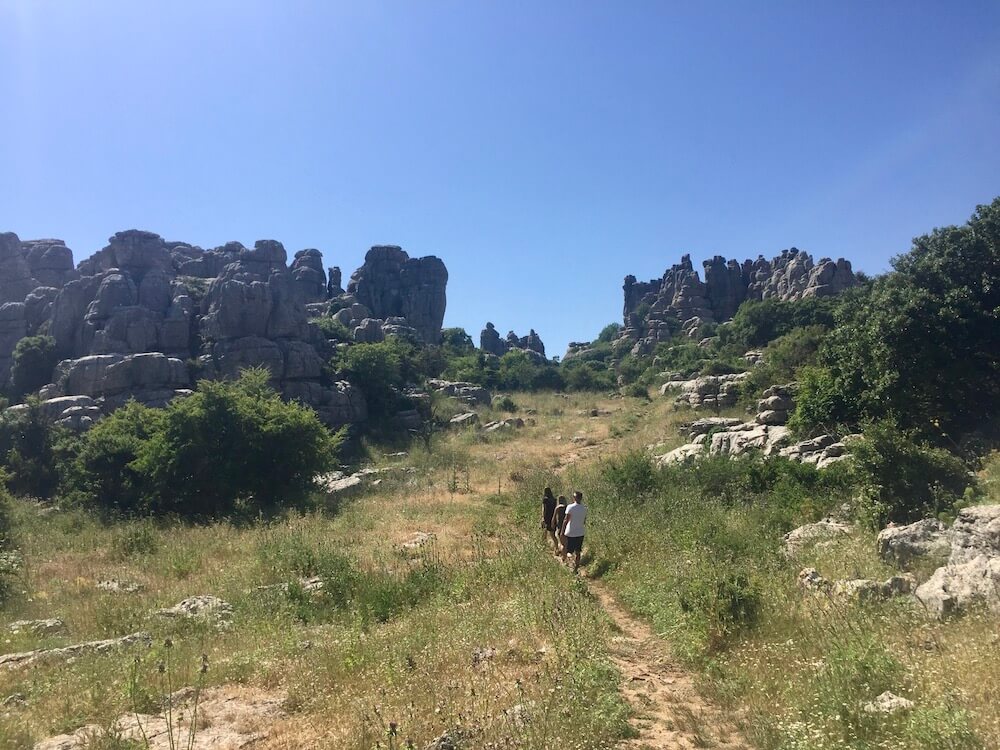 The yellow route is 3 km long and shares the same starting and ending point at the green route. You start off on the same route as the green route, but then add an extra loop onto the walk to give it the extra distance and explore more of the Torcal territory.
The yellow route will take you through a greater variety of landscapes and you will see rock formations such as the well known El Púlpito (the pulpit), named for obvious reasons once you've seen it!
(Or, you might think it could also have been named after a bar, given its shape!)
Hiking El Torcal the Orange Route – La Ruta Naranja
Distance: 3.6 km – linear
Climb: + 263 m
Official time suggested: 3.5 hours return – as this route is a steep uphill climb all the way up, how long it takes will depend on your fitness more than any of the other routes. Walking down would be easy, but the way back . . . let's just say phew you need to be fit!
This route is linear and runs from the bottom carpark to the top carpark or vice versa. It's a very steep walk all the way up to the top so maybe this would be a good moment to make use of the bus service and take the bus to the top and walk back down on the orange route.
On the way you can seek out the rock formation El Tornillo, one of the most well known rock shapes on the mountain, and further on, a little detour will take you to a lookout point called El Mirador de Manuel Grajales, as well as two separate man made constructions which have been renovated to show the typical animal and human housing of the mountain in history.
This is a pleasant walk to do on the down hill part, but bear in mind if you decide to walk up it is a very long climb of almost 300m. And you do not get to see quite such dramatic landscape you do on the other two routes.
It is personally my least favourite route on the mountain, although it's nice to do if you've already exhausted the other possibilities.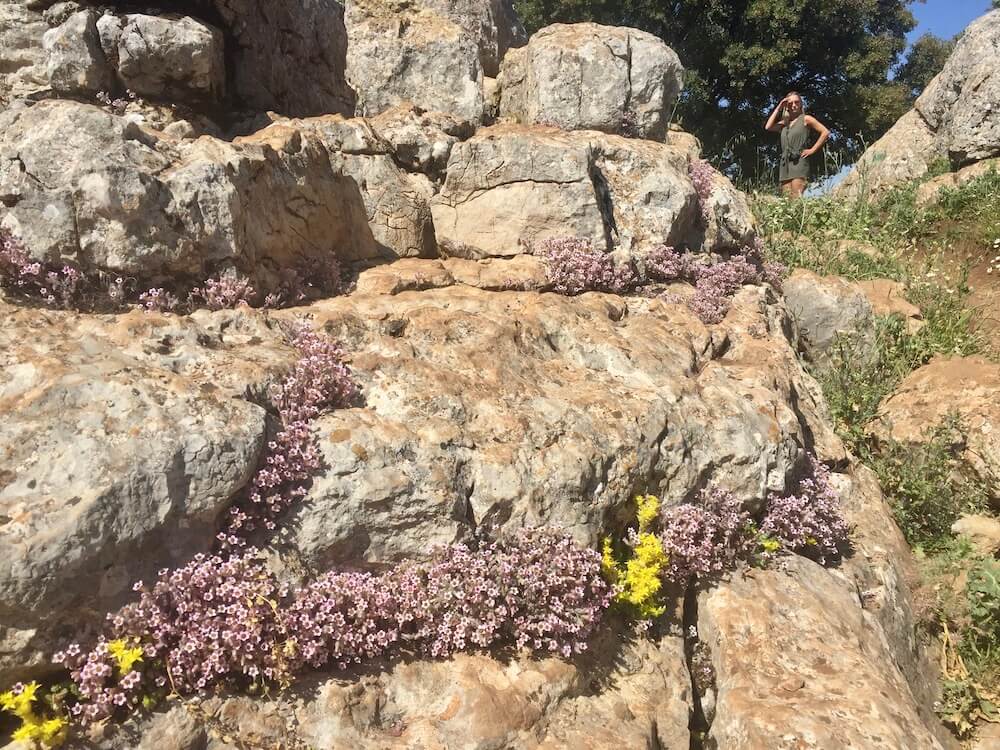 Hiking the El Torcal Region Off the Beaten Track
There are so many alternative ways to walk in and around the El Torcal area. And they aren't just limited to the actual El Torcal Natural Park. There are also lots of stunning tracks running through and around the surrounding scenery.
But it's not always easy to find all the best gems of an area if you don't know where you're going.
You can use Google maps or the walking app like Wikiloc but personally I don't find them easy to follow – I prefer to learn a new route either by exploring (which takes years) or by being shown the way personally by someone who knows it well.
We can show you some well known routes or more hidden tracks where you're unlikely to see another person in your whole walk. And depending on your preferences, we can hike for as little as an hour or as much as several hours.
We offer a 3 bed villa with garden and pool and daily hikes to enjoy the countryside, tailor made to suit your preferences and your individual fitness level.
From the accommodation we can walk the camino Mozarabe de Santiago right the way around the base of Torcal, climbing down on the other side and hiking through pasture land with El Torcal to our right, ending up on the Antequera side of the mountain.
Walking in this area is guaranteed to fill you with inspiration! I would love you to see the incredible views and get that feeling of being on top of the world!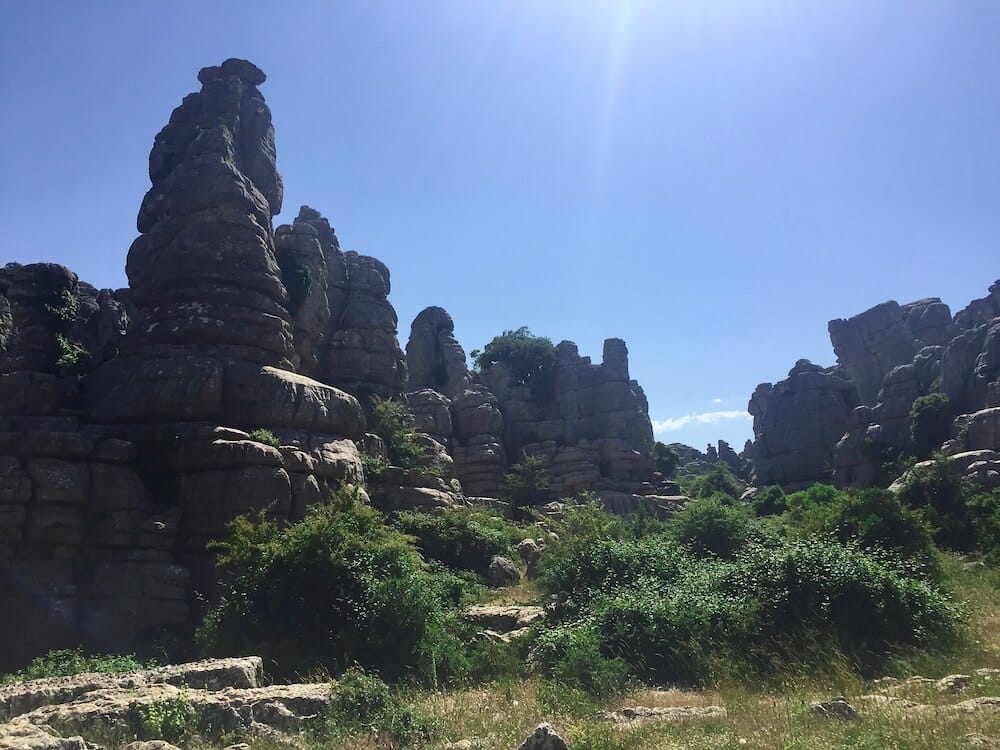 Visit Us for Guided Off the Beaten Track Hiking Holiday in Andalucia
If you would like to come and join us for a week of walking in Andalucia, simply fill out the contact form.
We can offer a comfortable 3 bedroom villa with garden and swimming pool which is located at the foot of El Torcal, in the town of Villanueva de la Concepción or accommodation in a local guesthouse.
Contact us for further information with no obligation implied.