This is one of the easiest ways to cook a one pan vegan meal: simply by using a baking tray in the oven. Since I'm currently experimenting with oil free cooking, I decided to come up with some standard fall-back recipes to replace my go-to recipes with oil.
And this has definitely turned out to be one of those. So easy to make, but this doesn't skimp on flavour. And you can make extra to eat again the next day again, either hot or cold.
If you're interested in the benefits of oil free vegan cooking, check out this easy guide to a whole foods plant based diet.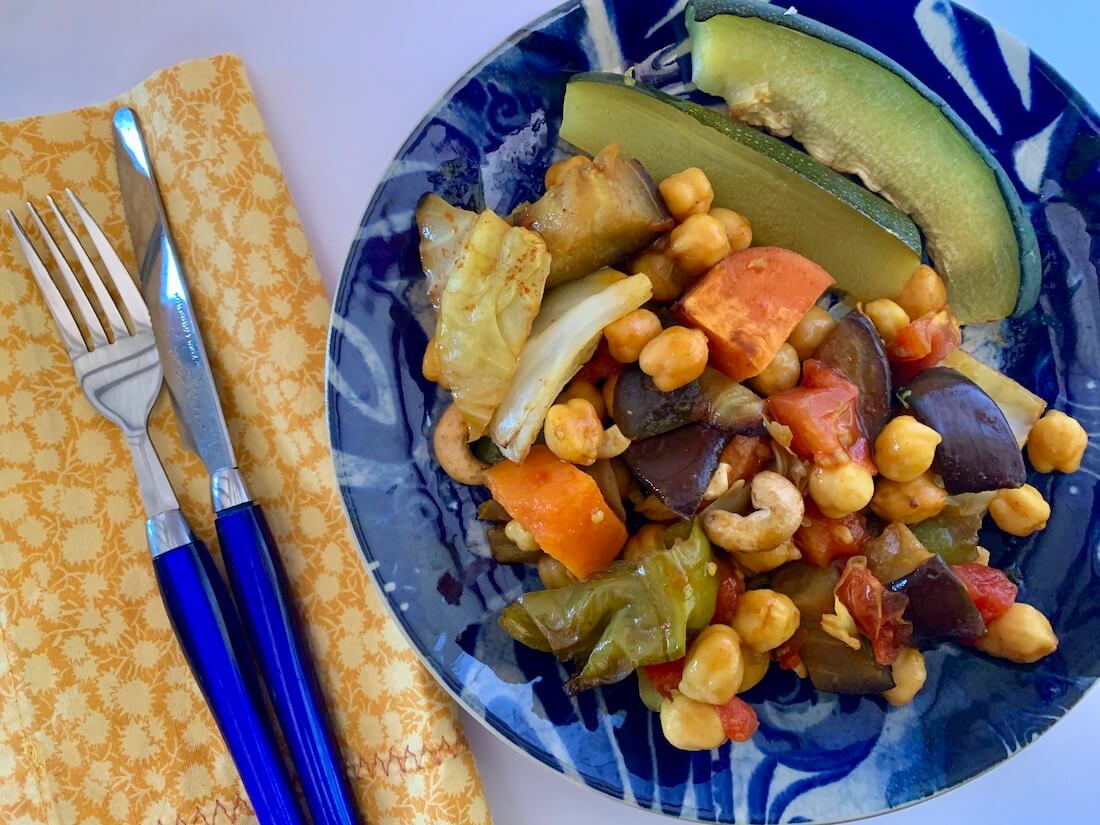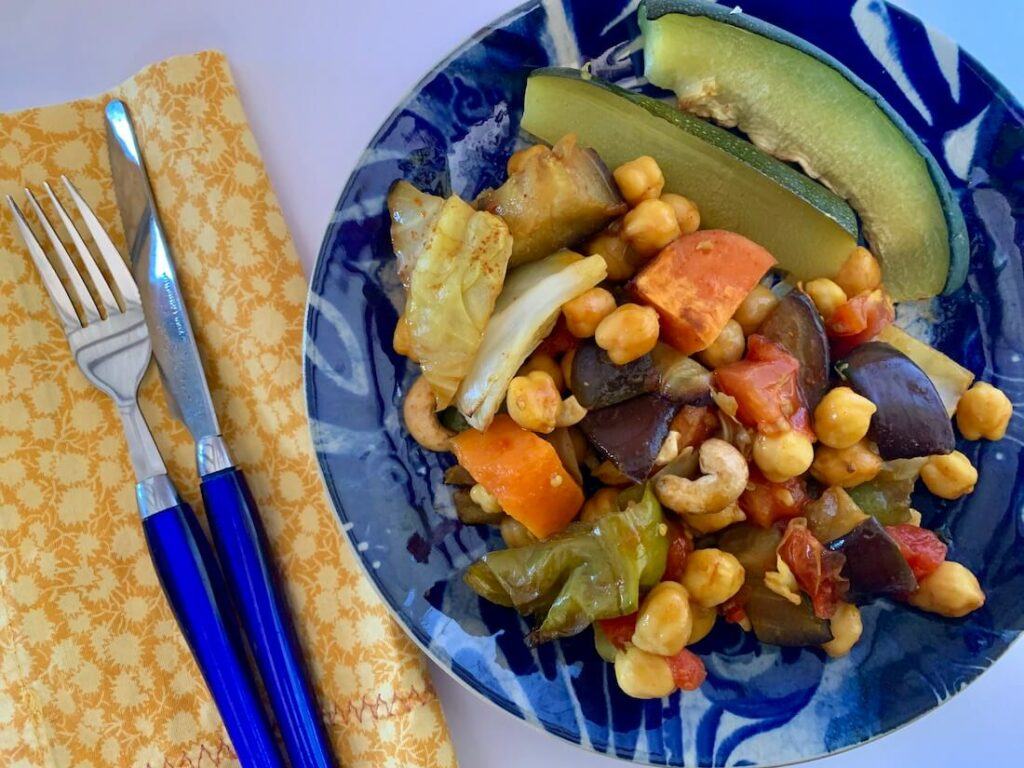 Intro to Oil Free Vegan Cooking
If you're here looking for a one pan vegan meal but wondering why this recipe is oil free, it's actually because after a long time with my increasing curiosity about the WFPB (whole foods plant based) diet, I decided to give it a go as part of my 5 steps to beating menopause naturally.
Since menopause crept up on me I've discovered some huge changes, the most noticeable being increased belly fat.
I see the extra fat as a sign that I'm not treating my body in the way it deserves (because belly fat can be harmful, and it isn't the natural state of a healthy, fit body).
So I decided to take action and part of that was to try going oil free. If you're looking to lose some pounds or kilos, an oil free way of cooking can be a really healthy option.
So is intermittent fasting by the way, with a list of benefits as long as my arm (nearly).
Cooked oil was never going to be a healthy option. Raw olive oil on the other hand could be considered a healthy food.
For me, I already eat primary ingredients and only whole foods, so I didn't have to change anything else about the way I eat, just cut out the oil.
One of the things I've found since becoming oil free, is that food becomes so simple; my food is a combination of vegetables with no elaborate methods.
Before, I always used to start off with a little olive oil in a pan and fry the spices, onions etc as a base. Take that away and what we're left with is the pure flavour from the veggies.
I'll admit, this isn't everybody's cup of tea, partly because of the simplicity of it, but I am actually really enjoying it and finding it to be such an easy way to reduce my calories without calorie-counting (which I don't like, and believe to be unnecessary when eating a healthy, balanced diet and taking exercise on a regular basis).
Ingredients for a One Pan Vegan Meal
The exact ingredients you use for this recipe will change each time you make it. That's the beauty of this one pan vegan meal recipe: it isn't a set of ingredients but rather a method of cooking to create a completely balanced meal in one pot, with minimal work.
In order to balance the meal, let's choose a great variety of vegetables and a couple of sources of protein.
Vegetables in a One Pan Vegan Meal
Choose whatever you like from the following list and chop them all up into bite sized pieces.
If you're choosing a variation of vegetables that cook at different speeds, cut the fast cooking veggies into slightly larger pieces that the harder veg. For example, cut your mushrooms into halves if big or leave them whole if they're small.
Tomatoes are essential, so please include those!
2 tomatoes
onion
eggplant
sweet potato
red pepper
green pepper
cabbage
broccoli
cauliflower
carrots
mushrooms
garlic
Eggplant in a One Pan Vegan Meal
If you're using eggplant (yes please!), the first thing you'll want to do is to chop it into bite sized pieces, put it into a bowl and cover with 2 tsp salt.
Rub the salt into the eggplant and mix well so that every piece gets salted. Don't worry, we're going to wash off the salt before eating.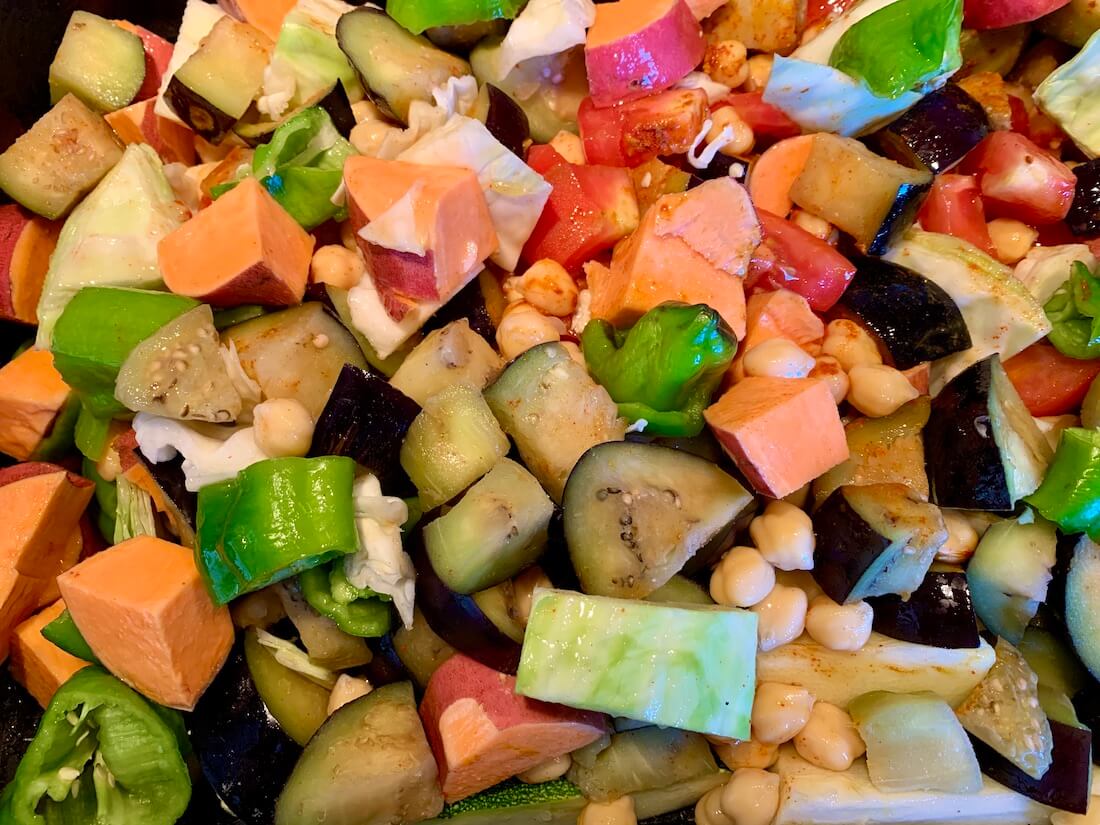 Set aside while you prepare the other vegetables. Wait until the eggplant has begun to release some brown liquid (about 15 minutes), then rinse under running water and squeeze out the eggplant pieces.
Make sure that the salt has gone by tasting one of the raw pieces of eggplant. It should taste pleasantly salty but not more.
By preparing the eggplant in this way, not only does it help soften a tough eggplant, but even with fresh tender eggplant it improves the flavour of the final result.
Be sure to adjust the amount of salt you use on the whole casserole, taking into account that the eggplant has already been salted.
Protein in the one Pan Vegan Meal
Choose one or more protein source to add to the pan:
Garlic in a One Pan Vegan Meal
Choose some lovely fat garlic cloves and add them to the pan with their skins on. Keep them in a corner without stirring them into the meal.
When they've finished roasting, they can be squeezed out of their skins and mixed into the veg, served on the side of the plate or squeezed on top of each individual plate for whoever likes roasted garlic.
I love it and this is one of the essentials of the recipe for me!
On the Side of a One Pan Vegan Meal
If you have some large zucchini cut them into big wedges, lightly sprinkle with salt and put into the pan at one side.
You could also use carrots as your veg on the side.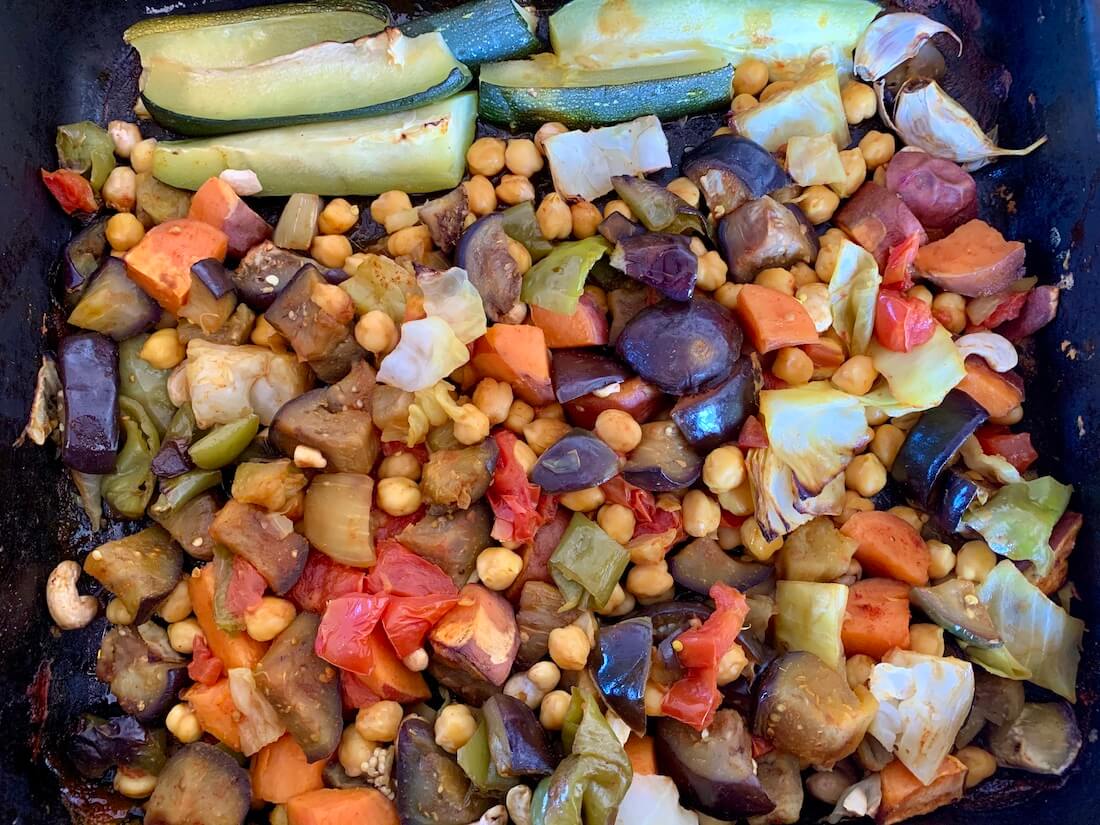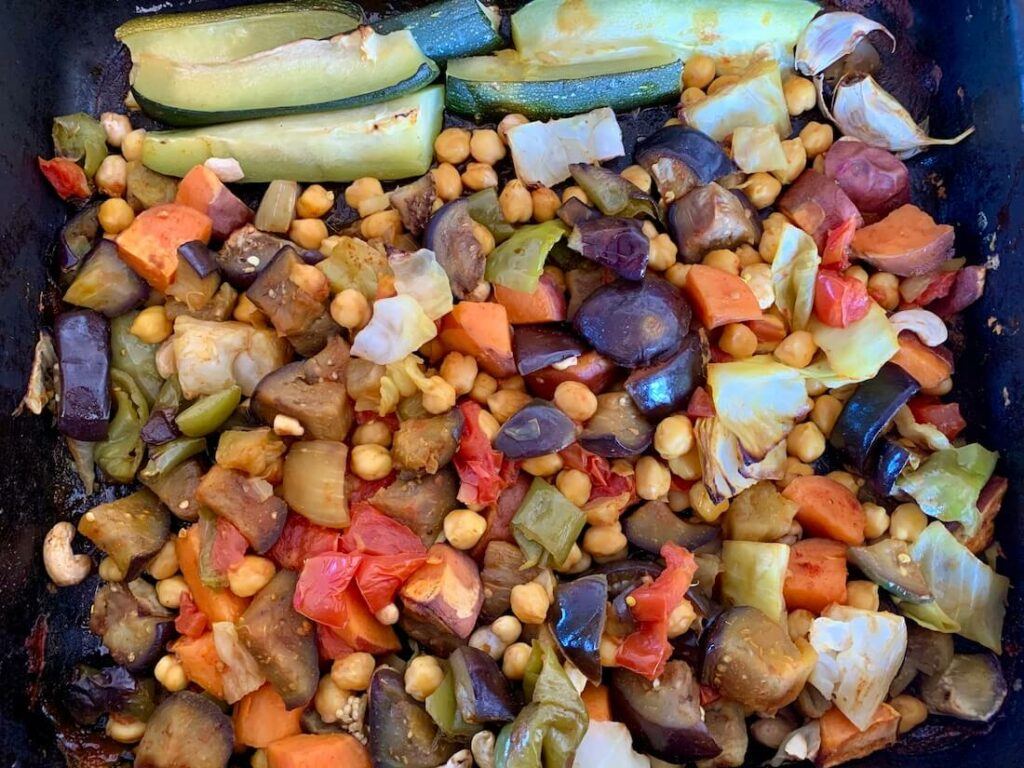 How to Make This One Pan Vegan Meal
Once you've chopped up all the veggies and put them into a large baking tray, sprinkle them with some sweet paprika, cumin powder, coriander powder, turmeric powder & chilli, or other spices of your choice.
That's another way how this meal can be made to taste different each time, just by varying the spices or herbs you choose to use.
Sprinkle with a little salt all over and pour in a jar of chickpeas or beans, including the liquid from the jar (aquafaba) which will act instead of using oil.
As well as the aquafaba, squeeze over the juice from half an orange, including the zuchhini wedges.
If you're only using tofu for your protein source, you'll need to add some Aquafaba if you have some, or double up on the orange juice.
Stir all the ingredients, keeping the zucchini wedges to one side and the whole garlic cloves in one corner.
Place in the oven at 200ºC and cook for about 30 minutes. Remove from heat and flip the veggies/stir the veggies. Return to the heat until almost cooked.
When they look done, pour in a little Ketjap manis or soy sauce, return to the heat and cook for another 10-15 minutes until cooked and going slightly crispy.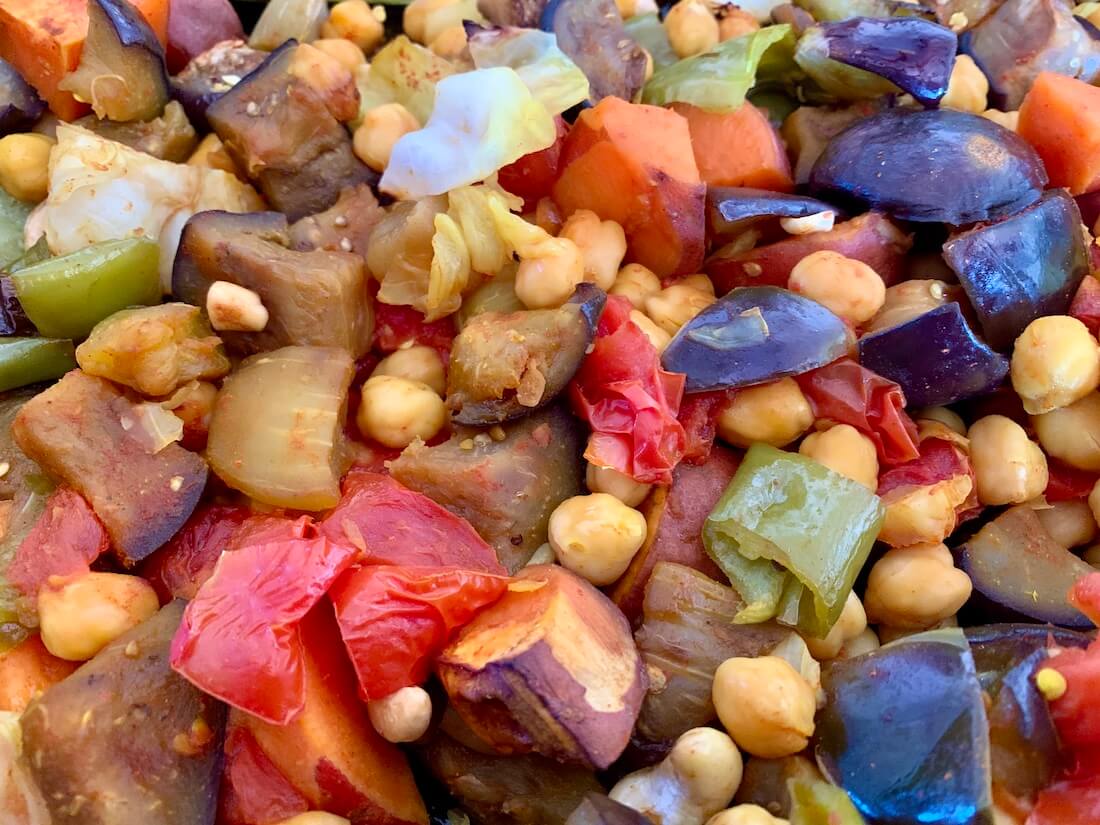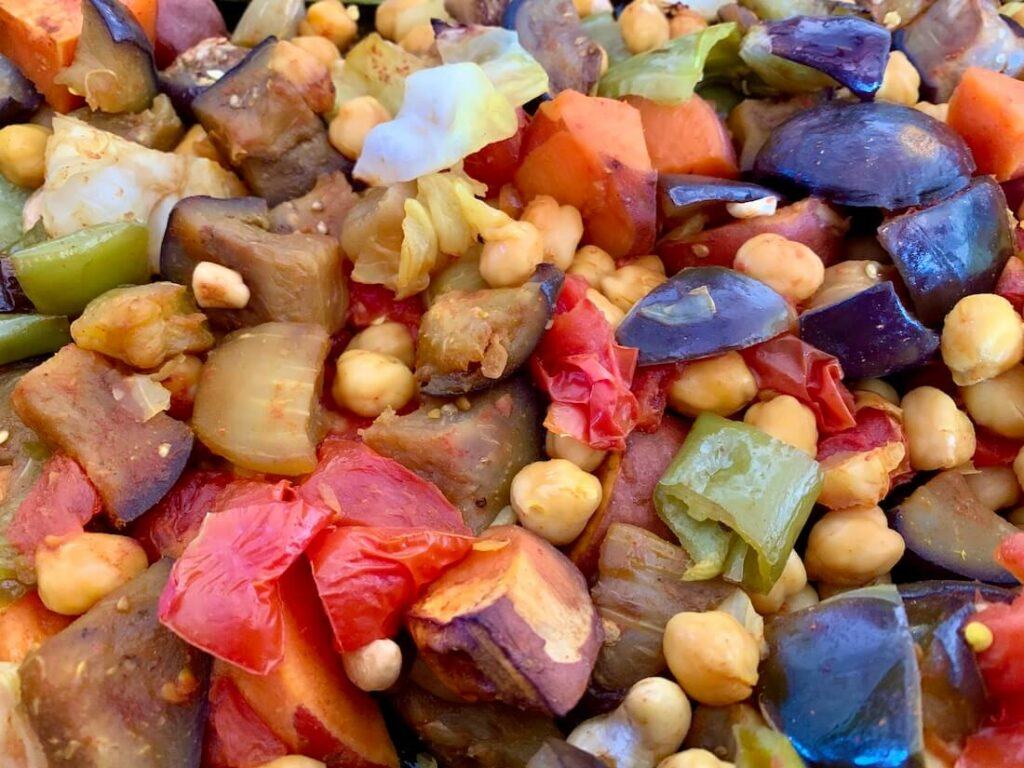 Variation on this One Pan Vegan Meal
Instead of serving this with a sauce on the side, you can also make it with tahini in the cooking. Simply add 3 tbs tahini along with the ketjap manis, about 15 minutes before the end of cooking and stir in to mix well.
If you're making the zucchini wedges, keep them separate from the tahini.
My favourite Combinations for this One Pan Vegan Meal
Chick Peas
My favourite combinations to use in this one pan vegan meal are chickpeas with eggplant, sweet potatoes, cabbage (I love oven-baked cabbage!) and peppers. To that, I'll add any extra veggies that take my fancy, like mushrooms for example, but it's the combination of the eggplant with chickpeas & sweet potato that give this its signature flavour.
For the spices I'll use lots of sweet paprika, a little cumin, turmeric and chilli. Ten minutes before turning off the heat, I add some ketjap manis to the pan and stir it into the mix before returning to the heat for the final 10-15 minutes.
Red Beans
If you make this one pan vegan meal with red beans, you could go for a Mexican flavouring, using onion, zucchini, carrot & broccoli, with cumin, chilli and oregano for flavourings, plus of course the roasted garlic.
Tofu
It doesn't matter which flavourings you choose, you can just add tofu to the pan. For me, tofu doesn't have an associated spice blend as it can complement any one pan vegan meal that you make.
Cashews
I love adding cashews just before the end of cooking (10-15 minutes). You're left with a surprise crunch that's softer than a raw cashew but still enough to give a variation to the textures of the dish.
There's no limit to what ingredients, spices or herbs you use really, it's just a matter of playing around and seeing what flavours you like best.
One Pan Vegan Meal: Scrumptious & Oil Free
Course: Main couse, Complete meal
Cuisine: Vegan, Oil free, Gluten free, WFPB
Difficulty: Simple
Easy, tasty dish that's super healthy and perfect for shedding those extra pounds.
Ingredients
2 medium large tomatoes

Big variety of vegetables chopped into bite sized pieces

4-5 big fat garlic cloves left whole in their skins

1 jar of chickpeas or beans

1 packet of tofu (optional)

Cashews

1/2 orange

Aquafaba (the liquid from the chickpeas or beans)

Spice mix of choice: sweet paprika, cumin, coriander, turmeric, chilli

Herbs of choice: oregano, parsley, basil

salt
Directions
Chop all the veggies into bite sized pieces.
Put into a baking tray and cover with the spice mix or herbs of choice.
Pour over a jar of chickpeas or beans, including the liquid (aquafaba).
Sprinkle everything with salt and mix well.
Squeeze over the juice from half an orange (or a whole orange if not using aquafaba).
Place into a hot oven at 200ºc and cook for 20-30 minutes.
Check the veggies and stir. If they're looking almost cooked, go on to step 8. Otherwise, return to the pan for another 10 minutes before going on to step 8.
Add the cashew nuts and pour on 3 tbs ketjap manis or soy sauce. Stir well.
Return to the heat for another 10-15 minutes until well cooked.
Serve with the roasted garlic squeezed out and mixed into the veggies.
Notes
This recipe doesn't miss the oil, and is so tasty it's hard to think that it's one of the easiest dishes you could ever make.
How to Serve this Oil Free, One Pan Vegan Meal
I'm a fan of having sauces on the side or 'cheese' on top of my food, though I must say, this is probably the one meal I could happily eat without any additions.
If I do fancy some cheese on top, I sprinkle on some ground flax or nutritional yeast and for a sauce, I'll add some tahini on the side or a yummy, oil free pesto sauce or a simple cashew sauce.
Since writing this post I've acquired an air fryer and I fry all my vegetables, stir fries etc in the air fryer with zero oil. Read about this new (to me) way of cooking in my post Oil Free Vegan Cooking in an Air Fryer