My search is over for the best vegan boots! And after some hassle, I can finally share not only these awesome boots, but what may well turn out to be my all-time favourite vegan footwear brand.
You can enjoy and support ethical footwear even when you're not vegan. The impact of the leather industry on the environment is similar to the impact of the meat industry, and it's part of the reason why so many people choose veganism for the environment.
First, a little about my search for vegan boots and the main competitor. The first vegan boots I tried were Dr Martens. This article contains affiliate links.
First, a Look at Dr Martens Vegan Boots
As soon as I knew that I wanted to buy an awesome pair of vegan boots, I started researching online. Eventually I decided to order a pair of vegan Dr Martens from Amazon. I've always liked Dr Martens so 38 years after first being introduced to them back in the 80s, I was finally going to own a pair of my own. Only this time, vegan.
Before ordering, I spent hours drooling over the images, inspecting the reviews, weighing up the differences between the 101 vegan model and the 1460 vegan model, and then it came down to colour: cherry red or mat black?
I adore the cherry red look, maybe even more than the black; but which ones would I wear more? And the answer was black.
The Positive:
One thing I love is the fact that Dr Martens started supporting the vegan movement, and I love the tradition of Dr Martens.
The boot on the right looks cool, right?
The Not So Positive:
So I waited for the arrival of my boots feeling a bit like an excited child! The day came and I tore off the wrapping to unveil my beauties! And there they were. Unveiled and unmasked, my first pair of original Dr Martens Vegan Boots.
My first impression was a little disappointing. As I picked them up they felt different. These were my first vegan boots and I wasn't prepared for how synthetic they'd feel. Sort of stiff and lightweight, nothing like leather.
I tried on my new boots, but to my surprise there was a bubble in the sole and the whole base was raised with a lump on the side. Not comfortable at all.
They would have to be returned.
I felt mixed feelings – disillusionment in the initial feel of the boot and disappointment that I would be returning it. Should I return or exchange it, I wondered? (In the end the choice was taken out of my hands, but I didn't know that then.)
With indecision being my middle name, I decided that I had to give them another chance, so I boxed them back up and sent off an email request to Dr Martens for another pair, even though I wasn't sure that they were 100% comfortable.
The Customer Service
To my astonishment I received an answer from Dr Martens that I could return the boots but there would no replacement. I had the option to cancel or to keep the order but not to exchange.
I was more than disappointed. They didn't even offer to send me a replacement if I paid more, it was just a no. No-Go. I'd already waited ages for these to arrive; now I'd have to wait for their return, and then another couple of weeks before the money would be refunded and throughout it all, I couldn't even order another pair without having to pay twice. It seemed wrong to me.
Because of the poor service I received, I chose not to re-order. I was a customer after all, who had ordered a pair of boots which were faulty and the company made no attempt to rectify the situation. To be honest any attempt to sell me another pair of boots along with an apology would have been enough. My decision was made. I would look elsewhere.
Back to the drawing board of searching for a great vegan boot.
And then I found . . .
The Solution
NAE Vegan Boots!
When I discovered the NAE vegan company who make their boots in Portugal I was over the moon. The photographs of the NAE Harley boot, which you can see on Amazon here, didn't initially convince me of the boot, but I thought I'd give it a try and I ordered a pair.
Actually the photos below don't do them justice either!
But as soon as I unwrapped my NAE vegan boots I was sooo glad that I'd had to return the Dr Martens! Everything happens for a reason! These ones felt soft and supple like leather. Pliable and mouldable like leather. The boot, from the first moment, was more comfortable. I was in love!
The only problem was that they were a bit too small. So I contacted the company and they immediately got back to me with helpful and friendly service. I ordered the next size up and they arrived a few days later. The return of the small boots was easy – the courier service came to the house to collect them at no extra charge.
The boot is more than I had hoped for. I've now had my NAE vegan boots for almost three months and I wear them most days. They're tough, they're soft, they're pliable and well supported. They're my favourite boots. They look and feel completely the same as real leather.
If you're looking for great vegan boots, from a great ethical company, I don't think you can go wrong with these.
Comparason:
NAE
Dr Martens
100% Vegan Company
Yes
No
Leather Feel
Yes
No
Comfort
Extremely
Average
Sizing
Order Up
Normal
Value for Money
*****
**
Customer Service (based on
my experience only)
*****
**
Conclusion:
Best Vegan Boot Vote: NAE!
I'm in love with my boots. NAE is the hands down winner. More comfort, better customer service and the company is completely vegan so I'm not supporting a company that sells leather. If you want to check them out, you can click through to see them on Amazon.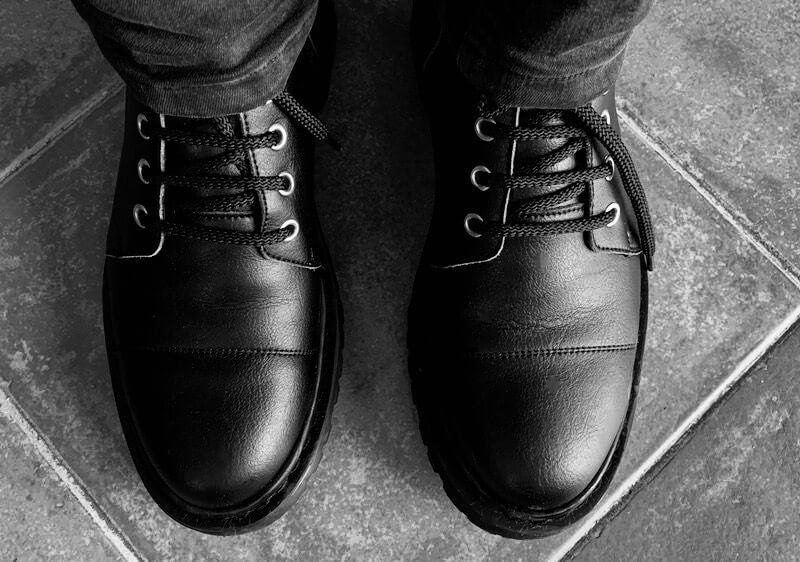 What are your favourite vegan boots? Do you have other ethical brands to share?